Part 6:  Inside Saucer Post ...3-0 Blue
© 1957 by Leonard H. Stringfield  (out of print)
Reprinted with permission in Earthfiles.com
© 2006 by Linda Moulton Howe
"I think that several reputable scientists are being unscientific in refusing
to entertain the possibility of extraterrestrial origin and nature (for UFOs)."
- Clyde W. Tombaugh, Ph.D., Astronomer
Return to Part 1
December 14, 2006  Albuquerque, New Mexico -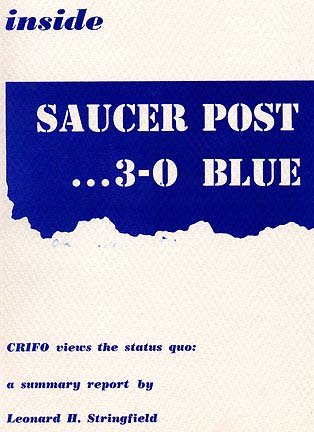 (Cont) THE DANCE OF "LIFE"
It concerned the Tremonton film known in 1952 as the "U" film in secret Air Force circles. Major Keyhoe, in his book Flying Saucers from Outer Space, had exposed its secret handling by photographic experts in the Air Force and Navy. By 1954, the film had become a "real piece of positive evidence" among fact-hunting saucerites. It was during this heady period that Dr. Leon Davidson, nuclear scientist and formerly of the Atomic Energy Commission (AEC), sent a letter to CRIFO for publication in the Newsletter. Wrote Dr. Davidson:
Click here to subscribe and get instant access to read this report.
Click here to check your existing subscription status.
Existing members, login below:

© 1998 - 2023 by Linda Moulton Howe.
All Rights Reserved.