"Imagine trying to see fireworks at night from across a crowded city. If you could turn off the city lights, you might get a glimpse at the fireworks. We have shut down the lights of the Universe to see the outlines of its first fireworks."
– Alexander Kashlinsky, Ph.D., NASA Goddard Astronomer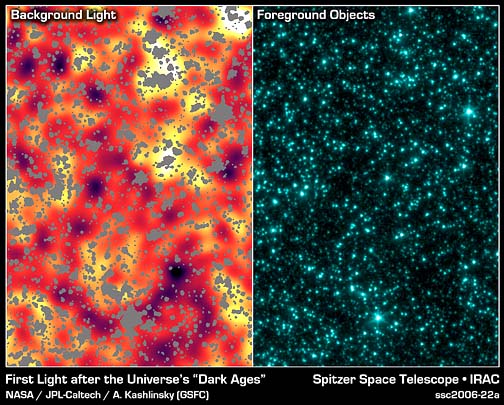 December 19, 2006  Greenbelt, Maryland – In this week's Astrophysical Journal Letters, NASA scientists report that "new observations from NASA's Spitzer Space Telescope strongly suggest that infrared light detected in a prior study originated from clumps of the very first objects of the Universe. The recent data indicate this patchy light is splattered across the entire sky and comes from clusters of bright, monstrous objects more than 13 billion light-years away.
"'We are pushing our telescopes to the limit and are tantalizingly close to getting a clear picture of the very first collections of objects,' said Dr. Alexander Kashlinsky of NASA's Goddard Space Flight Center, Greenbelt, Md., lead author on two reports to appear in the Astrophysical Journal Letters. 'Whatever these objects are, they are intrinsically incredibly bright and very different from anything in existence today.'
First Stars? First Black Holes?
"Astronomers believe the objects are either the first stars — humongous stars more than 1,000 times the mass of our sun — or voracious black holes that are consuming gas and spilling out tons of energy. If the objects are stars, then the observed clusters might be the first mini-galaxies containing a mass of less than about one million suns. The Milky Way galaxy holds the equivalent of approximately 100 billion suns and was probably created when mini-galaxies like these merged.
"This study is a thorough follow-up to an initial observation presented in Nature in November 2005 by Kashlinksy and his team. The new analysis covered five sky regions and involved hundreds of hours of observation time.
"Scientists say that space, time and matter originated 13.7 billion years ago in a tremendous explosion called the Big Bang. Observations of the cosmic microwave background by a co-author of the recent Spitzer studies, Dr. John Mather of Goddard, and his science team strongly support this theory. Mather is a co-winner of the 2006 Nobel Prize for Physics for this work. Another few hundred million years or so would pass before the first stars would form, ending the so-called dark age of the Universe.
Brief History of the Universe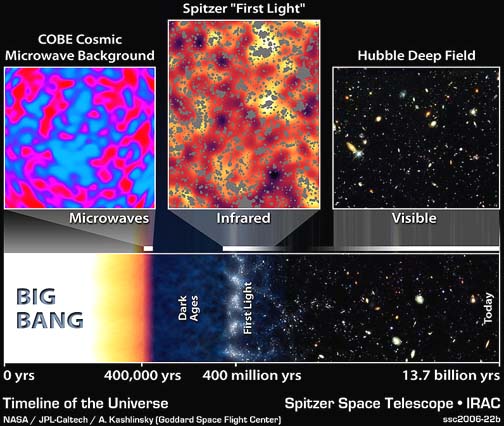 "Our universe began in a tremendous explosion known as the Big Bang about 13.7 billion years ago (left side of strip). Observations by NASA's Cosmic Background Explorer and Wilkinson Anisotropy Microwave Probe revealed microwave light from this very early epoch, about 400,000 years after the Big Bang, providing strong evidence that our universe did blast into existence. Results from the Cosmic Background Explorer were honored with the 2006 Nobel Prize for Physics.
"A period of darkness ensued, until about a few hundred million years later, when the first objects flooded the universe with light. This first light is believed to have been captured in data from NASA's Spitzer Space Telescope. The light detected by Spitzer would have originated as visible and ultraviolet light, then stretched, or redshifted, to lower-energy infrared wavelengths during its long voyage to reach us across expanding space. The light detected by the Cosmic Background Explorer and the Wilkinson Anisotropy Microwave Probe from our very young universe traveled farther to reach us, and stretched to even lower-energy microwave wavelengths.
"Astronomers do not know if the very first objects were either stars or quasars. The first stars, called Population III stars (our star is a Population I star), were much bigger and brighter than any in our nearby universe, with masses about 1,000 times that of our sun. These stars first grouped together into mini-galaxies. By about a few billion years after the Big Bang, the mini-galaxies had merged to form mature galaxies, including spiral galaxies like our own Milky Way. The first quasars ultimately became the centers of powerful galaxies that are more common in the distant universe. NASA's Hubble Space Telescope has captured stunning pictures of earlier galaxies, as far back as ten billion light-years away.
"With Spitzer, Kashlinsky's group studied the cosmic infrared background, a diffuse light from this early epoch when structure first emerged. Some of the light comes from stars or black hole activity so distant that, although it originated as ultraviolet and optical light, its wavelengths have been stretched to infrared wavelengths by the growing space-time that causes the Universe's expansion. Other parts of the cosmic infrared background are from distant starlight absorbed by dust and re-emitted as infrared light.
"'There's ongoing debate about what the first objects were and how galaxies formed,' said Dr. Harvey Moseley of Goddard, a co-author on the papers. 'We are on the right track to figuring this out. We've now reached the hilltop and are looking down on the village below, trying to make sense of what's going on.'
"The analysis first involved carefully removing the light from all foreground stars and galaxies in the five regions of the sky, leaving only the most ancient light. The scientists then studied fluctuations in the intensity of infrared brightness, in the relatively diffuse light. The fluctuations revealed a clustering of objects that produced the observed light pattern.
"'Imagine trying to see fireworks at night from across a crowded city,' said Kashlinsky. 'If you could turn off the city lights, you might get a glimpse at the fireworks. We have shut down the lights of the Universe to see the outlines of its first fireworks.'
"Mather, who is senior project scientist for NASA's future James Webb Space Telescope, said, 'Spitzer has paved the way for the James Webb Space Telescope, which should be able to identify the nature of the clusters.'
Stars Spring Up Out of the Darkness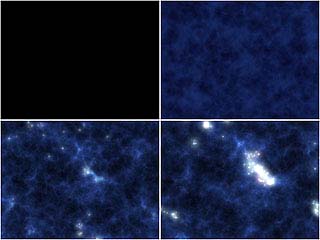 "Scientists using NASA's Spitzer Space Telescope found patches of infrared light splattered across the sky that might be the collective glow of clumps of the universe's first objects. Astronomers do not know if these first objects were stars or 'quasars,' which are black holes voraciously consuming surrounding gas.
"The universe's first stars sprang up out of the gas clumps, flooding the universe with light, an event that probably happened about a few hundred million years after the Big Bang. Though these first stars formed out of gas alone, their deaths seeded the universe with the dusty heavy chemical elements that helped create future generations of stars.
"The first stars, called Population III stars (our star is a Population I star), were much bigger and brighter than any in our nearby universe, with masses about 1,000 times that of our sun. They grouped together into mini-galaxies, which then merged to form galaxies like our own mature Milky Way galaxy."
---
More Information:
For further information about cosmic research, please see the Earthfiles Archives:
11/27/2006 — Namibia Telescopes Find First "Gamma Clock" in Milky Way Galaxy
08/19/2006 — Red Rain Cells of Kerala, India – Still No Definite DNA
09/16/2005 — "Planet X" and the Kuiper Belt's Oddballs, "Santa" and "Easterbunny"
08/12/2005 — Deep Impact Spectra: Carbonate, PAHs and Some Amino Precursors in Comet Tempel I
07/10/2005 — First Data from Deep Impact Crash Into Comet Tempel I
06/29/2005 — July 3-4, 2005: NASA "Deep Impact" Spacecraft to Blast Hole in Comet Temple I
05/06/2005 — What Are The Straight Lines on Saturn's Titan Moon?
04/20/2005 — Outer Space Impact At Serpent Mound, Ohio, 256 Million Years Ago
04/01/2005 — What's Killing Off Marine Life Every 62 Million Years?
02/17/2005 — Iapetus and Enceladus: Baffling Moons of Saturn
01/13/2005 — NASA "Deep Space" Craft Will Hit Comet On July 4, 2005
12/17/2004 — Is Our Solar System's Red, Mysterious Sedna An Alien Planetoid?
11/17/2004 — European Space Agency's SMART-1 Satellite Begins Moon Orbit
09/20/2004 — Part 1: Martian Water Vapor and Methane Overlap in Equatorial Regions
06/25/2004 — Wild 2, An Amazing Comet
03/31/2004 — Methane on Mars – Biology? Volcanic?
03/15/2004 — Most Distant "Icy Planetoid" in Our Solar System Has A Most Baffling Orbit
10/11/2003 — Is Our Universe Finite and Shaped Like A Dodecahedron?
09/02/2003 — Astronomers Don't Think Asteroid Will Hit Earth in 2014
05/14/2003 — Hubble Telescope Finds "Ashes" of First Stars in This Universe
03/07/2003 — Scientist's Record Sun's Plasma Interaction with Comet NEAT
10/07/2002 — Large Kuiper Belt Planetoid Found Beyond Pluto
09/07/2002 — Does Gravity Travel the Same Speed as Light?
08/16/2002 — Did CONTOUR Probe Break Apart Or Disappear Into Space?
07/25/2002 — Mile and A Half Diameter Asteroid 2002 NT7 Might Impact Earth in 2019
07/11/2002 — Hubble Telescope Photographs Seven Objects Traveling In Pairs Beyond Pluto
06/01/2002 — Scientists Surprised by Abundance of Water On Mars
02/24/2002 — Mysterious Slowing of Pioneer Spacecraft 7 Billion Miles from Earth
01/26/2002 — Something Is Perturbing Comet Orbits in the Oort Cloud Surrounding Our Solar System
12/20/2001 — Will Our Universe End With Its Final Light Frozen in Time?
12/01/2001 — 1200 B. C. – What Caused Earthquake Storms, Global Drought and End of Bronze Age?
11/01/2001 — Astronomy News
01/14/2001 — An Australian Zircon Crystal is 4.4 Billion Years Old
01/07/2001 — Dinosaur-Killing Asteroid Punched 22 Miles Through Earth's Entire Crust
12/24/2000 — Martian Bacteria?
12/03/2000 — Bacteria from Outer Space?
10/01/2000 — A Search for Earth's First Life
09/06/2000 — Hubble Photographs Mystery Object in Centaurus Constellation
03/11/2000 — Is 433 Eros Asteroid Younger Than Expected?
02/16/2000 — 433 Eros, Orbiting An Asteroid Up Close
01/28/2000 — Black Hole Mystery at the Center of the Andromeda Galaxy
01/17/2000 — Chandra Telescope Helps Solve X-Ray Mystery
10/25/1999 — A Mysterious "Perturber" at the Edges of Our Solar System
08/28/1999 — Oddball Quasar and Salt Water Inside Meteorite
06/15/1999 — Current Brightest Binocular Comet and Upcoming Solar Eclipse
02/01/1999 — Astronomy Updates with Brian Marsden and John Huchra, Harvard
---
Websites:
NASA:  http://www.nasa.gov/
Spitzer Space Telescope:  http://www.spitzer.caltech.edu/spitzer/index.shtml
Chandra X-Ray Observatory:  http://chandra.harvard.edu/
Goddard Space Flight Center:  http://www.nasa.gov/centers/goddard/universe/gwave.html

© 1998 - 2019 by Linda Moulton Howe.
All Rights Reserved.