© 1957 by Leonard H. Stringfield  (out of print)
Reprinted with permission in Earthfiles.com
© 2006 by Linda Moulton Howe
"Two distinct groups of triangular-shaped objects seemed to come out of the main disc. Each group had about five objects. They came down the beam and then turned out of the beam."
- Donald R. Berger, ROTC, University of Cincinnati
Return to Part 1
January 16 , 2007  Albuquerque, New Mexico -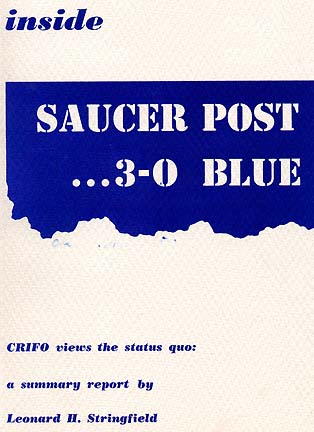 THE PHOTO 'FINISHERS' - Official and Otherwise
Evidence, in saucer lore, assumes many forms. If not a three-dimensional filament of angel hair or a controversial "hot rock," it can be a photograph or a movie showing a shape in the sky, a blip on radarscope, or a voice or sound on a tape recorder. When "contact" stories became popular in 1952, the tapes were quick to follow. I've heard several, each purporting to be evidence. One, sounding like a musical arrangement of Morse Code and believed to be signals from a space species, was in my opinion, wishful thinking. Most others, preachments and warnings by space people, are just pure bunk.
Click here to subscribe and get instant access to read this report.
Click here to check your existing subscription status.
Existing members, login below:

© 1998 - 2023 by Linda Moulton Howe.
All Rights Reserved.