"It's a little confusing this time around, actually. We haven't had this problem before …but indicators (of big solar maximums) that have agreed and worked in the past don't agree this time."
– David Hathaway, Ph.D., NASA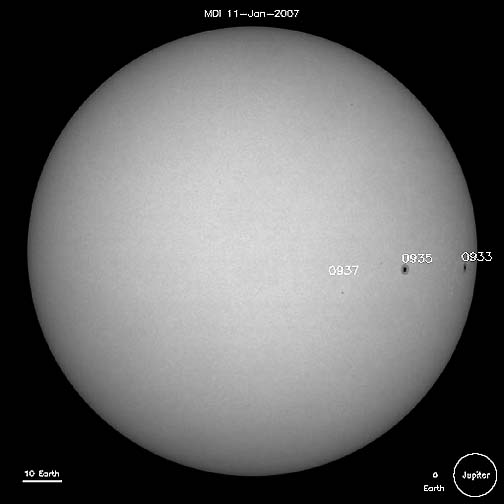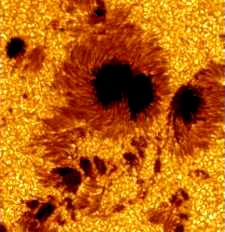 January 13, 2007  Huntsville, Alabama – If you could fly near the surface of the sun, there would be a lot of humming and sonic booms. At Stanford University and the University of California-Berkeley, physicists have processed radio signals from the sun and produced audio files. The sun vibrates with a hum that goes up and down every five minutes. Stanford scientists call it "the singing sun."
Stanford University solar physicists also provided several decades of sunspot data to Jim Metzner, producer of radio's Pulse of the Planet. After the radio signal data was processed into audio files and the years were speeded up, it sounds like a heart beat.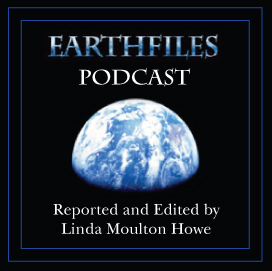 [ Editor's Note:  Stanford University Solar Center: "These are solar sounds generated from 40 days of Michelson Doppler Imager data and processed by A. Kosovichev.
"The procedure he used for generating these sounds was the following. He started with doppler velocity data, averaged over the solar disk, so that only modes of low angular degree (l = 0, 1, 2) remained. Subsequent processing removed the spacecraft motion effects, instrument tuning, and some spurious points. Then Kosovichev filtered the data at about 3 mHz to select clean sound waves (and not supergranulation and instrumental noise). Finally, he interpolated over the missing data and scaled the data (speeded it up a factor 42,000 to bring it into the audible human-hearing range (kHz)." ]
The Sun's Mysterious Dark Spots
Spots on the sun were not seen by humans through telescopes until 1610. Two years later in 1612, the great Italian physicist, astronomer and philosopher, Galileo Galilei (February 15, 1564 – January 8, 1642) made sketches of mysterious dark spots on the sun and published them in a 1613 book entitled Istoria e Dimostrazioni Intorno Alle Macchie Solari e Loro
Accidenti Rome (History and Demonstrations Concerning Sunspots and their Properties).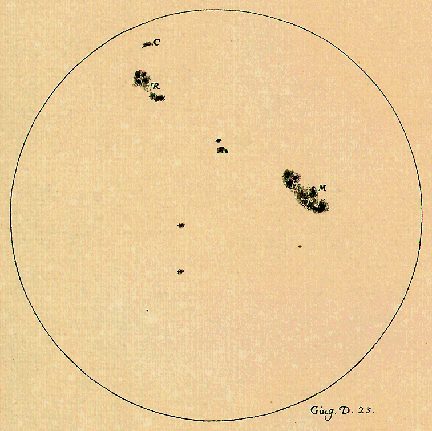 Four hundred years later we know that sunspots emerge periodically on the sun's surface with more intense magnetic fields than the rest of the sun. At those "spots," which can be much larger than Earth, those strong magnetic anomalies slow down the sun's convection current, which normally stirs hot gas from deep inside the sun up to the surface. At spots where the convection current has slowed or stopped, the sun's surface temperature can drop two to three thousand degrees Fahrenheit. Cooler temperature means no glowing gas in those spots, which is why their color turns so dark.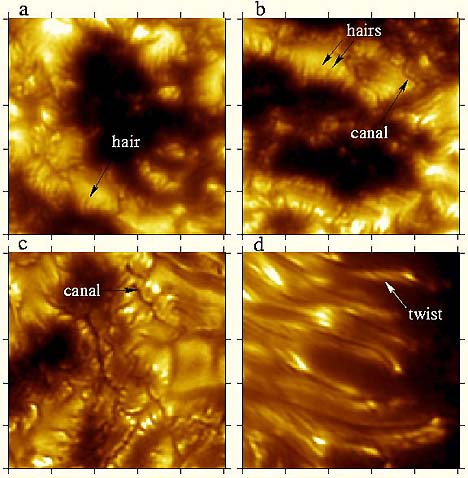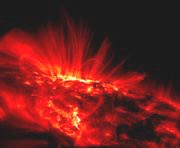 Sunspots are also the origin of the dramatic flares known as "coronal mass ejections" (CMEs). Big flares propel a solar wind of ionized particles, or plasmas, into the solar system at speeds of 2 million miles an hour or more! (300 to 1200 kilometers per second). Strong magnetic storms can hurt astronauts in space and damage satellites. Solar storms can overwhelm and damage our electric power grids and other electromagnetic equipment on Earth and interfere with airplanes over the poles and transmissions in radio and television. The ionized gases from strong storms on the sun also collide with ionosphere gases in our polar atmospheres, which then glow in beautiful greens, reds, blues and violets. That's the Aurora Borealis, or Northern Lights. The power of the solar wind can be so great that Northern Lights can equal one million megawatts of electricity.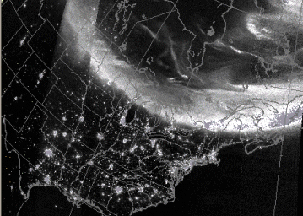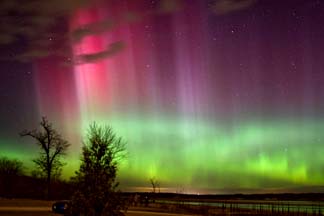 11-Year Solar Cycles
Despite four centuries of study from old telescopes to modern satellites, solar physicists still do not know the details of how sunspots work or even why there are solar cycles. Each sunspot cycle lasts about eleven years rising for about 5 1/2 years from a low number of sunspots and flares, called a minimum – to a peak, or maximum, of sunspots and flares, then back down for another 5 1/2 years to another minimum, completing the 11-year cycle.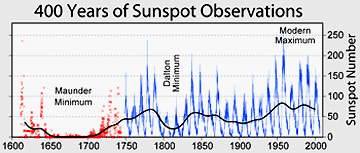 2007 to 2012: Solar Cycle 24 Maximum – Lots of Sunspots and Flares?
"Geomagnetic disturbances in the last two or three years tell us
that the next cycle ought to be a big cycle – one of the largest on record."
– David Hathaway, Ph.D., NASA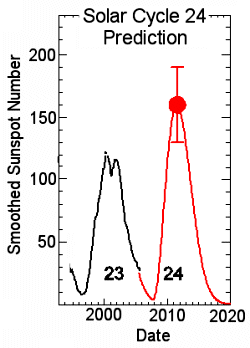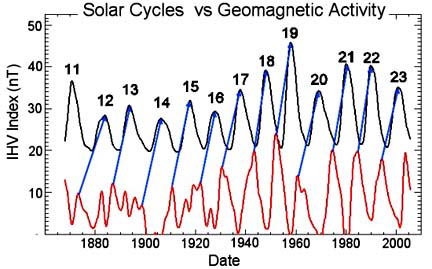 Right now at the beginning of 2007, this should be the very bottom – or minimum – of the current solar cycle numbered 23. The Solar Minimum is when the sun should be most calm without sunspots. But in December between the 5th and 14th, a large sunspot called "930" unleashed a series of powerful X-Class flares – the strongest class of sun storms. X-Class flares are ten times more powerful than M-Class flares and the Ms are ten times more powerful than the C-Class flares.
[ Editor's Note: Solar flares are classified as A, B, C, M or X according to the peak flux (in watts per square meter, W/m2) of 100 to 800 picometer X-rays near Earth, as measured on the GOES spacecraft. Each class has a peak flux ten times greater than the preceding one, with X class flares having a peak flux of order 10-4 W/m2. Within a class there is a linear scale from 1 to 9, so an X2 flare is twice as powerful as an X1 flare, and is four times more powerful than an M5 flare. The more powerful M and X class flares are often associated with a variety of effects on the near-Earth space environment. ]
Throughout this 23rd solar cycle, there have been surprisingly strong bursts of X-Flares. One was so strong in the last solar maximum that it went off the charts and scientists dubbed it "the Biggest Solar X-Ray Flare on Record – X20." That historic X-20 flare erupted on April 2, 2001. That solar wind roared into space at nearly 5 million miles an hour. The Earth was lucky that day because that coronal mass ejection missed our planet. If it had hit us directly, power grids and satellites would probably have been damaged.
Several thousand satellites now revolve around the world providing entertainment, communications, environmental data, military and intelligence monitoring and much more. All these satellites represent billions of dollars and invaluable data to Earth nations. If this coming Solar Maximum 24 –  which should reach its peak between 2010 and 2012 –  is really strong, some of those satellites could be damaged. Satellite owners are impatient now for a space weather forecast of what's coming – Intense? Or mild?
Recently on December 21, 2006, NASA issued a news release entitled "Scientists Predict Big Solar Cycle." The lead paragraph said, "Solar Cycle 24 looks like it's going to be one of the most intense cycles since record-keeping began almost 400 years ago." So I called up Dr. David Hathaway, Solar Physics Team Leader at NASA Marshall Space Flight Center in Huntsville, Alabama, and asked him if Solar Cycle 24 has started yet and why it's expected to be so strong. I was surprised to learn that despite the NASA headline, the sun is giving off mixed signals that are confounding astrophysicists in their predictions.
---
Interview:
David Hathaway, Ph. D., Solar Physics Team Leader,  NASA Marshall Space Flight Center,  Huntsville, Alabama: "We haven't seen the first spot of the new cycle, but we've seen indications that new cycle spots are getting ready to form. One looked like it was a spot, but it appeared while it was on the backside of the sun, the far side of the sun, and by the time it rotated around to our side, the spot had disappeared, but it's magnetic remains were still there. So, it does look like the new cycle is starting, but we're still waiting to see the first spot that is unquestionably a spot for the new cycle. Geomagnetic disturbances in the last two or three years tell us that the next cycle ought to be a big cycle – one of the largest on record.
HOW WILL YOU KNOW? WHAT DO YOU LOOK FOR?
Two things we look for:
1)  One is the magnetic polarity. The magnetic polarities flip from one cycle to the next. And from one hemisphere to the other. So, we should see that the magnetic polarities are flipped: north to south and south to north. But we've already seen some of those.
2)  The other key ingredient is that it needs to be a spot at a fairly high latitude, usually above 25 degrees. Sometimes there are first spots of the new cycle that appear as low as 20 degrees, but all the reverse polarity spots we've seen thus far have been low latitude. In fact there is one on the sun today that's at about 3 degrees and that's far too low for it to be a spot related to the next cycle.
Confusing Sun Signals 
WHAT DO YOU EXPECT, BASED ON HISTORIC DATA, FOR HOW THIS SOLAR MAXIMUM WILL UNFOLD?
It's a little confusing this time around, actually. We haven't had this problem before, but there are a number of indicators we can look at related to sunspots and solar activity that give us an idea ahead of time about how big the cycle is going to be. Indicators (of big solar  maximums) that have agreed and worked in the past don't agree this time.
One thing we look at is geomagnetic activity – this is shaking of the Earth's magnetic field, which is caused by two different things on the sun. One, is flaring activity and what we call coronal mass ejections (CMEs) – these huge clouds of material that are blasted off of the sun at more than a million miles an hour. If they travel through the solar system and hit the Earth, they are stopped by our magnetic field and the CMEs shakes our magnetic field and we can see that on the ground. We have seen those variations in the Earth's magnetic field for more than 150 years now.
Another source is high-speed wind coming off of the sun. What we found in the past is that the level of that activity one or two years before the Solar Minimum is a good indicator of how big the next cycle is going to be. It's as if the sun is already building up its magnetic fields and starting to let loose with things early on. That activity says the next Solar Max Cycle 24 is going to be big.
But another thing we look at is how strong the magnetic fields are at the poles of the sun. This time around – and we've only been able to do that for the last 30 years, so we only have three cycles of that. But those fields have been very weak this time. The poles on the sun are very weak now. That suggests that the next Solar Max cycle is going to be small.
Space Weather Models Predict Big Solar Cycle 24
The one new tool we have this time around are models, much like meteorologists have for predicting weather on the Earth. We now have models for how the sun makes magnetic fields, makes sunspots in the sunspot cycle. Those models are telling us that this next coming cycle is going to be big.
So, we've got a bit of a problem this time trying to sort out why in particular the sun's magnetic fields are staying weak and say Solar Max Cycle 24 will be small and quiet, while other data are indicating it's going to be a big Cycle 24. We need to sort that out as scientists within the next few months, hopefully, before the cycle gets started. There are people who really need to know how big this next cycle is going to be.
BECAUSE?
Because of its influence on all of our stuff in space. So satellites in space are influenced by solar activity. Their orbits, how long they stay up. For the ones in lower Earth orbit, there is enough of the Earth's atmosphere up there that they slowly spiral in. If we have a big solar cycle, it heats up the Earth's outermost atmosphere and makes it puff up a bit. So, those satellites will de-orbit, or come down, quicker than normal. So, people who have spent millions and billions of dollars putting those satellites up there are very concerned about how big the next cycle is going to be.
The size of the next Solar Max also influences communications here on the ground – from long-range radio communications to telephones, particularly cell phone systems that use satellites. GPS (global positioning) uses satellites. All of those are influenced by how big the next Solar Max cycle is.
Could Solar Cycle 24 Be Strongest in 400 Years?
IN YOUR DECEMBER 21ST NASA ARTICLE, IT SAYS THIS COULD BE THE STRONGEST SOLAR MAXIMUM IN 400 YEARS OF RECORD KEEPING. IF THAT TURNS OUT TO BE THE CASE, WHAT ARE THE WORST THINGS THAT CAN HAPPEN?
Worst thing that can happen is that we would loose some satellites prematurely. There are problems for astronauts in space. In fact, the flares that occurred a week or two or go were enough to impact the outside activity by astronauts at the International Space Station (ISS). It can influence airline flights here on the Earth and in particular, polar flights that go over the Earth's poles. They can be without communications during big events and big cycles. So, those planes have to take longer routes at more expense to get from Europe to the Americas, for instance.
IN A STRONG SOLAR MAXIMUM, IF IT IS SO STRONG, WHAT WOULD YOU EXPECT TO BE HAPPENING?
We'd see many more flares, more CMEs. Here on Earth, we would see more auroras, displays of the Northern Lights that are caused by solar eruptions messing around with the Earth's magnetic fields. There could be communication outages. There could even be electrical outages. CMEs shaking the Earth's magnetic field can cause a surge of electricity through power lines. We had a big outage back in March of 1989, which took out power to the Province of Quebec. Some people were without power for six days. It literally fried a transformer in New Jersey that cost $10 million. There are a number of things like that, which can happen during times of extreme solar activity.
X-Flares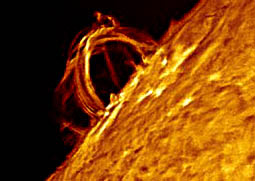 WHAT IS THE LARGEST X-FLARE REPORTED SO FAR?
The largest was during this current solar minimum cycle. It went off our charts. We had been measuring the x-rays from the sun in flares using NOAA's weather satellites for about 30 years now. There was one within the last three or four years that  – our most energetic class of solar flares are called 'X-Class flares.' They are usually X-1 through X-10. We didn't have a class higher than that. But this one was pegged at an X-20 or something like that. It basically went off the scale and we need a letter after X like a Y or something like that to describe these! It was more than ten times bigger than most X-Class flares.
Now that we've had a flare that was ten times bigger than the normal X-Class flare, the best we could do was say it's an X-15 or X-20 or something like that. That describes the energy in the flare.
DO YOU THINK THERE COULD POSSIBLY BE A LOT OF X-20S BETWEEN NOW AND 2012 IF YOUR PREDICTIONS ARE CORRECT?
I wouldn't say a lot of the X-20s, but certainly if it's going to be a big cycle, we'll see a lot of X-Class flares. That's been our experience in the past. As the number of sunspots increase, the number of flares increase as well, along with the size of them. The size – because you get more of them, there are more X-Class flares in the mix. But as we've seen recently, you can still get X-Class flares even when we're down to one or two sunspots on the sun.
IF THERE WERE A LOT OF X-FLARES IN A REALLY INTENSE SOLAR MAXIMUM, HOW OFTEN WOULD THEY OCCUR, DO YOU THINK?
During an intense solar maximum, you have many X-Class flares per month. But near solar minimum, we can go many months or even years without an X-Class flare. So at solar maximum, there are several per month we would see.
IF THERE ARE SEVERAL PER MONTH AND WE HAVE ALL THE SATELLITES, THEN IT DOES BECOME A CRITICAL PROBLEM.
Yes, because one big flare if the situation is right can destroy electronic elements on satellites. Also, just the number of sunspots accumulated in the cycle is enough that the Earth's upper atmosphere puffs out and causes some satellites to slowly spiral in. There will be more satellite outages and the services those satellites provide will be interrupted because of it.
That's why we need to get the prediction better. What can be done is when you launch a satellite, if you're launching a satellite now, you would launch it into a higher altitude orbit so it can stay up longer and you would add more radiation hardening to its components to protect it as well.
On the other hand, if it's not going to be a big cycle, then you don't need to spend the millions of dollars involved in doing that. Again, as far as the satellite industry is concerned, knowing how big the next solar max cycle is going to be is critical. It costs them money either way if the predictions are wrong.
Puzzle of Weak Magnetic Solar Poles
HAS THERE EVER BEEN THIS CONFUSION BEFORE ABOUT THE WEAK MAGNETIC POLES VERSUS YOUR OTHER INDICATORS?
No, and that's why we're in a bit of quandary now and why many scientists that are actively trying to get to the bottom of it. For the last two cycles, at least, where we've had panels come together to look at the different predictions and different techniques, the techniques that we've found to be reliable – and two of these are the geomagnetic precursors, things that come before the cycle starts – and the polar magnetic fields. Those have agreed fairly well the last two times. But this time, they disagree. We need to understand why. The sun's telling us something and we've got to figure it out.
Four Biggest Solar Cycles Since 1950s –
Any Connection to Global Warming?
IT APPEARS THAT AT LEAST FOUR OF THE BIGGEST SOLAR CYCLES HAVE ALL COME IN THE LAST 50 YEARS. WHAT DO YOU THINK THAT MEANS?
It means the sun has been very active. There have been researchers that have suggested that the sun has been more active now than it's been in thousands of years.
IN THAT ACTIVITY, IS THERE AN INCREASE IN SOLAR ENERGY THAT COULD EXPLAIN GLOBAL WARMING AND EVEN HEATING ON MARS?
Certainly, there is a correlation between solar activity and surface temperature on Earth. Most scientist agree there is a connection between the two, but it looks like the sun can only be responsible for a fraction of the warming we're seeing and cannot be – the recent rise in global average temperature cannot be attributed to solar activity.
But as you said, the biggest solar cycles on record have been the last few. That has contributed some to the global warming problem.
IS IT FAIR TO SAY THAT THE ENERGY FROM THE SUN HAS BEEN INCREASING?
The energy output has. It seems a little contradictory, but when we have active cycles and lots of sunspots – although the sunspots are dark, all the other activity makes the sun brighter. So, the sun is brighter during big solar cycles than it is during small cycles and it is brighter at solar maximum than it is at solar minimum.
IS THERE A DIRECT ASSOCIATION BETWEEN BRIGHTNESS AND THE ENERGY THAT REACHES THE EARTH AND HEATS IT?
Yes, there is. But again, the direct heating from the brightness of the sun is only about one-tenth of one percent, so it's a small change. The people who model the Earth's climate, when they add that in there – 1/10th% change in brightness over a ten year period – they have a hard time reproducing the temperature changes that are seen, other than noting when the sun has been active in periods of activity like we are now, surface temperature (of the Earth) seems to be warmer.
[ Editor's Note:  A 2006 study and review of existing literature, published in Nature, determined that there has been no net increase in brightness since the mid- 1970s, and that changes in solar output within the past 400 years are unlikely to have played a major part in global warming. ]
HOW LONG DO YOU THINK IT'S GOING TO BE BEFORE YOU REALLY KNOW HOW BIG THIS MAXIMUM MIGHT BE?
I would say within the next two years we will know. Or sooner than that. The next cycle has been slow in starting. We haven't seen the official first spot of a new cycle, although we've seen indicators that there might have been new cycle spots on the backside of the sun, but by the time the sun rotated around the spots, they disappeared and left behind their magnetic remains.
But once a Solar Max cycle gets started, how fast it starts rising, how fast it starts making more and more sunspots, is a very good indicator of how big the cycle is going to be. So we should know within two or three years how big this next cycle is going to be. It ought to reach a maximum in 2011."
---
More Information:
For further information about solar cycles, please see the Earthfiles Archives below:
08/23/2006 — Solar Cycle 24 – Headed for Intense X Flares by 2010-2012?
11/18/2005 — Is the Sun Heating Up?
09/29/2005 — 2005 Arctic Summer Ice Melt – Largest On Record
09/23/2005 — 9 X-Class Solar Flares Between September 7 – 19, 2005.
02/11/2005 — Sunspot Region 720 Emitted Strongest Solar Radiation Since October 1989
01/03/2005 — Abrupt Climate Change 5,200 Years Ago; Mayan/Aztec Calendar Links
10/29/2003 — Fifth Intense Solar X-Flare – What's Happening On the Sun?
07/16/2003 — First 3-D Images of the Sun's Granular Surface
02/01/2003 — Brainerd, Minnesota's Mysterious Lake Water That Won't Freeze
10/29/2003 — Fifth Intense Solar X-Flare – What's Happening On the Sun?
10/25/1999 — A Blast of Solar Wind Provokes Aurora Over Northern U. S.
---
Websites:
Solar and Heliospheric Observatory (SOHO):  http://sohowww.nascom.nasa.gov/
Royal Swedish Academy of Sciences
Institute for Solar Physics:   http://www.solarphysics.kva.se/
The Galileo Project:  http://galileo.rice.edu/sci/observations/sunspot_drawings.html
Sunspots:  Photographs

© 1998 - 2019 by Linda Moulton Howe.
All Rights Reserved.