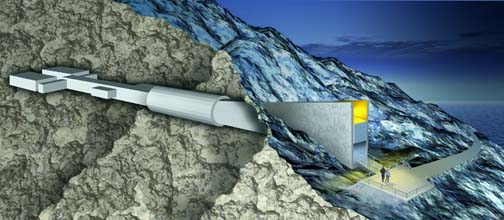 Click for Earthfiles Podcast
Return to Part 1
February 23 , 2007  Svalbard, Norway – At least 3 million seeds from most of the Earth's plants can fit in two rooms that measure about 66 feet by 50 feet (20 by 15 meters). At least that's the plan for what is being called a "frozen Noah's Ark" to be built inside a cold mountain on the archipelago of  Svalbard, Norway, in the Arctic. Construction begins in March and is expected to be finished by October this year. This Noah's Ark for Earth seeds is being paid for by the Norwegian government, in affiliation with the U. N.'s Food and Agricultural Organization's Global Crop Diversity Trust.
The fear is that global warming will keep increasing over this century, turning some farm land into desert, flooding other low grounds and generally changing growing seasons, rainfall and insects. Many plants won't be able to survive the rapid changes. Some scientists fear that even the Amazon rainforest might not survive into the next century. If we lose the diversity of crops we have now, we could end up seriously depleting this planet's future food and medical supplies.
The Noah's Ark seed vaults will hold samples of all the food crop varieties in case plant breeders will have to design totally new varieties to survive on the changing planet. The steady cold temperature of the Svalbard, Norway, mountain – far enough above sea level to remain dry in rising waters – could sustain frozen seeds for 200 or more years.
The scientist in charge of creating and sustaining the Noah's Ark seed vaults is Cary Fowler, Ph.D., and Executive Director of the Global Crop Diversity Trust. Earlier this week, I talked with him about  the latest U. N. report by the  Inter-Governmental Panel On Climate Change. It says in worst case, the average global temperature could increase 11 ½ degrees over the next 90 years. I asked Dr. Fowler what he thinks the consequences would be for the plant world if there is that much global warming.
---
Interview:
Cary Fowler, Ph.D., Executive Director, Global Crop Diversity Trust, U. N.'s Food and Agricultural Organization (FAO), Rome, Italy:  "The consequences are almost overwhelming, particularly because the most severe impact of climate change is predicted to occur in regions of the world that are least capable of adjusting, where the poorest people on Earth live.
Many people might think that having agriculture adapt to global climate change is going to be reasonably simple and straightforward. Many people think that climate change and global warming are synonymous and that's pretty much the end of it.  So they think that all you'd have to do is move a particular variety of plants growing in one place up several hundred miles north just because the temperatures will be about the same some years from now in that new location.
That's not going to work. We won't simply take existing varieties of plants and move them to a place where the temperatures are the same as they are now.
If we were to do that, we would expose the plants to different seasonality of light at different latitudes, different day lengths, all kinds of things that would trigger biological responses in that variety that really would not work in the new location. There would be new pests and diseases; new soil; new amounts of rainfall.
So, all the characteristics that go into making up a modern wheat or corn variety are really going to have to be juggled around a little bit to produce varieties that farmers can grow under new conditions. It's going to be a major, major challenge.
THIS NOAH'S ARK MIGHT ABSOLUTELY BE VITAL TO PERPETUATING FOOD AND CROPS AND PLANTS ON THE EARTH NOW?
We think it might well be. We will have to breed new varieties of agricultural crops if we expect to even keep pace with current production levels, much less feed a growing world population.
THAT IS FACED WITH SO MUCH CHANGE IN THE CLIMATE.
That's right. And I'll mention one other thing because one of the ways that climate change will manifest itself is through water. Agriculture today takes about 70% of fresh water supplies. But agriculture competes – it competes with the cities and industry and there are over 200 major river systems in the world that provide water for agriculture that are flowing through multiple countries. The demand for water is going to increase, there will possibly be increasing conflicts over water, and agriculture is going to be squeezed by urban users. So, we're also going to have to produce agricultural crops that produce more crops per drop.
THE QUESTION IS: HOW MANY POPULATIONS OF HUMANS ARE NOW GOING TO HAVE TO BE MOVED OVER THE NEXT NINE DECADES BECAUSE OF SEA LEVEL RISE, WHILE YOU ARE TRYING ALSO TO PROVIDE BIODIVERSITY IN PLANTS THAT COULD FEED THE PEOPLE WHO ARE MOVING.
It gives you a bit of a pause if you think erroneously, I believe, that crops can simply be moved around the world.
Noah's Ark Vaults in Svalbard, Norway's Arctic Archipelago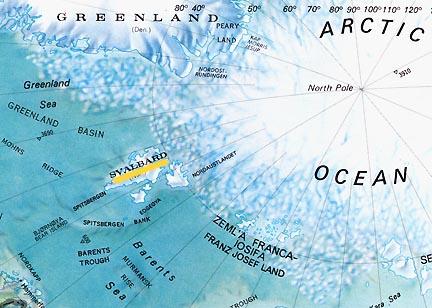 CAN YOU EXPLAIN HOW YOU ARE GOING TO BUILD THIS NOAH'S ARK AND WHERE EXACTLY?
In Svalbard, which is reasonably near the North Pole. It's part of Norway. It's actually under an international treaty, but Norway as sovereignty. This is north of mainland Norway. If you fly as far north as you can fly in Norway, you need to get on another jet plane and fly about an hour and a half north of there. So, if you're going to trek to the North Pole, this is where you're going first.
Once you get there, you'll land in a small village where 1500 people live there year round. It's very much a Norwegian research and government site and it's a mountainous area. Very cold, as you can imagine.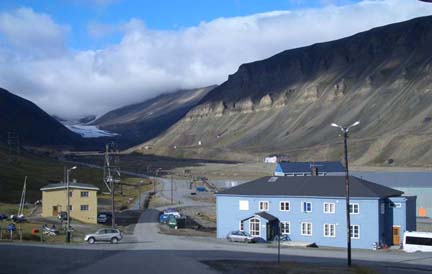 And this seed vault is going to be built inside the mountain. We're going to tunnel about 120 meters through solid stone to a place in the mountain, which at the moment is about minus-6 Celsius, very cold. There, we will have two rooms, two vaults about 20 by 15 meters each. This is where we will store about – well, we'll have the capacity to store 3 million seed samples.
Each sample would be about 500 seeds – of a particular variety. And those seeds would be stored in foil packages that are sealed inside boxes. We would have the capacity to store about 3 million samples, which would represent virtually all the diversity of agricultural crops that can be stored as seed.
Seed of most agricultural crops can be safely stored alive, kept alive, for a long, long time, simply by having the moisture level reduced to a very low level to reduce biological activity and then freezing them. If you do this properly – depending on the crop – you can store seeds safely for decades, hundreds of years and even some projections are over a thousand years.
HOW HIGH ABOVE SEA LEVEL WOULD THIS NOAH'S ARK BE?
It's going to be quite high above sea level – I think something like 120 meters (395 feet). We've calculated worst case scenarios for climate change. And if both of the polar ice caps melt – if the ice in Greenland melts – this facility is still going to be many meters above the worst case scenario of where the new sea level would be. Even if global warming takes hold in Svalbard, relatively speaking, this is still going to be a much colder place than most of the rest of the world. We'll still have frozen conditions in the seed vault 200 years from now if our worst case climate change scenario is true.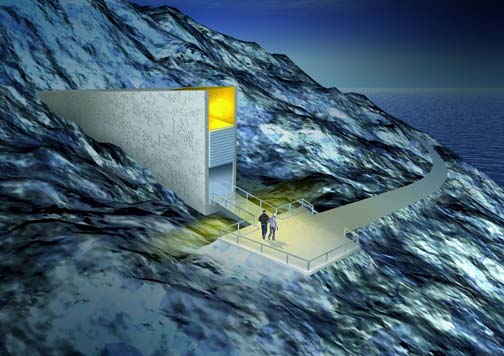 WHEN YOU TALK TO YOUR COLLEAGUES AND YOU ARE TALKING ABOUT: WHAT IF THE WORST CASE IS REALITY IN THE NEXT NINE DECADES AND BEYOND, WHAT DO YOU SEE AS THE WORST HAPPENING?
The worst happening is the melting of the ice caps and significant changes that will cause large social disruptions, particularly in developing countries. We really want to avoid that. One of the things that the seed vault will do is to provide human beings in the future with the security of knowing that the agricultural options that they still need are intact. So, we're not saving crops because it's pretty. This is not a museum or stamp collection. It's really something that is quite critical.
WITHOUT IT, WE MIGHT LOSE THE PREVIOUS BIODIVERSITY OF THE PREVIOUS CENTURIES UP TO THIS DATE IN THE FACE OF TOTAL UNPREDICTABILITY OF WHAT IS GOING TO HAPPEN IN GLOBAL CLIMATE CHANGE.
That's right. And of course, we are still subject to problems of natural disasters and wars and civil strife. We've lost several important and unique seed collections in the past few years. The seed collections in Iraq and Afghanistan were destroyed in the chaos around the wars there. We had a typhoon that struck the national seed bank in the Philippines this past September, destroying some of the collections there.
When I say these events destroyed some of the seed collections, I'm really saying it drove them into extinction. These are varieties of plants that will never exist again – just as gone as a dinosaur is. What we can expect is that these events destroyed biodiversity traits – perhaps disease resistance, perhaps a nutritional quality, perhaps a taste, perhaps a color of a flower, which will never exist again. This is something that we simply cannot continue to allow to happen if we are serious about wanting to remain on Earth ourselves.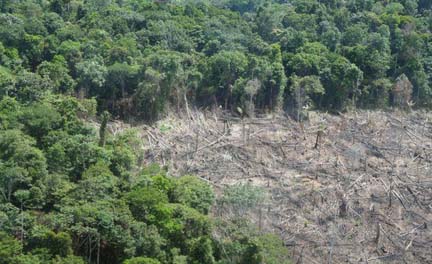 ---
More Information:
For further information about earth life threats and extinctions, please see below Earthfiles Archives:
02/23/2007 — Part 1 – Earth Life Threats: Alarming Disappearance of Honey Bees
02/23/2007 — Scientists Hope "Amphibian Arks" Can Save Frogs and Toads
02/02/2007 — New U. N. Global Climate Change Report: Earth Could Warm Up 3.2 to 11.52 Degrees Fahrenheit by 2100
01/10/2007 — 2006: USA's Warmest Year On Record
12/16/2006 — Updated: Unprecedented Die-Off of 2,500 Mallard Ducks in Idaho
12/08/2006 — NASA Wants Permanent Moon Base by 2024
12/07/2006 — Earth Headed for Warmest Period in 55 Million Years?
09/09/2006 — Methane – Another Threat in Global Warming
08/19/2006 — Repair of Earth's Ozone Layer Has Slowed
07/18/2006 — 2006 – Hottest Year So Far in U. S. History
02/20/2006 — Mysterious Deaths of Whales in Mexico
08/26/2005 — What Is Killing Amphibians Around the World?
08/05/2005 — Scientists Puzzled by "Bizarre" Pacific Coast Die-offs in 2005
05/07/2005 — Did Milky Way Gas and Dust Turn Earth Into Icy Snowball Four Times?
04/20/2005 — Outer Space Impact At Serpent Mound, Ohio, 256 Million Years Ago
04/01/2005 — What's Killing Off Marine Life Every 62 Million Years?
03/20/2005 — Astronaut John Young: "The Moon Can Save Earth's Civilization."
02/26/2005 — Collapse of Societies: From Easter Island to Iraq – to Western World?
02/03/2005 — Kyoto Protocol Goes Into Effect February 16, 2005. British Scientists Warn Global Temperatures Could Climb Higher Than Earlier Estimates.
08/27/2004 — Global Warming Impact On Birds – More Extinctions Expected
09/02/2003 — Astronomers Don't Think Asteroid Will Hit Earth in 2014
11/14/2002 — What Happened 12,000 Years Ago That Killed So Many Animals?
07/20/2002 — Extinctions of Earth Life Are Accelerating Rapidly
04/27/2002 — Earth's Magnetic Anomalies – Could the Poles Flip?
01/05/2002 — Global Warming – Could Increasing Carbon Dioxide Gas Be Transformed Into Limestone?
12/22/2001 — Scientists Warn That Climate and Earth Life Can Change Rapidly
06/09/2001 — Environmental Updates and Colt Mutilated in Leitchfield, Kentucky
02/25/2001 — Environmental Updates
02/07/2001 — 94% Decline In Aleutian Islands Sea Otter Population
01/07/2001 — Dinosaur-Killing Asteroid Punched 22 Miles Through Earth's Entire Crust
11/12/2000 — Update On Increased UV Radiation and Amphibian Decline
10/25/1999 — A Mysterious "Perturber" at the Edges of Our Solar System
05/27/1999 — Amphibian Decline – Parasites and Increased UV Radiation
---
Websites:
Threatened Plants of the World:  http://www.unep-wcmc.org/species/plants/overview.htm
Nature Conservancy:  http://www.nature.org/?gclid=CMq8u5unxooCFSfSYAodkQZabw
Rainforest Action Network:  http://www.ran.org/

© 1998 - 2023 by Linda Moulton Howe.
All Rights Reserved.