"The amphibians were around before the dinosaurs. Now, the amphibians are starting to get hit. They survived all that before, and now they are going down the tubes!"
– Andrew Blaustein, Ph.D., OSU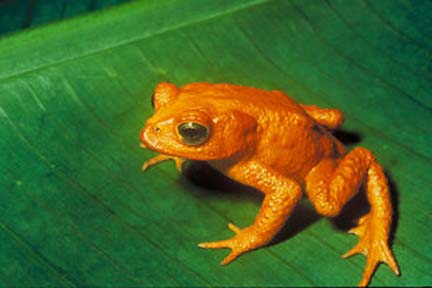 February 23, 2007  Corvallis, Oregon – In the past few weeks, I have interviewed scientists who are alarmed that global warming could destroy the Amazon and other rainforests and devastate the biodiversity of plants around the world. In Svalbard, Norway, construction begins in March to build a Noah's Ark to preserve the Earth's plants in a seed bank built inside an Arctic mountain.  In the oceans, corals and much marine life are threatened with extinction. On land, millions and millions of honey bees that pollinate so many of the fruits, vegetables, nuts and melons we expect in supermarkets have been disappearing in the United States, Spain and Poland.
Amphibians around the planet are dying out at an alarming rate. In the 20th century, there were about  6,000 species of amphibians. Today in 2007, nearly half (43%) are in serious decline,  one-third (32%)  are threatened and an estimated 122 species have become extinct since 1980! Amphibian species were around when dinosaurs dominated Earth. And amphibian species survived that asteroid catastrophe 65 million years ago that wiped out the dinosaurs. But amphibians now are not surviving what industrialized human civilization is doing to this planet.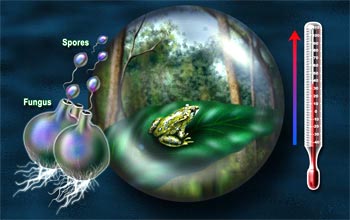 Amphibians, like honey bees, are considered to be canaries in coal mines that warn the miners when there is not enough oxygen to breathe. How do the canaries warn? By dying.
Many zoologists and other scientists now realize that the amphibians, with their very permeable skin, are so sensitive to their environment that it's a serious question in this modern world about how many can survive in the wild? If amphibians are being forced out of the world environment, what's going with them is one of the biggest potential medical chests in Nature. For example, the skin of the Ecuadorian tricolor frog produces a pain reliever that is more powerful than morphine without any addictive side effects. The secretions from the Peruvian giant monkey frog are used to treat seizures and depression. The Australian red-eyed tree frog's skin secretes peptides that can disable HIV infection.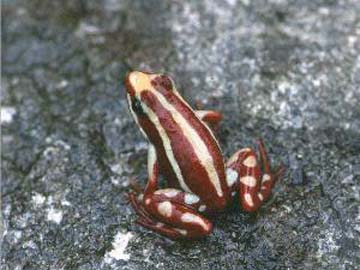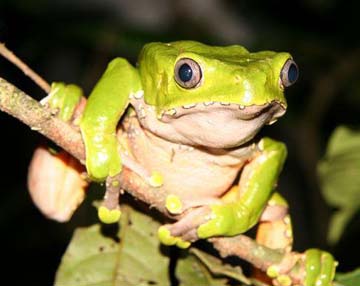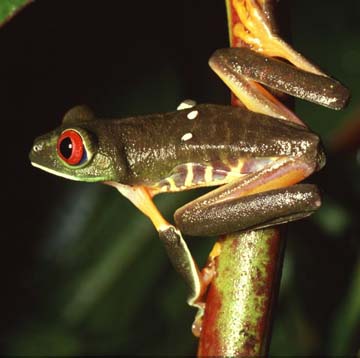 Scientists Urge "Amphibian Arks"
Recently scientists from around the world met in Atlanta, Georgia, to launch a global "Amphibian Ark" project in an effort to save thousands of frogs, toads and salamander species threatened by fungi, pathogens, increasing UV radiation, rapidly changing habitats in the face of global warming – and the unknown. The idea originated with the  Conservation Breeding Specialist Group of the World Conservation Union. The goal for the Amphibian Ark is to have zoos, aquariums and botanical gardens around the planet construct bio-secure facilities to preserve at least 500 each of nearly 2,000 endangered amphibian species – especially frogs.
After amphibians are collected for the Amphibian Arks, they would have to be cleaned of damaging fungi. Raising funds for such an international effort is linked to an upcoming global publicity campaign that will designate 2008 as the "Year of the Frog."
One of the world's leading amphibian researchers is Andrew Blaustein, Ph.D., and Director of the Environmental Sciences Graduate Program at Oregon State University in Corvallis. I asked Prof. Blaustein why scientists are now saying it is urgent to build "Amphibian Arks" around the world.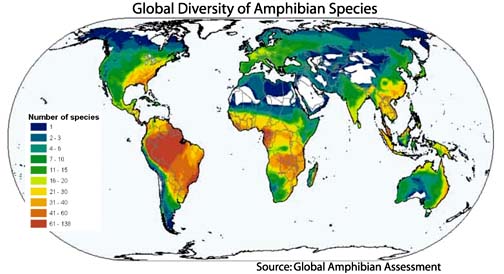 ---
Interview:
Andrew Blaustein, Ph.D., Director, Environmental Sciences Graduate Program, Oregon State University, Corvallis, Oregon:   "It seems like we're at a desperate point right now. We have a major extinction event on the planet. Extinctions are natural processes, but the rate at which extinctions are occurring across the planet in almost all taxonomic groups – different types of organisms from plants to microorganisms to big animals to frogs – is unprecedented.
At this point, we are losing species at such rates that we are so desperate that we're trying to do everything we can to preserve some of these great species, such as amphibians and many of those species are frogs.
COULD EVEN THE AMPHIBIAN ARK BE TOO LATE?
For some of the species, it's probably going to be too late. For example, there was the Golden Toad, which used to be really common in Central America. But they are gone!
In modern times, there were about 5700 species of amphibians, maybe 6,000. It is estimated that:
– 43% of those species have populations declining.
– 32% of them are threatened.
– 168 species are presumably extinct.
– Out of that, 122 species became extinct since 1980.
So, you're talking about 6,000 species, 43% are declining, 32% are threatened, 122 species probably have become extinct since 1980, and this is worse than birds and mammals. Amphibians are hit harder than birds and mammals. Like dinosaurs, they are gone!
Many Causes of Amphibian Die-Offs
WHAT DO YOU THINK IS CAUSING THE DIE-OFF OF AMPHIBIANS AROUND THE WORLD?
I've always said there are multiple causes for amphibian extinctions and I'll name a few of them. All these things are going on.
– Habitat destruction and alteration is obviously one of the major causes.
– There are different kinds of pathogens. There is the fungus called the Chytrid fungus, but there are also water molds such as Saprolegnia.
– There are viruses.
– There are bacteria.
– Then there are also climate change problems with increasing temperatures, global warming.
– There is ozone depletion and UV radiation (that increases with thinning ozone).
– There is pollution, contamination.
– There are introduced exotic species. An example is bullfrogs introduced to the western United States. They are not native, but they are eating and competing with native western species.
WHAT DO YOU THINK IS THE WORST CASE IF THE AMPHIBIAN ARK AND OTHER EFFORTS CANNOT GET SOME KIND OF CONTROL ON THIS DECLINE OF AMPHIBIANS? WHAT IS WORST CASE IF THE AMPHIBIANS CONTINUE TO GO EXTINCT?
If you took amphibians away from the planet tomorrow, you would see a very big change in the ecosystems. Amphibians are really important predators. They eat billions and billions of insect pests per year. They eat other things, too. They'll eat vertebrates, they'll eat snakes, they'll eat fish and some of them eat birds. You would notice a great increase, in my opinion, in mosquitoes and flies and things like that, which carry a lot of diseases that humans get.
Also, lots of things eat amphibians! There are lots of fishes who eat them, birds eat them, mammals eat them. So, the ecosystem would be drastically changed. In fact, some ecosystems such as the northeastern forests of the United States the amphibians sometimes comprise the largest group of invertebrates. There are more amphibians, if you weighed them, then there are birds or mammals, for example.
If all the amphibians disappear, we would have drastic changes in ecosystems, we would have an increase in the number of insect pests, we would have a decrease in the number of animals who eat amphibians. So, there would be unbelievable changes in ecosystems. You would not recognize them.
Amphibian Ark Effort to Stop Amphibian Extinctions
WHAT DO YOU SEE THE AMPHIBIAN ARK PROJECT DOING TO HELP?
The Amphibian Ark is going to try to get as many amphibians as possible – mostly what they are talking about are from the Central America area – and try to propagate them in captivity with the expectation to release them later on and back into the field after we figure out what is going on down there.
But, it's going to be difficult because the amphibians are really not that easy to keep and breed in captivity. We don't know all the habits of these amphibians. We don't know exactly what they all eat or what they all need. There are some great exhibits – one is at the Great American Museum in New York City a couple of years ago where they had these exotic species from Central America and they are doing a great job. It's a traveling system. But to get the amphibians to actually breed in captivity and get their numbers increased is going to take great effort.
DO YOU THINK THE NOAH'S ARK IDEAS COULD MAKE A DIFFERENCE?
I think it's possible. It's going to be really difficult. It's like a desperation move where you have to take all these animals from their native habitats and try to rear them in captivity, propagate them and release them. There are some success stories, though. American bison almost went extinct the early part of the century, but there were a few remnant individuals around and the populations were put in captivity so they could reintroduce them. We tried to do this with the California condor.
Amphibians might be a little tougher because we don't know a lot about them. They are a little bit more difficult in captivity. But it's what we have to do. That's about it. I don't know what else to say – it's a desperation move.
But I'm talking about a group of animals – amphibians – that were around when the dinosaurs were around! The amphibians were around before the dinosaurs. Now, the amphibians are starting to get hit. They survived all that before, and now they are going down the tubes!
YES, THEY SURVIVED WHATEVER WIPED OUT THE DINOSAURS.
They made it! But they aren't making it anymore. They are hurting.
Thinning Ozone and Increased Ultra Violet Light Radiation
WHAT ABOUT YOUR RESEARCH ON INCREASING UV LIGHT WITH THINNING OZONE? DO YOU THINK THAT IS PLAYING ANY ROLE IN THE EXTINCTIONS OF AMPHIBIANS?
We think increasing UV light is one of five or six reasons why the amphibian populations are crashing. One of the things that UV does – and we did not know this when we first started our research. There seems to be ..
You know, UV hits a living system, such as an amphibian, a fish or a person. It hampers their immune systems. When it hits the immune system in an animal or a person, they can't cope with pathogens, with diseases.
We think there is a relationship here between habitat destruction that causes stress and ozone depletion, which allows in more UV radiation and actually inhibits the immune system of these amphibian animals. Then they get diseases more easily.
I don't think, for example, that it's just that a pathogen moves in and starts to wreak havoc. I think some environmental change induces some other changes where the pathogen gets to go rampant.
SO WHAT YOU MEAN IS THAT THE FUNGUS SPREADING IS OPPORTUNISTIC ON WEAKENED IMMUNE SYSTEMS?
That's what I'm thinking. I might be wrong, but it's what I'm thinking and a lot of my colleagues think. We think that very thing.
Weakened Immune Systems Also in Disappearing Honey Bee Mystery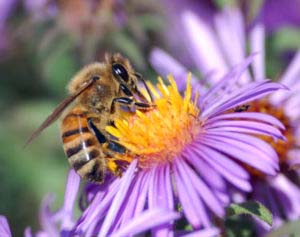 WEAKENED IMMUNE SYSTEMS ALSO SEEM TO BE EMERGING IN THE MYSTERIOUS AND HUGE DISAPPEARANCE OF HONEY BEES THAT IS NOW AFFECTING THE UNITED STATES, SPAIN AND POLAND. VETS ARE FINDING A LOT OF FUNGUS INSIDE THE FEW BEE BODIES THEY HAVE BEEN ABLE TO FIND AND NECROPSY. THE QUESTION IS: WHY WOULD FUNGUS ALL OF A SUDDEN BE KILLING OF MILLIONS AND MILLIONS OF BEES IN THE UNITED STATES, SPAIN AND POLAND?
We think that would be another case of some environmental change occurring or some type of stress due to environmental change that causes these fungi to be opportunistic and to knock off some of the natural populations of amphibians and bees and whatever.
PROF. BLAUSTEIN, WHAT KIND OF FUTURE WOULD WE HAVE IF THE HONEY BEES AND AMPHIBIANS DIE OUT?
I'm not a honey bee expert, but I'll tell you this: I've been hearing about this. You know, we're not just losing honey bees here. But, honey bees – they are incredible pollinators! They are really important and you've got to get some insect person to talk about that.
If frogs disappear, there would be unbelievable ecosystem damage. We have a lot of species that are disappearing that are going to influence how ecosystems function in the future. I mean we're losing native earthworms because exotic species of earthworms that have been introduced have already changed the soil! If you change the soil, you're going to change what grows in the soil.
Worst Case from Amphibian Extinctions
WHAT YOU MEAN IS THAT THE EARTH IS CHANGING SO RAPIDLY AND EXTINCTIONS ARE THE PRODUCT OF ALL THESE CHANGES, LIKE DOMINOES FALLING. WHAT IS WORST CASE FROM YOUR POINT OF VIEW?
That's a good way to look at it. The fact of the matter is I can't tell what is going to happen in the future, but we could make some predictions. As a matter of fact, I have a colleague who works with me. His name is Josh Lawler. He's going to be at the Univ. of Washington in a few months as a new professor there.
We have modeled some of the things that would happen if certain climate changes occurred. For example, if there are increased temperatures or different moisture regimes.
You will see shifts in the range of species. You will see some species that will become more northern. Some of the southern species will move upward.
When you get extinctions and climate change, like from global warming, you will get species in new areas that were not there before. So, if the climate warms up in North America  – we're already seeing this. We're expecting animals and plants and things that fly to move up north. They might bring new pests with them, or new diseases. We're already seeing an increase in malaria. We're already seeing increases in animals that cause dengue fever. We're seeing tropical diseases going into North America right now.
Sea Level Rise and Food Shortages
SEA LEVEL RISE OVER THE NEXT NINETY YEARS COULD, IN WORST CASE, BE AS HIGH AS FOUR FEET. COASTAL POPULATIONS OF HUMANS ARE GOING TO HAVE TO MOVE AWAY FROM THE COASTS. IF YOU COMBINE THE EXTINCTION RATES OF AMPHIBIANS, THE EXTINCTION RATES OF HONEY BEES, THE EXTINCTION RATES OF PLANTS, AND YOU OVERLAY THAT OVER WHAT'S GOING TO HAPPEN TO HUMAN POPULATIONS, AREN'T HUMAN FOOD SOURCES CHALLENGED IN THE FUTURE?
I've seen some of the scenarios for the melting of the polar caps and the temperature rising and what it will do to coastal regions. My home area of New York would be under water. And lots of Florida. The fact is you have to make the public aware about some of these problems. Global climate change is a fact. Ninety-five percent of the scientists who study the phenomenon agree. There are about 5% who don't and they get about as much press as the 95% who do. But you've just got to make the politicians and public aware of all this.
We're looking at massive extinctions of many species. We have a major biodiversity crisis where animals and plants and microorganisms are declining at unprecedented rates. We have climate change that's helping this out. And we have a lot of problems here! We have increasing populations. I don't even want to predict what's going to happen in 90 years. It's a scary situation.
Can the Chytrid Fungus Be Stopped?
IN 2007, WHAT WILL YOU AND OTHERS BE DOING TO SAVE AMPHIBIANS?
What I'm doing now is working on some diseases. I'm working on that Chytrid fungus and on Saprolegnia, which is a type of water mold. These are two types of diseases that have hit amphibians where I live in the Pacific Northwest. They are also global. They are all over the world. We don't exactly understand everything about the Chytrid fungus. We don't know where it came from or why it's starting to be so prevalent all over.
We do know that the other disease I'm looking at has been around for a long time and a lot of it has come in from stocked fishes, transfers from fishes to amphibians. So, what we're trying to do is look at the Chytrid fungus in more detail to see if there are some environmental changes that have triggered the Chytrid fungus to break out.
IS THERE ANYTHING YOU ARE WORKING ON THAT MIGHT STOP THE SPREAD OF THE FUNGUS?
I'm not looking at how to stop the fungus. There are other people looking at that. I'm just looking to see what is triggering the fungus and which animals are susceptible.
Interestingly enough, some types of animals are more susceptible than others. Bullfrogs seem to be carriers of the fungus, but they don't seem to get sick. And they seem to be spreading it.
WHAT DO YOU THINK IS THE ANSWER TO THAT?
They have some type of immune system that doesn't let them get sick. But the bullfrogs are carrying the Chytrid fungus around and we have done experiments in my lab to show they can give it to other species.
Lots of animals have some kind of peptides that allow them to cope with different types of pathogens. Bullfrogs might have some of them. Some people have isolated peptides that knock off pathogens from herpes all the way to the Chytrid fungus. People are looking at that.
HOW WOULD YOU DISTRIBUTE MEDICINE IN THE WILD AMPHIBIAN WORLD IF YOU COULD COME UP WITH SOMETHING FROM THE BULL FROG THAT MIGHT FIGHT OFF THE FUNGUS?
Good question. I don't really know how you would do that! (laughs) I don't know how you would do it in the field.
What I've been trying to do is showing how these amphibians are susceptible to different types of environmental insults. Amphibians, as you said, are like canaries in a coal mine. If something is hitting amphibians, other organisms – including people – will be affected eventually by some of these same factors. So, we are really looking at these as model systems to study disease spread and the effects of environmental change. It's not just an amphibian problem here. It's a major problem for people.
THE WHOLE WORLD.
Yeah."
Radiation Threats from Outer Space
Even the American Astronomical Society is focusing on what's happening to earth life and potential extinction events from outer space. AAS has invited Prof. Blaustein to speak at their upcoming May 29-31, 2007, meeting in Honolulu, Hawaii. A special session is planned to discuss "the reality of bolide impacts as a significant effect on the terrestrial environment is a real possibility, but radiation effects are not generally considered. However, radiation events are expected over geological timescales and have been shown to have potentially strong effects on the terrestrial environment. Such events might include nearby supernovae, gamma-ray bursts and unusually large solar flares. While there is new interest in climate change in the geological and paleontological community, there is increasing evidence for strong coupling to astrophysical causes. Confirmation of the abundance of extrasolar planets has created new interest in the possible distribution of habitable planets."
Prof. Andrew Blaustein has substantial data about increased UV radiation on Earth caused by thinning ozone and the link between that increased radiation and damage to immune systems in amphibians.  See: 052799 Earthfiles.
---
More Information:
For further information about amphibian decline and extinctions, please see reports below in Earthfiles Archives:
01/10/2007 — 2006: USA's Warmest Year On Record
12/07/2006 — Earth Headed for Warmest Period in 55 Million Years?
09/09/2006 — Methane – Another Threat in Global Warming
08/19/2006 — Repair of Earth's Ozone Layer Has Slowed
07/18/2006 — 2006 – Hottest Year So Far in U. S. History
06/24/2006 — "High Confidence" Earth Is Warmest in 400 Years – Maybe 1000s
08/26/2005 — What Is Killing Amphibians Around the World?
08/27/2004 — Global Warming Impact On Birds – More Extinctions Expected
12/22/2001 — Scientists Warn That Climate and Earth Life Can Change Rapidly
11/26/2000 — Environmental Updates
11/12/2000 — Update On Increased UV Radiation and Amphibian Decline
05/27/1999 — Amphibian Decline – Parasites and Increased UV Radiation
Answers.com/Prof. Blaustein:  "Dramatic declines in amphibian populations, including population crashes and mass localized extinction, have been noted since the 1980s from locations all over the world, and amphibian declines are thus perceived as one of the most critical threats to global biodiversity. A number of causes are believed to be involved, including habitat destruction and modification, over-exploitation, pollution, introduced species, climate change, increased ultraviolet-B radiation (UVB) and disease. However, many of the causes of amphibian declines are still poorly understood, and amphibian declines are currently a topic of much ongoing research.
Background
In the past three decades, global declines in populations of amphibians (the group of organisms that includes frogs, toads, salamanders, newts, and caecilians) have occurred worldwide. An international convention of amphibian biologists in 2004 has announced that over a third of the world's amphibian species are threatened, and more than 120 species have likely become extinct since the 1980s.
Declines have been particularly intense in the western United States, Central America, South America, and eastern Australia (although cases of amphibian extinctions have appeared worldwide). While human activities are causing a loss of much of the world's biodiversity, amphibians appear to be suffering much greater effects than other species of organisms. Because amphibians generally have a two-staged life cycle consisting of both aquatic (larvae) and terrestrial (adult) phases, they are sensitive to both terrestrial and aquatic environmental effects. Because their skins are highly permeable, they may be more susceptible to toxins in the environment than other organisms such as birds or mammals. Many scientists believe that amphibians serve as "canaries in a coal mine," and that declines in amphibian populations and species indicate that other groups of animals and plants will soon be at risk.
Declines in amphibian populations were first widely recognized in the late 1980s, when a large gathering of herpetologists reported noticing declines in populations in amphibians across the globe. Among these species, the Golden toad of Monteverde, Costa Rica featured prominently. The Golden Toad, Bufo periglines, was the subject of scientific investigation until populations suddenly crashed in 1987 and disappeared completely by 1989. Other species at Monteverde, including the Monteverde Harlequin Frog (Atelopus varius), also disappeared at the same time. Because these species were located in the pristine Monteverde Cloud Forest Reserve, and these extinctions could not be related to local human activities, they raised particular concern among biologists.
Natural Population Fluctuations or Problematic Declines?
When amphibian declines were first presented as a conservation issue in the late 1980s, some scientists remained unconvinced of the reality and gravity of the conservation issue. Some biologists argued that populations of most organisms, amphibians included, naturally vary through time. They argued that the lack of long-term data on amphibian populations made it difficult to determine whether the anecdotal declines reported by biologists were worth the (often limited) time and money of conservation efforts.
However, since this initial skepticism, biologists have come to a consensus that declines in amphibian populations are a real and severe threat to biodiversity. This consensus emerged with an increase in the number of studies that monitored amphibian populations, direct observation of mass mortality in pristine sites that lacked apparent cause, and an awareness that declines in amphibian populations are truly global in nature.
Potential Causes of Declines
Numerous potential explanations for amphibian declines have been proposed. Most or all of these causes have been associated with some population declines, so each cause is likely to affect in certain circumstances but not others. Many of the causes of amphibian declines are well-understood, and appear to affect other groups of organisms as well as amphibians. These causes include habitat modification and fragmentation, introduced predators or competitors, introduced species, pollution, or over-harvesting. However, many amphibian declines or extinctions have occurred in pristine habitats where the above effects are not likely to occur. The causes of these declines are complex, but many can be attributed to emerging diseases, climate change, increased ultraviolet-B radiation, or long-distance transmission of chemical contaminants by wind.
Habitat Destruction
Habitat modification or destruction is one of the most dramatic issue affecting amphibian species worldwide. As amphibians generally need aquatic and terrestrial habitats to survive, threats to either habitat can affect populations. Hence, amphibians may be more vulnerable to habitat modification than organisms that only require one habitat type.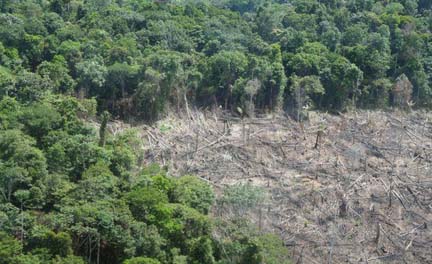 Habitat Fragmentation
Habitat fragmentation occurs when habitats are isolated by habitat modification, such as when a small area of forest is completely surrounded by agricultural fields. Small populations that survive within such fragments are often susceptible to inbreeding, genetic drift, or extinction due to small fluctuations in the environment.
Introduced Species
Non-native predators and competitors are also affecting the viability of frogs in their habitats. The mountain yellow-legged frog which typically inhabits the Sierra Nevada lakes have seen a decline in numbers due to stocking of non-native fish (trout) for recreational fishing. The developing tadpoles and froglets fall prey to the fish in large numbers. This interference in the frog's three year metamorphosis is causing a decline that is manifest throughout their ecosystem ("On the Rebound." Elizabeth Daerr, National Parks Magazine, January-February 2005, p. 49).
Chemical Contaminants
There is clear evidence that chemical pollutants are causing frog developmental deformities (extra limbs, or malformed eyes). Pollutants have varying effects on frogs. Some alter the central nervous system; others like atrazine cause a disruption in the production and secretion of hormones. Experimental studies have also shown that exposure to commonly used herbicides such as Roundup or insecticides such as malathion or carbaryl greatly increase mortality of tadpoles. Additional studies have indicated that terrestrial adult stages of amphibians are also susceptible to Roundup, particularly POEA, which is itself not a pesticide but a surfactant. Atrazine has been shown to causes male tadpoles of African clawed frogs to become hermaphroditic with development of both male and female organs. Such feminization has been reported in many parts of the world.
While most pesticide effects are likely to be local and restricted to areas near agriculture, there is evidence from the Sierra Nevada mountains of the western United States that pesticides are traveling long distances into pristine areas, including Yosemite National Park in California. Some recent evidence points to ozone as a possible contributing factor to the worldwide decline of amphibian.
Disease
A number of diseases have been related to mass die-offs or declines in populations of amphibians, including "red-leg" disease (Aeromonas hydrophila), Ranavirus (Familiy: Iridiviridae), Anuraperkinsus, and Chytridiomycosis. It is not entirely clear why diseases have suddenly begun to affect amphibian populations, but some evidence suggests that these diseases may have been spread by humans, or may be more virulent when combined with other environmental factors.
Trematodes
There is considerable evidence that parasitic trematode platyhelminths (a type of fluke) have contributed to developmental abnormalities and population declines of amphibians in some regions. These trematodes of the genus Ribeiroia have a complex life cycle with three host species. The first host includes a number of species of aquatic snails. The early larval stages of the trematodes then are transmitted into aquatic tadpoles, where the metacercariae (larvae) encyst in developing limb buds. These encysted life stages produce developmental abnormalities in post-metamorphic frogs, including additional or missing limbs. These abnormalities increase frog predation by aquatic birds, the final host of the trematode.
Chytridiomycosis Fungus
In 1998, following large-scale frog deaths in Australia and Central America, research teams in both areas came up with identical results: a previously undescribed species of pathogenic fungus, Batrachochytrium dendrobatidis. It is now clear that many recent extinctions of amphibians in Australia and the Americas are linked to this fungus. This fungus belongs to a family of saprobes known as Chytrids that are not generally pathogenic.
The disease caused by Batrachochytrium dendrobatidis is called Chytridiomycosis. Frogs infected by this disease generally show skin lesions and hyperkeratosis, and it is believed that death occurs because the fungus makes it impossible for the amphibian to respire across the skin. The time from infection to death has been found to be 1–2 weeks in experimental tests.
Subsequent research has established that the fungus has been present in Australia since at least 1978, and present in North America since at least the 1970s. The first known record of Chytrid infection in frogs is in the African Clawed Frog, Xenopus laevis. Because Xenopus are sold in pet stores and used in laboratories around the world, it is possible that the Chytrid fungus may have been exported from Africa.
Climate Change
Large stands of ecosystem such as rainforests are being destroyed at a phenomenal rate decreasing available habitat. Also pollutants indirectly affect frogs by way of ozone depletion causing sun burn damage to the delicate moist skins of frogs, and further affecting their immune systems.
Increased ultraviolet-B radiation
Like many other organisms, increasing ultraviolet-B (UVB)radiation due to stratospheric ozone depletion and other factors harms amphibians. However, the amount of damage depends upon the life stage, the species and other environmental parameters. Thus, for some species, UVB harms early stages such as egg or larval stages whereas for other species it is more harmful to adult stages (e.g. eye damage). Exposure to UVB radiation may not kill a particular species or life stage but may cause sublethal damage. UVB radiation may act synergistically with climate change, contaminants and diseases.
A recent review of most published studies done to test effects of UVB on amphibians showed that very few studies found any significant mortality on embryos when exposed to natural levels of UVB. Moreover, the few studies that did report increased mortality after UVB exposure were carried out with experimental procedures that were unrealistic when considering the life history of the species being tested. For example, the eggs of a species of salamander which are normally deposited on the undersides of submerged logs and stones were exposed to full sun in shallow water.
Amhibian tadpoles which can swim and seek shelter from open sunlight (UVB) were exposed to UVB for long periods without any opportunity to seek refuge. Overall, amphibians are well protected from damage from natural ambient levels of UVB by several factors: the enzyme photolyase in eggs, melanin pigment of eggs and embryos, jelly coats around eggs and developing embryos. Especially effective is the dissolved organic content of the water which darkens water and attenuates UVB within the first few centimeters of water in lakes and ponds used for spawning by amphibians.
Over millions of years, amphibians have evolved efficient protection against damage from UVB exposure.The death or deformity of even a single amphibian after exposure to UVB under natural conditions has never been documented. Despite a small increase of UVB due to atmospheric ozone thinning the evidence for UVB as a causal factor in amphibian decline is very weak.
Increased Noise Levels
Frogs and toads are highly vocal, and their reproductive behaviour often involves the use of vocalizations. There have been suggestions that increased noise levels caused by human activities may be contributing to their declines. In a study in Thailand, increased ambient noise levels were shown to decrease calling in some species and to cause an increase in others. This has, however, not been shown to be a cause for the widespread decline."
Notes and references
 Blaustein, Andrew R., and P.T.J. Johnson. 2003. The complexity of deformed amphibians. Frontiers in Ecology and the Environment 1:87-94.
Blaustein, Andrew R. and D.B. Wake. 1990. Declining amphibian populations: a global phenomenon? Trends in Ecology and Evolution 5:203-204.
---
Websites:
Amphibian Specialist Group:  http://www.amphibianark.org/
Alliance for Zero Extinction:  http://www.zeroextinction.org/pointmapper/azefiles/index.html
Amphibiaweb:  http://amphibiaweb.org/declines/declines.html
Global Amphibians:  http://www.globalamphibians.org/index.html
Nature Serve:  http://www.natureserve.org/publications/disappearingjewels.jsp

© 1998 - 2023 by Linda Moulton Howe.
All Rights Reserved.