"How much of our food production do we want to turn over to other
countries that might be friendly now and not friendly in the future? The federal government is looking at this and my question is: Are honey bees the canary in the coal mine? What are honey bees trying to tell us that we humans should be paying more attention to?"
– Jerry Hayes, Chief, Apiary Section, Florida Dept. of Agriculture, Gainesville, Florida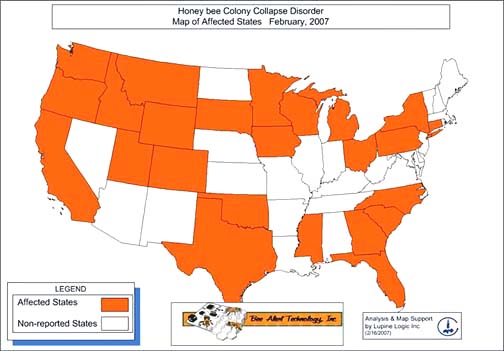 March 16, 2007  Washington, D. C. – In my previous February 23, 2007, Earthfiles and Coast to Coast AM news updates about the mysterious honey bee disappearances, I interviewed a Pennsylvania honey beekeeper who has had nearly 2,000 of his 2900 hives disappear – a 60% loss to date. That is David Hackenberg of Hackenberg Apiary in Pennsylvania. He said he had never seen so many deserted hives that were also left alone by predator moths and beetles. That's why he suspects some kind of pesticide is getting into the flower pollen and nectar and poisoning the hives. He contacted Penn State's bee experts to investigate. But to date, there is no answer.
And bees are still disappearing in massive numbers. One Midwestern beekeeper had 13,000 healthy, full hives in mid-November 2006. Those bees began disappearing in mid-December and now he's lost 96% of them. He's facing bankruptcy. This week, one Ohio beekeeper opened up his hives after the winter to find 80% were empty. Over the past six months, massive disappearances of honey bees have been reported in at least 24 states; internationally in Poland and Spain; and it's still unknown how many more honey bees will be gone as more northern hives are opened this spring in North America and Europe. Right now, dozens of scientists are trying to find out what is causing what they call "colony collapse disorder," or CCD.
I talked with Penn State entomologist Diana Cox-Foster, Ph.D., who has analyzed some bees found in deserted hives. Dr. Cox-Foster has seen as many as five different viruses and unidentified fungi in the bees. She says that is two times more pathogens than she's ever seen before in honey bees. The implication is that something has seriously damaged their immune systems, leaving the honey bees more vulnerable to disease than before. But what could that be?
So far, there are still no answers, but there is a long list of possibilities, which include pesticides and genetically modified crops, also known as GMOs or GMs. Scientists say there is no direct evidence that genetically modified crops are linked to honey bee die-offs. But I have been learning that not much is known about the accumulating impact of pesticides on insects, animals and even people when you consider in this modern world how many combinations of pesticides are used. One pesticide by itself might not destroy honey bees. But what happens when farmers spray herbicides, fungicides, insecticides and rodenticides on land that also has genetically modified crops with pesticides built-in?
The United States grows nearly two-thirds of all genetically engineered crops. Last year about 130 million acres were planted with GMs. Much of the soy, corn, cotton and canola have had a gene inserted into their DNA to produce pesticides systemically throughout the plants created and patented by Monsanto. Monsanto also produces genetically modified crops designed not to die when herbicides are sprayed on them. In a perfect biotech world, only the weeds would be killed. But Mother Nature has a way of outwitting human designs. So, now the weeds are becoming resistant to the herbicide sprays and frustrated farmers are putting on more and more poisons.
One American plant pathologist who is very concerned about the herbicide-resistant weeds is Doug Gurian-Sherman, Ph.D., now a senior scientist in the Food and Environment Program at the Union of Concerned Scientists in Washington, D.C. Previously between 1995 and 2000, Dr. Gurian-Sherman was a staff scientist at the Environmental Protection Agency where he evaluated risks and safety of pesticides and genetically modified crops. I asked him what effect accumulating pesticides might have on honey bees.
---
Interview:
New Problem: Herbicide-Resistant Weeds in Genetically Engineered Crops

Doug Gurian-Sherman, Ph.D., Plant Pathologist, Senior Scientist in the Food and Environment Program, Union of Concerned Scientists, and previous Staff Scientist, Environmental Protection Agency, evaluating risks and safety of pesticides and genetically modified crops, Washington, D. C.:  "It's hard to know what the implications are for bees, but one of the two main genetically engineered crops and the one most widely planted in the U. S. and around the world are herbicide-tolerant crops – especially herbicide-tolerant soybeans. At least half of the soybeans in the U. S. are resistant to a particular type of pesticide called glyphosate. The trade name of the most common type is called Roundup.
[ Editor's Note:  Roundup C3H8NO5P  is the brand name of a systemic, broad-spectrum herbicide produced by the biotech corporation, Monsanto. It is the most used herbicide in the world, and the top-selling agrichemical of all time. An herbicide is a pesticide used to kill unwanted plants. Selective herbicides kill specific targets while leaving the desired crop relatively unharmed. Some of these act by interfering with the growth of the weed and are often based on plant hormones. Herbicides used to clear waste ground are nonselective and kill all plant material with which they come into contact. The Roundup Herbicide has been linked to amphibian deaths in water contaminated with Roundup runoff.
Herbicides are widely used in agriculture and in landscape turf management. They are applied in total vegetation control (TVC) programs for maintenance of highways and railroads. Smaller quantities are used in forestry, pasture systems, and management of areas set aside as wildlife habitat.
Monsanto developed and patented the glyphosatemolecule in the 1970s, and marketed Roundup from 1973 onward. Monsanto retained exclusive rights in the United States until its U.S. patent expired in September 2000. Then Monsanto maintained a predominant marketshare in countries where the patent expired earlier
The active ingredient in Roundup is the isopropylamine salt of glyphosate. Glyphosate's mode of action is to inhibit an enzyme involved in the synthesis of the amino acids tyrosine, tryptophan and phenylalanine. It is absorbed through foliage and translocated (moves through plant sap) to growing points. Weeds and grass will generally re-emerge within one to two months after usage. Because of this mode of action, it is only effective on actively growing plants. Roundup is not effective as a "pre-emergence herbicide." Monsanto also produces seeds which grow into plants genetically engineered to be tolerant to glyphosate which are known as Roundup Ready crops. The genes contained in these seeds are patented. Such crops allow farmers to use glyphosate as a post-emergence pesticide against both broadleaf and cereal weeds. Soy beans were the first Roundup Ready crop, which was produced at Monsanto's Agracetus Campus located in Middleton, Wisconsin. Current Roundup Ready crops include corn, sorghum, cotton, soy beans, canola and alfalfa. ]
What this genetically engineered trait does is allow a farmer to spray the herbicide right on the crop, which would have killed the crop, would kill the soybeans, prior to introduction of this gene. The gene comes from a type of bacteria that is found in the soil and it makes the plant immune to the herbicide.
The consequence of this is that glyphosate and Roundup, which is sold by Monsanto – the same company that also sells the seed of the type of soybeans that are immune or resistant to the herbicide – that herbicide has become the most widely used herbicide in the world. The consequence of that is you have one particular herbicide used on a tremendous amount of acreage in the U. S. and elsewhere, especially Argentina and Brazil.
As any biologist would expect, when you have such tremendous pressure on weeds to try to survive this herbicide, some of the weeds that are resistant are selected for and all their competition is killed off. The resistant weeds then proliferate and can no longer be controlled by glyphosate. So, now you have a situation where the use of this herbicide has gone up and  on probably millions of acres, other herbicides are having to be used as well as glyphosate in order to control the resistant weeds.
So, what we've been seeing in the past few years is the overall level of herbicide use increasing and it will almost inevitably continue to increase. And in this case, it's causing the rise of these resistant weeds and the increased use of herbicides and potentially may be harming amphibians to boot.
AND THE HONEY BEES. WITH THE CREATION OF THESE FRANKENSTEIN CROPS AND FRANKENSTEIN WEEDS,  ISN'T EMERGING A MAJOR QUESTION ABOUT ACCUMULATION? NO ONE REALLY KNOWS THE ANSWER TO HOW MUCH IS TOO MUCH FOR EARTH LIFE? AND THAT THE PILING ON OF HERBICIDES NOW AGAINST RESISTANT WEEDS, MADE RESISTANT THROUGH THE APPLICATION OF GENETICALLY MODIFIED HERBICIDES, YOU ARE INCREASING PESTICIDES OUT THERE IN THE WORLD WITH UNKNOWN CONSEQUENCES?
Well, certainly. When the Environmental Protection Agency registers pesticides, it does quite a bit of testing. But even if that testing does reveal potential risks and has a lot of value, it certainly also has substantial limits. One of those limits is that we often don't have a good handle on how the interaction between different pesticides can effect organisms. That is not really tested by EPA.
EPA-Approved Fungicides Can Kill Brood and Young Bees
Another bee expert at the University of California in Davis has discovered that some EPA-approved fungicides that don't kill adult honey bees, do kill bee larvae and young bees. Eric Mussen, Ph.D., is an entomologist and Extension Apiculturist at UC-Davis. He is concerned that some EPA approval criteria only applies to adult honey bees and does not protect the larvae brood and young bees.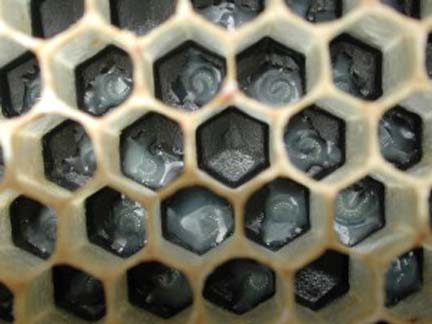 ---
Interview:
Eric Mussen, Ph.D., Entomologist and Extension Apiculturist, University of California, Davis, California:  "If you have something like a fungicide, which does not hurt an adult bee when it's sprayed in the field, then they (EPA) think it's just safe for honey bees. And in some cases, that has not been the truth.
Not too long ago, I ran some experiments in the (UC-Davis) lab and found that two of the fungicides that are commonly used out here for controlling diseases on the almond trees, if you get too much of it into the laval food of honey bees, it killed the larvae.
THE BOTTOM LINE IS THAT CURRENTLY THE ENVIRONMENTAL PROTECTION AGENCY HAS TESTING REGULATIONS THAT ARE APPLIED TO THE ADULT HONEY BEE, BUT YOU ARE FINDING THAT THOSE LEVELS (OF FUNGICIDE) THAT EPA ACCEPTS ARE KILLING THE BROOD AND THE YOUNG BEES.
That's only  happened in a few chemicals, but I guess the answer to that is yes and what we were hoping would be that there would also have to be some kind of data generated before a registration (of a pesticide) was processed that talked about what happens (if the pesticide) gets into the immatures.
WHEN YOU EXPLAINED THE RESEARCH YOU DID AND WHAT YOU FOUND TO EPA, WHAT DID EPA SAY?
Well, they said they wanted to see some evidence or some data. So, I sent them the evidence. And I cannot see that anything has changed since then and that was a couple of years ago."
Nicotine-Based Pesticides Interfere with Honey Bee Memories
In the past six years, a new group of nicotine-based pesticides have emerged called neonicotinoids. The most common is imidachloprid. Ironically, these were originally manufactured to be less lethal. But about four years ago, French and Italian beekeepers complained that imidachloprid crop spraying was killing their honey bees. So the French and Italian governments banned the nicotine-based pesticides.
American scientists now studying the Colony Collapse Disorder wrote in their first preliminary December 15, 2006, report that even though  the  neonicotinoids will not kill adult bees directly on flowers and plants:
"Recent research tested crops where seed was treated with imidacloprid. The chemical was present, by systemic uptake, in corn, sunflowers and rape pollen in levels high enough to pose a threat to honey bees. Additional research has found that imidacloprid impairs the memory and brain metabolism of bees, particularly the area of the brain that is used for making new memories.
"Implication: If bees are eating fresh or stored pollen contaminated with these chemicals at low levels, the pesticides might not cause mortality, but might impact the bees' ability to learn or make memories. If this is the case, young bees leaving the hives to make orientation flights might not be able to learn the location of the hive and might not be returning, causing the colonies to dwindle and eventually die. It is also possible that this is not the sole cause of the dwindling, but one of several contributing factors. "
I asked Jerry Hayes, Chief of the Apiary Section for Florida's Department of Agriculture in Gainesville, about the nicotine-based pesticide's ability to disable honey bee memory.
---
Interview:
Jerry Hayes, Chief, Apiary Section, Florida Dept. of Agriculture, Gainesville, Florida:  "The interesting thing about the Colony Collapse Disorder is that bees are leaving the colony and not coming back, which is highly unusual for a social insect to leave a queen and its brood or young behind. They are seemingly going out and can't find their way back home.
Imidachloprid, when it is used to control termites, does exactly the same thing. One of the methods it uses to kill termites is that the termites feed on this material and then go out to feed and can't remember how to get home. And it also causes their immune systems to collapse, causing what would be normal organisms to become pathogenic in them (bees).
HAVE FARMERS BEEN USING IMIDACHLOPRID MORE THAN THEY HAVE IN THE PAST?
I think a couple of things. First, its use has changed. At first it started out as a seed treatment to protect the seed as it germinated and developed. Now it is being used as a foliage spray, it's being used as a systemic, it's being combined with fungicides, which increases its efficacy. So, it's use has changed. Especially systemically, it does what it's supposed to do – it takes care of agricultural pests, which we want it to do. But there seems to be a disconnect sometimes that researchers and horticulturists forget that a honey bee is an insect. And of course, there are other insects out there that are valuable pollinators as well.
So, systemically this material (imidachloprid) is found in the nectar – in many cases in low doses – not something that would kill a honey bee. So the question is: What does chronic exposure to  the honey bee, either as an adult, or as the bees bring the material back to the nest to store and feed to developing young bees over time – what does chronic exposure (to pesticides) do to the colony?"
National Academy of Sciences Concerned About General Decline of North American Pollinators
Beyond the honey bees, Something is killing all the pollinators. Pollinators include honey bees, bumble bees, hornets, wasps, butterflies, hummingbirds and even bats. Something is happening in the environment that is causing all of those different species to decline – and currently the most dramatic event is the massive disappearance of honey bees.
Jerry Hayes, Chief of the Apiary Section for Florida's Department of Agriculture in Gainesville, told me he was asked in 2006 to speak before the National Academy of Sciences about the serious decline of North American pollinators.
---
Interview:
Jerry Hayes, Chief, Apiary Section, Florida Dept. of Agriculture, Gainesville, Florida:  "I was able to make a presentation to the National Academy of Sciences last year. They produced a report about the loss of pollinators in North America.  The federal government asked the National Academy of Sciences to look at this from a strategic standpoint.
[ Editor's Note:  Status of Pollinators in North America (2006) by National Academy of Sciences available from National Academies Press.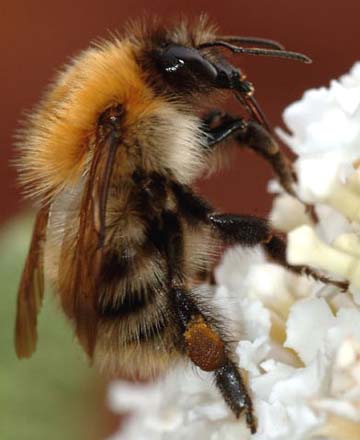 Xerces Society:  "Six years ago, bee taxonomists started to notice a decline in the abundance and distribution of several bumble bee species. Three of these species (Bombus occidentalis, B. affinis, and B. terricola) were once very common and important crop pollinators over their ranges.
"Decline of these species is correlated with a crash in the laboratory populations of commercially raised bumble bees, which were distributed for greenhouse pollination across North America.
"The timing of this suggests that an escaped exotic disease organism (possibly a microsporidian in the genus Nosema) is the cause for the widespread loss. However, this hypothesis is still in need of validation.
"Beyond the bumble bees, threatened North American pollinators now include 115 species and subspecies of 57 butterflies, 2 moths, and 55 bees. ]
How much of our food production do we want to turn over to other countries that might be friendly now and not friendly in the future? That's similar to our energy production problems right now. So, the federal government is looking at this and my question is: Are honey bees the canary in the coal mine? What are honey bees trying to tell us that we humans should be paying more attention to?
This is the most dramatic losses that I've seen in my career. I think I've heard 80% or higher losses (of honey bees in at least 24 states). I think they lost 400,000 colonies in Poland and 600,000 in Spain. In Florida, we have some 280,000 registered colonies and we're expecting losses in the 35% to 45% range.
What insects can you think of that man has a relationship with?  There aren't too many and honey bees have had a relationship with man for thousands of years and it has been beneficial to both species. Now, that is highly in jeopardy."
Does Collapse of Honey Bees Mean Future Food Shortages?
COULD WE BE LOOKING AT FOOD SHORTAGES AT THE END OF 2007?
I suppose if this continued. Then the question is: who fills in the gap? And do we become reliant on them? I think I read a figure from the USDA that they project by 2015 that 40% of our vegetables would be coming from China. So, maybe the transition is already taking place. What does this mean for consumers? If they can still get food in the grocery store and the price is the same, who cares about the honey bees?
BUT THAT COMES BACK TO YOUR PRESENTATION AT THE NATIONAL ACADEMY OF SCIENCES AND THE INTEREST OF NATIONAL SECURITY, IF WE END UP LOSING OUR POLLINATORS IN NORTH AMERICA AND WE ARE DEPENDENT UPON CHINA, SOUTH AMERICA AND OTHER COUNTRIES THAT MIGHT BECOME POLITICALLY DIFFICULT IN THE FUTURE, WHAT WOULD HAPPEN TO THE U. S. FOOD SUPPLY?
Exactly.
Osama Bin Laden's Honey Network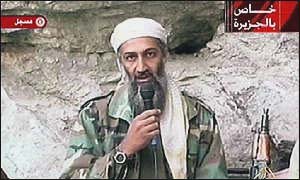 THE CIA REPORTED SEVERAL YEARS AGO THAT OSAMA BIN LADEN AND AL QAEDA HAD A BIG GRIP ON THE HONEY BEE INDUSTRY IN THE MIDDLE EAST AND EXTENDING TO AFGANISTAN AND PAKISTAN AND THAT REGION OF THE WORLD. DO YOU THINK THERE IS ANY POSSIBILITY THAT THIS HONEY BEE DISAPPEARANCE COULD BE RELATED TO SOME KIND OF BIOTERRORISM BY OSAMA BIN LADEN AND AL QAEDA?
Yes, well, I don't know if those guys are smart enough to pull something like that off.
DID THAT ISSUE EVER COME UP OFF THE RECORD, OR ON THE RECORD, AT THE NATIONAL ACADEMY OF SCIENCES?
Not that I remember. But it certainly has gone through my mind.
DOES IT SURPRISE YOU THAT SINCE OCTOBER 2006, THERE STILL IS NOT AN ANSWER BY MARCH 2007?
Yes. We have a lot of incredibly smart people who know honey bees, who know toxicology, who know funguses and yeasts, and what have you, working on this and analyzing this. I would have thought we would have had one of those 'Aha!' moments of 'Here it is!' So, when you don't have an 'Aha!' moment, that tells me that it's something so brand new we can't identify it; or there are multiple things intersecting causing the problem."
Another important finding about the unpredictable impact that combinations of pesticides can have was summarized in the Colony Collapse Disorder Working Group's first preliminary report of December 15, 2006. "A study in North Carolina found that some of the widely used neonictinoids in combination with certain widely used fungicides (Terraguard and Procure), synergized to increase the toxicity of the neonicotinoid over 1,000 times in lab studies."
[ Editor's Note:  Wikipedia – Synergy or synergism (from the Greek synergos, meaning working together) refers to the phenomenon in which two or more discrete influences or agents acting together create an effect greater than that predicted by knowing only the separate effects of the individual agents. ]
---
More Information:
National Bee Loss Survey
Colony Collapse Disorder (CCD) is the latest problem facing bee keepers today. Please take time to fill out a Bee Loss Survey, about whether or not you have experienced CCD. All data collected is confidential and helpful for determining the exact cause of CCD.
1) Symtoms of CCD in collapsed colonies are:
The complete absence of adult bees in colonies, with no or little build up of dead bees in the colonies or in front of those colonies.
The presence of capped brood in colonies.
The presence of food stores, both honey and bee bread.
i) which is not immediately robbed by other bees
ii) hive pests such as wax moth and small hive beetle are noticeably delayed in entering deserted hives.
2) In cases where the colony appear to be actively collapsing:
Lethargy.
An insufficient workforce to maintain the brood that is present.
The workforce seems to be made up of young adult bees.
The queen is present.
The cluster is reluctant to consume provided feed, such as sugar syrup and protein supplement.
For further information about environmental disturbances and Earth life extinctions, please see reports below in the Earthfiles Archives:
02/23/2007 — Scientists Hope "Amphibian Arks" Can Save Frogs and Toads
02/23/2007 — Part 1: Earth Life Threats – Alarming Disappearance of Honey Bees
02/02/2007 — Updated: New U. N. Global Climate Change Report: Earth Could Warm Up 3.2 to 11.52 Degrees Fahrenheit by 2100
01/10/2007 — 2006: USA's Warmest Year On Record
12/16/2006 — Updated: Unprecedented Die-Off of 2,500 Mallard Ducks in Idaho
12/08/2006 — NASA Wants Permanent Moon Base by 2024
12/07/2006 — Earth Headed for Warmest Period in 55 Million Years?
09/23/2006 — E. coli O157:H7 – Why Can't It Be Washed Off Contaminated Spinach?
09/09/2006 — Methane – Another Threat in Global Warming
08/19/2006 — Repair of Earth's Ozone Layer Has Slowed
07/18/2006 — 2006 – Hottest Year So Far in U. S. History
06/22/2006 — Horse Suspended in Mid-Air Near Milan, Italy, Apartment
02/20/2006 — Mysterious Deaths of Whales in Mexico
09/23/2005 — Phenomenon of "Instant" Hurricanes in 2005
08/26/2005 — What Is Killing Amphibians Around the World?
08/05/2005 — Scientists Puzzled by "Bizarre" Pacific Coast Die-offs in 2005
05/07/2005 — Did Milky Way Gas and Dust Turn Earth Into Icy Snowball Four Times?
04/20/2005 — Outer Space Impact At Serpent Mound, Ohio, 256 Million Years Ago
04/01/2005 — What's Killing Off Marine Life Every 62 Million Years?
03/20/2005 — Astronaut John Young: "The Moon Can Save Earth's Civilization."
02/26/2005 — Collapse of Societies: From Easter Island to Iraq – to Western World?
02/03/2005 — Kyoto Protocol Goes Into Effect February 16, 2005. British Scientists Warn Global Temperatures Could Climb Higher Than Earlier Estimates.
08/27/2004 — Global Warming Impact On Birds – More Extinctions Expected
09/02/2003 — Updated – Astronomers Don't Think Asteroid Will Hit Earth in 2014
07/19/2003 — Update – Defiance, Missouri T-Pattern Cut in Saplings
11/14/2002 — What Happened 12,000 Years Ago That Killed So Many Animals?
07/20/2002 — Extinctions of Earth Life Are Accelerating Rapidly
04/27/2002 — Earth's Magnetic Anomalies – Could the Poles Flip?
01/05/2002 — Global Warming – Could Increasing Carbon Dioxide Gas Be Transformed Into Limestone?
12/22/2001 — Scientists Warn That Climate and Earth Life Can Change Rapidly
06/09/2001 — Environmental Updates and Colt Mutilated in Leitchfield, Kentucky
02/25/2001 — Environmental Updates
02/07/2001 — 94% Decline In Aleutian Islands Sea Otter Population
01/07/2001 — Dinosaur-Killing Asteroid Punched 22 Miles Through Earth's Entire Crust
10/25/1999 — A Mysterious "Perturber" at the Edges of Our Solar System
---
Websites:
Mid-Atlantic Apiculture Research and Extension Consortium (MAAREC): http://maarec.cas.psu.edu/
National Bee Loss Survey:  http://beealert.blackfoot.net/~beealert/surveys/index.php
American Beekeeping Federation:  http://www.abfnet.org/
American Honey Producers Assoc.:  http://www.americanhoneyproducers.org/
The Xerces Society (Pollinators At Risk):  http://www.xerces.org/Pollinator_Insect_Conservation/pollinators_at_risk.html
American Assoc. of Professional Apiculturists:  http://entomology.ucdavis.edu/aapa/aapapubs.cfm
Bee Culture, The Magazine of American Beekeeping
http://www.beeculture.co

© 1998 - 2023 by Linda Moulton Howe.
All Rights Reserved.