"We didn't expect to find anything so strangely shaped
and so rapidly rotating. It's the fastest, large rotating object
in the solar system."
– Michael E. Brown, Ph.D., Cal Tech


Click for Earthfiles Podcast  
March 30, 2007  Pasadena, California – For the first time in astronomical history, a huge, bizarre rock beyond Neptune has been linked to other orbiting bodies out there. Some how the big rock called 2003 EL61, which is almost the size of Pluto, got into orbit out in the Kuiper Belt where most every other object is made of ice. Not only is this huge rocky object there, it is the only object in our solar system shaped like an American football and tumbling long end-over-end every four hours.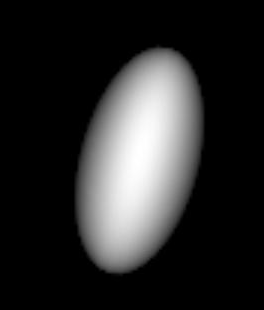 [ Editor's Note: The Kuiper Belt is a ring of some 100,000 objects of varying sizes in the outskirts of the solar system, beyond Neptune at distances over 2.6 billion miles (4 billion kilometers) from the sun, which is over 30 times the distance between Earth and Sun. The ice and rock objects in the Kuiper Belt circle the sun in stable orbits with periods of about 300 years. The first discovery of a Kuiper Belt object was not until 1992. ]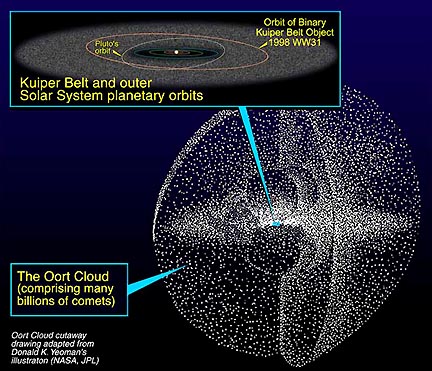 Where did the bizarre, nearly planet-sized rock in the Kuiper Belt come from? And what caused it to be the fastest spinning object orbiting the sun? Planetary astronomer Michael Brown, Ph.D., at Cal Tech, says he has discovered the "smoking gun." In the March 15, 2007, Nature journal, Dr. Brown describes finding icy satellites in the EL61 region that have surface properties nearly identical to those of 2003 EL61. This is the first "family" of Kuiper Belt objects ever discovered and imply all came from one, gigantic impact long ago.
The big spinning rock has never been given a real name. It's only referred to as 2003 – the year it was discovered – and EL 61, which is from an astronomical code list. Why hasn't 2003 EL61 been given a proper name yet? I talked about all this with Prof. Brown, well-known for his surveys of distant objects in the Kuiper Belt beyond Neptune and Pluto. Dr. Brown was named one of Time magazine's "100 Most Influential People of 2006." In fact, it is one of Dr. Brown's discoveries that demoted Pluto from being the 9th planet to being only one of many "dwarf planets." The largest dwarf planet is Eris (2003 UB 313), second in size is Pluto and the third largest dwarf planet is 2003 EL61.

---
Interview: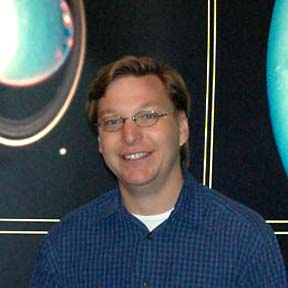 Michael E. Brown, Ph. D., Professor of Planetary Astronomy, California Institute of Technology, Pasadena, California: "This is one of the biggest surprises. We had always assumed that everything we see out there is essentially half ice and half rock. We have found some things that seem to be almost all ice and no rock. So, to find this object and realize it's almost entirely rock, that was a big surprise to us. The strange part about it is if you look at the surface, it is incredibly bright and shiny and icy and you don't see anything but ice on the surface. So, it must be a very thin frosting of ice with all rocks underneath.
One of the first ideas that someone came up with initially just throwing out thoughts about how this could be: maybe this actually came from the asteroid belt closer to the sun and somehow got tossed out. But the funny thing is that this one object is bigger than the entire asteroid belt put together. You could stuff the entire asteroid belt inside this one object.
All the things we learned about this as time went on just made it stranger and stranger. The first thing we realized is that it gets brighter and darker with a 2-hour period and we realized that's because it's tumbling end-over-end with a 4-hour period. We see the small end and then the big end and then the small end and big end over the course of four hours. This thing is shaped almost like a football, except if you took a football and let some air our out it and then you stepped on it – it's shaped more like that. The long dimension is about the size of Pluto, so it's a pretty big football. The short dimension is about half that size.
When we first found this, we were very surprised. We didn't expect to find anything so strangely shaped and so rapidly rotating. It's the fastest, large rotating object in the solar system. All of these things point to something very strange having gone on in the past.
IS THERE ANY POSSIBILITY THERE WAS SOME BIG EVENT THAT AFFECTED THE ATMOSPHERE ON MARS, THE MOON, THE WHOLE SOLAR SYSTEM AND MIGHT HAVE BEEN RESPONSIBLE FOR CREATING THE STRANGE 2003 EL 61?
There were many large bodies in the asteroid belt, other asteroids that collided with each other, collided with planets – things like the size of Mars that hit the Earth that lead to the moon being spun off the Earth. Those sorts of things have been well known in the inner parts of the solar system. We also know that in the outer part of the solar system, we can tell that collisions between Kuiper Belt objects must have been important. They appear to have been grinding down the objects to smaller and smaller sizes. But we had no direct evidence, we had no smoking gun that this had ever happened until this EL61 object.
The first idea we really clung on to about how this object got to be the shape and rotation is that perhaps it had been larger in the past and had been hit very hard by another very large object with a sort of glancing blow. That glancing blow would have led it to spin and the spin itself would have pulled it out into the shape like the football. The same glancing blow could also have knocked off a lot of the ice that would have been around. We think it started out as a large Pluto-sized Kuiper Belt object and hit something that was maybe 60% of its size at a tremendous speed, many hundreds of miles an hour, slamming into it and that gave it the energy – not to move large distances, but to remove all the ice, to make it spin, and to give it that crazy shape.
The interesting thing we learned is that once we had the idea that this thing had been hit, most people did not believe the idea. You could easily calculate the probability that such a large thing could hit another large thing and you get something like there is 1 chance out of 10 million that this would happen. Those are pretty low odds. So, most people sort of discarded that hypothesis.
2003 EL61 Has An Icy Family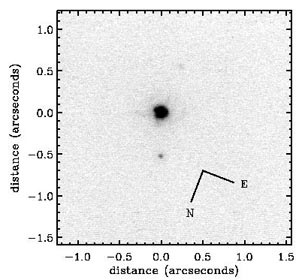 But the big piece of new data that we just came up with is that we actually found the other pieces that used to be part of 2003 EL61. We found a family of ice Kuiper Belt objects that are pure ice. We have El 61, which is almost pure rock, and these new objects which are almost pure ice that are in orbits very closely related to the original 2003 EL 61 orbit. So this is definitely the smoking gun that these objects had really once all been part of the same object.
So, now that we know this impact happened, we can now watch where these objects have gone since the impact. Since the impact occurred, most of the objects have stayed more or less in the same area that it happened. EL 61 itself – the big, rapidly rotating body – has moved slightly. The reason it has moved slightly is because of many, many long-term, long-range gravitational interactions with Neptune.
2003 EL61 Could Become "Yard Sprinkler" Comet
EL61 is sort of half way through its evolution. When it gets to the end stage, it will actually encounter Neptune. Once it encounters Neptune, it will be on a one-way journey into Jupiter. Then Jupiter is sort of the goal keeper of the inner solar system. If Jupiter let's EL61 go by, it becomes a comet. If Jupiter does not let it go by, it just flings it out of the solar system entirely. So, EL61 itself will go down this path and has the potential to become a spectacularly bright comet.
WOULD IT CONTINUE TO HAVE ITS FOOTBALL SHAPE AND BE MOVING END OVER END AS IT BECAME A COMET FLUNG BY JUPITER?
It would! It would be an interesting sight because you would get these jets coming off of it like a yard sprinkler – imagine a yard sprinkler moving incredibly quickly. You'd get these variable jets going in different directions. I sort of vaguely calculated that it would be as bright as the full moon for decades at a time. It would be a pretty spectacular sight, if you're willing to wait a billion years for when it happens.
SO YOU THINK IN ONE BILLION YEARS, IT MIGHT TURN INTO THIS END-OVER-END COMET?
That's right.
WHY WOULD IT TAKE A BILLION YEARS?
It's very slowly evolving and it's already been doing it for 4.5 billion years. It has a little bit more to go before it gets to encounter Neptune. That's because it only gets a tiny little tug from Neptune every time it goes around the sun and you have to add up those tiny tugs before you have enough of an effect to get close enough to really change your orbit dramatically.
IF YOU ADD THE ICY PIECES THAT YOU HAVE FOUND, PLUS THE BIG, ROCKY FOOTBALL, AND YOU PUT THEM TOGETHER, THAT WOULD BE LARGER THAN PLUTO?
No, it's about two-thirds the size of Pluto. It's not quite as large as Pluto.
Why Doesn't 2003 EL 61 Have A Proper Name?
WHEN IS IT GOING TO GET A NAME?
That is an excellent question. I don't know the answer to that. We submitted a name six months ago now to the International Astronomical Union and the IAU has not said a word. So, we don't know.
AND YOU CAN'T TALK ABOUT THE NAME YOU'VE SUBMITTED?
I can at least tell you that the name we submitted is from Hawaiian mythology. It's a name for the main object, the two moons that go around it and for the entire family (of icy objects) – they all go together. So, it's a nice combination. We hope they accept it. But they have been a little bit slow.
BUT WHY WOULDN'T THEY JUST NAME THIS LARGE OBJECT?
It's a sordid story. It's because this is the object that most people don't remember, luckily, but 2.5 years ago when we first announced the existence of the large object, Eris – the one bigger than Pluto – the day before, another group had announced the existence of EL61. We thought they had legitimately discovered it, so we supported their discovery and them as the discoverers, even though we had discovered it ourselves earlier and we had not announced the discovery. The way science works – and I think rightly so – whoever announces the discovery first is the one who officially gets to be the discoverer.
But we learned later that the other group had not actually discovered it. They had only discovered our website that told where it was and their claims have been essentially fraudulent, as far as we can tell.
However, the IAU has not decided who to side with yet at this point. So, the announcement of the name will tell you who they believe.
DO YOU EXPECT THAT TO HAPPEN ANY TIME THIS YEAR?
I have zero idea.
Dwarf Planet Bigger Than Pluto
BEYOND PLUTO NOW, WHAT IS THE LARGEST OBJECT IN THE SOLAR SYSTEM BEYOND NEPTUNE?
That's still Eris. Eris is the one we discovered in 2003 and is the one that caused poor Pluto to get demoted.
IT IS HOW MUCH BIGGER THAN PLUTO?
It's not much bigger – only about 5% bigger than Pluto. And it's about 25% more massive than Pluto. So, it's clearly heavier, but just barely bigger.
IS IT ALL ICE? OR ICE AND ROCK?
It's like Pluto – it's about half ice and half rock.
IS ERIS DEFINED AS A PLANET OR KUIPER BELT OBJECT?
Definitely Kuiper Belt object. The current definition puts both Pluto and Eris as dwarf planets and I think that's a very good place for them. Dwarf planets, which are members of the Kuiper Belt.
WHAT IS THE MAIN DISTINCTION NOW BETWEEN A DWARF PLANET AND ONE OF THE MAIN PLANETS?
Just purely size and whether you reside in one of these belts – things in the asteroid belt, things in the Kuiper Belt – are not legitimate planets. Large objects that are outside those belts are planets.
WHAT ARE YOU WORKING ON NOW THAT EXCITES YOU THE MOST?
We're looking for more of these very distant, very large objects and the hope is we've just hit the tip of the iceberg and we'll continue to find more.
YOU THINK THERE MIGHT BE OTHER OBJECTS IN THE KUIPER BELT AND BEYOND AS LARGE OR LARGER THAN PLUTO?
Not in the Kuiper Belt, but definitely beyond the Kuiper Belt. So, that's where we are looking now.
YOU WANT TO TRY TO FIND THEM BECAUSE?
For two big reasons: first, by finding these things that are left over from the creation of the solar system, we are learning about what was there back when the solar system formed and where it was.
Second, the big ones are the ones we can study in most detail, so we are learning more about the processes that are involved in making a large, icy planet-sized thing and what happens geologically."
Background Behind Conflict Over 2003 EL 61
Four years ago, Dr. Brown and his team had been observing the strange object for six months, trying to better understand EL61's odd shape and rotation before announcing their find. Then suddenly, astronomers at the Sierra Nevada Observatory in Spain, lead by Jose Luis Ortiz Moreno, claimed EL61 was their discovery.
However, further investigation showed that a website containing archives of where the Brown team telescopes had been pointed while tracking 2003 EL61 had been accessed eight times in the three days preceding Ortiz Moreno's announcement. Further, computers with IP addresses were traced back to the website of the Institute of Astrophysics in Andalusia, Spain, where Ortiz Moreno works. That was a week after Prof. Brown had published an abstract for an upcoming conference at which he had planned to announce the discovery of 2003 EL61. Dr. Brown's abstract referred to 2003 EL61 by a code which was the same code used in the online telescope logs. It was learned that the Andalusia computers had accessed those telescope logs containing that code directly, instead of through Dr. Brown's research home page.
When Ortiz Moreno was asked about his online activity, Ortiz emailed back to Dr. Brown that the Cal Tech professor was "hiding objects" and that "the only reason why we are now exchanging e-mail is because you did not report your object."
As Dr. Brown has pointed out, such an accusation contradicts the accepted scientific practice of analyzing one's research until there is some confidence that data is accurate and then submitting for peer review prior to any public announcement.
Although the matter has not yet been settled, Prof. Brown has petitioned the International Astronomical Union to credit his team rather than Ortiz Moreno as the discoverers of 2003 EL61. At least one authority within the IAU has indicated Brown's team will end up being recognized as the discoverers.
Saturn's Amazing Poles
As if our solar system could not be more strange, Saturn continues to amaze everyone. It was only a few months ago that the Cassini spacecraft photographed the ringed planet's South Pole, which looks like a huge eye staring out into space.
South Pole Hurricane "Eye"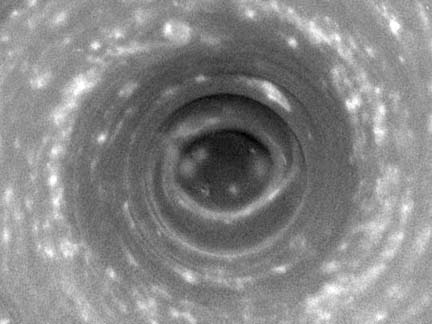 North Pole Hexagon
"This is a very strange feature, lying in a precise geometric fashion
with six nearly equally straight sides. We've never seen anything like this on any other planet. Indeed, Saturn's thick atmosphere where circle-shaped waves dominate is perhaps the last place you'd expect to see such a six-sided geometric figure. Yet, there it is!"
Kevin Baines, Ph.D., Atmospheric Physicist, Cassini's Visual and Infrared Mapping Spectrometer Team, NASA's Jet Propulsion Lab
In the past six months, for the first time since Voyager's flybys of Saturn in the early 1980s, Saturn's North Pole has been clearly seen in both visual and infrared spectrometry. There in all its baffling glory is a 6-sided hexagon nearly 15,000 miles across and 60 miles deep, apparently created by North Polar winds that have been blowing in the hexagonal shape for at least two decades. Saturn's North Pole hexagon is so big that nearly four planet Earths could fit inside. "Once we understand its dynamical nature, this long-lived, deep-seated polar hexagon may give us a clue to the true rotation rate of the deep atmosphere and perhaps the interior," said Dr. Baines.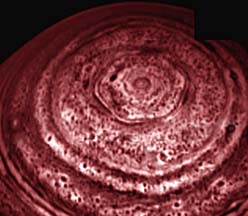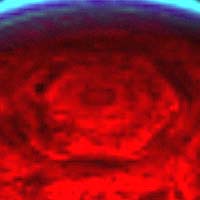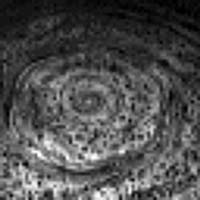 NASA reports: "NASA's Voyager 1 and 2 spacecraft imaged the feature over two decades ago. The fact that it has appeared in Cassini images indicates that it is a long-lived feature. A second hexagon, significantly darker than the brighter historical feature, is also visible in the Cassini pictures. The spacecraft's visual and infrared mapping spectrometer is the first instrument to capture the entire hexagon feature in one image.
"The hexagon is similar to Earth's polar vortex, which has winds blowing in a circular pattern around the polar region. On Saturn, the vortex has a hexagonal rather than circular shape. The hexagon is nearly 25,000 kilometers (15,000 miles) across. Nearly four Earths could fit inside it.
"The new images taken in thermal-infrared light show the hexagon extends much deeper down into the atmosphere than previously expected, some 100 kilometers (60 miles) below the cloud tops. A system of clouds lies within the hexagon. The clouds appear to be whipping around the hexagon like cars on a racetrack.
"'It's amazing to see such striking differences on opposite ends of Saturn's poles,'" said Bob Brown, team leader of the Cassini visual and infrared mapping spectrometer, University of Arizona, Tucson. 'At the south pole we have what appears to be a hurricane with a giant eye, and at the north pole of Saturn we have this geometric feature, which is completely different.'
"The Saturn north pole hexagon has not been visible to Cassini's visual cameras, because it's winter in that area, so the hexagon is under the cover of the long polar night, which lasts about 15 years. The infrared mapping spectrometer can image Saturn in both daytime and nighttime conditions and see deep inside. It imaged the feature with thermal wavelengths near 5 microns (seven times the wavelength visible to the human eye) during a 12-day period beginning on Oct. 30, 2006. As winter wanes over the next two years, the feature may become visible to the visual cameras.
"Based on the new images and more information on the depth of the feature, scientists think it is not linked to Saturn's radio emissions or to auroral activity, as once contemplated, even though Saturn's northern aurora lies nearly overhead. The hexagon appears to have remained fixed with Saturn's rotation rate and axis since first glimpsed by Voyager 26 years ago. The actual rotation rate of Saturn is still uncertain."
As Nobel Prize winning physicist, Richard Feynman once said: "Not only is the universe stranger than you imagine, it is stranger than you can imagine!"
---
More Information:
For further information about astronomical discoveries, please see reports below in the Earthfiles Archives:
01/13/2007 — Confusing Sun: Will Solar Cycle 24 Be Most Intense On Record?
01/07/2007 — Universe's Mysterious Dark Matter – First 3-D Map
01/06/2007 — Liquid Methane Lakes on Saturn's Titan Moon
12/19/2006 — First Stars – Or First Black Holes – in Universe?
12/07/2006 — Earth Headed for Warmest Period in 55 Million Years?
12/01/2006 — Deep Impact and Stardust: Are Comets Made of the Same Stuff?
11/27/2006 — Namibia Telescopes Find First "Gamma Clock" in Milky Way Galaxy
11/09/2006 — Outer Space Sunshade to Cool Earth in Global Warming?
10/23/2006 — One, Maybe Two, More Mysterious Radio Bursts from Galactic Center
09/05/2006 — Part 2: "Alphonso Lorenzo" – Military Visitor to Another Planet?
08/23/2006 — Solar Cycle 24 – Headed for Intense X Flares by 2010-2012?
08/19/2006 — Red Rain Cells of Kerala, India – Still No Definite DNA
06/15/2006 — "Extraterrestrial Life" in Red Rain of Kerala, India?
05/19/2006 — Simple "Binocular" Telescope Finds Another Planet Beyond Solar System
04/22/2006 — Cassiopeia A Is Not Dying Peacefully. Is It A Rare Magnetar?
03/17/2006 — Planet Earth's Ice Melt
12/23/2005 — Hubble Telescope Discovers More Moons and Rings Around Uranus
12/16/2005 — MARSIS Radar Looking Below Surface of Mars
12/07/2005 — Zeta Reticuli I and II – Binary Home of Extraterrestrial Biological Entities?
12/04/2005 — Central Black Hole Affects Massive Perseus Galaxy Cluster
11/09/2005 — Dust Storm On Mars, Cosmic First Light and Black Hole At Our Galaxy's Center
10/27/2005 — Updated: Five "Satellites" That Merged As One Star
09/16/2005 — "Planet X" and the Kuiper Belt's Oddballs, "Santa" and "Easterbunny"
08/12/2005 — Deep Impact Spectra: Carbonate, PAHs and Some Amino Precursors in Comet Tempel I
07/30/2005 — Astronomers Report 10th Planet Far Beyond Pluto
07/10/2005 — First Data from Deep Impact Crash Into Comet Tempel I
05/20/2005 — May 2005 Crop Formation Update in Six Countries
05/07/2005 — Did Milky Way Gas and Dust Turn Earth Into Icy Snowball Four Times?
05/06/2005 — What Are The Straight Lines on Saturn's Titan Moon?
03/03/2005 — What Made Five Strong Radio Bursts At the Center of Our Galaxy?
02/11/2005 — Story Behind "Inflation-Theory Implications for Extraterrestrial Visitation"
10/07/2004 — Exploding Stars: Investigating the 1604 and 1987 Supernovas
06/25/2004 — Wild 2, An Amazing Comet
03/15/2004 — Most Distant "Icy Planetoid" in Our Solar System Has A Most Baffling Orbit
03/03/2004 — Part 1 – Mars: Meridiani Planum Was Once "Drenched With Water and Habitable"
02/21/2004 — Update On Mars with Cornell Astronomer Steve Squyers
10/25/2003 — Science Data Reinforces Invisible "Dark" Matter and Energy Make Up 96% of Our Universe
08/26/2003 — Mars At Its Closest August 27, 2003, At 2:51 a.m. PDT / 5:51 a.m. EDT.
11/02/2002 — Update on 6,500-Year-Old Astronomical Stone Circle and Megaliths in Nabta, Egypt
10/22/2002 — U. S. DOD Satellites Detected Explosion of Siberian Bolide
10/07/2002 — Large Kuiper Belt Planetoid Found Beyond Pluto
09/07/2002 — Does Gravity Travel the Same Speed as Light?
07/11/2002 — Hubble Telescope Photographs Seven Objects Traveling In Pairs Beyond Pluto
06/01/2002 — Scientists Surprised by Abundance of Water On Mars
02/24/2002 — Mysterious Slowing of Pioneer Spacecraft 7 Billion Miles from Earth
01/26/2002 — Something Is Perturbing Comet Orbits in the Oort Cloud Surrounding Our Solar System
11/10/2001 — The Orion Constellation and the Pyramids of Giza
11/01/2001 — Astronomy News
06/16/2001 — Beyond Stonehenge with Astronomer Gerald Hawkins
02/12/2001 — NEAR Shoemaker Spacecraft's Historic First Landing On Eros Asteroid
12/14/2000 — A Pleiadian Star Tears Apart Black Interstellar Cloud
12/03/2000 — Bacteria from Outer Space?
10/09/2000 — Astronomy Updates
03/11/2000 — Is 433 Eros Asteroid Younger Than Expected?
01/17/2000 — Chandra Telescope Helps Solve X-Ray Mystery
08/28/1999 — Oddball Quasar and Salt Water Inside Meteorite
06/15/1999 — Current Brightest Binocular Comet and Upcoming Solar Eclipse
06/11/1999 — Eta Carainae – A Puzzling Star On Its Way To Hypernova
02/01/1999 — Astronomy Updates with Brian Marsden and John Huchra, Harvard
01/10/1999 — Updates: Astronomy and Rufus Baughn, Nevada Test Site
---
Website:
Michael E. Brown, Ph.D.:  http://www.gps.caltech.edu/~mbrown/

© 1998 - 2019 by Linda Moulton Howe.
All Rights Reserved.