May 14, 2007 Update:  "It is a major fish health crisis now in Wisconsin."
– Wisconsin Dept. of Natural Resources
"VHS is catastrophic certainly within the context of the Great Lakes ecosystem and the fishery resources. As a fish health problem, it is in fact catastrophic."
– Jim Winton, Ph.D., USGS Fish Health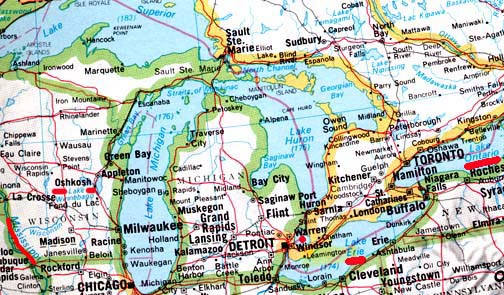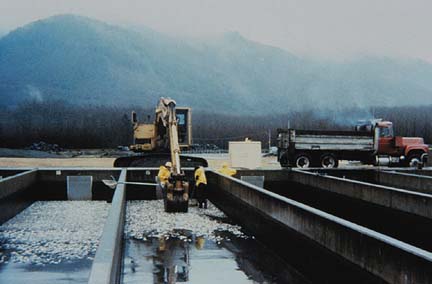 Return to Part 1
May 14, 2007, Update:  The deadly VHS virus (viral hemorrhagic septicemia) has now also been found in the Lake Winnebago chain of lakes – the first VHS infection confirmed in Wisconsin inland waters. The Wisconsin Dept. of Natural Resources confirmed on May 12, 2007, that two freshwater drum fish, or sheepshead, from the Little Lake Butte des Morts tested positive for VHS and describes the situation as "a major fish health crisis in Wisconsin."
May 4, 2007  Seattle, Washington – Another threat in the American landscape that some microbiologists are calling "potentially catastrophic" to fresh water fish is a deadly Ebola-like virus known as "viral hemorrhagic septicemia," or VHS. Until 1988, VHS was believed to infect only European fresh water fish, especially rainbow trout exported from the U. S. at the end of the 19th Century (known as "Egtved virus" in Europe.) But eventually, the virus was confirmed in Asian waters and the Pacific.
Then only two years ago in 2005, to the shock of aquatic specialists, millions of fish died in Lake Ontario, Lake Erie and Lake St. Clair in the Great Lakes – bleeding from viral hemorrhagic septicemia. And more died in 2006. What happens in 2007 if the virus spreads into the Mississippi River and beyond?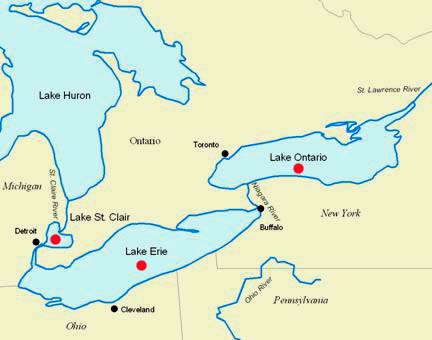 One scientist who has been studying the lethal virus is Jim Winton, Ph.D. Microbiologist and Chief of Fish Health for the U. S. Geological Survey's Western Fisheries Research Center in Seattle. I asked him this week what the size of VHS die-offs have been in the Great Lakes and what the disease symptoms are.
---
Interview:
Jim Winton, Ph.D., Microbiologist and Chief, Fish Health, U. S. Geological Survey, Western Fisheries Research Center, Seattle, Washington: "We're talking about thousands of metric tons of  (dead fish) in some of the species. Some of these die-offs have resulted in dead fish piling up on the beaches literally one to two feet deep. We never see all the fish that die in an outbreak, even in fresh water. In the marine environment, we hardly see them at all. But if you see a thousand fish on the beach, there's probably more than ten times or maybe even fifty times that many out in the water some place.
Symptoms of Viral Hemorrhagic Septicemia
1. Bleeding around the eyes, bases of the fins, sides and head
2. Pale gills
3. Bulging eyes
4. Distended (fluid-filled) belly corkscrew swimming behavior
5. Darkened skin overall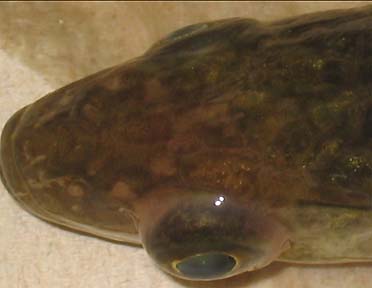 The symptoms of the virus – it attacks fairly quickly – are principally as the name implies: hemorrhages of the skin and necrosis, or destruction, of the internal tissues – mainly the blood-forming tissues of the kidney and spleen and to some extent the liver as well. So, the virus destroys the organ function and tissue function of the fish. They die sometimes of osmotic shock from the destruction of the skin, but more often due to failure of the kidney or other organ systems.
WOULD THE FIRST SYMPTOM WE WOULD SEE ON THIS FISH BE OUTRIGHT BLEEDING FROM THE HEAD OR THE BODY?
Yes. You would see reddish areas of hemorrhage and lesions on the body of the fish. It's important to say that this virus has no affect on humans. Viral hemorrhagic septicemia only affects cold and cool water fish.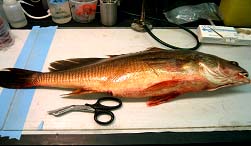 PROF. PAUL BOWSER AT CORNELL UNIVERSITY WAS QUOTED AS AYING: "WHAT'S SO DISTURBING IS THAT IT'S KILLLING FISH FROM SO MANY SPECIES AND WITH AMAZINGLY HIGH MORTALITY LEVELS."
Yes, he's exactly right. We are surprised that this virus has such a broad host range. We have over 20 species of fish in Great Lakes that have produced virus isolates sent to our laboratory for confirmation or identification. Several species have died in very large numbers and that's somewhat surprising. In Europe, the virus caused high mortality, but only in a few species. Paul Bowser has actually seen the degree of the mortality that occurs and they have been very impressed by it.
THE FACT THAT THE GREAT LAKES DIE-OFFS ARE AFFECTING AT LEAST 20 SPECIES, DOES THAT REINFORCE THE QUESTION ABOUT IS THERE A TOXIN OR SOMETHING ELSE IN THE GREAT LAKES WATER THAT IS SUPPRESSING THE IMMUNE SYSTEMS OF ALL OF THESE SPECIES AND MAKING THEM MORE VULNERABLE TO THE VIRUS?
We don't think so. That might yet be proven correct, but we have no evidence that this is other than the introduction of a highly virulent mutation of the virus into a population that has never seen it before. That was true of small pox with Native Americans. There was no toxin or other things, but people died at very high levels. Influenza in Inuits killed like 100% of the population in some villages. Naive populations have no innate resistance to some introduced pathogens and it does not take a toxin or anything else to make them more susceptible.
Summer 2007 – Could VHS Spread Geographically?
RIGHT NOW WE ARE BEGIINNING MAY 2007. WHAT IS YOUR GREATEST FEAR AS THE WATERS START WARMING UP THIS SUMMER?
I think we have already seen the beginning of a couple of potential outbreaks. We're waiting for confirmation.
But my greatest fear is that the virus will spread outside of the Great Lakes basin.
My second greatest fear is that the virus will spread to the remainder of the Great Lakes. The virus is not currently known to be in Lake Michigan or Lake Superior.
My third greatest fear is that it will continue to cause high levels of mortality for a fairly long period of time.
If the virus leaves the Great Lakes basin, spreads into aquaculture, it could have very high economic impacts. If it spreads into other parts of the country, it could have very high ecological impacts because the species that are shown to be susceptible in the Great Lakes are widely distributed and they include things like Large Mouth and Small Mouth Bass, which might be present in almost every state in the country.
WHAT IS THE WORST CASE BY THE FALL OF 2007?
That the virus is found to have left the Great Lakes and is spreading down the Mississippi River or into other parts of the country where in the wild populations it's largely uncontrollable. We have very few tools that we can use to actually manage disease in wild populations. We have good diagnostic tools and we have vaccines that can help if the virus were to spread to aquaculture. But even so, it's going to be an increasingly difficult management and economic problem.
I HAVE A NEWS ARTICLE FROM USA TODAY BY DENNIS CAUCHON AND HE WAS QUOTING YOU: "VHS is the most important and dangerous fish virus known worldwide. Its discovery in our fresh water is disturbing and potentially catastrophic."
VHS is catastrophic certainly within the context of the Great Lakes ecosystem and the fishery resources. As a fish health problem, it is in fact catastrophic.
Could Fish Species Be Wiped Out By VHS?
IF THE IMPACT OF THE VIRUS IN 2007 IS IN THE CATASTROPHIC RANGE IN THE CONTEXT OF THE FISH POPULATIONS IN THE UNITED STATES, DOES THAT MEAN THAT WHOLE SPECIES COULD BE NEARLY WIPED OUT?
No. No species is commonly wiped out by an introduced pathogen. The populations will be reduced. Eventually they might acquire some resistance, and might not recover to their former numbers. But they will not be wiped out.
IS IT FAIR TO SAY THAT THE NUMBER OF FISH DIE-OFFS WILL PROBABLY START INCREASING IN A VERY SIGNIFICANT WAY AS THE SUMMER COMES?
I think die-offs will start increasing. We don't know how significant because we don't know what percentage of the population has already seen this virus over the last two years. If a significant fraction of the existing fish in the Great Lakes have experienced this virus and have some increased resistance to it, the die-offs won't be as large as they were last year. But my feeling is that there are still a very large number of susceptible fish in some parts of the Great Lakes. I think we'll see the virus causing mortality in some of those populations and it might be in new parts of the Lakes and it might be in new lakes and it might even be in new species.
IF IT GETS OUTSIDE THE GREAT LAKES, WOULD IT BE IN THE STATES AROUND MICHIGAN? OR?
It's hard to know. The Great Lakes basin drains a fair number of states in the north central portion, but there are connections and pathways outside the Great Lakes into the Mississippi drainage.
SO IF IT GETS INTO THE MISSISSIPPI RIVER, THEN IT SPREADS THROUGHOUT THAT WHOLE MISSISSIPPI RIVER DRAINAGE ALL THE WAY DOWN TO NEW ORLEANS, CORRECT?
Potentially.
THEN WHAT EXPONENTIALLY IS THE PROBLEM YOU ALL FACE IN TRYING TO DEAL WITH IT?
Obviously, it's easier to contain a virus to a given watershed, even as large as the Great Lakes, than it would be to try to contain it if it starts spreading to significant portions of the United States. We're very concerned about the virus spreading outside the Great Lakes, whether it's into the Mississippi or across the Rocky Mountains. Should that happen, then the problem will be magnified considerably.
ARE WE TALKING THEN ABOUT MILLIONS OF FISH DIE-OFFS IN THE MISSISSIPPI DRAINAGE?
It's hard to put any kind of numbers to that. This is something with which we have very little past experience. This is almost certainly the largest example of a natural outbreak in multiple fish species that any of us have ever experienced. So, we don't have a lot to go on. I think we have a long way to go before we know how this is going to play out."
Urgent VHS Containment Effort
The U. S. Dept. of Agriculture, the Canadian government and states in the Great Lakes region are now enacting emergency regulations to stop people from transporting  potentially infected fish from infected Great Lakes regions to still-clean waters. As Dr. Winton said, if the lethal hemorrhagic virus spreads outside the Great Lakes into river systems such as the Mississippi, it will be catastrophic for fresh water fish and their related ecosystems in the United States.
Continued in Part 2 – VHS Spreading into Lake Michigan
---
More Information:
For further information about worldwide threats to earth life, please see reports below in the Earthfiles Archive:
05/04/2007 — Environmental Emergency Updates: Part 1 – Spreading Honey Bee Disappearances – Nosema ceranae Not the Answer?
03/17/2007 — Honey Bee Disappearances Continue: Could Pesticides Play A Role?
02/23/2007 — Part 1: Earth Life Threats – Alarming Disappearance of Honey Bees
02/23/2007 — Scientists Hope "Amphibian Arks" Can Save Frogs and Toads
02/02/2007 — New U. N. Global Climate Change Report: Earth Could Warm Up 3.2 to 11.52 Degrees Fahrenheit by 2100
01/10/2007 — 2006: USA's Warmest Year On Record
12/16/2006 — Updated: Unprecedented Die-Off of 2,500 Mallard Ducks in Idaho
12/08/2006 — NASA Wants Permanent Moon Base by 2024
12/07/2006 — Earth Headed for Warmest Period in 55 Million Years?
09/23/2006 — E. coli O157:H7 – Why Can't It Be Washed Off Contaminated Spinach?
09/09/2006 — Methane – Another Threat in Global Warming
08/19/2006 — Repair of Earth's Ozone Layer Has Slowed
07/18/2006 — 2006 – Hottest Year So Far in U. S. History
06/22/2006 — Horse Suspended in Mid-Air Near Milan, Italy, Apartment
02/20/2006 — Mysterious Deaths of Whales in Mexico
09/23/2005 — Phenomenon of "Instant" Hurricanes in 2005
08/26/2005 — What Is Killing Amphibians Around the World?
08/05/2005 — Scientists Puzzled by "Bizarre" Pacific Coast Die-offs in 2005
05/07/2005 — Did Milky Way Gas and Dust Turn Earth Into Icy Snowball Four Times?
04/20/2005 — Outer Space Impact At Serpent Mound, Ohio, 256 Million Years Ago
04/01/2005 — What's Killing Off Marine Life Every 62 Million Years?
03/20/2005 — Astronaut John Young: "The Moon Can Save Earth's Civilization."
02/26/2005 — Collapse of Societies: From Easter Island to Iraq – to Western World?
02/03/2005 — Kyoto Protocol Goes Into Effect February 16, 2005. British Scientists Warn Global Temperatures Could Climb Higher Than Earlier Estimates.
08/27/2004 — Global Warming Impact On Birds – More Extinctions Expected
09/02/2003 — Updated – Astronomers Don't Think Asteroid Will Hit Earth in 2014
07/19/2003 — Update – Defiance, Missouri T-Pattern Cut in Saplings
11/14/2002 — What Happened 12,000 Years Ago That Killed So Many Animals?
07/20/2002 — Extinctions of Earth Life Are Accelerating Rapidly
04/27/2002 — Earth's Magnetic Anomalies – Could the Poles Flip?
01/05/2002 — Global Warming Update – Could Increasing CO2 Be Transformed Into Limestone?
12/22/2001 — Scientists Warn That Climate and Earth Life Can Change Rapidly
06/09/2001 — Environmental Updates and Colt Mutilated in Leitchfield, Kentucky
02/25/2001 — Environmental Updates
02/07/2001 — 94% Decline In Aleutian Islands Sea Otter Population
01/07/2001 — Dinosaur-Killing Asteroid Punched 22 Miles Through Earth's Entire Crust
10/25/1999 — A Mysterious "Perturber" at the Edges of Our Solar System
---
Websites:
USGS:  http://www.nwrc.usgs.gov/world/content/plants3.html
USDA: http://www.aphis.usda.gov/vs/ceah/cei/taf/emergingdiseasenotice_files/vhsgreatlakes.htm
Univ. of Wisconsin Dept. of Natural Resources:  http://dnr.wi.gov/fish/pages/vhsexternalhemphoto.html
NOAA:  http://www.glerl.noaa.gov/res/Programs/ncrais/vhs_factsheet.html

© 1998 - 2019 by Linda Moulton Howe.
All Rights Reserved.