"It's not really so much of a question whether the dangerous tipping point occurs at 450 or 550 ppmv CO2. It's how do we get the (greenhouse) emissions under control so we don't push past all the possible points at which the climate change becomes a seriously dangerous issue."
– Chris Field, Ph.D., Director, Carnegie Institution's Dept. of Global Ecology, Stanford University, Palo Alto, Calif.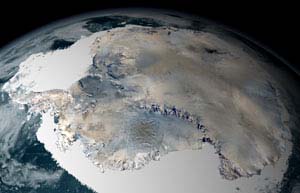 June 1, 2007  New York, New York – The United Nations Intergovernmental Panel on Climate Change reported this year that there is at least a 90% certainty that global warming is man-made and will "continue for centuries." The IPCC also reports that in coming decades, rising temperatures and rising sea levels will cause floods and mass famine. The implication is that there will be massive dislocations of humans and animals that have traditionally lived near coastlines. Despite the hard data, the George Bush Administration has resisted setting CO2 reduction goals, claiming there would be too many economic hardships for Americans. Ironically, it is the United States, which dominates the world list of greatest CO2 emitters.
One scientist who has been frustrated by the Bush Administration's attitude about global warming is James Hansen, Ph.D. and Director of NASA's Goddard Institute for Space Studies (GISS) in New York. Dr. Hansen has publicly criticized the Bush Administration for politicizing scientists and scientific data, suppressing data that contradict presidential biases.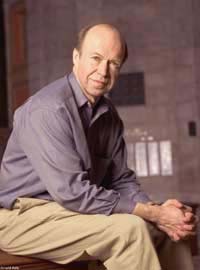 Then in the last week of May, a few quotes began to circulate on the Internet from a major global warming study scheduled for publication in the June 1, 2007, journal of Atmospheric Chemistry and Physics. Forty-eight American and French climate scientists – lead by NASA's James Hansen – warn about global warming tipping points.   "Tipping points can occur during climate change when the climate reaches a state such that strong amplifying feedbacks are activated by only moderate additional warming. …strong amplifying feedbacks are pushing Earth past dangerous tipping points." An example of "amplifying feedback" is that as the Arctic warms and ice melts, forests are expanding, replacing the white ice with dark, heat-absorbing tundra that will contribute even more CO2 back to the atmosphere. "The tipping point toward disastrous effects of global warming" could be much closer than most people realize.
The NASA/GISS study concludes that if Earth nations don't seriously curtail greenhouse emissions over the next ten years, Earth will be pushed past "critical tipping points with dangerous consequences for the planet."
As if anticipating the NASA report, on Thursday, May 31st, President Bush asked China, India and a dozen European countries to agree by the end of 2008 on a global emissions goal for reducing greenhouse gases. But the White House press explanation for the timing of the announcement is the upcoming G-8 summit in Germany in which global warming and its consequences will be major topics.
Germany is proposing that all nations agree to slow down global warming this century to no more than 2 degrees Celsius — about 3.6 degrees Fahrenheit. Experts say in order to do that, current greenhouse gas emissions coming out of cars and industries would have to be cut back 50 percent below 1990 levels over the next forty years. But the Bush Administration has rejected that idea.
Contradicting Dr. Hansen and towing the Bush Administration's political line, NASA Administrator Michael Griffin told National Public Radio this week he did not know if global warming was a serious problem and said: "To assume that global warming is a problem is to assume that the state of Earth's climate today is the optimal climate, the best climate that we could have or have had and that we need to take steps to make sure it does not change."
June 1, 2007
Journal of Atmospheric Chemistry and Physics
But not towing the Administration's political line are the 48 American and French scientists who compiled the study published June 1st in the journal, Atmospheric Chemistry and Physics.
Quoting from the GISS website:  A computer model developed by the Goddard Institute was used to simulate climate from 1880 through today. The model included a more comprehensive set of natural and human-made climate forcings than previous studies, including changes in solar radiation, volcanic particles, human-made greenhouse gases, fine particles such as soot, the effect of the particles on clouds and land use. Extensive evaluation of the model's ability to simulate climate change is contained in a companion paper to be published in Climate Dynamics.
The authors use the model for climate simulations of the 21st century using both "business-as-usual" growth of greenhouse gas emissions and an "alternative scenario" in which emissions decrease slowly in the next few decades and then rapidly to achieve stabilization of atmospheric CO2 amount by the end of the century. Climate changes are so large with "business-as-usual", with additional global warming of 2-3°C (3.6-5.4°F) that Hansen concludes "'business-as-usual' would be a guarantee of global and regional disasters."
However, the study finds much less severe climate change — one-quarter to one-third that of the "business-as-usual" scenario — when greenhouse gas emissions follow the alternative scenario. "Climate effects may still be substantial in the 'alternative scenario', but there is a better chance to adapt to the changes and find other ways to further reduce the climate change," said Sato.
While the researchers say it is still possible to achieve the "alternative scenario", they note that significant actions will be required to do so. Emissions must begin to slow soon. "With another decade of 'business-as-usual' it becomes impractical to achieve the 'alternative scenario' because of the energy infrastructure that would be in place," says Hansen.
This week I asked Chris Field, Ph.D. and Director of the Carnegie Institution's Department of Global Ecology and Prof. of Biological Sciences at Stanford University, about the "tipping point" danger as greenhouse gases increase more rapidly and glaciers and polar ice melt faster.
---
Interview:
Chris Field, Ph.D., Director, Carnegie Institution's Department of Global Ecology and Prof. of Biological Sciences, Stanford University, Stanford, California: "There is an increasing body of experimental evidence that says those crude models weren't very accurate and what is happening is that the ice sheets are melting much more rapidly than our characterizations of them.
What that means is that there are two risks to climate:  one is that loss of ice tends to make the underlying surface darker, which absorbs more radiation. That means the positive feedback from warming gets to be greater.
The other risk is that the land ice sheets when they melt tend to raise sea level. The amount of sea level equivalent, for example, that is stored in the Greenland ice sheet is between 5 and 10 meters or about 15 to 35 feet of sea level equivalent rise – really a substantial amount of water.
Is 450 ppmv CO2 in Earth's Atmosphere A Tipping Point?
YES, AND DR. HANSEN TOLD ABC NEWS (MAY 29, 2007) THAT "CO2 EXCEEDING 450 PPMVV IN OUR ATMOSPHERE IS ALMOST SURELY DANGEROUS AND THE UPPER LIMIT FOR AVOIDING DANGEROUS CLIMATE CONSEQUENCES COULD BE MUCH LOWER THAN 450 PPMV OF CO2."
THAT WAS STATED IN THE CONTEXT THAT WE ARE AT 383 PPMV CO2 IN THE ATMOSPHERE RIGHT NOW, LEAVING LESS THAN 100 PPMV TO INCREASE THROUGH THE NEXT 90 YEARS TO THE END OF THIS CENTURY.
WOULD YOU AGREE THAT WHERE WE ARE HEADED IN TERMS OF CO2 LEVELS COULD BE WHAT TIPS THIS PLANET INTO MORE RAPID CLIMATE CHANGE, MORE RAPID THAN IT IS NOW?
Well, I think it has been clear from a wide range of scientific evidence over the past several years that the risk of anthropogenic human influence on climate is very real and very grave.
From my own research and reading of the data, it is not 100% clear whether the dangerous anthropogenic influence occurs at 450 ppmv or 500 ppmv or 550 ppmv, but we're definitely headed in a direction where there is a grave risk of dangerous changes to the climate.
My personal concern is that anthropogenic emission of the heat-trapping gases is increasing so rapidly that we might shoot well past 450 ppmv, we might shoot well past 550 ppmv by the later decades of this century. So, it's not really so much of a question whether the dangerous tipping point occurs at 450 or 550. It's how do we get the emissions under control so we don't push past all the possible points at which the climate change becomes a seriously dangerous issue.
National Academy of Science Report: Earth's Atmosphere Could Reach 700 to 1000 ppmv CO2 by 2100
"Based on a recent study completed by the Global Carbon Project and published last week in the Proceedings of the National Academy of Sciences (NAS), it looks possible that in the absence of controls on emissions, we could be seeing CO2 concentrations at the end of this 21st Century that are well above 700 ppmv and possibly, even above 1,000 ppmv."
DR. HANSEN ALSO MAKES THE POINT THAT HE THINKS THERE IS A DECADE OR LESS IN WHICH THE INDUSTRIES OF THE WORLD AND ALL THE NATIONS COULD PULL BACK ON CO2 EMISSIONS AND MAYBE HAVE SOME CALMING EFFECT ON WHAT COULD BE MORE RAPID CLIMATE CHANGE THAN WE EVER EXPECTED. WOULD YOU AGREE THAT THERE IS ONLY A DECADE OR LESS LEFT FOR THE PLANET TO DECIDE WHETHER OR NOT IT IS GOING TO TRY TO PULL BACK ON CO2 EMISSIONS?
It's hard to know. I think the window of opportunity is really quite brief and I think it is quite brief for a couple of reasons. Probably the most important one is that there is a very strong relationship between economic growth and energy use and between energy use and greenhouse gas emissions.
What we need to do is break that link between energy use and greenhouse gas emissions. That takes a combination of conservation efficiency and new technologies and carbon capture and storage. Basically what it takes is new technologies, new incentives and new ways to make using all those strategies compelling to all of the countries of the world that have a legitimate desire for economic development. I think the developed countries of the world – the United States, Europe, Japan, Australia – need to take a lead in making these technologies attractive for developing on an industrial scale and then making them available to the whole world.
That's a multi-step project and unless we get serious about it in the short run, there is not going to be time for the steps required to get it distributed worldwide. And I hope we have not passed an unacceptable tipping point, but I don't think anyone knows if we have the opportunity to solve the problem without dangerous changes to the climate system.
Based on a recent study completed by the Global Carbon Project and published last week in the Proceedings of the National Academy of Sciences (NAS), it looks possible that in the absence of controls on emissions, we could be seeing CO2 concentrations at the end of this 21st Century that are well above 700 ppmv and possibly, even above 1,000 ppmv.
IF THAT OCCURRED, WOULD WE ESSENTIALLY BE GUARANTEED AT LOOKING AT WEST ANTARCTIC ICE MELT CONTRIBUTING TO EVEN MORE RAPID SEA LEVEL RISE THAN THE CURRENT COMPUTER PROJECTIONS?
We would be looking at substantial warming during this century. The IPCC range of global average temperature by 2100 is somewhere between 1.5 degrees Centigrade to 6 degrees Centigrade warming. That's between 3 degrees Fahrenheit and 11 degrees Fahrenheit of average mean warming, with even more warming at the poles.
If we're at the high end of the CO2 emissions, we'll tend to be at the high end of the warming as well and a climate change scenario in which we are looking at more than 10 degrees F. of warming is just a dramatically different world to the world today.
The way to put that into perspective is that the average mean temperature difference between Los Angeles and Death Valley is about 10 degrees F.  And we're talking about that level as a worldwide average and even larger differences than that in the Arctic.
It also means that commitments to long-term sea level rise are greater, commitment to the changes in precipitation and storm tracks that accompany the changes in temperature become greater.
How to Get Industrial Nations to Cut Back CO2 Emissions?
IF CHINA AND INDIA DON'T JOIN IN THIS EFFORT – WHICH HOPEFULLY THE UNITED STATES AND ENGLAND AND OTHER INDUSTRIAL NATIONS WILL BEGIN LEADING A QUEST FOR CO2 CUTBACKS AND SHIFTS TO OTHER THAN FOSSIL FUEL ENERGIES. ASSUMING, THOUGH, THAT MIGHT NOT HAPPEN – THAT CHINA AND INDIA, TWO BIG CO2 CONTRIBUTORS – BACK AWAY AND SAY THEY WANT THEIR TIME FOR INDUSTRIAL DEVELOPMENT THE WAY WE HAD IT – AND THAT INCREASES THE CO2 INCREASE EVEN MORE RAPIDLY THAN THE IPCC HAS BASED THE COMPUTER MODELS ON – WHAT DO YOU THINK THE WORST CASE IS FOR THE REST OF THIS CENTURY?
I think that the alternative to continued growth and emissions from India and China is that the technologies for high growth and energy without high growth and emissions become the compelling choice for them. I think that's where the leadership is required from countries like the United States and Europe. That's also where the opportunity is. You know, it's like sitting in 1900 and asking, 'What are going to be the big businesses of the 20th Century?' I don't think there were very many people saying that petroleum was going to be the big business of the 20th Century.
And now in the early years of the 21st Century, I think we're looking at an unknown set of the big businesses. But they are likely to be businesses that can provide copious amounts of energy at low cost without carbon emissions.
How to Cope with Increasing Storm Strength?
WE'RE ALREADY HEARING FROM A VARIETY OF SCIENTISTS STUDYING THIS THAT MORE AND MORE HURRICANES WILL BE MORE LIKE KATRINA, THAT THERE WILL BE MORE AND MORE TORNADO EVENTS LIKE WHAT JUST TOOK OUT GREENSBURG, KANSAS.
WITH INCREASING STORMS AND SEA LEVEL RISE AND DEEPER SURGES OF THE OCEANS INLAND AS WATER DOES RISE INCREMENTALLY, AREN'T WE TALKING ABOUT THE COASTS OF THE ENTIRE PLANET BECOMING BASICALLY UNLIVABLE DECADE BY DECADE BY DECADE?
The issue of sea level rise is a serious one and has two really important components. The first is that even a modest amount of sea level rise can lead to rapidly increasing damages because when you add a small amount of sea level rise – 6 inches or a foot on top of every storm surge and on top of every spring flood – the damages increase really rapidly.
The estimates, for example, in the Sacramento delta in California are that a one foot sea level rise would convert what currently is a flood that's so serious it occurs every 100 years into one that would occur every five to ten years.
The other thing that's really important about sea level rise is that we have continued development of more and more infrastructure along the Pacific coast. As we put more and more infrastructure close to the coasts, and we subject it to more and more pounding by the rising seas, the losses of property go up much more rapidly.
And finally, as you say, it's important to note that the scientific evidence for increase in the intensity of the largest hurricanes is really pretty clear now so that even though the number of hurricanes might not increase in a warmer climate, the frequency with which they get to be mega storms is likely to increase.
"Eco-Refugees" As Sea Levels Rise –
Relocate to Where?
WHERE ARE ALL THE PEOPLE GOING TO GO, WHETHER IT'S BANGLADESH OR COASTAL AREAS IN AFRICA OR THE UNITED STATES? WHERE IS EVERYBODY GOING TO RELOCATE TO?
(sighs/laughs) I really don't think we know the answer to that question. It is one of the most severe challenges we face.
One of the recent conclusions of the IPCC study on impacts and vulnerability, however, is that there are vulnerable people in almost every region – especially the elderly, the poor and children. And there are vulnerable regions in almost every country and certainly the experience of the United States with Hurricane Katrina demonstrated that even with all the technical and economic resources that we have, we could not protect the vulnerable parts of our population.
What Happens if West Antarctic Ice Continues to Melt?
LOOKING AGAIN AT THE UPCOMING CONTENT FROM JAMES HANSEN AND NASA'S RELEASE ON JUNE 1, THE STUDY SAYS, "ONLY MODERATE ADDITIONAL CLIMATE FORCING – WHICH WOULD MEAN ONLY MODERATE ADDITIONAL WARMING FROM SUCH (CO2) EMISSIONS – IS LIKELY TO SET IN MOTION THE DISINTEGRATION OF THE WEST ANTARCTIC ICE SHEET. MANY SCIENTISTS SAY THAT A DISINTEGRATION OF THE WEST ANTARCTIC ICE SHEET WOULD MEAN CATASTROPHICLY RAPID SEA LEVEL RISE." COULD YOU COMMENT ON THAT?
The physics of melting these continental ice sheets is a very difficult problem. There's a lot of recent experimental evidence that says the estimates that have been built into the climate models were probably too conservative, but we still don't have a precise estimate of too conservative by how much? If the sea level rise from either melting of the Greenland or West Antarctic ice sheet is accelerated, we're looking at a commitment to so much sea level rise that many of the world's major coastal cities would have to be relocated or dramatically reinforced within a time period that is certainly much less than the time period over which these cities have persisted in history.
WHATEVER THE SEA LEVEL RISE IS WE'RE TALKING ABOUT ONLY NINE DECADES THAT IT COULD BE ANOTHER TWO OR THREE FEET HIGHER, CORRECT?
The ranges of sea level rise in the most recent IPCC report are up to 2 or a little more than 2 feet. Now, those are maybe conservative based on the new information that's available. But it's unlikely we'll see more than 10 feet of sea level rise during this century.
One to two to three feet of sea level rise during this century would impose very major hardships on cities, infrastructure around the world and especially on people in the world's poorest nations.
WHAT WOULD PHILADELPHIA AND NEW YORK DO? THEY ARE ONLY ABOUT 25 FEET ABOVE SEA LEVEL. IN OTHER WORDS, IF WE GO UP TWO TO THREE FEET OR MORE OVER THIS CENTURY, THEN THE SURGE FROM STORMS IS GOING TO BE THAT MUCH MORE WATER RIGHT INTO THE CITY STREETS, CORRECT?
In places like New York and Philadelphia where there are currently water damage, it's during storm events. What happens with sea level rise is that it takes less of a storm event to create a severe problem. Of course, at the same time, if we are getting more severe storm events, we put ourselves into a double bind. It might be by the later decades of this century, we're looking at the need for really massive investments in protecting assets in cities like New York or Philadelphia, much as London has done recently. London has a massive engineering project to prevent high tides from coming up the Thames River.
The Italian government is talking about a massive engineering budget to protect Venice. In the cities that have lots of economic capital, I think that's what we will be seeing. And the world cities that don't have access to money, I think we're going to see large-scale abandonment of the areas that are cities now.
HOW IS LONDON TRYING TO PRESERVE ITSELF?
Oh, it's an amazing engineering project. It's called the Thames River Barrier. Basically it's a series of massive steel structures that can rise up out of the bottom of the river and block high tides from coming up the Thames River and flooding London.
The important way to think about these coastal events is that when you try and defend a city like London, for example, the Thames River Barrier was built with the expectation that it might be used once every ten years or maybe once a year. But now it's at the point where they are already using it several times per year. And as sea level continues to rise, the barrier will need to be used more and more frequently, and there might be events where even that is not successful.
IF INSURANCE COMPANIES WILL NO LONGER INSURE HOMES AND STRUCTURES NEAR THE SHORES, DOESN'T THAT MEAN THERE IS GOING TO BE AN EXIT AWAY FROM THE COASTLINES BECAUSE INSURANCE WON'T BACK PEOPLE UP TO CONSTRUCT THERE?
Certainly insurance is a critical part in communities that people make about where to build and what to build. I think the fact that it's becoming more and more difficult to provide insurance for various kinds of coastal structures indicates that the insurance companies – and especially the reinsurance companies – are aware of the risks that they face with ongoing development in the coastal areas. I think we should view the insurance companies' reluctance as a clarion for the kinds of problems we're likely to experience unless we get this problem under control.
If Greenhouse Gases Are Not Slowed?
"If we don't (control greenhouse emissions), the risk of unacceptable
damaging changes from climate change are unacceptably grave."
DO YOU AGREE WITH JAMES HANSEN THAT WE COULD BE CLOSER TO A REALLY RADICAL TIPPING POINT THAN ANYBODY REALIZES?
I think there are many lines of evidence that we have a relatively brief window of opportunity to take the steps to getting the emissions of these heat-trapping gases under control.
IF WE DON'T?
If we don't (control greenhouse emissions), the risk of unacceptable damaging changes from climate change are unacceptably grave.
AND WOULD COME UPON US SOONER THAN ANYONE REALIZES?
I think it's clear that the potential risks of climate change in the next several decades during this century are at the level where the risks are unacceptable with large amounts of climate change. It's very hard to know whether we've crossed a threshold this year or next year or in five years, but I think what you need to be clear on is the momentum and inertia in the world's economic and technological systems and it is that inertia that we need to be working on. We need to be turning the corner making this huge ocean-going tanker that's the world's energy system start to turn. If we don't even start to think about making it start to turn for another ten or twenty years, there's no hope we're going to get it to turn soon enough."
---
More Information:
For further information about global warming, please see reports below in the Earthfiles Archive:
05/18/2007 —Antarctica: Unprecedented Western Ice Melt and CO2-Saturated Southern Ocean
02/23/2007 —Scientists Hope "Amphibian Arks" Can Save Frogs and Toads
02/23/2007 —Part 1: Earth Life Threats – Alarming Disappearance of Honey Bees
02/23/2007 —Part 2: Earth Life Threats – "Noah's Ark" for World's Seeds
02/02/2007 —Updated: New U. N. Global Climate Change Report: Earth Could Warm Up 3.2 to 11.52 Degrees Fahrenheit by 2100
01/13/2007 —Confusing Sun: Will Solar Cycle 24 Be Most Intense On Record?
01/10/2007 —2006: USA's Warmest Year On Record
12/07/2006 —Earth Headed for Warmest Period in 55 Million Years?
11/09/2006 —Outer Space Sunshade to Cool Earth in Global Warming?
09/09/2006 —Methane – Another Threat in Global Warming
08/23/2006 —Solar Cycle 24 – Headed for Intense X Flares by 2010-2012?
08/19/2006 —Repair of Earth's Ozone Layer Has Slowed
07/18/2006 —2006 – Hottest Year So Far in U. S. History
06/24/2006 —"High Confidence" Earth Is Warmest in 400 Years – Maybe Even 2,000 Years
04/08/2006 —Recent Caribbean Coral Reef Die-Off Biggest Ever Seen
03/17/2006 —Planet Earth's Ice Melt
11/18/2005 —Is the Sun Heating Up?
10/07/2005 —Warmer Sea Surfaces and Increased Wind Power Are Making Hurricanes Stronger
09/29/2005 —2005 Arctic Summer Ice Melt – Largest On Record
09/23/2005 —Phenomenon of "Instant" Hurricanes in 2005
09/23/2005 —9 X-Class Solar Flares Between September 7 – 19, 2005.
08/26/2005 —What Is Killing Amphibians Around the World?
08/05/2005 —Scientists Puzzled by "Bizarre" Pacific Coast Die-offs in 2005
05/11/2005 —Greenland Sea Cold Water Re-Cycling Has Nearly Stopped. Britain Expected to Become Cooler.
05/07/2005 —Did Milky Way Gas and Dust Turn Earth Into Icy Snowball Four Times?
02/26/2005 —Collapse of Societies: From Easter Island to Iraq – to Western World?
02/03/2005 —Kyoto Protocol Goes Into Effect February 16, 2005. British Scientists Warn Global Temperatures Could Climb Higher Than Earlier Estimates.
01/22/2005 —From U. S. to Arctic – A Sea Change in the Weather
12/31/2004 —Abrupt Climate Change Occurred Worldwide 5,200 Years Ago
11/02/2004 —North Pole Summers Without Ice?
10/15/2004 —Ever-Increasing Carbon Dioxide Build-Up in Atmosphere Since 1958
09/17/2004 —Cat 4 and 5 Hurricanes Charley, Frances and Ivan in Four Weeks -Unprecedented in American Recorded Weather History
08/27/2004 —Global Warming Impact On Birds – More Extinctions Expected
08/14/2004 —Oceans Are Absorbing A Lot of Greenhouse CO2. As Chemistry Changes, What Happens to Sea Life?
08/01/2004 —Sixth Straight Year Hundreds of Birds Die at Roestler Lake, North Dakota.
02/27/2004 —Abrupt Climate Change: Scenario from A Pentagon-Commissioned Report
11/29/2003 —Glaciers Are Melting Around the World So Fast That Water Supplies Could Be Threatened
10/29/2003 —Fifth Intense Solar X-Flare – What's Happening On the Sun?
05/30/2003 —Scientists Surprised by Common House Fly Fossils in Antarctica
12/14/2002 —Arctic Rivers' Fresh Water Flows Could Change Atlantic Ocean Current
11/14/2002 —What Happened 12,000 Years Ago That Killed So Many Animals?
10/21/2002 —Mt. Kilimanjaro's Ice Cap Is Melting Fast
08/27/2002 —August 2002: Severe to Moderate Drought in 37 States
07/20/2002 —Extinctions of Earth Life Are Accelerating Rapidly
06/04/2002 —EPA Admits Humans Burning Fossil Fuels A Big Factor in Global Warming
03/30/2002 —Drought Worsens in United States
03/21/2002 —Antarctic Peninsula Is Melting – And So Is Arctic Ice
02/13/2002 —January 2002 Warmest On Record For Whole World
01/30/2002 —Latest Satellite Data Shows Surprisingly Thicker Ross Ice Shelf in Antarctica
01/05/2002 —Global Warming Update – Could Increasing Carbon Dioxide Gas Be Transformed Into Limestone?
12/22/2001 —Scientists Warn That Climate and Earth Life Can Change Rapidly
06/09/2001 —Environmental Updates and Colt Mutilated in Leitchfield, Kentucky
04/18/2001 —April Environmental Updates
03/24/2001 —Alps Permafrost Melting
03/21/2001 —Earth Hasn't Been This Warm Since the Pliocene 3 Million Years Ago?
03/04/2001 —Disappearing Glaciers – Evidence of A Rapidly Warming Earth
02/25/2001 —Environmental Updates
02/18/2001 —Environmental Updates and Mysterious Deaths of 2000 Atlantic Brant Geese
02/07/2001 —94% Decline In Aleutian Islands Sea Otter Population
01/28/2001 —U. N. Global Warming Forecast: Up to 10.5 Degrees F. Hotter At End of 21st Century
01/07/2001 —Dinosaur-Killing Asteroid Punched 22 Miles Through Earth's Entire Crust
11/26/2000 —Environmental Updates
10/30/2000 —Science, Environment and Medical Updates
09/10/2000 —Largest-Ever Antarctic Ozone Hole
09/10/2000 —Arctic Ice Melt Threatens Polar Bears
06/17/2000 —Spring 2000 – Hottest On Record in U. S.
05/07/2000 —Serious Drought in the Great Lakes
04/20/2000 —Severe Arctic Ozone Loss and Deep Ocean Warming
01/13/2000 —Computer Projections About Earth Weather 2000-2100
01/09/2000 —Global Warming Alert from NOAA and U.K.
12/25/1999 —Y2K Nuclear Concern and Global Warming Update
09/26/1999 —Could Ancient Microbes in MeltingPolar Ice Cause Epidemics?
07/25/1999 —Maryland Fish Kills; Global Warming; and Warm Oceans and Disease
06/04/1999 —Global Warming Linked to Increasingly Warmer and Wetter Winters in Europe & Western North America
05/05/1999 —Two Antarctic Peninsula Ice Shelves Almost Gone
---
Websites:
NASA GISS:  http://www.giss.nasa.gov/
Global Carbon Project:  http://www.globalcarbonproject.org/
CSIRO, Commonwealth Scientific and Industrial Research Organisation, Australia's national science agency:  http://www.csiro.au/news/CarbonSinkWeakened.html
Stanford Lab for Regional Ecological Studies:  http://asnerlab.stanford.edu/

© 1998 - 2018 by Linda Moulton Howe.
All Rights Reserved.