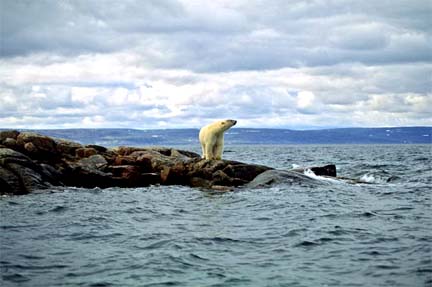 June 24, 2006   Edmonton, Alberta, Canada – On June 22, the National Academy of Sciences officially reported to Congress "a high level of  confidence" that Earth is the warmest it's been in at least 400 years. There is also proxy evidence as far back as 900 A.D., more than eleven hundred years ago.
In its press release, the Academy stated:  "There is sufficient evidence from tree rings, boreholes, retreating glaciers, and other 'proxies' of past surface temperatures to say with a high level of confidence that the last few decades of the 20th century were warmer than any comparable period in the last 400 years."
The news release also stated there was less data from the preceding millennia. But there is evidence that several Earth locations were "warmer during the past 25 years than during any other 25-year period since 900 A.D."
A top panel of climate scientists produced the NAS report for the House Science Committee, which last November  requested official comment from the National Academy of Sciences about whether global warming is a major threat.
Not only did the NAS report support the facts of definite global warming from the 20th to the 21st centuries, the scientific panel concluded that "human activities are responsible for much of the recent warming."
"Hockey Stick" Graph of Global Warming:
1000 – 2005 A.D.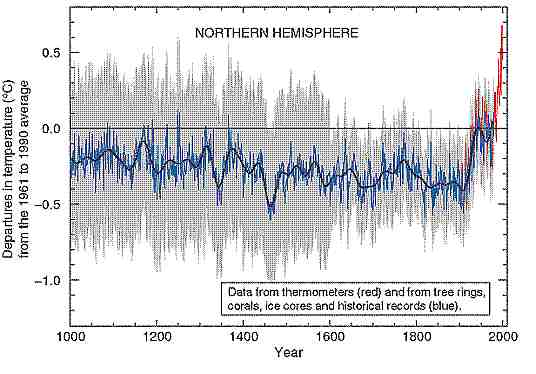 Polar Bears Threatened With Extinction
Only one week before the official National Academy of Sciences  report to Congress – thirty climate scientists signed a letter to the U. S. Fish and Wildlife Service requesting that the polar bear be put on the threatened species list. The polar bear's potential extinction was laid out in the letter this way: "As scientists engaged in research on climate change, we are deeply concerned about the effect of Arctic warming on the polar bear habitat. Biologists have determined that sea-ice is critical in the life cycle of the polar bear and the survival of the polar bear as a species. Under the Endangered Species Act, the Fish and Wildlife Service is required to list a species for protection if it is in danger of extinction or threatened by possible extinction in all, or a significant portion of, its range. The ongoing and projected increased loss of sea-ice in the warming Arctic poses a significant threat to the polar bear."
The letter from climate scientists to the federal agency also states that "the best available observations demonstrate that Arctic warming is rapid, persistent, and widespread," and that only a reduction in human-caused greenhouse gas emissions can prevent further Arctic warming and sea-ice melting. As the Arctic ice melts and polar bears have been forced to walk longer distances to hunt for food, three sad phenomena are increasing:  drownings, cannibalism and declining pregnancies.
This week I talked about the unthinkable, but possible, extinction of polar bears with a Canadian zoologist who has studied the magnificent animals since 1984. He is Andrew Derocher, Ph.D., Prof. of Biological Sciences in the Biological Sciences Centre at the University of Alberta in Edmonton, Alberta, Canada.
---
Interview:
Andrew Derocher, Ph.D., Prof. of Biological Sciences, Biological Sciences Centre, University of Alberta, Edmonton, Alberta, Canada: "The problem is that the bears rely on finding that ice as they migrate northward as the ice starts to melt. Of course, if they keep moving northward and the ice keeps melting, eventually we are going to see probably more of these drowning events. That would be one of the major concerns.
But a lot of the impacts are a lot more insidious and difficult to monitor. You have to think that if the sea ice is retreating several hundred miles or kilometers over time, that we're asking the bears to walk longer and longer distances in a given year to get to areas where they can make a living and hunt seals successfully. If you are using your energy to walk, you can't use that energy to reproduce. This is where some of the more subtle effects are coming in with reduced recruitment into the populations.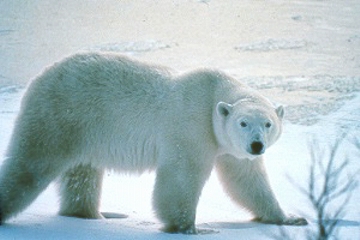 WOULD THAT EXPLAIN ALSO WHY THE POLAR BEARS MIGHT BE SEEKING EACH OTHER OUT IN CANNIBALISM IN ORDER TO EAT?
We have seen cannibalism in polar bears before. It has been documented. It's an uncommon event. It appears there are some individuals that when they become desperate – and these individuals are usually large, adult males – they become desperate and will start to prey on their own species. It's not common. What's really unusual about the most recent findings is that this population has been studied in Canada and Alaska for over 30 years at different intensities over time. And nothing like this has ever been seen before. Then all of a sudden in one year to see three events like this is a concern.
We did find another example of this when I was out this last spring as well. So now we are looking at four cases in a relatively short period of time. It's a concern because normally when we think about bears killing other bears, the normal pattern is that males will sometimes try to kill the offspring of a female so that they can get a reproductive opportunity with the mother. In this case, what's actually happening is that the bears are killing the adult females and then subsequently consuming them. That's a great concern for us because anything that alters the survival rates of adult females very quickly changes the population trajectory. So, what we are talking about is a population decline that's mediated by cannibalism. We don't know how extensive this is, but when you look at the size of the area that this population is covering and the chances of even finding these events is pretty uncommon. So, we're pretty certain that there are probably many more instances that are going undetected out there.
My guess is that if polar bears are going to persist, it's going to be in the very high latitudes in the Canadian Archipelago and perhaps in the very most northern regions of Greenland where we will – even the most pessimistic computer models for sea ice predict we will still have annual ice forming at very high latitudes. So that's still going to provide some habitat for polar bears. The problem is really trying to determine how much of that is going to exist and whether or not it will be adequate to maintain populations of seals upon which the polar bears rely (for food).
BECAUSE THAT ECOSYSTEM IS CHANGING AS THE GLOBE GETS WARMER AND WARMER. AS SOMEBODY WHO HAS STUDIED POLAR BEARS SINCE THE 1980S, WHAT IS YOUR EDUCATED SPECULATION ABOUT WHETHER THE LAST POLAR BEAR WILL DIE AND WE WILL TRULY HAVE SEEN THIS GREAT SPECIES GO INTO EXTINCTION IN THIS CENTURY?
I guess I refuse to believe that humans could be so insensitive to the global condition that we won't find a solution. I have to confess that. Day to day, polar bears are what I study and research and have worked with for many years now and the concept that they could go to extinction because of lack of action on a global basis is just too depressing to sort of fathom. So, I guess my belief is that I'm hoping that technology and a political will come forward and create solutions that will reduce the global warming patterns that we are seeing. I hope it's in time. It would be very difficult to maintain a research program and perspective in the long term if I thought they would actually go extinct. I just find that too depressing to fathom.
BUT IF THE EARTH DOES NOT GET ITS ACT TOGETHER ON CO2 AND METHANE EMISSIONS, ON THE OTHER SIDE OF WHAT YOU JUST SAID IS POLAR BEAR EXTINCTION.
I think that's quite likely so. It depends really on which of the climate warming scenarios actually come to pass. We know certainly that high latitude areas are warming faster than mid-latitude areas and the ice scientists are clearly indicating that major changes are coming. They have already occurred. We know that. It really depends on what level of climate warming we actually end up seeing and whether or not humans can stabilize greenhouse gasses to at least moderate some of the warming patterns and perhaps stabilize at levels that would allow polar bears to persist."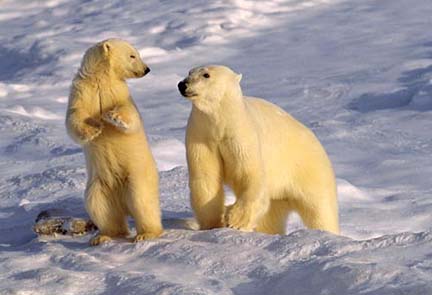 ---
More Information:
For further information about the challenges of global warming, please see reports below in the Earthfiles Archives.
03/17/2006 — Planet Earth's Ice Melt
02/20/2006 — Mysterious Deaths of Whales in Mexico
01/03/2006 — Antarctic Earthquakes and Edgar Cayce Pole Shift Prediction
11/18/2005 — Is the Sun Heating Up?
09/29/2005 — 2005 Arctic Summer Ice Melt – Largest On Record
09/23/2005 — Phenomenon of "Instant" Hurricanes in 2005
08/26/2005 — What Is Killing Amphibians Around the World?
08/12/2005 — Deep Impact Spectra: Carbonate, PAHs and Some Amino Precursors in Comet Tempel I
05/11/2005 — Greenland Sea Cold Water Re-Cycling Nearly Stopped. Britain Could Become Cooler.
05/07/2005 — Did Milky Way Gas and Dust Turn Earth Into Icy Snowball Four Times?
05/03/2005 — Part 2: Japan Air Lines Pilot Interview About November 1986 UFO Encounter
04/01/2005 — Soft Tissue – Even Blood Cells? – Found in Tyrannosaurus rex Leg Bone
04/01/2005 — What's Killing Off Marine Life Every 62 Million Years?
02/26/2005 — Collapse of Societies: From Easter Island to Iraq – to Western World?
02/22/2005 — Frozen Sea Near Martian Equator Size of Lake Michigan
02/03/2005 — Kyoto Protocol Goes Into Effect February 16, 2005. British Scientists Warn Global Temperatures Could Climb Higher Than Earlier Estimates.
01/22/2005 — From U. S. to Arctic – A Sea Change in the Weather
01/07/2005 — 9.0 Sumatra Earthquake Update
12/31/2004 — Abrupt Climate Change Occurred Worldwide 5,200 Years Ago
12/17/2004 — Is Our Solar System's Red, Mysterious Sedna An Alien Planetoid?
11/02/2004 — North Pole Summers Without Ice?
10/15/2004 — Ever-Increasing Carbon Dioxide Build-Up in Atmosphere Since 1958
10/13/2004 — Rapid Increase of Greenhouse Carbon Dioxide in 2002-2003
09/04/2004 — Hillsboro, Ohio Corn Formation – High Strangeness in Soil and Plants
08/16/2004 — NASA Has Launched Aura Satellite to Study Ozone-Destroying Chemicals in Atmosphere
08/14/2004 — Oceans Are Absorbing A Lot of Greenhouse CO2. As Chemistry Changes, What Happens to Sea Life?
07/24/2004 — What's Happening to Birds? – More Reports
03/15/2004 — Most Distant "Icy Planetoid" in Our Solar System Has A Most Baffling Orbit
02/27/2004 — Abrupt Climate Change: Scenario from A Pentagon-Commissioned Report
02/23/2004 — Is There Liquid Water on Martian Surface?
02/21/2004 — Update On Mars with Cornell Astronomer Steve Squyers
05/30/2003 — Scientists Surprised by Common House Fly Fossils in Antarctica
02/25/2003 — Part 2 – Corguinho, Brazil: Inside the Non-Human Craft from September 15 – 18, 2002
01/05/2003 — What Are the Grooves in the Martian South Pole?
12/14/2002 — Arctic Rivers' Fresh Water Flows Could Change Atlantic Ocean Current
11/14/2002 — What Happened 12,000 Years Ago That Killed So Many Animals?
10/21/2002 — Mt. Kilimanjaro's Ice Cap Is Melting Fast
06/04/2002 — Could Asian Nuclear War Radioactivity Reach North America?
06/04/2002 — EPA Admits Humans Burning Fossil Fuels A Big Factor in Global Warming
06/01/2002 — Scientists Surprised by Abundance of Water On Mars
03/30/2002 — Drought Worsens in United States
03/21/2002 — Antarctic Peninsula Is Melting – And So Is Arctic Ice
02/13/2002 — January 2002 Warmest On Record For Whole World
01/30/2002 — Latest Satellite Data Shows Surprisingly Thicker Ross Ice Shelf in Antarctica
12/22/2001 — Scientists Warn That Climate and Earth Life Can Change Rapidly
03/21/2001 — Earth Hasn't Been This Warm Since the Pliocene 3 Million Years Ago
03/04/2001 — Disappearing Glaciers – Evidence of A Rapidly Warming Earth
02/18/2001 — Environmental Updates and Mysterious Deaths of 2000 Atlantic Brant Geese
02/07/2001 — 94% Decline In Aleutian Islands Sea Otter Population
01/28/2001 — U. N. Global Warming Forecast: Up to 10.5 Degrees F. Hotter At End of 21st Century
12/24/2000 — Martian Bacteria?
11/26/2000 — Environmental Updates
11/12/2000 — Update On Increased UV Radiation and Amphibian Decline
09/10/2000 — Arctic Ice Melt Threatens Polar Bears
09/10/2000 — Largest-Ever Antarctic Ozone Hole
04/20/2000 — Severe Arctic Ozone Loss and Deep Ocean Warming
01/09/2000 — Global Warming Alert from NOAA and U.K.
01/02/2000 — New Trends for 21st Century
12/25/1999 — Y2K Nuclear Concern and Global Warming Update
12/02/1999 — Is There Water – And Life – On Mars?
09/26/1999 — Could Ancient Microbes in Polar Ice Cause Epidemics?
06/27/1999 — Microbes Two Miles Below Earth Surface in South Africa
05/27/1999 — Amphibian Decline – Parasites and Increased UV Radiation
05/16/1999 — Edgar Evans Cayce About His Father and Atlantis
05/05/1999 — Two Antarctic Ice Shelves Almost Gone
02/28/1999 — Chickadee Beak Deformities in Alaska
---

Websites:

Global Warming Temperature Graphic:  http://www.worldclimatereport.com/index.php/2005/03/03/hockey-stick-1998-2005-rip/

Byrd Polar Research Center:   http://www-bprc.mps.ohio-state.edu/

Center for Biological Diversity:  http://www.sw-center.org/swcbd/SPECIES/polarbear/index.html
Glaciers and Ice Sheets:   http://www.solcomhouse.com/icecap.htm

Lonnie Thompson:   http://researchnews.osu.edu/archive/scndkili.htm

National Climate Data Center (NCDC):   http://www.ncdc.noaa.gov/paleo/

National Snow and Ice Data Center:   http://nsidc.org/

© 1998 - 2018 by Linda Moulton Howe.
All Rights Reserved.