"Without bumblebees, I would be out of business. I don't think I could hand-pollinate all these plants."
– Tony Davis, Quail Run Farm, Grants Pass, Oregon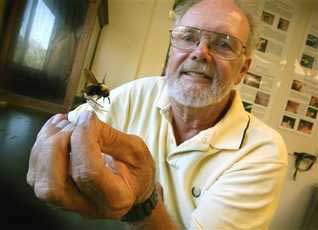 October 13, 2007  Davis, California – Another scientific mystery is expanding: the disappearance of pollinators in North America. First, it was the massive disappearance of at least 25% of all the honey bees in the United States and Canada this past year in what is called Colony Collapse Disorder (CCD). Now it is the severe decline of four bumblebee species that used to be prevalent on the West and East coasts of the U. S. and Canada – but now scientists can't find them. In fact, one species known as Bombus franklini – or Franklin's Bumblebee – might be extinct. And it's all happened since 1994.
One of America's bee experts is Robbin Thorp, Ph.D., Professor Emeritus in the Dept. of Entomology at the Univ. of California – Davis. He received his Ph.D. in Zoology in 1964 from the University of California-Berkeley. Over the past 43 years, he has focused on bees – especially bumblebees. I talked with him this week about the disturbing disappearance of four species that used to be so prevalent.
---
Interview:
Robbin Thorp, Ph.D., Professor Emeritus, Department of Entomology, University of California – Davis, Davis, California:  "We have about 45 different species of bumblebees in North America. Of these, four are showing rather severe decline in recent years and I have a hypothesis as to why the circumstantial evidence points to an introduced disease, which might be another species of Nosema that is known to affect bumblebees, but does not affect honey bees. And the honey bee Nosemae do not affect bumblebees. Those kinds of tests have been tried.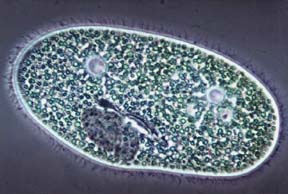 WOULD THE NOSEMA THAT AFFECTS BUMBLEBEES HAVE TO HAVE COME INTO UNITED STATES THROUGH IMPORTED BEES FROM SOME PLACE ELSE IN THE WORLD?
That's my hypothesis and a lot of things fit that hypothesis because bumblebees were just getting into being commercially reared in the late 1980s and early 1990s.  In 1992, permission was given by USDA APHIS to export queens of Bombus occidentalis, the western bumblebee and a species of Eastern bumblebee that were candidates for rearing by beekeepers. Those queens were then shipped to Europe and colonies were reared from them in facilities there where they normally reared Bombus terrestris, which is a European bumblebee, fairly closely related to Bombus occidentalis.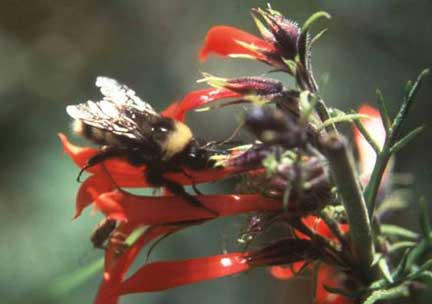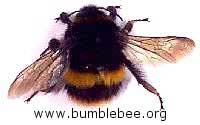 Then those colonies were shipped back to North America and distributed for pollination purposes. Most of the Bombus occidentalis colonies went to the west and the Bombus impatiens colonies were used on the East Coast, which is part of their historic, natural ranges.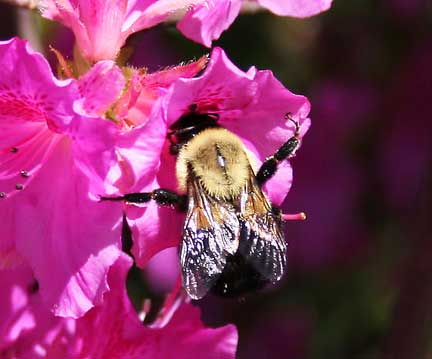 In the late 1990s, I began intensive surveys of Bombus franklini and Bombus occidentalis in the western United States. I noticed that although their populations were fairly high in 1998, they declined very rapidly in the next few years and I have not seen Bombus occidentalis in the areas where I was surveying since 2003 and I have not seen Bombus franklini in its smaller range in 2004 to 2005. I did find one worker in 2006 and none this year of 2007. So these bumblebees have declined very severely.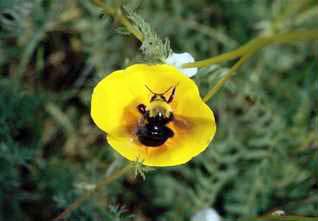 DOES THAT MEAN THEY HAVE ACTUALLY GONE EXTINCT?
I hope not. But that bumblebee was once very common all the way from Monterrey County all the way up to southern British Columbia and it is virtually undetectable in those areas now.
So, my hypothesis is that this disease came into the United States between 1992 and 1994 in that three-year period when queens were shipped to Europe and colonies shipped back and that those escaped into the environment and began causing this decline in these particular bumblebees – two in the west and two in the East.
So, we need to learn a cautionary tale from this kind of thing that we need to be very careful in making sure that our stocks of bees and all t hat we export and import around the world are free of diseases.
Shortage of Pollinators in 2008?
JERRY HAYES AT THE DEPT. OF AGRICULTURE IN FLORIDA TOLD ME RECENTLY THAT THERE MIGHT NOT BE ENOUGH POLLINATORS IN 2008 WITH DECLINES ACROSS THE BOARD IN NORTH AMERICAN POLLINATORS.
Yes, that's one rather dire prediction and it could be true. We certainly have to be concerned about this.
JERRY HAYES TOLD ME THAT IN 2006, HE ATTENDED A MEETING THAT WAS HELD BY THE NATIONAL ACADEMY OF SCIENCES IN WASHINGTON CONCERNING AN OVERALL GROWING CONCERN THAT THERE IS SUCH A UNIVERSAL DECLINE IN POLLINATORS IN NORTH AMERICA.
Yes, I attended that same meeting. And they (NAS) has published a book about pollinators in North America and there are some grim warnings in there about some of the things we have lost.
MAY BIRENBAUM AT THE UNIV. OF ILLINOIS, WHO HAS STUDIED THE GENETICS OF THE HONEY BEES IN TRYING TO HELP ON CCD, SAID IT IS ABSOLUTELY ASTONISHING HOW LITTLE WE KNOW ABOUT THE POLLINATORS.
She's absolutely correct.
Can North American Pollinators Be Restored?
WHAT DO YOU THINK COULD BE DONE TO RESTORE BACK NORMAL POPULATIONS OF HONEY BEES, BUMBLEBEES AND OTHER NORTH AMERICAN POLLLINATORS?
That's a very complex problem. There's a lot of reasons why some of these are declining and they are different for different species.
Most of the wild population of bees have declined so severely that people who used to depend on them for pollination of their backyard crops, trees and fruits have noticed a general decline in honey bees there. Commercial beekeepers are really stressed in trying to keep viable colonies going so they can stay in business. We're losing not only honey bees, but we're losing people who are working with honey bees as well. It's a very difficult business for people to stay with and make a living at. It's not just the bees themselves, but the spin-off in economics and consequences on the beekeeping industry.
EVEN IF BUMBLEBEES DON'T PRODUCE HONEY, THEY ARE VERY IMPORTANT POLLINATORS IN CROPS SUCH AS TOMATOES, PEPPERS AND STRAWBERRIES. AND OUT TO THE WILD POPULATION OF ANIMALS SUCH AS ELK AND DEER AND BEARS DEPEND ON FOODS BUMBLEBEES POLLINATE. IF THERE IS A GENERAL DECLINE IN BUMBLEBEES, WOULD THE DOMINOES FALL THAT EVEN FOOD FOR WILD ANIMALS WILL BE REDUCED?
Oh, certainly that's a threat and concern. It's unlikely that all bumblebees are going to disappear because we have a variety of species, each of which is quite different from one another. We have 45 species in America north of Mexico.
DO YOU THINK IT IS FAIR TO SAY THAT EVEN IF THIS IS NOT ON THE DAILY 6 O'CLOCK NEWS, THAT THE DECLINE IN POLLINATORS IN NORTH AMERICA IS IN FACT ONE OF THE BIGGEST THREATS THAT WE HAVE IN FRONT OF US?
I think so. But I'm biased because I work with these pollinators and have a deep appreciation for what they do in the natural environment. We're continuously disturbing and destroying and altering habitat out there where the native pollinators exist.
California's Huge Almond Industry Needs At Least 1.2 Million Colonies of Bees
The biggest pollination crisis is going to be with almonds in California. It turns out that the almond industry has been planting over 600,000 bearing acres right now. At 2 colonies (of bees) per acre, you need 1.2 million colonies to pollinate that during the period of mid-February to mid-March. So the real crisis is predominantly for one crop. A tremendous number, about half of the bees in the U. S., are moved to California during that period.
The almond industry is concerned, justifiably so, and are looking into alternative pollinators such as the Blue Orchard Bee. It's being produced in large numbers, at least in experimental plots in the southern part of the Great Valley here in California. It will be a long time before that bee reaches enough numbers to supplant honey bees. I don't think that will ever come. But the Blue Orchard bee might supplement honey bees in some areas where there is a real need and shortage of pollinators.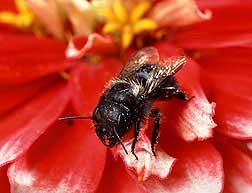 Overall, it is of concern and it's hard to predict what will be, but it's not a happy-looking picture."
---
More Information:
For further reports about disappearing pollinators and Colony Collapse Disorder (CCD), please see reports below in the  Earthfiles Archive:
09/26/2007 —North American Honey Bees Still Weak
09/07/2007 —Honey Bee DNA Study Finds Australian Virus in Colony Collapse Disorder
06/28/2007 —Hackenberg Apiary, Pennsylvania – 75-80% Honey Bee Loss in 2007. What Happens If Colony Collapse Disorder Returns?
05/04/2007 —Environmental Emergency Updates: Part 1 – Spreading Honey Bee Disappearances – Nosema ceranae Not the Answer?
04/06/2007 —Collapse of Honey Bees in U. S., Canada and 9 European Countries
03/17/2007 —Honey Bee Disappearances Continue: Could Pesticides Play A Role?
02/23/2007 —Part 1: Earth Life Threats – Alarming Disappearance of Honey Bees
---
Websites:
AAAS Science Journal:  http://www.sciencemag.org/cgi/content/summary/317/5843/1304
Mid-Atlantic Apiculture Research and Extension Consortium (MAAREC): http://maarec.cas.psu.edu/
Colony Collapse Disorder (CCD): http://www.ento.psu.edu/MAAREC/pressReleases/CCDSummaryWG0207.pdf
Biology of Honey Bees: http://plantphys.info/Plants_Human/bees/bees.html
Varroa Mites: http://www.uky.edu/Ag/Entomology/entfacts/struct/ef608.htm
Honey Bee Tracheal Mites: http://creatures.ifas.ufl.edu/misc/bees/tracheal_mite.htm
National Bee Loss Survey:  http://beealert.blackfoot.net/~beealert/surveys/index.php
American Beekeeping Federation:  http://www.abfnet.org/
American Honey Producers Assoc.:  http://www.americanhoneyproducers.org/
The Xerces Society (Pollinators At Risk):  http://www.xerces.org/Pollinator_Insect_Conservation/pollinators_at_risk.html
American Assoc. of Professional Apiculturists:  http://entomology.ucdavis.edu/aapa/aapapubs.cfm
Bee Culture, The Magazine of American Beekeeping
http://www.beeculture.com

© 1998 - 2019 by Linda Moulton Howe.
All Rights Reserved.