2011 Update:  Teenager Tyler Weinman was never found guilty of the half-cat mutilation charges in the Miami-Dade region when some 30 cats were found bloodlessly cut in half  during May to June 2009. Teenager Tyler Weinman's father, Douglas, told reporters June 16, 2009, his son is "absolutely not" guilty of the cat mutilation charges.
Viewer Warning: This report contains several photographs and X-ray of half cats, which might be disturbing to some viewers.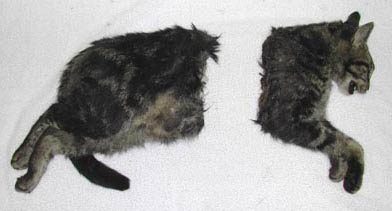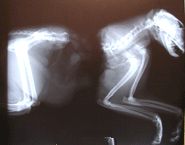 "A reign of terror is over. Our communities of Palmetto Bay
and Cutler Bay have been on edge for many weeks now because of the horrific  and unspeakable slaughterings of many of their beloved feline pets. I sincerely hope that with his (Tyler Weinman) arrest, the residents will feel relieved and their cats will be safe once again. It is expected that the vicious crimes that have plagued these communities will not be repeated."
- Florida State Atty. Katherine Fernandz Rundle
"Everyone in the neighborhood knows it's a police officer's house [where June 10 mutilated cat belonged to police officer].  Another police officer lives right across the street. It's just crazy someone has the nerve to do this."
- Michael Miller, Palmetto Bay Resident
"My cat was of course dead and it was laying on its side
and one of its eyes was out and it was skinned from like the waist down.
It was horrible."
- Palmetto Bay, Florida Mutilated Cat Owner, May 2009
"It's rare that we see these kinds of injuries caused by people,
so it's important to rule out the other possibilities."
- Randall Lockwood, ASPCA, Washington, D. C.
Update June 17, 2009:  Tyler Hayes Weinman, 18, is charged with 19 counts of "improper disposal of dead animals" and four counts of burglary. Tyler's father, Douglas Weinman, told reporters on Tuesday, June 16, that his son was "absolutely not" guilty of the cat killing crimes, which Miami-Dade police total as 34 cats in Palmetto Bay and Cutler Bay. Police link only 19 of the mutilations to the teenager without releasing details about the link. Weinman is under house arrest and monitored with an electronic ankle bracelet. Miami-Dade Circuit Curt Judge, John Thornton, allowed the supervised release because a psychiatric evaluation of the 18-year-old showed he was competent and not a danger to himself or others. The judge set an arraignment date for July 6, 2009.
Click here to subscribe and get instant access to read this report.
Click here to check your existing subscription status.
Existing members, login below:

© 1998 - 2023 by Linda Moulton Howe.
All Rights Reserved.