"We ... have ... tolerably accurate copies of the exorcisms and spells,
which the Sumerian and his Babylonian successor employed,
some six or seven thousand years ago, to avert the attacks of devils,
and to ward off malign influences of every kind."
- R. Campbell Thompson, M. A., British Museum, London, 1903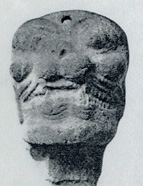 Return to Updated Part 1
August 14, 2009  Albuquerque, New Mexico - To recap the timeline of communication with the Writers, their first floppy disc to me was dated June 21, 1994, contained three pages and is the subject of Part 1 in this Real X-Files series, now updated with an electronic scan of the original June 21, 1994, disc print out, which includes an important book list. When I began this series on June 17, 2009, I scanned the Writers' first letter from my published book Glimpses of Other Realities, Vol. II: High Strangeness © 1998, which had been typeset for clarity. But recently, I compared my original and wrinkled 1994 disc print out with the retyped text in the book and discovered a paragraph was missing, apparently a typeset error. I have now replaced the first incorrect typeset scans used in Part 1 with electronic scans of the original floppy disc print out that includes the missing paragraph about the list of authors
and books given by the Writers as context for their NHE discussion.
Click here to subscribe and get instant access to read this report.
Click here to check your existing subscription status.
Existing members, login below:

© 1998 - 2023 by Linda Moulton Howe.
All Rights Reserved.