"The goddess NIN-TU ...The upper part of her body is that of a naked woman, and the lower part is said to be scaly like the skin of a snake."
- R. Campbell Thompson, M. A., British Museum, London, 1903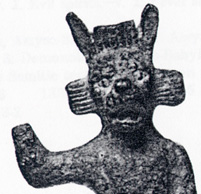 Return to
Updated Part 1
August 23, 2009  Albuquerque, New Mexico -
The Writers' list of ancient and modern books concerning spiritual warfare with negative forces in the unseen included Campbell Thompson's Volume 2 of
The Devils and Evil Spirits of Babylonia: "Fever Sickness and Headache, Etc."
©1904. Given the reptilian humanoid sculptures in Volume 1, it is noteworthy that in Thompson's list of the 6,000-year-old Sumerian tablets from which his book emerged, there is this description: "A group of tablets which contain descriptions of a number of supernatural beings, which corresponded roughly to the modern Arabic
Jinn
and
Jann.
The identification of the greater number of these is difficult; among those worthy of special note is the goddess NIN-TU, who is said to wear an elaborate tiara and veil and to be girt about the loins with a zone or garment, her breast being uncovered. The upper part of her body is that of a naked woman, and the lower part is said to be scaly like the skin of a snake
Click here to subscribe and get instant access to read this report.
Click here to check your existing subscription status.
Existing members, login below:

© 1998 - 2022 by Linda Moulton Howe.
All Rights Reserved.