"They are time travelers. They are us.
… and they are using us like Band-Aids."
– USAF Staff Sergeant James W. Penniston (Ret.),
Dec. 1980 RAF Bentwaters, from 1994 hypnosis session
Former U. S. Air Force 1st Class Airman John Burroughs is now organizing a 2010 reunion in England for all the military personnel in RAF Bentwaters RAF and Woodbridge who were involved in the mysterious light phenomena of December 26 – 28, 1980. John would like to hear from all who were there and has created a website and email account to organize a 2010 Bentwaters reunion.
Website with email address:   http://backtobentwaters.blogspot.com/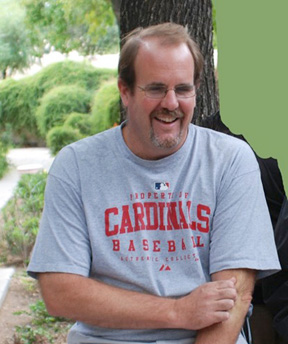 Return to Part 1
August 27, 2009   Albuquerque, New Mexico – It's now nearly thirty years later and John Burroughs is still haunted by what happened in Rendlesham Forest December 26 to December 28, 1980. He is especially troubled by the fact that he cannot consciously remember what happened when he was close to the lights both nights. He knows what Sgt. Penniston and Col. Halt have written and said. He's talked with Adrian Bustinza. John knows all the rumors about his jumping on a craft or being taken up in a beam of light and missing time. He still has strange dreams, can't sleep, and feels like something in his mind wants to come out. Several months ago, John Burroughs contacted me about his anxieties and said he wondered if I could find a qualified hypnotherapist who could try to penetrate the block on his memory.
Since John lives in Phoenix, I researched the clinical hypnotherapist community there and was referred to Melinda Vail, who specializes in child to young adult post traumatic syndromes. John Burroughs was twenty years old in December 1980 and it's his young mind then that has been blocked the past 28 years. I shared with Melinda Vail some of the 1988 hypnosis concerning the interactions with the lights and she agreed to help us. On Saturday, October 4, 2008, I joined John Burroughs at Melinda Vail's Tempe office to videotape the hypnosis session. John, Melinda and I hoped that John could break through to full memory. Here are highlights of what happened.
Oct. 4, 2008 John Burroughs Hypnosis Tempe, Arizona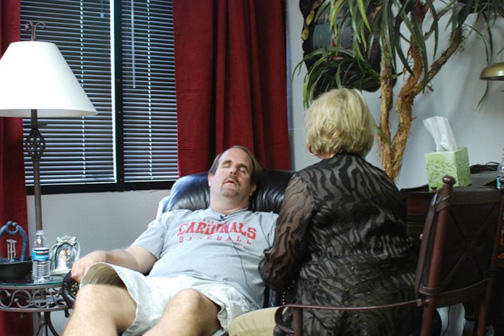 Videotape Excerpt 1:
"We, three of us went.
WHO WENT?
Jim, I and a guy called Cabansag. [ Staff Sergeant James W. Penniston was duty supervisor at RAF Woodbridge and drove to the East Gate in a truck with newly assigned Airman 1st Class Edward Cabansag (pronounced Cuh-VAN-sack)]
WHO WAS DRIVING THIS TIME?
Jim.
WHERE WERE YOU? FRONT OR BACK?
It was a three-pack, so I was by the door and the other guy (Cabansag) was in the middle.
OK, WHEN YOU GOT TO THE END OF THE ROAD, DID YOU GET OUT?
Well, we turned, went to another road and went to the forest (Rendlesham).  Oooooooh!
ARE YOU IN THE FOREST NOW?
Ooooh, I think sooooo.
WHAT'S IN THE FOREST?
It's dark.
ARE THERE ANY LIGHTS?
They are there, I think, in the distance.
LET'S SEE WHAT HAPPENS.
(John's whole body jerks)  Oh, no! That light said 'No!'
I KNOW, BUT WE CAN SEE ANYWAY. THE LIGHT IS NOT IN CHARGE. WE'RE IN CHARGE.
Yeah, right. (sarcastic)
WE ARE IN CHARGE AND SEE, YOU CAN FEEL MY HAND. I'VE GOT YOU. YOU ARE SAFE.
It's not about being safe.
WHAT'S IT ABOUT?
I don't know, but I don't feel scared. But every time you want me to go there, that light says, 'No!'"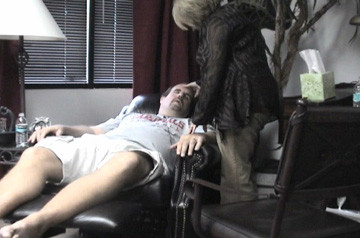 Video Excerpt 2:
"We all of a sudden come upon a bright, white light.
DO YOU TALK TO EACH OTHER?
Yeah, we're scared. I mean, we're – I don't know, not scared, but shocked or caught off guard.
WHAT DO YOU SAY TO EACH OTHER?
We just dive and hit the ground.
YOU HIT THE GROUND?
Yeah, all three of us.
WHEN YOU HIT THE GROUND, YOU ARE ON YOUR BELLY AND YOU LOOKED UP AND STILL SAW THE LIGHT?
It was so bright.
DID YOU COVER YOUR FACE OR DID YOU LOOK UP?
I think I looked up. (body jerks) Ooooooh!
WHAT IS IT?
I'm in something.
WHAT ARE YOU IN?
I don't know. My mind is in something.
TELL ME WHAT IT IS.
I don't know. It fooled my mind into ….
ARE YOU INSIDE THE LIGHT?
It's all around me now.
DO YOU KNOW WHAT HAPPENS WHEN YOU ARE INSIDE THE LIGHT?
No, nothing. Nothing right now. It's just around me now.  (breathing)
WHERE ARE THE OTHER GUYS?
They are not there.
IT'S JUST YOU IN THE LIGHT?
Yeah."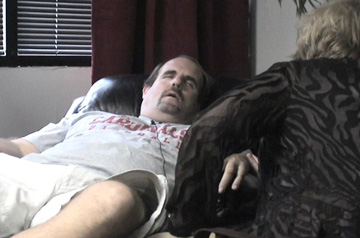 Video Segment 3:
"Right now, I'm being drawn away towards this blue light right now.
LET'S GO TO THE BLUE LIGHT THEN, LET'S GO AHEAD. WE CAN GO IN.
Oh, no we can't!
WHY CAN'T WE?
I don't know. When you say, 'Go,' it fades away. Now, it's changing.
WHAT IS IT CHANGING TO?
It's three, three, three major lights!
ARE THEY WHITE?
They are getting more and more blue."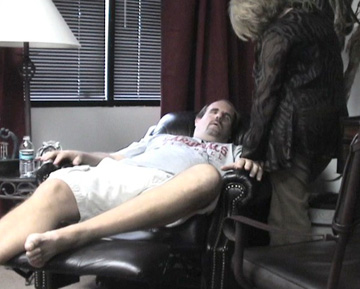 Video Segment 4:
"AND YOU ARE OUTSIDE, AREN'T YOU?
Whoaa! (shakes)
IT'S ALL RIGHT, WHAT IS IT?
There's like twenty of them!
TELL ME ABOUT THEM?
They were just there. (John Burroughs is shaking all over his body)
I'VE GOT YOU. TELL ME ABOUT THEM.
They are just there!
WHAT ARE THEY?
I don't know! The milky surface is there and then they are there behind it!
WHAT DO THEY LOOK LIKE?
Little specks of blue lights!
OK, WHAT DO THEY MEAN?
I don't know!"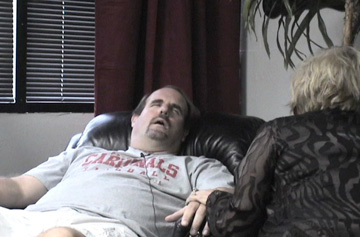 Video Segment 5:
"Oh, God!
WHAT?
It won't let me.
IT WON'T LET YOU GO BACK THERE?
Every time I go, it gets strong! And it wants to pull me towards it! And when I think, it comes towards me and then it pulls me towards it!
Oh, what's wrong?!  (whole body shakes) What's it doing? (body jerks) They're coming at me!
IT'S LIGHTS COMING AT YOU?
The little ones.
WHAT DOES IT FEEL LIKE WHEN THEY COME AT YOU?
It startles me. (breathing hard) Oh, God!
YOU'RE ALL RIGHT. I'VE GOT YOU. WHAT ELSE DO YOU SEE THERE?
Just a huge … now, it's getting bigger and bigger like milky white object or substance that just keeps going up, down, wider, smaller. Then there's an eye or something behind it.
AND IT (EYE) IS INTERFERING WITH YOUR ABILITY TO GO BACK IN TIME?
Every time you ask me to go back, the smaller objects appear and it gets stronger."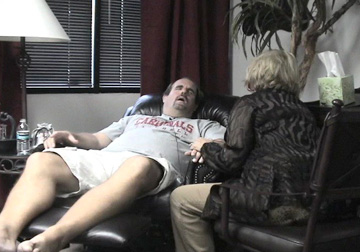 Video Segment 6:
"Now there's a hole between it, like the hole is opening up.
DO YOU SEE ANYTHING IN THE HOLE?
No. Wow!
WHAT DOES THE HOLE MEAN TO YOU?
I don't know."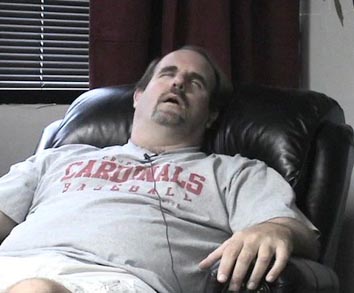 Video Segment 7:
"ARE YOU BACK ON THE GROUND IN THE FOREST WITH YOUR BUDDIES?
I don't know. It's gone.
WILL YOU EVER BE ABLE TO KNOW?
I think.
WILL YOU BE ABLE TO KNOW TODAY?
I don't know. Something is just not being right. Nothing being right. There's a reason why."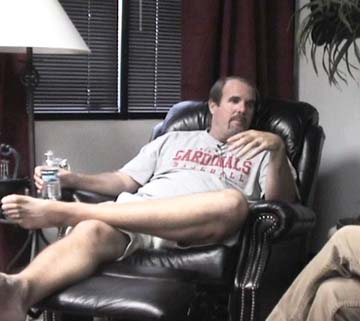 Video Segment 8, John Awake:
"And this time I could see stuff that I've never seen before. It seemed to come out of me before (verbalization in 1988 hypnosis), but this time I was seeing it.
GOOD, YOU WERE FEELING THE EXPERIENCE. WELL, YOUR WHOLE BODY WAS VIBRATING FROM HEAD TO TOE.
But, there was something that at one point – I don't remember what you were trying to get me to do, but it was like something just spun and really opened up and it was like it was trying to pull me through it.
OK, I THINK WE HAVE AN IDEA WHAT THAT MIGHT BE (OPENING IN CRAFT?) AND WE'LL WORK WITH THAT AGAIN.
It was like they (small blue lights?) were there and it seems like whenever you were trying to get me to do something, it would get whatever, and then there were some lights and then some other things. But then at one point, it was all of a sudden  – just like a (spins his index finger around in the air) – I've never seen anything like it – it was a dark black abyss almost.
I remember you asking me if I wanted it (memory) to come out and I did feel like it needs to come out. Not that I want it to come out, not that I'm scared of it coming out, but it needs to come out – but not that I'm trying to make it come out. I don't know.
I UNDERSTAND WHAT YOU ARE SAYING.
It needs to come out. It's there to come out, but it just has to come out the right way."
Melinda Vail and I discussed the black hole and its possible significance as a mechanical opening in some kind of craft technology that might be the key to John's strong mental block about how he became surrounded by light or even possibly lifted in a light beam as rumored by some military personnel involved December 26th. So, we all agreed to meet back in Melinda Vail's Office on October 25th. But on October 22nd, I received this email from John Burroughs:
"Linda, I'm sorry to have to send this e-mail, but I will be unable to do the hypnosis session this weekend. I hurt my back and I need to stay in bed at least through the weekend. If it does not get any better by next week, I will have to get an MRI and maybe surgery. I hurt it really bad about 3 years ago and did not stay off of it and I ended up being out of work for over 5 weeks and was told if it happened again, I would need to have surgery. I have two bad discs in my lower back."
No other hypnosis has been done to date. So, John's goal to fully remember what happened to him is still in process. But I can add one more piece to the Bentwaters Rendlesham Forest puzzle.
Sgt. Jim Penniston's 1994 Hypnosis:
"They are time travelers."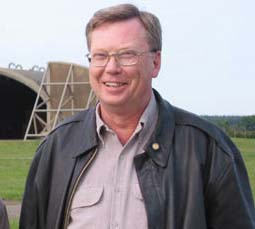 In 1997, Jim Penniston gave me permission to share some of his December 26, 1980,  Rendlesham Forest experiences in my third book, Glimpses of Other Realities: Vol. II – High Strangeness. After his and John Burroughs' encounter with the lights and craft, Sgt. Penniston told me he received a call to report on December 30, 1980, to the Orderly Room at the head of the 81st Security Police Squadron at RAF Bentwaters. From there, Major Malcolm Zickler ordered Penniston to report to the Air Force Office of Special Investigations (AFOSI) for a meeting to tell his story to an AFOSI Special Agent and a US Air Force Major.
Back in 1997, Penniston told me that he deliberately left out the most significant part about reaching out to touch the symbols on the glowing, triangle-shaped craft and receiving information in his mind. Apparently the intelligence agents knew Sgt. Penniston wasn't telling the full truth and gave him a release to sign so he could be given sodium pentothal. Sodium pentothal is a barbituate that induces unconsciousness smoothly and rapidly and has been called "truth serum" when used with hypnosis.
After the Bentwaters sodium pentothal hypnosis session was over, no one told Penniston what he had said. Finally fourteen years after the Bentwaters events, on September 10, 1994, Jim Penniston underwent hypnosis on his own with a hypnotherapist to see if he could penetrate more details about haunting dreams he was having and his worry that the military's sodium pentothal hypnosis might have been done to purposefully erase part of his memory.
I was given an audiocassette of that 1994 session to transcribe. The transcription is included in my 1998 book,  Glimpses of Other Realities, Vol. II: High Strangeness. [ See: Earthfiles Shop.]  Jim Penniston's Bentwaters interrogators asked about the glowing lights and craft he had earlier refused to describe.
September 10, 1994
Sgt. Penniston Hypnosis Excerpts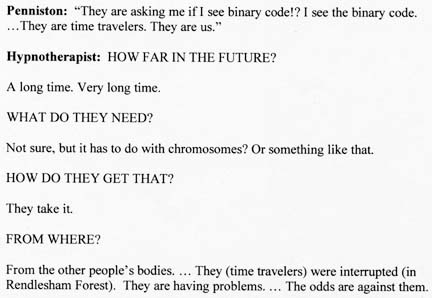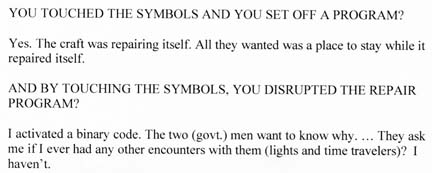 Penniston explained he received information after touching the craft's symbols that chromosomes were gathered for different reasons, particularly to help the time travelers because they have a "physical problem" and Penniston felt sympathy for them. Penniston said the time travelers have  Quote: "been coming here for a long time, at least thirty or forty thousand years, trying to sustain their children in the far distant future of Earth.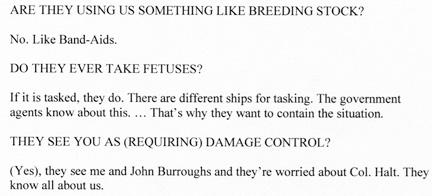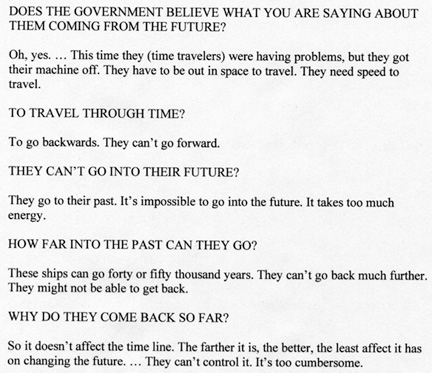 Two weeks after Sgt. Jim Penniston's December 26, 1980, experience, USAF Lt. Col. Charles Halt, who was RAF Bentwaters Deputy Base Commander, wrote a report dated January 13, 1981, on official Department of Air Force Headquarters letterhead to the Royal Air Force. The subject is "Unexplained Lights." His dates are scrambled, compared to the testimonies of John Burroughs and Sgt. Jim Penniston, who agree the first night of events was December 26, 1980, while their second encounter was with Lt. Col. Halt in the early morning hours of December 28, 1980.
In his letter, Lt. Col. Halt described the object encountered by John Burroughs and Jim Penniston in Rendlesham Forest as, "metallic in appearance and triangular in shape, approximately two to three meters across the base and approximately two meters high. It illuminated the entire forest with a white light. The object itself had a pulsing red light on top and a bank of blue lights underneath. The object was hovering on legs. As the patrolmen approached the object, it maneuvered through the trees and disappeared. At this time, the animals on a nearby farm went into a frenzy.  …The next day, three depressions 1 1/7 inches deep and 7 inches in diameter were found where the object had been sighted on the ground."
"Later in the night … an object to the south was visible for two or three hours and beamed down a stream of light from time to time. Numerous individuals, including the undersigned, witnessed the activities in paragraphs 2 and 3."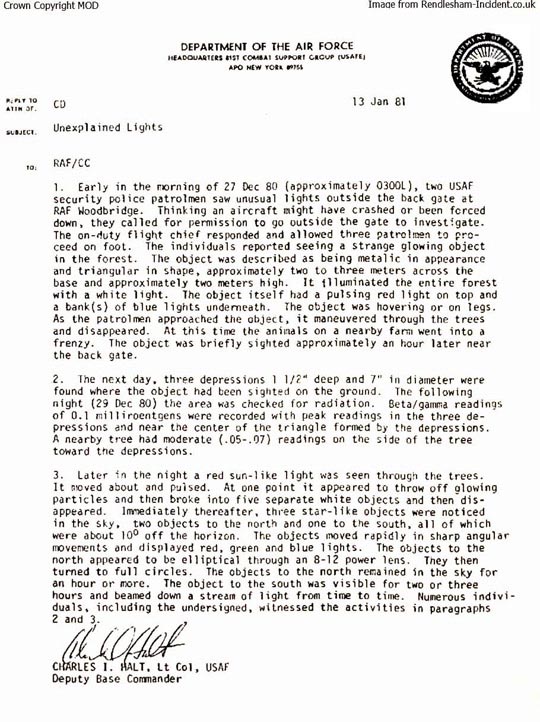 Col. Halt also confirmed beta/gamma radiation readings were recorded with "peak readings in the three depressions and near the center of the triangle formed by the depressions. A nearby tree had moderate beta/gamma readings on the side of the tree toward the depressions."
Col. Halt also described another event in which a red, pulsing light "threw off glowing particles and then broke into five separate white objects and then disappeared."  The time and date of this event cannot be confirmed by John Burroughs or Jim Penniston. But another military eyewitness, Larry Warren, says he saw such an explosion of light while many security people, light-alls, and photographic equipment were present.
John Burroughs also described during his October 4, 2008, hypnosis with Melinda Vail, that "something in the blue, milky light … exploded."
U. K. Ministry of Defence Letter
Then an alleged British Ministry of Defence letter in which the date, addressee and writer were blacked out even referenced "entities" that were small, "approximately 1 ½ metres tall – which is 5 feet tall – and  wore what appeared to be nylon-coated pressure suits, but no helmets. Conditions on the night were misty, giving the appearance that the entities were hovering above ground level.
"Tape recordings were made on which the entities are heard to speak in an electronically synthesized version of English, with a strong American accent. Similar transmissions intercepted irregularly by NSA since 1975.
"According to OSI (Air Force Office of Special Investigations), entities had claw-like hands with three digits and an opposable thumb."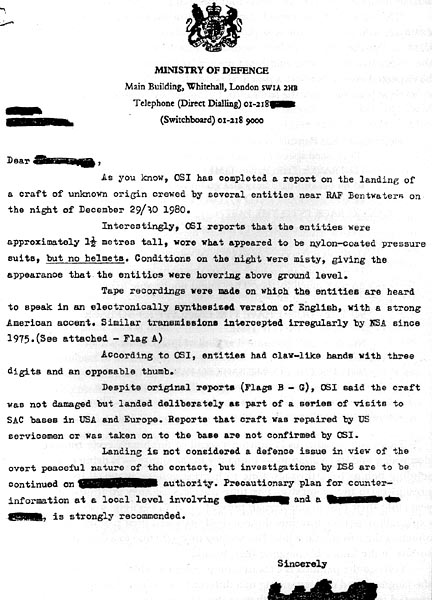 If such entities are "time travelers" – and are us from Earth's future — why claw-like hands that have only four fingers? What happened in the evolution of Homo sapiens?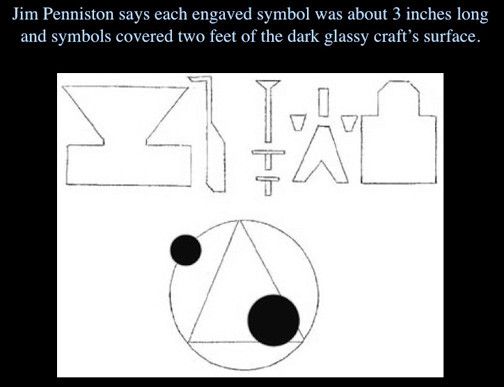 When Sergeant Penniston placed his hand on the craft's engraved symbols, he thinks he activated technology that sent light containing binary code communication into his mind – from time travelers and their time machine craft.
Time travel is a serious subject in modern physics. Mathematical theory says that if matter approaches the speed of light, time appears to slow down to an external observer. If you were the light speed matter, you would notice no difference in time. The closer you got to the speed of light, the slower time would go. If you reached the speed of light, time would stop. Then if you could exceed the speed of light, time would reverse – but only to the outside observer. You, the traveler going faster than light, would have no reference point for time change until you returned to your physical starting point and slowed back down to normal speeds. Then you would have lived the famous limerick:
There once was a lady named Bright
Who traveled much faster than light.
She departed one day in a relative way
And came home the previous night.
There is a paradox in Penniston's recall of the telepathic transmission from the glowing craft. The implication is that the time travelers are human descendants from a place 40,000 years in the future where humanity is dying out. Time Machine craft are sent back  through time to harvest genetic material from our present Earth life in order to help a future civilization survive. The explanation given for traveling thousands of years into the past was to avoid affecting the time travelers' future time line in some dangerous, uncontrollable way. But moving backwards in time to a distant past to survive is changing their future.
Perhaps the paradox is a translation problem in which we humans lack the language and understanding of a different cosmology than we have discovered so far. Fans of Star Trek and Star Wars and other science fiction are accustomed to plots that include allies or enemies that use time travel for transportation, to fight wars, to change destinies and to even gain immortality.
Whether the glowing triangular craft and its symbols in Rendlesham Forest belonged to time travelers, or extraterrestrial biological entities from inside this universe, or non-human entities from parallel universes or other dimensions, why is the truth suppressed? Why can't governments tell their citizens that humans are not alone in the universe? What facts about other intelligences interacting with Earth do government insiders know and consider so dangerous that they hide those facts for decades under a policy of denial in the interest of national security? If national security is built on lies and deceptions, it is no one's security. It is social imprisonment by illusion.
Those distorting reality are using lies to control the public and media while perpetuating their power. However, the 1980 high strangeness in Rendlesham Forest has never rested  easily in the minds of those who were actually there. Perhaps like human time release capsules, John Burroughs, Jim Penniston, Col. Halt and others have embedded within them pieces of truth about  an incomprehensible future? Or pieces of lies that keep humans corralled by illusions? Either way, whatever penetrated the Rendlesham Forest in December 1980, is still reverberating nearly thirty years later in 2008 with so much power that John Burroughs cannot forget the haunting, seemingly telepathic lights and the question:  what IS their source?
What if the key to the Rendlesham Forest mystery is a tangle of past, present and future time lines – a knot? If the knot is untied by advanced technologies, what happens to past, present and future?
Are we unconsciously in the ultimate paradox? We are They; They are Us. Life on Earth is not guaranteed, but the mysterious telepathic lights and their makers are using us to survive? And does our ignorance of Them and the Time Line Knot allow the manipulation of us by Time Travelers?
If we humans became conscious of the time manipulation efforts, would our consciousness change the future … to survival? Or to extinction? Does the UFO phenomenon keep us dumb and blind to prevent our interference in their efforts to unravel past, present and future?
Continued in Part 5 – Col. Halt says Bentwaters phenomena "extraterrestrial in origin"
Return to Part 1
---
More Information:
For further information about the worldwide UFO phenomena, please see Earthfiles Archive  (partial list below) and my books, An Alien Harvest and the 2-volume Glimpses of Other Realities in the Earthfiles Shop.
08/23/2009 —Part 8: Non-Human Entities (NHEs): One View from Alleged Government Insiders
08/14/2009 —Part 7: Non-Human Entities (NHEs): One View from Alleged Government Insiders
07/22/2009 —Part 3: 1980 RAF Bentwaters Lights and Craft Were "Extraterrestrial In Origin"
07/20/2009 —Part 6: Non-Human Entities (NHEs): One View from Alleged Government Insiders
07/19/2009 —Part 2: 1980 RAF Bentwaters Lights and Craft Were "Extraterrestrial In Origin"
07/17/2009 —Part 1: 1980 RAF Bentwaters Lights and Craft Were "Extraterrestrial In Origin"
07/16/2009 —Part 2: Silbury Hill "Quetzlcoatl Headdress" and Mysterious Tall Blonds
07/14/2009 —Part 5: Non-Human Entities (NHEs): One View from Alleged Government Insiders
07/12/2009 —Mysterious Aerial Lights Mimicking Stars in Texas and Oregon
07/06/2009 —Part 4: Non-Human Entities (NHEs):
06/25/2009 —Part 3: Non-Human Entities (NHEs): One View from Alleged Government Insiders
06/21/2009 —Part 2: Non-Human Entities (NHEs): One View from Alleged Government Insiders
06/17/2009 —Part 1: Non-Human Entities (NHEs): One View from Alleged Government Insiders
06/09/2009 —Update Podcast: Aerial Lights That Mimic Stars, Helicopters and Airplanes
06/05/2009 —Part 2: Mysterious, Silent, Large Aerial Triangles
06/04/2009 —Part 1: Mysterious, Silent, Large Aerial Triangles
06/01/2009 —Part 10: High Strangeness Files about EBENs
05/29/2009 —Part 3: 1954 SOM1-01 Training Manual and Challis, Idaho, Huge Triangle
05/29/2009 —Part 4: 1954 SOM1-01 Training Manual and Challis, Idaho, Huge Triangle
05/28/2009 —Part 1: Idaho Hunters Describe Huge Triangle Aircraft Over Their Campsite
05/28/2009 —Part 2: Idaho Hunters Describe Huge Triangle Aircraft Over Their Campsite
---
Websites:
The Rendlesham Forest Incident:   http://www.rendlesham-incident.co.uk
You Can't Tell the People © 2000 by Georgina Bruni:
http://www.amazon.com/You-Cant-Tell-People-Cover-up/dp/0283063580/ref=sr_1_1?ie=UTF8&s=books&qid=1251680102&sr=1-1
Left At East Gate © 1997 by Larry Warren and Peter Robbins; updated 2005 edition published by Cosimo Press, N.Y.:  http://www.amazon.com/s/ref=nb_ss?url=search-alias%3Dstripbooks&field-keywords=Left+At+East+Gate&x=0&y=0
1967 Malmstrom AFB UFOs Over Minuteman Missile Sites:
http://www.cufon.org/cufon/malmstrom/malm1.htm
1968 Minot AFB UFOs Over Minuteman Missile Sites: http://www.ufocasebook.com/minotafb.html
Police Reporting UFO Sightings, PRUFOS:  http://www.prufospolicedatabase.co.uk/1.html
UFO Cover-Up? … Live (1988):  http://www.hollywood.com/tv/UFO_CoverUp_Live/5193986
http://www.youtube.com/watch?v=iUgTDXZAElw
Jets Chase UFOs Over Bentwaters in 1956:  http://www.ufocasebook.com/bentwaters1956.html
Warminster UFOs:  http://en.wikipedia.org/wiki/Warminster
Majestic 12 Documents:  http://www.majesticdocuments.com
American Presidents:  http://www.presidentialufo.com

© 1998 - 2023 by Linda Moulton Howe.
All Rights Reserved.