"If this were like an alien space station or something, that would be the coolest thing ever! ... But I just don't see any evidence that supports it."
- James Bell, Ph.D., Astronomer and Planetary Scientist, ASU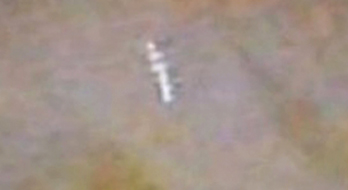 June 11, 2011  Tempe, Arizona - On June 2, 2011, the U. K. Sun online headlined 'Space Station' Found On Mars and included a video put together by an alleged American amateur astronomer named David Martines. In the video, Martines said a large, white structure is   "something I discovered on Google Mars quite by accident at coordinates Latitude 71 49'19.73"N and Longitude 29 33'06.53"W." Many websites picked up on the Martines video and National Public Radio also reported about the alleged discovery on June 7, 2011, in a science blog by Mark Memott. See Websites below.

© 1998 - 2018 by Linda Moulton Howe.
All Rights Reserved.