"I absolutely know as I sit here talking to you that there was a craft
from beyond this world that crashed at Roswell."
- Chase Brandon, former CIA liaison to Hollywood film industry
"It's interesting that the CIA say they actually checked their archives for the 'Roswell box' Brandon described - that must have been a weird library trip."
- Robbie Graham, Producer, Silver Screen Saucers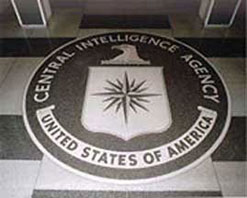 July 10, 2012  Stafford and Bristol, England - Tonight Robbie Graham and Matthew Alford forwarded to me their Silver Screen Saucers Press Release dated tomorrow, July 11, 2012, about the U. S. Central Intelligence Agency (CIA) response to their inquiry about the Chase Brandon comments of June 23, 2012, on Coast to Coast AM radio broadcast throughout North America. See July 6, 2012 Earthfiles original story.

© 1998 - 2018 by Linda Moulton Howe.
All Rights Reserved.