"Albany, Georgia, 1953 — pilot states as he closed on the light, 'it alternated white, red, white, red' and did that two or three times for roughly two to three second intervals. Then, he stated in the Air Force Project Blue Book report, 'The light then changed into a perfect equilateral triangle' right before his eyes. "
- David Marler, Author, Triangular UFOs: An Estimate of the Situation
Return to Part 1.
September 26, 2014  Albuquerque, New Mexico - One long-time researcher of the mysterious aerial triangles going back as far as the 1800s is David Marler. In 2013, he focused some of his research in a book entitled, Triangular UFOs: An Estimate of the Situation.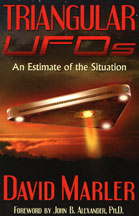 © 1998 - 2018 by Linda Moulton Howe.
All Rights Reserved.