"Talked to a Surprise Valley resident today who has been feeling some of the quakes. She said it felt like her home was speeding down a very washboardy road on one; and another just a hard jolt or two."
- Jean Bilodeaux, Modoc County Record writer-reporter, Nov. 29, 2014
"The thousands of earthquakes in the last several months is the strongest
of the swarm-type sequences recorded in Nevada in recent history"
(east of Surprise Valley, CA).
- University of Nevada Seismological Laboratory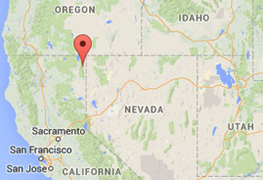 December 1, 2014  Cedarville, California - Twenty-two miles west of Vya, Nevada, is Surprise Valley, California, where residents in Cedarville have been reporting strange unidentified lights the past year that have appeared before and after ominous rumbling sounds that some people think are coming from the sky, while others sense are coming from underground. Since mid-July 2014, there has been an ongoing seismic swarm of thousands of small magnitude quakes effecting Surprise Valley, the Vya region of northwestern Nevada and south central Oregon across the border from where California and Nevada borders meet.

© 1998 - 2018 by Linda Moulton Howe.
All Rights Reserved.