— "We think that the temperature at least in some part of the ocean
must be higher than 190 degrees Fahrenheit. If you could swim a little bit
further from the really hot part, then it could be comfy."
- Sean Hsu, Ph.D., Laboratory for Atmospheric and Space Physics, Univ. of Colorado
— "[For such heat] the most exciting possibility is that there's ongoing chemical reactions between the rock inside Enceladus and the water."
- Bill McKinnon, Ph.D., Planetary Scientist, Washington Univ.-St. Louis
March 27, 2015 Boulder, Colorado - In 2014, NASA reported that gravity-measuring devices on its Cassini spacecraft showed there was an enormous body of liquid water directly below the south pole of Enceladus, one of Saturn's 31 moons and the sixth largest.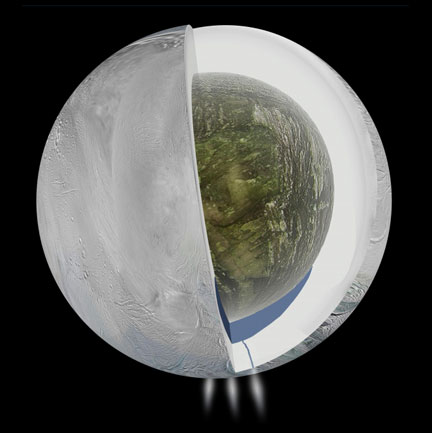 © 1998 - 2018 by Linda Moulton Howe.
All Rights Reserved.