"There's also a correlation between the times of comet impacts and large scale volcanism on the Earth. ...They are tens of thousands of times larger than the stuff that's been coming out of Kilauea in the past 20 or 30 years."
- Michael Rampino, Ph.D., NYU Geologist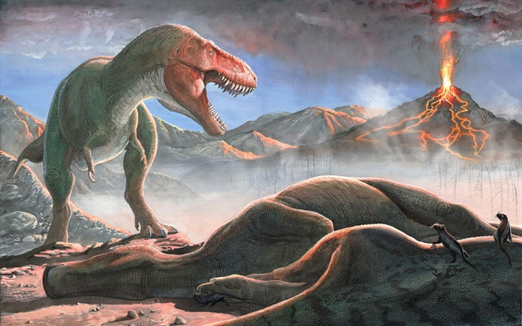 Return to Part 1.
November 23, 2015 New York City, N.Y. - There was a "double whammy" of global volcanic agitation of Earth 66 million years ago at the same time that a 6-mile-wide outer space chunk of rock or ice slammed into the Gulf of Mexico creating the 12-mile-deep and 112-mile-wide Chicxulub crater that wiped out the dinosaurs.
Even more ancient back to 511 million years ago during the Early-Middle Cambrian, there was the first dramatic reduction in complex multicelluar life on Earth considered to be the first mass extinction. At that time, there were huge volcanic eruptions from the Kalkarindji volcanoes in Northern and Western Australia that covered 2 million square kilometers/ 772,204 square miles with deep lava.
Click here to subscribe and get instant access to read this report.
Click here to check your existing subscription status.
Existing members, login below:

© 1998 - 2023 by Linda Moulton Howe.
All Rights Reserved.