"Much as wind pushes a sail, there's a way to be propelled by light or photons."
- Philip Lubin, Ph.D., Prof. of Physics,
Univ. of Calif. - Santa Barbara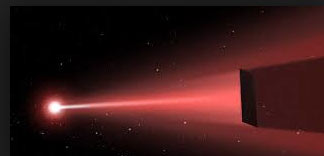 April 5, 2016 Santa Barbara, California - In the past 60 years, only one human-made machine from Earth has left our solar system and is now in interstellar space. That was Voyager 1 launched in 1977.  Today NASA and Russia are talking about building nuclear thermal propulsion spacecraft to take humans from Earth to Mars in maybe 45 days, much shorter than the nine months to get the rovers to Mars.

© 1998 - 2018 by Linda Moulton Howe.
All Rights Reserved.