"We're just as excited as people were when they first decoded the human genome."
– Elly Tanaka, Ph.D., Sr. Scientist, Research Institute of Molecular Pathology, Vienna, Austria
February 6, 2018 Albuquerque, New Mexico – Like a miracle creature, the axolotl amphibian salamander from Mexico is famous for "walking" on its cute arms and legs and being able to regrow those appendages if they get cut off, including bones, muscles and nerves. If the axolotl is wounded, it can heal without a scar. This amazing creature can even regenerate its own damaged internal organs. And if something crushes its spinal cord, the axolotl can restore its spinal cord to full function.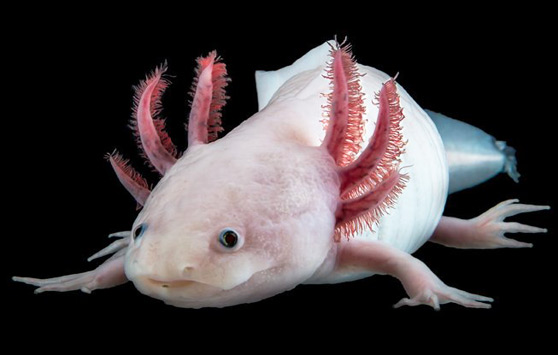 Most salamanders are able to regenerate body structures to some extent. But the axolotl is unique in that it can regenerate not only limbs, but also its jaws, spinal cord, and more. After these body parts regenerate, there is no evidence of scarring.
These remarkable resurrection abilities have made scientists wonder what its genetic code looks like and finally for the first time scientists used two genetic gene sequencing techniques to analyze and proof read their gene results. Axolotls can even receive transplanted organs from other individuals and accept them without rejection. They are one thousand times more resistant to cancer than mammals. Can scientist learn enough about the genetic makeup of the axolotls to apply their resurrection abilities to human medicine?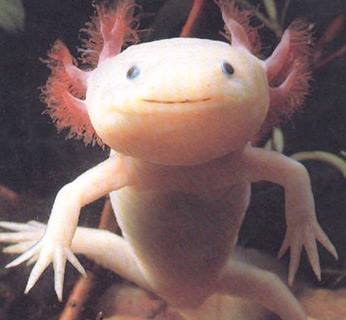 That's why this new work published in the current edition of the journal Nature (see Websites below) is considered a breakthrough for genome accuracy of such a long sequence of base pairs — 32 billion of them! That means the axolotl salamander has the largest genome ever sequenced, ten times the size of the human genome. The axolotl is also one of the few animals that exhibit neoteny, that is, it retains its juvenile characteristics, such as the external gills, which gives the creature its cute looks.
The senior author, Elly M. Tanaka, a senior scientist at the Research Institute of Molecular Pathology in Vienna, Austria. Dr. Tanaka is excited and says, "The adventure is just starting. Completing the genome will open up a wealth of opportunities in studying how organisms regenerate. We're just as excited as people were when they first decoded the human genome."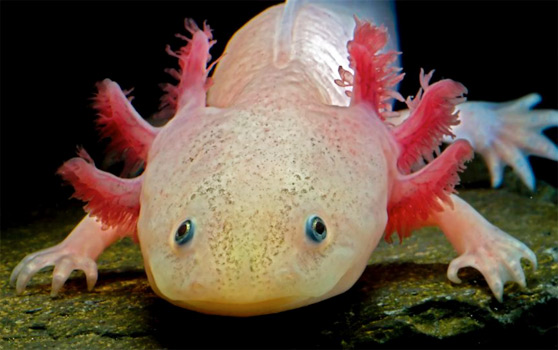 ---
Websites:
Research Institute of Molecular Pathology: https://www.imp.ac.at
Nature, Current Issue: https://www.nature.com/nature/current_issue.html

© 1998 - 2018 by Linda Moulton Howe.
All Rights Reserved.