"The scariest thing to me are the unknowns. So much about the Jupiter environment we will have to withstand is unknown. Nothing is certain about what's going to happen."
– Planetary Scientist, NASA Jet Propulsion Laboratory, Pasadena, California
"Juno is only about one third the way through its primary mission, and already we are seeing the beginnings of a new Jupiter. These astonishing science results are yet another example of Jupiter's curve balls, and a testimony to the value of exploring the unknown from a new perspective with next-generation instruments. Juno's unique orbit and evolutionary high-precision radio science and infrared technologies enabled these paradigm-shifting discoveries."
– Scott Bolton, Ph.D., Juno Principal Investigator, Southwest Research Institute, San Antonio, TX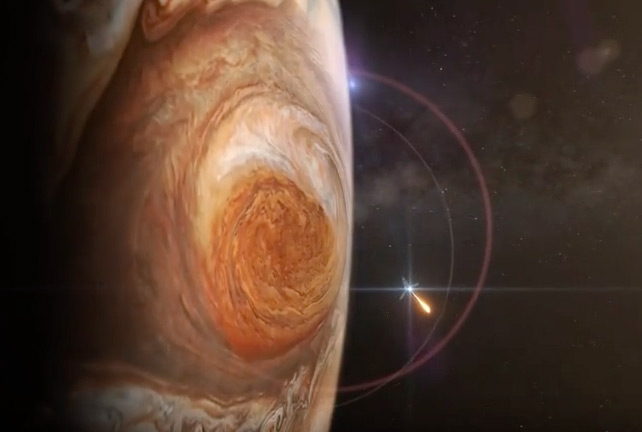 March 17, 2018 Pasadena, California – In less than four months, NASA/JPL's Juno spacecraft will try the closest approach of any Earth machine so far with the goal to penetrate the giant planet's radiation belts. Scientists are now trying to keep up with Juno's data stream as it approaches the strongest gravity and magnetic fields in our solar system. July 4th, 2018, will be a big unknown. Will Juno be able to enter orbit around the biggest gas planet in our solar system without being destroyed after seven and a half years to get there (August 5, 2011-July 4, 2018)? Scientists in charge of this unique effort are actually afraid of what could happen when Juno tries to get to 3,000 miles from Jupiter's cloudtops.
In the March 7, 2018, issue of Nature, Juno Principal Investigator Scott Bolton, Ph.D., from the Southwest Research Institute in San Antonio, Texas, describes in his paper "Measurement of Jupiter's Asymmetric Gravity Field," that "precise Doppler tracking of the Juno spacecraft in its polar orbit around Jupiter found a north-south asymmetry related to the atmospheric winds and interior flows of Jupiter's different zones of atmosphere."
Dr. Bolton says, "These astonishing science results are yet another example of Jupiter's curve balls, and a testimony to the value of exploring the unknown from a new perspective with next-generation instruments. Juno's unique orbit and evolutionary high-precision radio science and infrared technologies enabled these paradigm-shifting discoveries. Juno is only about one-third the way through its primary mission, and already we are seeing the beginnings of a new Jupiter."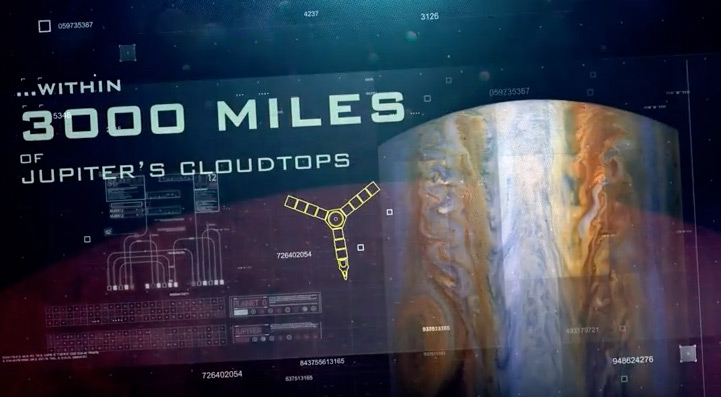 NASA JPL: "Jupiter is the biggest, baddest planet in our solar system and it has the biggest and baddest radiation and the biggest and baddest magnetic field. Jupiter is a monster gas planet. It's unforgiving. It's relentless. It's spinning around so fast that its gravity is like a giant slingshot flinging rocks, dust, electrons, whole comets — anything that gets close to it becomes its weapon. It just so happens that deep inside this massive gas body are the secrets we are after — secrets of our early solar system. But no Earth spacecraft has ever flown this close to Jupiter, flown this deep into the radiation belts trying to reach 3,000 miles from Jupiter's cloudtops. The real trick is to go in close, get the data, and get out. And the first time we go in, that's the most dangerous. We call it Jupiter Orbit Insertion, JOI."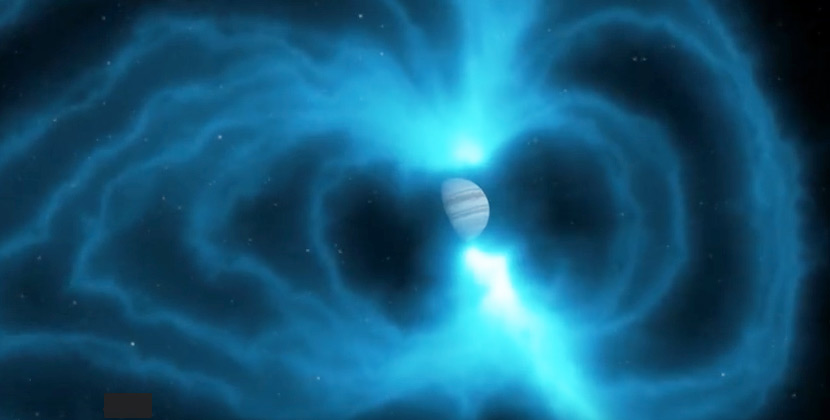 Jupiter's Radiation Versus Earth's
Earth's Cosmic Radiation from Space
The background radiation that we're exposed to on Earth is about one-third of a RAD [ 0.39 Rad] of cosmic radiation from space.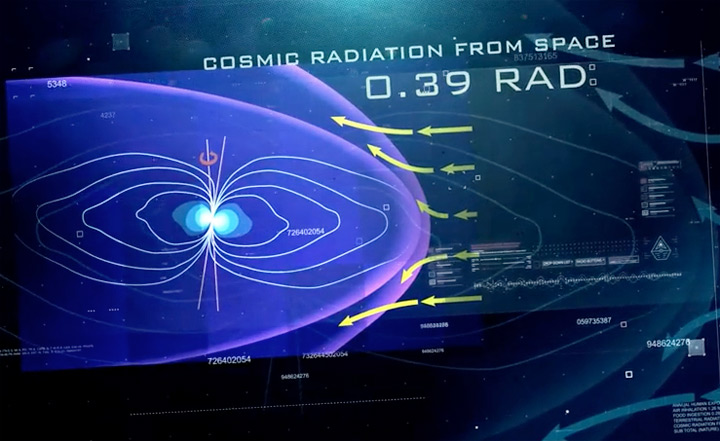 Juno Spacecraft's Cosmic Radiation At Jupiter
Juno Mission's Radiation Exposure = 20,000,000 RAD over course of the mission.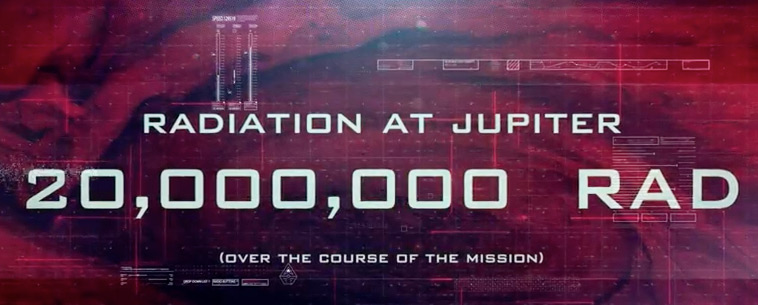 Jupiter's Immense, Deep Weather Bands and Centuries-Long Red Spot —
Entangled in Jupiter's Core Gravity?
The depth to which the roots of Jupiter's famous zones and belts extend has been a mystery for decades. Gravity measurements collected by Juno during its close flybys of the planet have now provided an answer. The current Juno gravity measurements were a surprise because the horizontal bands of weather layers on Jupiter are more massive and go deeper from the stripes to below the visible clouds. New data indicates the weather layers from the top go down 1,900 miles (3,000 km), which is 1% of Jupiter's mass equivalent to three Earth masses.
"By contrast, Earth's atmosphere is less than one millionth of the total mass of Earth," reports Yohai Kaspi, Juno co-investigator from the Weizmann Institute of Science in Rehovot, Israel. So what is the physics behind Jupiter's massive weather bands rotating separately east to west? What are the gravity signatures of the intense jet streams behind the weather layers and are those jet streams entangled with Jupiter's core gravity? Why don't the bands merge together?
Geometric Cyclones At Jupiter's Poles
Further, no one expected Jupiter's North and South poles to have massive cyclones arranged in geometrical patterns. There is nothing else like that in our solar system.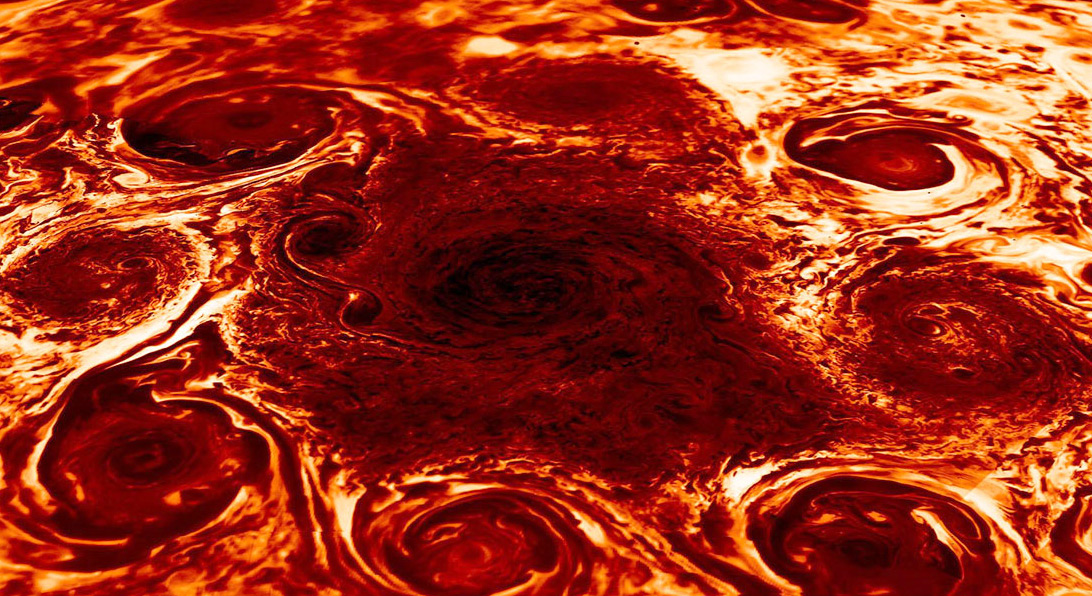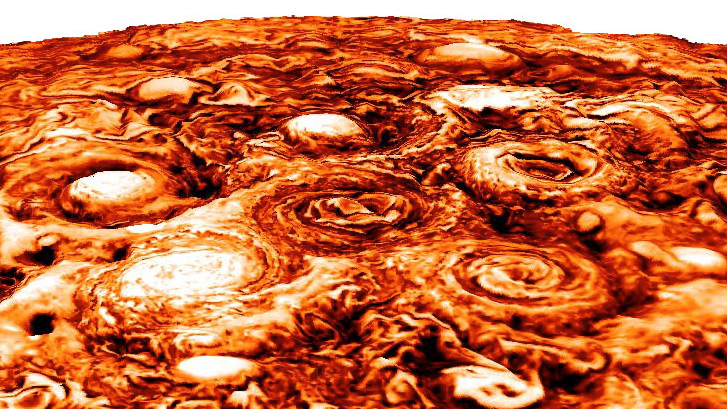 Also see:
---
More Information:
---
Websites:
Juno Mission by NASA: https://www.nasa.gov/mission_pages/juno/main/index.html
"Measurement of Jupiter's Asymmetric Gravity Field," Nature, March 7, 2018: https://www.nature.com/articles/nature25776
"NASA Juno Findings – Jupiter's Jet-Streams Are Unearthly," March 7, 2018, NASA: https://www.nasa.gov/feature/jpl/nasa-juno-findings-jupiter-s-jet-streams-are-unearthly

© 1998 - 2018 by Linda Moulton Howe.
All Rights Reserved.