— "I have 2 large bird feeders and 2 hummingbird feeders that I've been refilling all winter — until about a week ago! Nothing — no birds! We also have a large population of geese that are always in our park, but nothing for over a week?"
– GG, Worried Resident, Grants Pass Oregon valley
— "Are we about to experience a severe natural disaster?"
– Resident, Rogue Valley, Oregon on March 19, 2018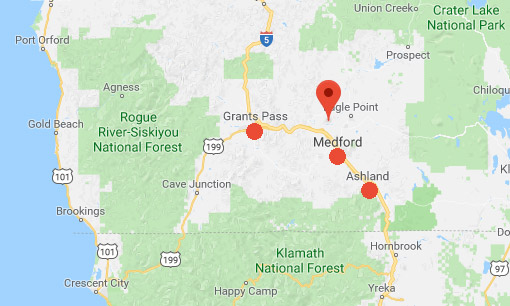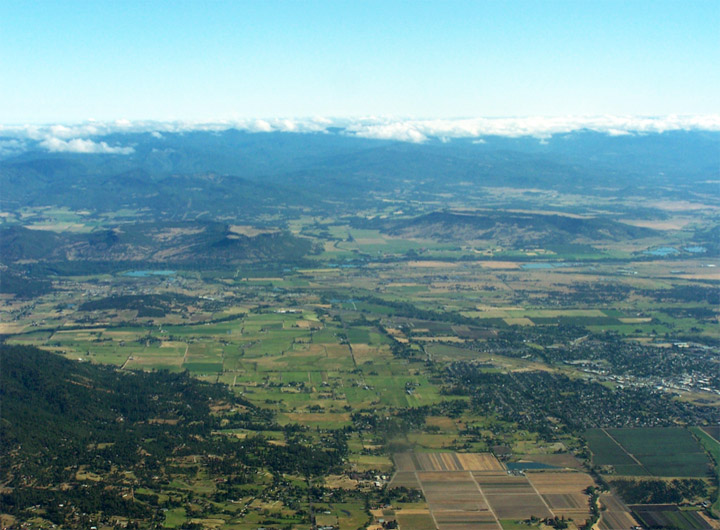 UPDATE – March 24, 2018 Rogue Valley, Oregon – Since my March 19th Earthfiles report and March 21st Earthfiles YouTube Update about the puzzling and disturbing lack of birds in Rogue Valley, Oregon, near Medford, and possible link to impending earthquake in the Cascadia Subduction Zone there, I have received the following comments from viewers and listeners.
Return to Part 1.
1)
To: Linda Moulton Howe <[email protected]>
Re: Birds Also Missing in Grants Pass Oregon valley
Date: March 23, 2018
Morning,
I live in the Grants Pass Oregon valley. I have only lived here for a few years, but one of my joys of the valley is feeding my birds! Swallows, hummingbirds, robins throughout the season and especially the winter. I have 2 large bird feeders and 2 hummingbird feeders that I've been refilling all winter — until about a week ago! Nothing — no birds! We also have a large population of geese that are always in our park, but nothing for over a week?
We also own a home in the Smith River Oregon area. We have also noticed our large robin population has vacated?
We have lived in that area for over 40 years. The robins are always, always early morning feeders for us. Have not seen ANY in over a week?
We will be even more aware now to see what our large elk population and wildlife are doing….
GG,
Worried
2)
To: Linda Moulton Howe <[email protected]>
Re: No Hummers and Strange Snow Geese Migration Change in North Natomas, California (Sacramento)
Date: March 24, 2018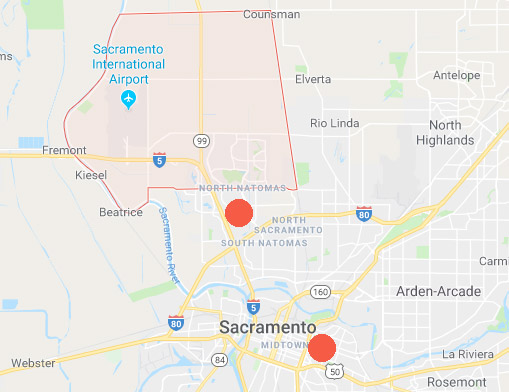 Hello,
I live in North Natomas, California. We are North of Sacramento by a short distance. After reading your Earthfiles.com article about missing birds in Oregon, I have to add something I have noticed here. I have been following the migration of Snow Geese from my backyard for nearly 18 years. As well as the hummingbirds. I live along the Pacific Flyway, so I have a good vantage point.
For the past several years, Snow Geese have been changing in their "fly times." And this year has been even more perplexing. They would usually start to fly over, heading North in early October. But in October 2017, it was later than usual in the month. After I see them for several weeks, I don't see them again till the following year. It is awesome to see them flying at night when the moon is bright. I look forward to it and wait eagerly.
This year 2018, the Snow Geese have been flying North and South almost at the same time. They are usually long done by now. I have never seen THIS before. About 10 days ago was the last I've seen them going North again. Now, I realize they are of a huge population, but this is very odd. And, as for the hummers, we have only had one! Usually we have several that stay all year round. As well as the migratory ones. Butnothing this year so far. I too am concerned as I feel this is a sign from Nature.
3)
To: Linda Moulton Howe <[email protected]>
Re: Swallows Missing in Shady Cove outside Medford, Oregon
Date: March 23, 2018
I live in Shady Cove just outside of Medford on the Rogue River. What Linda Moulton Howe has reported about the swallows — we have the same problem here. I watch the bird species very closely all through the seasons of what comes and goes. This year's been off.
4)
To: Linda Moulton Howe <[email protected]>
Re: Birds Missing In Oregon, Germany and France
Date: March 23, 2018
I'm reading the German newspaper and they too report a disappearing from birds. They don't know why, but think it has to do with spraying pesticides and weather change. (France was reported this week to be facing a bird disappearance crisis.)
Let's hope it's not so dramatic for Oregon and the world.
5)
To: Linda Moulton Howe <[email protected]>
Re: Birds Vanished Above Boat in Everett Washington, February 7, 2018
Date: March 23, 2018
Here is a high strangeness "Birds Vanish" posting at the UFOSNW.com Website
about February 7, 2018, "50 to 75 Birds Vanish"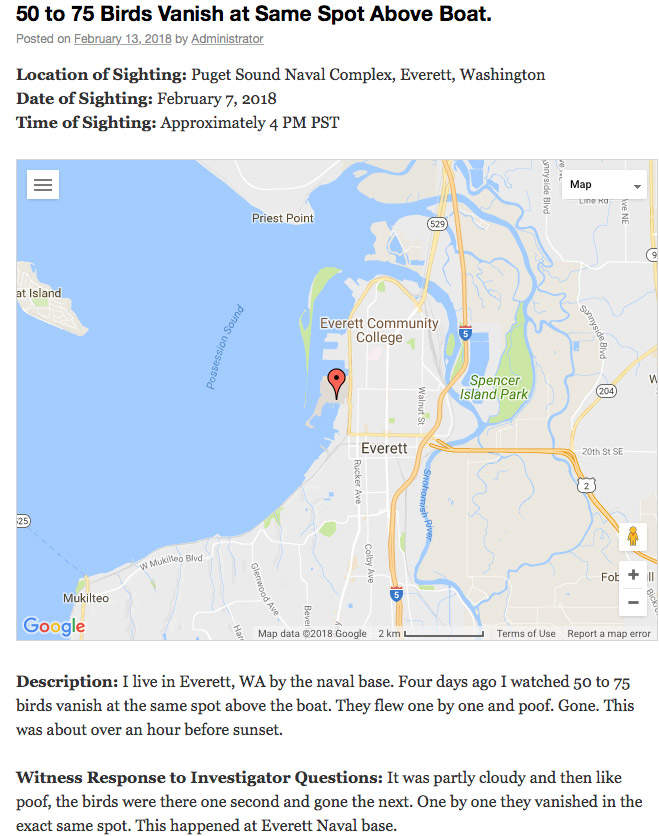 6)
To: Linda Moulton Howe <[email protected]>
Re: Something going to happen in Southern Oregon?
Date: March 21, 2018
Hello,
We live in Coos Bay, Oregon, on the coast. We usually have LOTS of hummingbirds, 7 to 10 that will all feed at the same time. We have four feeders outside of our house. There hasn't been even one hummingbird in the past week. Yesterday we took the feeders down, cleaned them out and made fresh food. Nothing. Not one hummingbird yet.
So, your article was timely and interesting.
Thank you, Linda, for Earthfiles.
Kindest regards
Coos Bay resident
7)
To: Linda Moulton Howe <[email protected]>
Re: What's happened to the birds, where are they?
Date: March 21, 2018
Dear Linda,
I just finished listening to your YouTube updates, and the story concerning the Oregon community member that is reporting not seeing hummingbirds at this time. I do believe that animal behavior can indicate changes to come or within an environment or region. Animals have attributes that are much more sensitive than human faculties to detect many things.
I couldn't help but think of the amount of toxic air pollutants that might alter bird behavior or even cause mortality events.
I don't know what your views are concerning weather modification, toxic cloud-seeding or geoengineering,
But I bet you know a great deal. It could just be the causal factor, along with weather pattern changes to disrupt the hummingbirds. Where is all the Aluminum contamination coming from?
Return to Part 1.
Earthfiles.com would like to hear from other southwestern Oregon residents to learn what changes in the environment you are seeing and talking about with your neighbors. Please email: [email protected] with updates and photographs if available.
Also see:
08-06-2015 – Is Cascadia Subduction Zone Most Dangerous in North America? Could A Juan de Fuca Cascadia Earthquake "Destroy A Sizable Portion of the Coastal Northwest?"
---
More Information:
---
Websites:
"The Big One Might Be About to Hit — But Not Where We Expect," November 21, 2017, IFL Science:
http://www.iflscience.com/environment/next-big-one-earthquake-occur-pacific-northwest/all/
Cascadia Subduction Zone, USGS: https://earthquake.usgs.gov/data/crust/cascadia.php
Cascadia Subduction Zone: https://pnsn.org/outreach/earthquakesources/csz
Cascadia Subduction Zone, Wikipedia: https://en.wikipedia.org/wiki/Cascadia_subduction_zone
1989 Loma Prieta Earthquake: https://en.wikipedia.org/wiki/1989_Loma_Prieta_earthquake

© 1998 - 2018 by Linda Moulton Howe.
All Rights Reserved.