— "We're going to move on hypersonics, move on A. I.  We're looking at a joint office where we would concentrate all of DoD's efforts since we have a number of Artificial Intelligence efforts underway right now. We're looking at pulling them all together" in a new Pentagon Joint Office On Artificial Intelligence.  – James N. Mattis, Secretary of Defense, April 12, 2018
— "We have lost our technical advantage in hypersonics, (but) we haven't lost the hypersonics fight." – General Paul Selva, Vice Chairman of the Joint Chiefs of Staff
On April 19, 2018, the U. S. Air Force awarded $1 billion to Lockheed Martin in Huntsville, Alabama, to develop a hypersonic missile basically to catch up with Russia and China in the modern hypersonic arms race. Hypersonic flight is through the Earth's atmosphere at about 56 miles (90km)  up and at speeds above Mach 5. That means more than 3,835 miles per hour. Hypersonic craft and weapons are revolutionary because their advanced speeds make it harder for an enemy to confront and destroy. Further, hypersonic missiles can move at such high speed that their impact with matter would be extremely destructive even without warheads. That's why Russia's Vladimir Putin was bragging on March 1, 2018, about his "invincible military missile."
Lockheed Martin's Mach 3 SR-71 – Secret Hypersonic Spy Plane?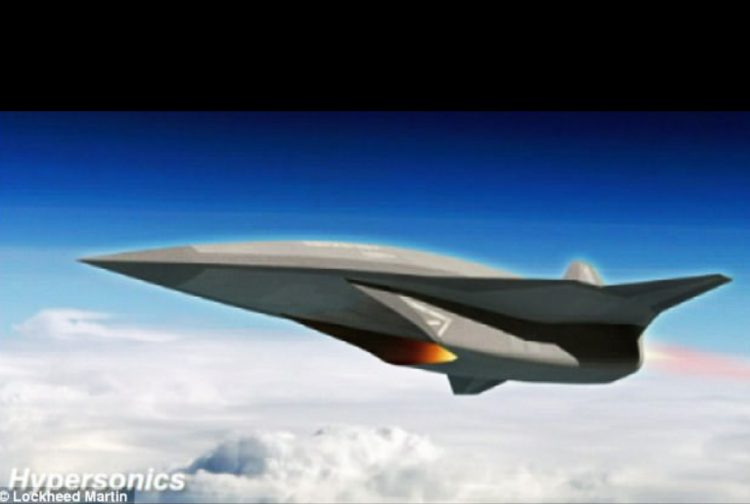 But doesn't the United States already have a secret unmanned A. I. hypersonic craft made by Lockheed Martin? In early January 2018, Lockheed's Vice President of Strategy and Customer Requirements for Advanced Development Programs spoke at The American Institute of Aeronautics and Astronautics SciTech Forum where he showed the above slide of a digital mockup of an unmanned hypersonic Mach 3 SR-71 spy plane and said, "Without the digital transformation, the aircraft you see there could not have been made." This was reported by the U. K. Daily Mail on January 9, 2018.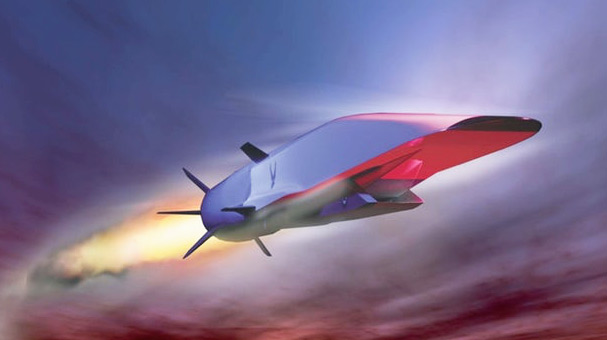 Russia's Kinzhal Hypersonic Missile
Vladimir Putin gave a state-of-the-nation address on March 1, 2018, in which Putin announced he now has an "invincible military missile," the Kinzhal hypersonic missile, that can accelerate to 10 times the speed of sound. The speed of sound depends on altitude temperature. A plane flying Mach 1.0 at sea level is flying about 761 mph (1224 km/h), while a plane flying Mach 1.0 at 30,000 feet is flying 678 mph (1091 km/h).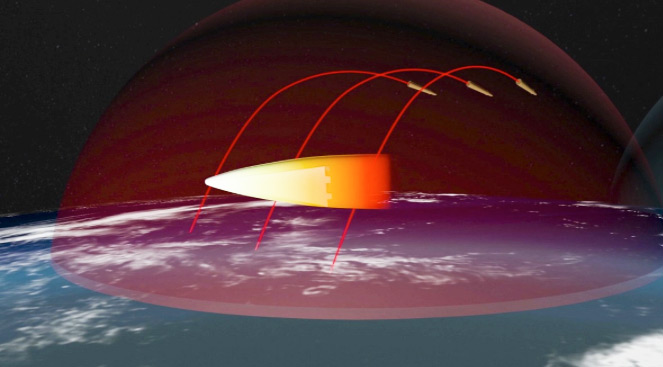 A week ago on April 12, 2018, U. S. Secretary of Defense James Mattis and his Chairman of the Joint Chiefs of Staff Marine Corps General Joe Dunford testified before the House Armed Services Committee in Washington about the Defense Department's fiscal year 2019 budget requests. Secretary Mattis wants to move quickly to bring the United States up to speed in competition with the aggressive progress by China and Russia in the rapidly evolving fields of hypersonics and artificial intelligence.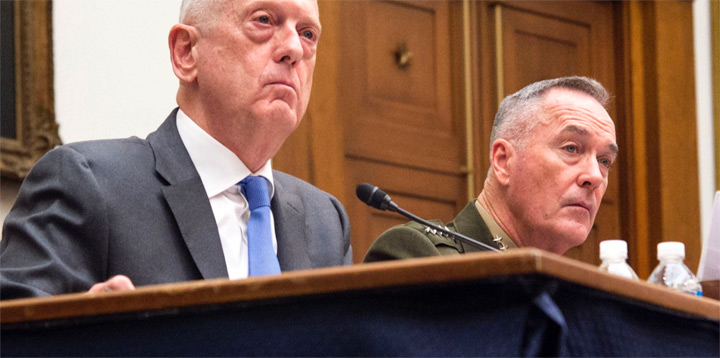 Next? — Pentagon Joint Office On Artificial Intelligence
Sounding frustrated at being bogged down in the slow process of constant research papers, Secretary Mattis said: "We're going to move things into production, prototyping. We're not going to have more papers. We're going to move on hypersonics, move on A. I. We're looking at a joint office where we would concentrate all of DoD's efforts since we have a number of A. I. efforts underway right now. We're looking at pulling them all together" in a new Pentagon Joint Office On Artificial Intelligence.
Newly appointed in February 2018 as first Undersecretary of Defense for Research and Engineering, Michael Griffin reinforced Secretary Mattis the next day on Friday, April 13, 2018, in a discussion at the Hudson Institute. He said, "Even the unclassified version of the NDS (National Defense Strategy) is unmistakably blunt. There are ten or a dozen areas of modernization priority, areas in which the department and national security community in general must modernize to get ahead and keep ahead of our adversaries. The U. S. has been on holiday for 25 years."
DoD's Mattis and Griffin are very concerned that China and Russia have overtaken the United States in not only Artificial Intelligence, but the development of hypersonic weapons. Back on January 30, 2018, General Paul Selva, Vice Chairman of the Joint Chiefs of Staff said, "We have lost our technical advantage in hypersonics, (but) we haven't lost the hypersonics fight."
On March 6, 2018, Undersecretary Griffin told the McAleese/Credit Suisse conference in Washington, D. C.: "I'm sorry for everybody out there who champion  some other high priority, some technical thing. It's not that I disagree with those, but there has to be a first and hypersonics is my first (priority). … I didn't take this job so that we could regain parity with our adversaries. …I want to see our adversaries' hand and raise them one. I want to make them worry about catching up with us again. Any American, any ally or partner that we have who doesn't see it that way, I don't have time for you. … When the Chinese can deploy a tactical or regional hypersonic system, they hold at risk our carrier battle groups. (Hypersonic systems) hold our entire surface fleet at risk. They hold at risk our forward-deployed forces and land-based forces. … And so our only response is either to let the adversaries have their way or to go nuclear. And that should be an unacceptable situation for the United States."
Also see:
USAF's First Robotic Space Plane, X-37B
---
More Information:
08-20-2010 – Part 6: Is Time Travel Past and Future Possible?
08-06-2010 – WWII UFO and RAF Plane Encounter Covered Up by Churchill and Eisenhower, MoD Documents Reveal
06-23-2010 – USAF's First Robotic Space Plane, X-37B, and Update On Rocket Launch Spirals
---
Websites:
"Hypersonics 'highest technical priority' for Pentagon R&D Head," March 6, 2018, Defense News:  https://www.defensenews.com/pentagon/2018/03/06/hypersonics-highest-technical-priority-for-pentagon-rd-head/
"Hypersonic flight: Threat or opportunity?" September 20, 2017, New Atlas:  https://newatlas.com/hypersonic-flight/50801/

© 1998 - 2018 by Linda Moulton Howe.
All Rights Reserved.