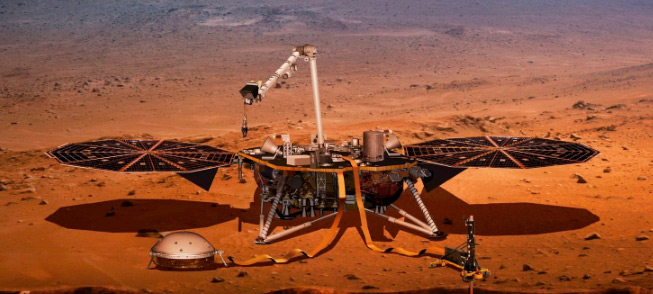 Update –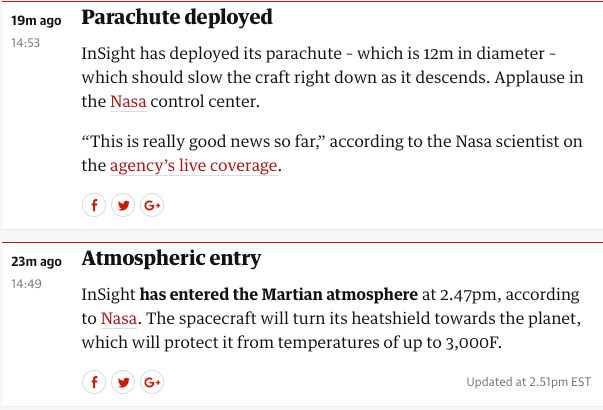 "There's a reason engineers call landing on Mars 'seven minutes of terror.' We can't joystick the landing, so we have to rely on the commands we pre-program into the spacecraft."
— Rob Grover, Lead for InSIGHT's entry, descent and landing (EDL),  NASA's Jet Propulsion Laboratory, Pasadena, CA
"Previous missions haven't gone more than skin-deep at Mars. InSIGHT scientists can't wait to explore the deeper heart of Mars."
— Sue Smrekar, InSIGHT Mission Deputy Principal Investigator, Jet Propulsion Lab, Pasadena, CA
Update – InSIGHT Landed Safely On Mars Today!
November 26, 2018  Pasadena, California –
The touchdown of the NASA InSIGHT Lander today on Mars in the Elysium Planitia flat plain occurred LIVE at approximately 2:54 p.m. Eastern Time and all other time zones.  The actual landing was scheduled to occur at 2:47 p.m. — because the radio signal then has to travel 91 million miles to Earth from Mars, arriving some 8 minutes later, the amount of time it takes light to travel to Earth at 186,000 miles per second.
Right now the 6-meter-long spacecraft from Earth is speeding towards Mars for the tricky landing. It's a NASA/JPL machine called InSIGHT. That stands for Interior exploration using Seismic Investigations, Geodesy and Heat Transport. NASA wants to probe inside the red planet's interior. InSIGHT will be moving at about 12,300 miles per hour when it begins its descent to a flat Martian plain called Elysium Planitia.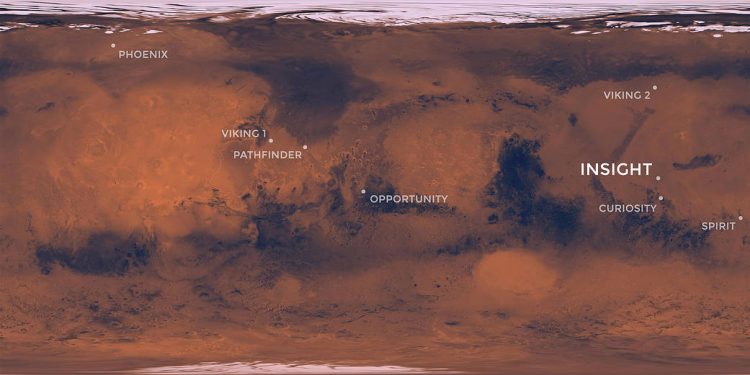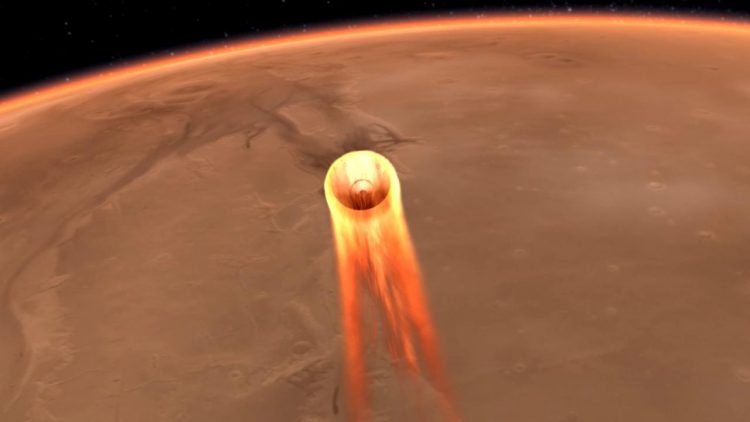 When InSight hits the top of the Martian atmosphere at 12,300 mph (19,800 kph), rapidly it must slow down to 5 mph (8 kph)  before its three legs touch down on Martian soil. That extreme deceleration has to happen in just under seven minutes.
"There's a reason engineers call landing on Mars 'seven minutes of terror,'" said Rob Grover, InSIGHT's entry, descent and landing (EDL) lead, based at NASA's Jet Propulsion Laboratory in Pasadena, California. "We can't joystick the landing, so we have to rely on the commands we pre-program into the spacecraft. We've spent years testing our plans, learning from other Mars landings and studying all the conditions Mars can throw at us. And we're going to stay vigilant till InSIGHT settles into its home in the Elysium Planitia region."
NASA reports that during the InSIGHT lander's descent, its heat shield will be  pointed downward. That's to protect the spacecraft's sensitive instruments from temperatures reaching a peak 2,700 degrees Fahrenheit. The atmosphere slows the lander to less than 1,000 miles per hour. When the vehicle reaches about seven miles above the surface, the lander deploys a supersonic parachute to slow even further. The heat shield eventually drops away and when the lander reaches a mile high, it drops away from the back shell with the parachute and ignites its onboard thrusters. These engines maneuver the lander to a safe spot and lower the spacecraft gently down to the ground.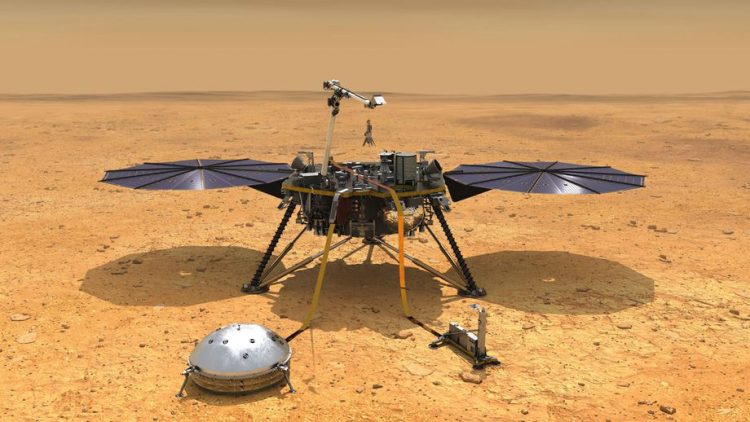 "Landing on Mars is exciting, but scientists are looking forward to the time after InSight lands," said Lori Glaze, acting director of the Planetary Science Division at NASA Headquarters. "Once InSight is settled on the Red Planet and its instruments are deployed, it will start collecting valuable information about the structure of Mars' deep interior — information that will help us understand the formation and evolution of all rocky planets, including the one we call home."
InSIGHT's  Instruments
If all goes well on the November 26, 2018, landing,  engineers will then spend the next two to three months deploying InSIGHT's instruments. The lander has two main tools to study the Martian interior: a seismometer to listen for Mars quakes and a self-hammering nail that will dive 16 feet underground to take the planet's temperature.
If the seismometer is deployed too close to InSight, even tiny vibrations on the lander, perhaps caused by wind, could muck up the data. That's why scientists will spend a few weeks to find the best spots to deploy these instruments, using InSight's cameras. "If you ever play those claw games at carnivals, you want to make sure you're perfectly lined up with the prize you want before you push the button to go try and grab it," Elizabeth Barrett, a science system engineer at NASA JPL
InSIGHT is also equipped with a robotic arm that will gingerly place the two instruments away from the lander. And once deployed, the data collected from these instruments will help scientists better understand the types of rocks in Mars' mantle and core.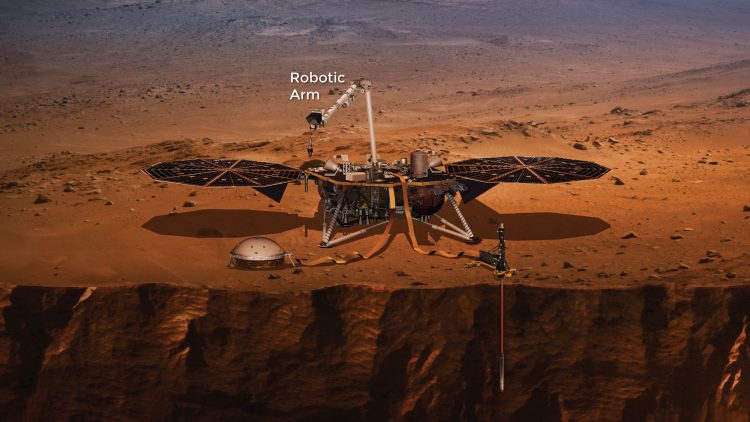 Looking for Life On Mars?
The InSIGHT mission won't be looking for life. But in July 2020, NASA will put another lander in the Jezero Crater on Mars specifically to look for signs of ancient or even current microbes from 3.5 billion years ago when Mars had a warmer, wetter climate. There was a time when Earth and Mars were very similar. Both were warm, wet and shrouded in thick atmospheres. But three to four billion years ago, the two planets took different paths.
"Earth and Mars were molded out of very similar stuff," said Bruce Banerdt, InSIGHT's principal investigator at NASA's Jet Propulsion Laboratory in Pasadena, California, which leads the mission. "Why did the finished planets turn out so differently? Our measurements will help us turn back the clock and understand what produced a verdant Earth, but a desolate Mars."
Also see:
07-25-2018 – Underground Lake Reported Beneath Martian South Pole.
---
More Information:
06-19-2018 – Update: "We're Going to Have A Space Force … And Very Soon We're Going to Mars" – President Trump.
06-13-2018 – One of Largest Storms Ever Seen On Mars Threatens the Opportunity Rover.
06-07-2018 – NASA Confirms Organic Molecules On Mars — Will Life Evidence Be Next?
12-22-2017 – Did NASA/JPL Fudge Xenon-129 Data for Both Mars and Venus?
08-26-2016 – More Evidence of Ancient Thermonuclear Explosions On Mars At American Inst. of Astronautics and Aeronautics 2016 Space Conference

07-02-2016 – NASA Photo Lab Tech Saw Negative of Alien "Object" On Moon Blacked Out.
---
Websites:
"NASA InSIGHT Landing on Mars: Milestones," November 21, 2018: https://mars.nasa.gov/news/8390/nasa-insight-landing-on-mars-milestones/
Wikipedia InSIGHT:  https://en.wikipedia.org/wiki/InSight
NASA Mars Trek Map:  https://mars.nasa.gov/maps/explore-mars-map/fullscreen/

© 1998 - 2019 by Linda Moulton Howe.
All Rights Reserved.