"We will have 85 total lunar eclipses in the 100 years of this 21st Century — and one is January 20-21, 2019."
— Fred Espenak, Astrophysicist and Eclipse Expert, retired from NASA Goddard Space Flight Center
UPDATED January 21, 2019 Santiago, Chile –  With so much cloud cover in United States stormy weather, here is a lunar eclipse photograph from Santiago, Chile, where it is now summertime taken by Yuri Beletsky.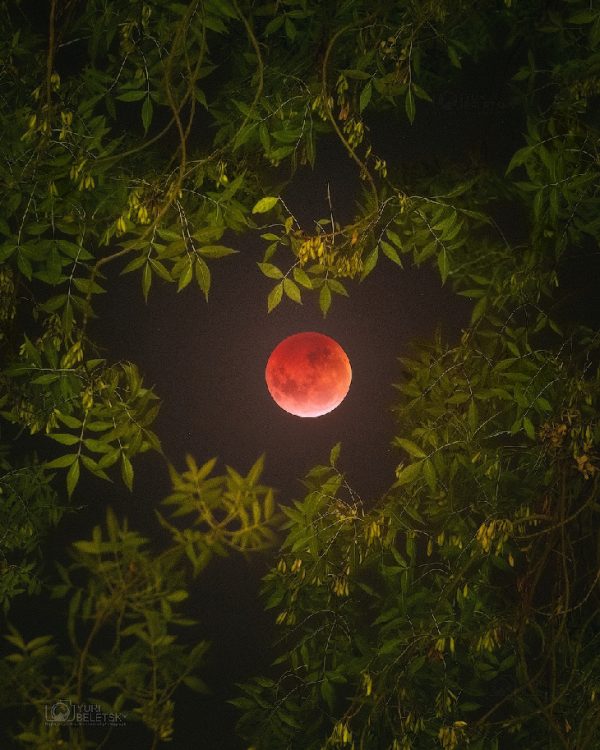 Photographer Yuri Beletsky wrote to Spaceweather.com:
"After a week of perfect weather just in the morning of the day of the eclipse, clouds came out of nowhere ! It was unbelievable – in the middle of summer in Chile we faced a real possibility to miss the eclipse 😅 I had some ideas to take wide-field images of the eclipse, but thick high-altitude clouds over Santiago and surroundings made this task impossible. Although the Moon was visible, but the sky was not good at all. Walking around I suddenly noticed a line of trees along the road which had quite interesting tree crowns. Bingo ! 🙂 Never planned that, but the view of the Moon through the trees turned out to be quite intriguing. I hope youll enjoy the view 🙂 #Nikon #D810a #lunareclipse #eclipse
You can follow my work here:
https://www.instagram.com/yuribeletsky/
https://www.facebook.com/yuribeletskyphoto/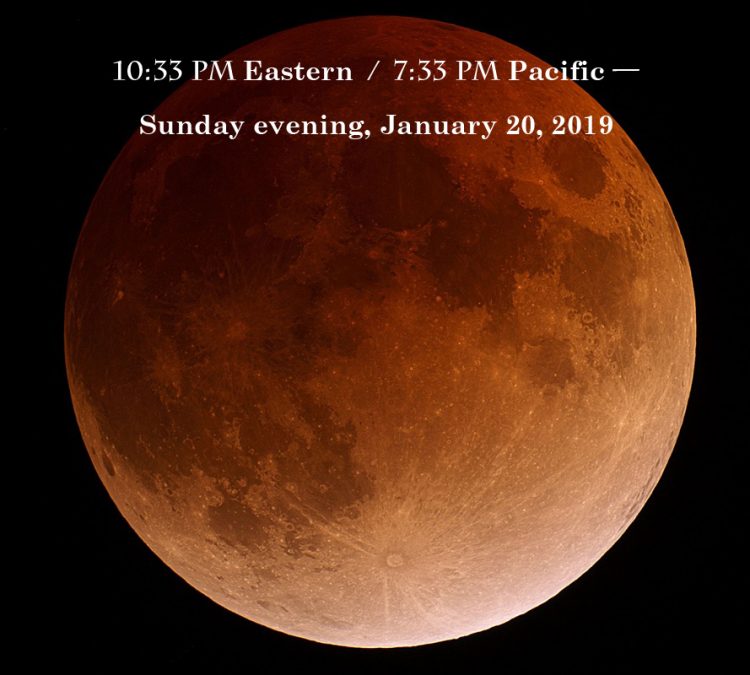 This total eclipse of a full moon is a good example of how the light turns dark orange when the Earth's shadow completely covers the moon for about an hour. It is a rare and beautiful astronomical phenomenon, which in the 21st Century will happen only 85 times. The New Year 2019's first full moon total eclipse is called a "super blood wolf moon." For example, this image is from a previous older lunar eclipse by Matthew Blum, Astronomy.com.
January 20, 2019  Albuquerque, New Mexico – Astronomy.com reports that our Earth Moon will begin entering the Earth's penumbra shadow in this New Year's first Full Moon at 10:33 PM Eastern / 7:33 PM Pacific on Sunday evening, January 20, 2019. "The shadow appears dusky gray at first, but as more of the Full Moon sinks into the Earth's shadow, it should take on a distinctly orange color. The orange comes from sunlight refracted and scattered through Earth's atmosphere."  That eerie, haunting color change to deep orange should be most intense during totality, which lasts from 11:41 PM  to 12:43 AM Eastern / 8:41 PM to 9:43 PM Pacific. The eclipse maps show that everyone in North America to South America will be able to watch the entire lunar eclipse wherever there are clear skies.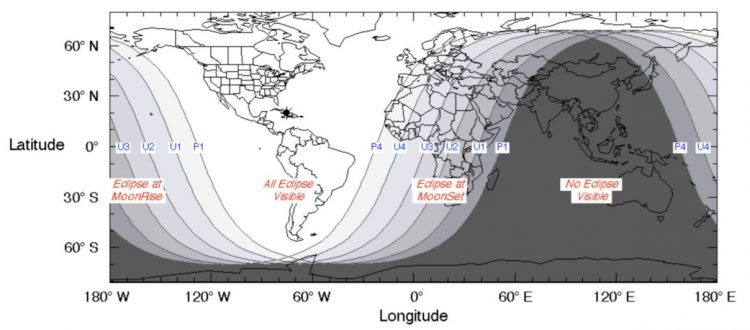 It's called a "super blood wolf moon" since this full moon will look about 10% bigger than it usually does. These "Super Moons" happen because the moon's orbit is an ellipse, not a perfect circle. It's distance from Earth can vary by about 10% as it travels around in its elliptical orbit.
Further, this is the first full moon of this New Year 2019. In olden times, some people have called the New Year's first full moon a "wolf moon." According to the Old Farmer's Almanac, full moon names have come from the Algonquin North Americans. The Algonquin's thought that naming full moons would give the intent of the named active energy to each month. And the word "blood" refers to the deep red-orange color that total lunar eclipses can become.
Next Full Moon Not Until 2021
The next total lunar eclipse visible from the U.S. will happen on May 26, 2021. It will only be visible from the West Coast and Hawaii. Early risers on the West Coast will be able to see that 2021 eclipsed moon just before dawn as it  sets on the western horizon.
---
Websites:
Astronomy.com:  https://astronomy.com/observing/sky-this-week/2019/01/the-sky-this-week-from-january-11-to-january-20
Old Farmer's Almanac About Full Moon Names:  https://www.almanac.com/content/full-moon-names

© 1998 - 2019 by Linda Moulton Howe.
All Rights Reserved.