"The high velocity indicates not only that the object likely originated from outside our solar system, but also that it will leave and head back to interstellar space."
— Davide Farnocchia, Ph.D., Astronomer,  NASA's Jet Propulsion Laboratory, Pasadena, California
September 13, 2019 Albuquerque, New Mexico – Three days ago on September 10, 2019, the Canada-France-Hawaii Telescope on the Big Island was able to photograph a faint, fuzzy, white glow of what astronomers are calling the "second interstellar visitor." First was the mysterious Oumuamua that sped by Earth on October 19, 2017, at thousands of miles an hour. Scientists declared it the first interstellar object ever seen by humans on Earth. Oumuamua in Hawaian means "scout or leader in a battle."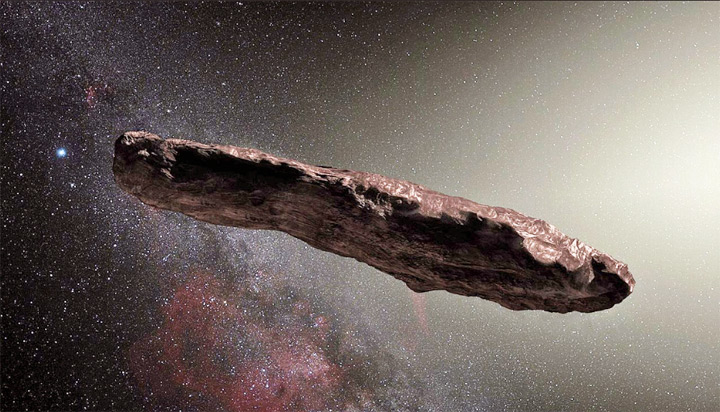 Oumuamua was going extremely fast and increased speed and altered its orbit on a trajectory that was headed out of the solar system and not coming back. Pulled by the Sun's gravity, the object made a hairpin turn under our solar system, passing under Earth's orbit on Oct. 14, 2017,  at a distance of about 15 million miles (24 million kilometers) — about 60 times the distance to the Moon. It then shot back up above the plane of the planets and increased its speed to 97,200 miles an hour (27 miles per second or 44 kilometers/second) with respect to the Sun speeding toward the constellation Pegasus. That acceleration could not be explained as a cometary ice surface outgassing because there was no spectroscopic evidence of an icy surface on Oumuamua.
New Interstellar Object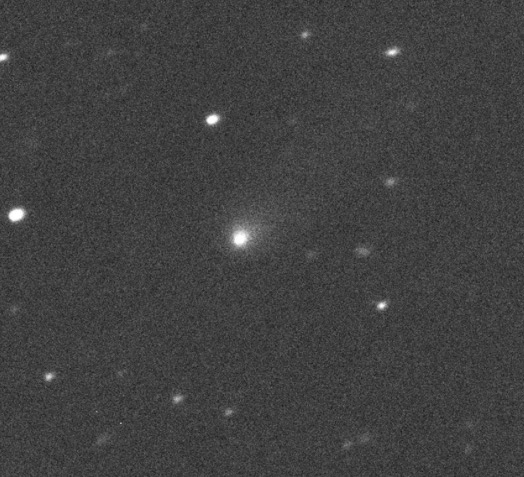 But the newly discovered "second interstellar visitor" was detected by Crimean astronomer Gennady Borisov and its path confirmed by the University of Hawaii as an extremely curved path headed toward our sun at very high speed. Coming in from near a 40-degree angle above the ecliptic plane in which the Earth and our solar system orbit around the sun, C/2019 Q4 (Borisov) is expected to pass through the ecliptic plane on October 26, 2019. It's speed of some 20 miles per second is too fast for the sun's gravity to keep the new icy visitor bound in an orbit.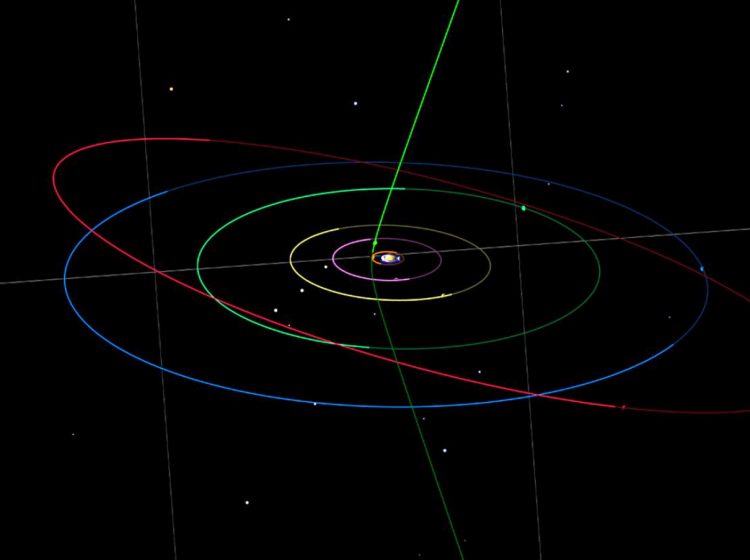 Davide Farnocchia, Ph.D., astronomer at NASA's Jet Propulsion Laboratory in Pasadena, California explains that the high speed puts it into the category of an interstellar visitor because "the comet's current velocity of 93,000 mph (150,000 kph) is well above the typical velocities of objects orbiting the Sun at the comet's current distance of 260 million miles from our Sun (420 million km). That high velocity indicates not only that the object likely originated from outside our solar system, but also that it will leave and head back to interstellar space."
Interstellar Comet C/2019 Q4's Closest Approach Will Be December 8, 2019
By December 2019, this comet will be visible with moderate-sized telescopes until the spring. The size of the comet nucleus calculated by University of Hawaii astronomer Karen Meech is between 1.2 and 10 miles in diameter. By spring the new interstellar visitor will be so far away that only professional telescopes such as Hubble will be able to follow it as it leaves our solar system.
Also see:
11-04-2018 – Oumuamua's Peculiar Acceleration – Harvard Scientists Discuss Possible Extraterrestrial Lightsail Power
07-01-2018 – Oumuamua — Comet? Asteroid? Other? Changing Speed and Course
---
More Information:
01-02-2019 – See Amazing First Ultima Thule Photos Unlike Anything Ever Seen Before in Our Solar System! 
12-15-2018 – Christmas Comet Came With Green Glow!
05-28-2017 – Part 1: Lots of 2017 Surprises On Jupiter
10-22-2016 – Is Our Sun's Mysterious 6-Degree Tilt Linked to A Huge 9th Planet?
09-22-2016 – Updated:  Is There Life in Europa's Huge Ocean?
04-05-2016 – Interstellar Travel with Laser Light Propulsion
---
Websites:
JPL/NASA News:  https://www.jpl.nasa.gov/news/news.php?feature=7498
Canada-France-Hawaii Telescope:  http://www.cfht.hawaii.edu/en/about/

© 1998 - 2019 by Linda Moulton Howe.
All Rights Reserved.