"It's the first time, to our knowledge, that a wild animal has gotten sick from COVID-19 from a person."
— Paul Calle, D.V.M., Chief Veterinarian, Bronx Zoo, New York City, N. Y., April 5, 2020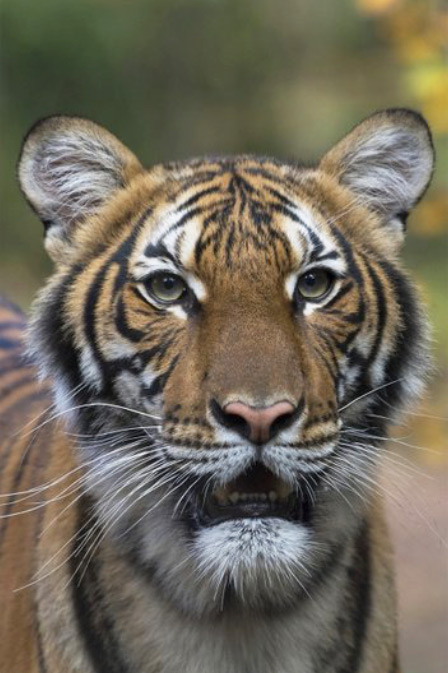 April 5, 2020  New York City, New York – Seven big cats at the Bronx Zoo in New York City have been exhibiting the same symptoms of COVID-19 that humans report: dry cough and loss of appetite. One Malayan tiger named Nadia is the first to test positive. But her sister plus three African lions and two Siberian tigers are also dry coughing and not eating.
So it is assumed that those additional six cats will be COVID-positive when tested as well. Nadia's test samples were sent to two universities: Animal Health Diagnostic Center, Cornell University, Ithaca, NY;  and the University of Illinois College of Veterinary Medicine's Diagnostic Laboratory.
"It's the first time, to our knowledge, that a wild animal has gotten sick from COVID-19 from a person. (But) it's the only thing that makes sense," says Paul Calle, D.V.M.,  Chief Veterinarian for the NYC Bronx Zoo. The zoo was closed to human traffic since March 16, 2020, as New York City and most of the United States have been in self-quarantine in an effort to slow down the spread of the highly contagious and deadly COVID-19 coronavirus that has spread around the whole world beginning in Wuhan, China, in December 2019.
To date, other animals have tested positive for COVID-19. In Hong Kong, two domestic family dogs — a German shepherd and a Pomeranian — tested positive. So did a domestic cat in Belgium. How did the pets contract the coronavirus? So far, there is no proven evidence that domestic or wild animals can infect people. But scientific testing has been limited. Other Chinese research has found that cats might be able to infect each other. If so, how easily can COVID-19 directly infect cats, dogs and other animal species? And how will the coronavirus progress in the big cats and other animals?
"If COVID-19 jumps to tigers and lions and becomes a significant cause of mortality,"warns John Goodrich, Chief Scientist and Director of the Panthera Tiger Program, "the virus could develop into a very serious concern for the future of these species."
Veterinarians are also afraid that the great apes might be susceptible to catching respiratory diseases such as COVID-19  from humans and must also be protected.
Also see:
Earthfiles 11-03-2016 – Latest World Wildlife Report Shows Steep Declines — World's Vertebrate Populations Half of What They Were In 1970.
---
More Information:
Questions and Answers on the 2019 Coronavirus Disease COVID-19 and Wild Animals by World Organisation for Animal Health:  https://www.oie.int/en/scientific-expertise/specific-information-and-recommendations/questions-and-answers-on-2019novel-coronavirus/
"Coronavirus:  Putting the spotlight on the global wildlife trade," April 5, 2020, by BBC: https://www.bbc.com/news/science-environment-52125309
Coronavirus Disease COVID-19:  https://en.wikipedia.org/wiki/Coronavirus_disease_2019
Centers for Disease Control and Prevention: https://www.cdc.gov/
---
Websites:
World Wildlife Fund — Endangered Species:  https://www.worldwildlife.org/species

© 1998 - 2023 by Linda Moulton Howe.
All Rights Reserved.