"Progenitor: A person or thing from which a person, animal
or plant is descended or originates: an ancestor or parent."
– Oxford Dictionary
"…One of the things that the Colonel told me is that they (nanosatellites
with ET technology) are meant to target things that are inbound from space."
Anthony F. Sanchez, Author, UFO Highway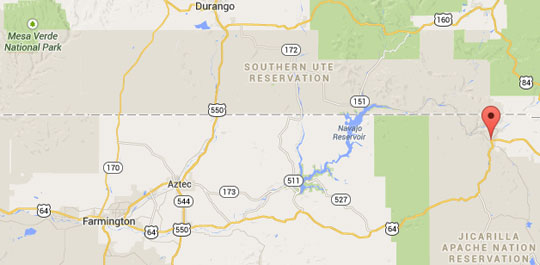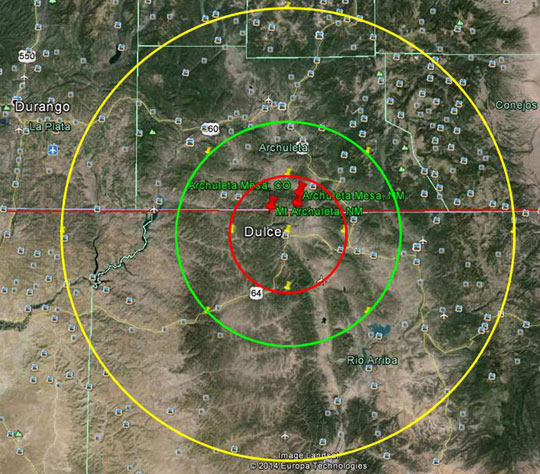 Reposted April 17, 2023 – August 29, 2014  Dulce, New Mexico – Back in the fall of 1979 when I was Director of Special Projects at the CBS station in Denver, Colorado, my crew and I traveled to Dulce, New Mexico, where rancher Manuel Gomez had several cattle mutilations on his ranch within a single year. All neatly bloodless, but not all trackless. Near one of the mutilated animals in the dusty pasture ground were a series of round indents as if golf balls in two parallel lines had been put next to each other in the dust. Around Dulce, the Jicarilla Apache natives who lived there pointed to the sky and said their ancestors, the "star people," were the ones doing the animal mutilations. For them, it was a secret they would not talk about on camera. Back then was the first time I heard about the possibility of a large, multi-leveled Dulce underground where grey extraterrestrials did genetic experiments for reasons unknown.
Three years before in 1976, Oriental studies and Sanskrit scholar Robert K. G. Temple released his now historic classic, The Sirius Mystery: Was Earth visited by intelligent beings from a planet in the system of the star Sirius? Sirius is twice as massive as our Sun, is only 8.6 light-years from Earth and is the brightest star in our planet's night sky. In fact its name comes from the ancient Greek Seirios that means "glowing" or "scorcher."
Temple reported about the work of French anthropologists, who spent the years 1915 to 1930 living among tribes in the Mali region of West Africa— including the Dogon tribe. The tribe would draw Sirius with a second star that the Dogon said was very small, but very heavy, and white in color. The Dogon said the second small star was invisible to human eyes as it moved around Sirius in an elliptical orbit that took 50 years. The Dogon also said that Sirius was home for their "Gods" that had made them.
That invisible star with exactly that kind and length of elliptical orbit around Sirius was not discovered until January 31, 1862, by a telescope maker in Massachusetts. Just as the Dogon told the anthropologists, the newly discovered star was very faint and small compared to huge, bright Sirius. It would take five more decades into the early 20th Century before astronomers even understood that the small Sirius companion was an entirely new type of star, a white dwarf so dense that a teaspoonful of it weighs 4 billion tons.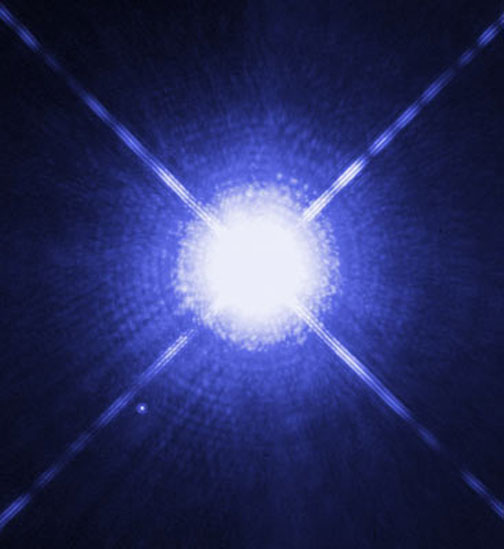 Little did I know back in 1979 that by 2014, a military insider would link the stars Sirius A and B along with another binary star system Zeta Reticuli 1 and 2 to a humanoid exodus from those solar systems to Mars in this solar system followed by another panicked migration from Mars to Earth and the terraforming and genetic manipulation of Earth life by the original Progenitor race of beings from Zeta Reticuli and Sirius B. The Progenitors would become the original Annunaki in Mesopotamia. The Annunaki would then make two different alien hybrids, a tall, pale-skinned race with light eyes and a shorter grey-skinned race with dark eyes and vertical pupils like a snake or a cat.
Then the tall, pale hybrids manipulated DNA in already-evolving hybrids to create standing up primates on Earth to work for them and be managed by the grey hybrids that would become banished to underground territories near Dulce, New Mexico. Those different status levels of DNA manipulation also demanded the strict protection of the original Progenitor bloodline through one particular hybrid race. There lies the heart of many Earth secret wars and the uncertain future of various life forms on this planet.
That is the short summary of what a retired USAF Lt. Colonel told UFO investigator Anthony Sanchez in a recorded interview on January 8, 2010. The Colonel was willing to take two lie detector polygraphs, which he passed.
Later in 2010 and updated in 2011 came Anthony's groundbreaking book, UFO Highway: The Dulce Interview – Human Origins – The HAARP and Blue Beam Connection (see More Information below) with this question highlighted at the top of the front cover: "Are you ready for the truth?" Today in 2014, the details of the USAF Colonel's whistleblowing firsthand experiences with the Dulce facility reinforce many other pieces of the UFO puzzle that I've been told over the past 35 years. What is coming into sharper focus is not only the true origin of the human species, but a drama of other life in the Milky Way galaxy trying to survive its own deteriorating biology while having the technological know how to cross light-years to perpetuate itself. Some listeners will consider this as fable; others perhaps can hear it as startling facts learned by a military officer who became frustrated, even angry, at the policies of lies and denials perpetrated on the American taxpaying public since World War II — and his firsthand knowledge of genetic abuse in the Dulce underground ET labs.
It all began for Anthony Sanchez back in 2006 to 2007 when he was working for a major computer company between San Jose and Mountain View, California.
---
Interview: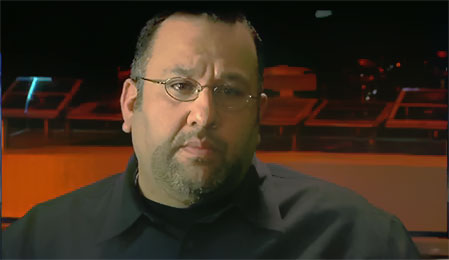 Anthony F. Sanchez, computer software engineer, UFO investigator
and author, UFO Highway © 2010 and 2011, www.UFO Highway.com.
Anthony F. Sanchez, Computer Software Engineer, UFO Investigator and author, UFO Highway © 2010 and 2011, www.UFO Highway.com, Rocklin, California:  "I was working for a major semi-conductor firm out of the Silicon Valley in 2006-2007. At that time, I was in charge of over 300 (computer) servers for the division that I worked for. Many of the divisions there had their own personal internet servers and on mine, I hosted a blog. I researched UFOs. I researched human origins and some aspects of the paranormal. So, I shared my information with friends and colleagues. One of them in particular was very, very interested in my knowledge of the military-industrial complex and the subject of UFOs.
Over the course of six months, it became clear to me that his interest was based on something going on in his life. I come to learn that he worked on a project out of Moffett (Federal) Airfield (Mountain View, California, near Palo Alto and Menlo Park), which was a multi-faceted weapon system. It was some sort of an array.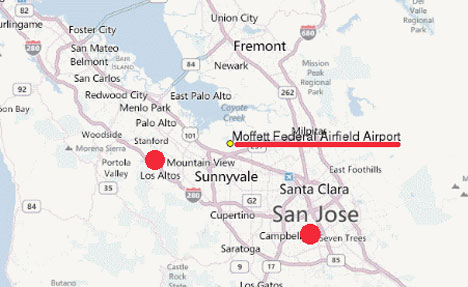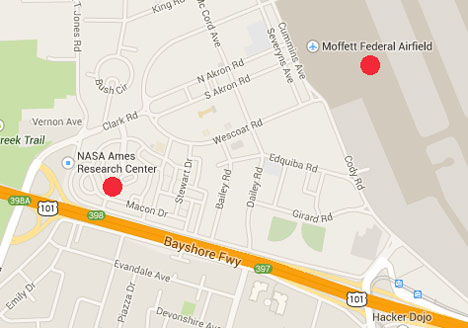 One day he just disappeared from the company. There was no trace of this person at all. I learned that he was AWOL at that point and when he was at the semi-conductor firm, he was under an assumed identity already at that point in his life.
HE WAS TRYING TO ESCAPE MILITARY SOMETHING?
He was trying to hide from the Powers That Be and the project that he had worked under. I didn't learn all the details until he and I met a year later at Moffett Field, which is in Mountain View, California, near the NASA Ames Research Facility.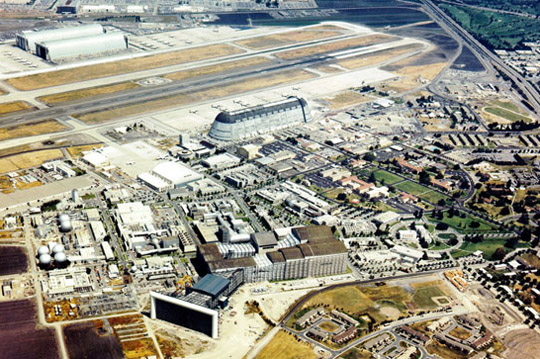 OK, NOW ARE WE IN THE YEAR 2007 OR 2008?
We're in the year 2008 at this point.
HOW DID YOU COME TO CROSS PATHS WITH HIM A YEAR LATER, IF HE DISAPPEARED FROM THE SEMI-CONDUCTOR COMPANY AND YOU KNEW THAT HE WAS RUNNING FROM SOMETHING IN THE MILITARY?
Strangely enough, when we worked together, we worked together in a Test Evaluation Center. It's a technical area where they are testing integrated circuits and what not. It's a lab environment. He had the phone number to the lab and he called that number, and it was like receiving a phone call from a ghost!
It was through that phone call that we were able to re-establish a connection and ultimately meet later that evening, as a matter of fact. At 1 o'clock in the morning, I found myself driving to Mountain View, California.
WHAT DID HE SAY TO YOU ON THE PHONE THAT WOULD PROVOKE YOU TO DO THIS?
He told me why he had secretly left the company where we were at and he gave me all the details of why he was running from this other defense contractor where he had been a high-level software engineer. I knew that this was something very serious that was occurring in his life and he wanted to share some information with me desperately. It had to do with this weapon system that had some alien component to it and potentially physical alien beings. That's what pulled me in and I had to see him.
Unfortunately what I learned was that people on the project where he had been working had begun to disappear and some of them had ended up dead. "They killed themselves," is what he would say. When they began asking too many questions, they turned up "suicide in their vehicle."
The GPS coordinates to the location where we met that evening took me to a parking lot outside of an abandoned McDonald's in Moffett Field. It was being retrofitted — I guess for hundreds of thousands of hours of film from the Apollo missions — classified stuff. He is the individual that put me in contact with the (USAF Lt.) Colonel.
So, my information that I had put on line, I guess this person (Moffett Field whistleblower) had copied it , saved it and archived it. He shared it with the Colonel and the Colonel was interested in some of the findings that I had made with regards to alien-human hybridization. That's why the Colonel wanted to speak with me and ultimately, he shared his time at Dulce, NM, with me.
IN THIS FIRST 1 AM DISCUSSION, WHAT DID HE SAY ABOUT THE MULTI-FACETED WEAPONS AND WHAT PRECISELY WAS THE EXTRATERRESTRIAL ALIEN COMPONENT?
He told me about a project that he had worked on called LEONID. LEONID was an acronym that stood for Low Earth Orbit Nano Satellite Interceptor Defense — a multi-faceted weapons system that had multiple components.
[ Editor's Note: This acronym LEONID as it exists cannot be found in web searches. But much in the past five years has been written about nano and pico satellites. Nanosatellites are up to 22 pounds (10 kg) in weight and picosatellites are up to 2.2 pounds (1 kg). "That's the beauty of this technology. We can make these things small and still get meaningful science out of them," says NASA Ames Research Center astrobiology expert Orlando Santos.]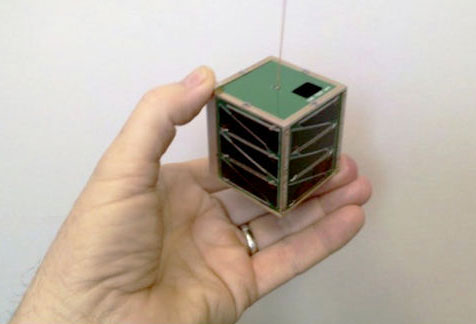 The most intriguing aspect was this nanosatellite component where he spoke of these swarms or constellations of nanosatellites that had an artificial intelligence component. These were self-replicating, self-repairable nanosatellites. They provided telemetry like for a guidance system for low Earth orbit drones.
Do you recall the X-37 from Boeing which was up in lower Earth orbit for 287 days on a classified mission — that we never actually knew what it was doing, but we knew it was up there. (See 062310 Earthfiles report.)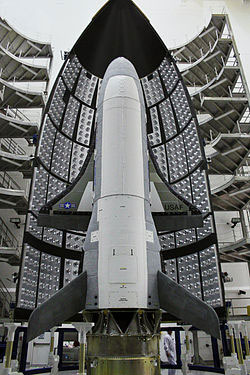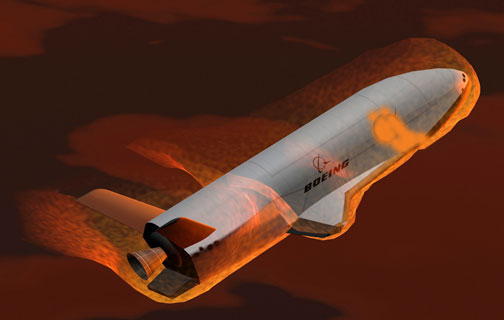 It is my understanding that the X-37B was a delivery system used to deploy these nanosatellites that are now in orbit around the Earth. The alien component is the technology that goes into the nanosatellite.
HOW BIG?
Like half the size of a Rubic's cube — about 1.5 by 1.5 inches. Some satellites can be the size of a school bus, so when you have hundreds of satellites that are 1.5 inches squared — refer to them as nanosatellites.
"Interceptors" of Targets "Inbound from Space"
SO YOU ARE TALKING WITH HIM ABOUT THESE NANOSATELLITES THAT CONTAIN SOME SORT OF EXTRATERRESTRIAL ALIEN TECHNOLOGY — WHAT IS THAT?
What we're talking about is a stealth microfiber / shuttle hybrid with an onboard laser guided weapon system. This was developed by the Naval Auxilliary Air Station at San Nicholas Island. That's off the coast of southern California involving a fleet of UOVs, Unmanned Orbital Vehicles. These are referred to as 'interceptors.'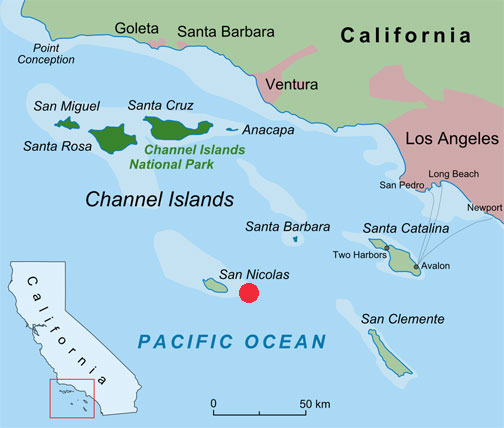 WHAT WAS THIS WEAPON SYSTEM DESIGNED TO FIRE AT? WHAT IS THE PERCEIVED ENEMY?
That's the interesting aspect because one of the things that the Colonel told me is that they (nanosatellites with ET technology) are meant to target things that are inbound from space.
"Forthcoming Space War"?
DID HE DEFINE FOR YOU THEN WHO THE TARGET WOULD BE COMING IN FROM OUTER SPACE INTO EARTH?
Yes, he did. He said to me and I quote, 'There is an alien component on this planet, who is already working in collusion with the Chinese. And there is a forthcoming space war.' Those are his exact words: 'There is a forthcoming space war.'
The United States has a team of U. S. defense contractors developing technologies for that space war.
WHICH OUTER SPACE INTELLIGENCE THAT IS WORKING WITH THE CHINESE THAT WE CONSIDER TO BE A THREAT AND WE HAVE THIS NEW WEAPON SYSTEM TO AIM AT THEM — WHAT DO THEY LOOK LIKE?
They look like us.
IN WHAT WAY?
These are alien-human hybrids. This is where it gets strange, Linda.
The Progenitors from Zeta Reticuli 1 and Sirius B
Make Annunaki and Hybrids On Earth
Living amongst us is an alien-human hybrid race. A long time ago there was a group called the 'Progenitors.'
They came to our solar system. They inhabited Mars until something cataclysmic happened on Mars. That forced them underground on Mars and after several thousand years, they made their way to Earth. Earth was not the ideal place for their genetic makeup.
At which point, this group — these Progenitors — started to modify their genetic makeup and subsequently bred offspring the Annunaki of Mesopotamia) that had a better chance of surviving on Earth.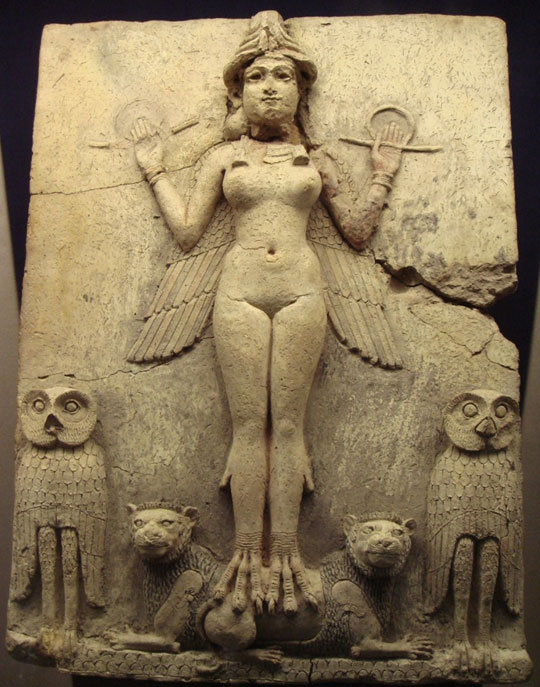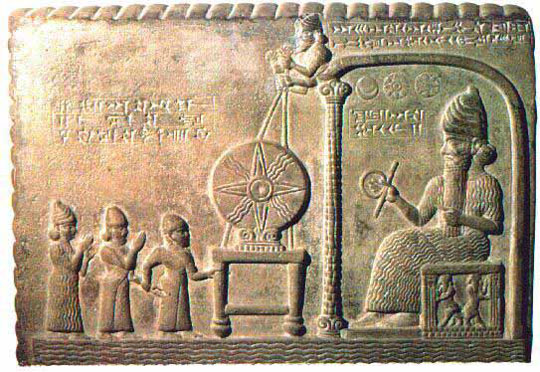 Sanchez:  "Over time, these offspring were forced to interbreed with humans (and produced Egyptians, Greeks and others.)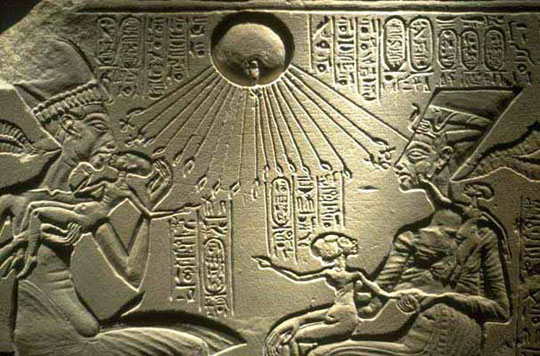 These alien-human hybrids still exist to this day (scattered through all Earth human populations). They carry a genetic component that shows their alien origins. Not all humans have this alien origin.
It's very confusing because all modern humans have been genetically modified (manipulation of DNA in already-evolving primates, but not necessarily hybridized with alien ET genes). This is the information that was shared with me. This is why we saw the exponential levels in our evolution by comparison to other animals on this planet. This is because some 250,000 years ago, we were genetically modified so that we would become upright, highly intelligent and capable of working for these aliens. Prior to that point, we were not capable of servicing these aliens. These Annunaki aliens created a sub-cast (of servants) called "Greys" — Igigis.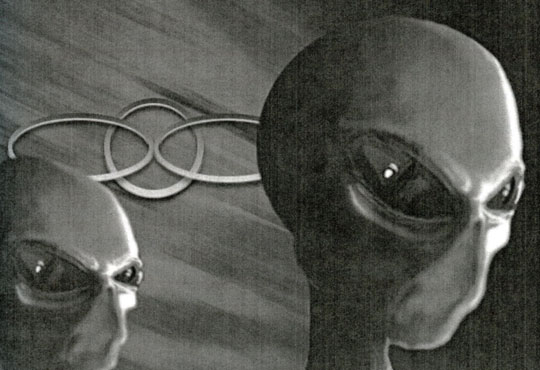 [ Editor's Note: Igigi was a term used to refer to the gods of heaven in Sumerian mythology. Though sometimes synonymous with the term "Annunaki," in one myth the Igigi were the younger gods who were servants of the Annunaki, until they rebelled and were replaced by the creation of humans.
Sumerian paradise is described as a garden in the myth of Atrahasis where lower ranking deities (the Igigi) are put to work digging a watercourse by the more senior deities (the Anunnaki). The great Anunnaku, the Seven, were making the Igigu undertake the toil. The Igigi Greys then rebelled against the dictatorship of Annunaki Enlil, setting fire to their tools and surrounding Enlil's great house by night. On hearing that working on the irrigation channel was the reason for the Igigi Grey rebellion, the Anunnaki council decided to create hybrid alien-humans to do the agricultural labor.]
So, when I'm talking about the Progenitors, I'm referring to the Annunaki (Progenitors tweaked DNA to perpetuate Progenitor ET bloodline in a stronger biology, Annunakis on Earth, because the Earth's environment was rough on the Progenitors compared to their original Zeta Reticuli 1 and Sirius B solar system origins). That is exactly who I am talking about. The alien-human hybrid group that exists today, these are the descendants of the Annunaki (that were made genetically by the original ET Progenitors).
History of Progenitor Exodus After War with Grey
Entities from Zeta Reticuli 1 to Sirius B to Mars to Earth
DID EITHER ONE OF THESE WHISTLEBLOWERS (Moffett Field or the USAF Lt. Col.) GIVE YOU A TIMELINE IN WHICH THE PROGENTORS LEFT MARS AND ARRIVED AT EARTH? AND WHAT TIME IN EARTH'S TIMELINE DID THE PROGENITORS START CREATING GREYS, VARIOUS STANDING UP PRIMATES AND SO FORTH?
Yes. This was in the conversation that I had with the Colonel. The Colonel gave me the timeline. The information I received from the Colonel is that this Progenitor group (tall, pale-skinned humanoids that originated in the Zeta Reticuli 1 and 2 binary star system and left for the Sirius (binary star) system after a war with Zeta Reticuli 1 Greys who were angry that the Progenitors were harvesting genes from the Greys and making clones to do servant work for the Progenitors in the Zeta Reticuli system). A million years ago, the tall Progenitors arrived in our solar system (The Progenitors had some form of Grey servants with them on Mars). For 100,000 years, they all lived on Mars. But there was this cataclysmic event that affected Mars. I believe it was asteroids. It affected the atmosphere. [ Other information says the Grey beings followed Progenitors to Mars and attacked with large hydrogen bombs in the atmosphere above the northern hemisphere region of Cydonia. There has been reporting of trinitite discovered in the Cydonia region by nuclear physicist John Brandenburg and reported in his book, Death on Mars.]
So, 900,000 years ago, the Progenitors came to Earth. And during that time, the Progenitors struggled to survive on Earth (by making another stronger version of their bloodline in the Mesopotamian Annunaki). About 250,000 years ago, the Progenitors and Annunaki themselves actually died away and it was their hybrid descendants, who the Colonel referred to as the Austra Albus, which are essentially the descendants of these Annunaki Progenitors and the Austra Albus began to thrive on Earth.
They (Progenitors) had also created another Grey species at the same time they made the Annunaki and it was referred to as the Igigi, or the Eloah Greys. Now, the Igigi were created as a sub-caste and had no genetic make up from the original Progenitors. All the genetic factors in creating the Greys was sourced through alien genetic material, and it was not until much later that the Greys used Earth-based genetic material to continue propagating."
If any viewer or listener has more information related to the whistleblowing testimony of the USAF Lt. Colonel, please email [email protected]
All requests for anonymity are honored.
For extensive information, photographs, documents, illustrations about the animal mutilations and human abduction syndrome conducted by extraterrestrial biological entities, please see books and documentaries by Linda Moulton Howe in the Earthfiles Shop.
---
More Information:
For further information about ancient Sumerian/Mesopotamian connection to non-human terraforming and genetic manipulation of Earth life for millennia, please see Earthfiles Archive such as:
06/05/2014 —Viewer Letters About E. T.-Human Hybrids
05/31/2014 —Part 2: Racheal's E. T.-Human Hybrid Eyes
05/30/2014 —Part 1: Racheal's E. T.-Human Hybrid Eyes
04/29/2014 —Final Part 12: Hall of Mirrors with A Quicksand Floor
04/17/2014 —Part 11: Hall of Mirrors with A Quicksand Floor
04/05/2013 —Part 4: Taxonomy of Extraterrestrial Biological Entities (EBEs)
02/19/2011 —Part 7: Private Detective's Encounters with Non-Humans
02/02/2011 —Part 4: Private Detective's Encounters with Non-Humans
02/02/2010 —Part 3: Highest Strangeness – Body Containers
04/14/2009 —Part 4: High Strangeness Files about EBENs
03/12/2013 —Were Sumerian "Gods" Cloned Biological Entities? Part 3: Taxonomy of Extraterrestrial Biological Entities (EBEs)
08/22/2008 —UFOs and 14th Century Black Death
01/08/2007 —Updated: Attorney Describes His Encounter with Non-Human Entities
06/08/2006 —Part 2: Unexplained Phenomenon of Sudden Human-to-Reptile "Replacement"
10/10/2004 —Part 1: Texas Case of Shape-Shifting Human-to-Reptilian
02/12/2002 —JFK, MJ-12 and Outer Space
11/19/2001 —Update on Underwater Megalithic Structures near Western Cuba
05/06/2001 —Archaeologists Date Peru's Supe Valley Civilization As Old As the Pyramids
05/05/2001 —Archaeologists Find Central Asia Civilization As Old As Sumeria
09/17/2000 —Evidence of 7000 Year Old Flood and Human Habitation Discovered Beneath Black Sea
05/28/2000 —Hamoukar, Syria – A City Older Than 6000 Years?


---
Websites:
Dulce, New Mexico:  http://en.wikipedia.org/wiki/Dulce_Base
Dogon Tribe and Sirius: http://www.bibliotecapleyades.net/universo/siriusmystery/siriusmystery01.htm
http://en.wikipedia.org/wiki/Dogon_people
White Dwarf Stars:  http://astronomy.swin.edu.au/cosmos/W/white+dwarf
Igigi, Sumeria:  http://en.wikipedia.org/wiki/Igigi
Annunaki, Sumeria:  http://www.crystalinks.com/sumergods.html
"Surveillance Suspected as Spacecraft's Main Role,"  052110 The New York Times:
http://www.nytimes.com/2010/05/23/science/space/23secret.html
Boeing X-37: http://en.wikipedia.org/wiki/Boeing_X-37
"Secret X-37B Space Plane Spotted by Amateur Skywatchers,"  052210 SPACE.com:
http://www.space.com/news/secret-x-37-b-space-plane-spotted-by-amateur-astronomers-100522.html
USAF X-37 B Orbital Test Vehicle:  http://www.af.mil/information/factsheets/factsheet.asp?fsID=16639
X-37 B by Boeing:  http://en.wikipedia.org/wiki/Boeing_X-37 B
http://www.boeing.com/defense-space/ic/sis/x37b_otv/x37b_otv.html

© 1998 - 2023 by Linda Moulton Howe.
All Rights Reserved.