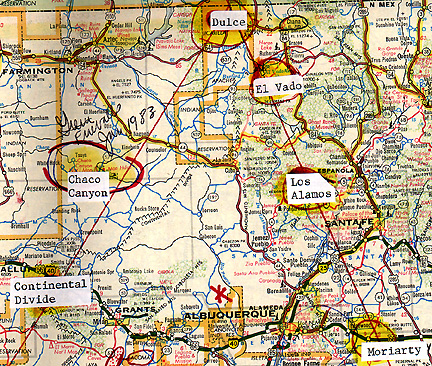 April 2, 2000  Santa Fe, New Mexico – The New Mexico legislature is in session and in February 2000 State Representative J. Andrew Kissner (Las Cruces, Dona Ana County) was successful in having a once-secret experimental microwave radar station at El Vado in Rio Arriba County north of Los Alamos added to the New Mexico State Historical Register. The importance of the El Vado radar site is underscored by the fact that its construction was specifically authorized by President Harry S. Truman himself.
El Vado officially functioned in secret from 1948 to 1958 and was also known as Tierra Amarilla Air Force Station-P8, one of the earliest of several others in our nation's Aircraft Control and Warning (AC &W) system which expanded to 411 radar sites throughout the United States and eventually evolved into NORAD (North American Air Space Defense Command). El Vado is the only secret radar base in New Mexico that survived with buildings and other structures intact and has also been nominated for the Federal Historical Register.
State Representative Kissner is running now for his third term as New Mexico State Representative from Las Cruces and he talked with me about what brought the secret radar bases to his attention.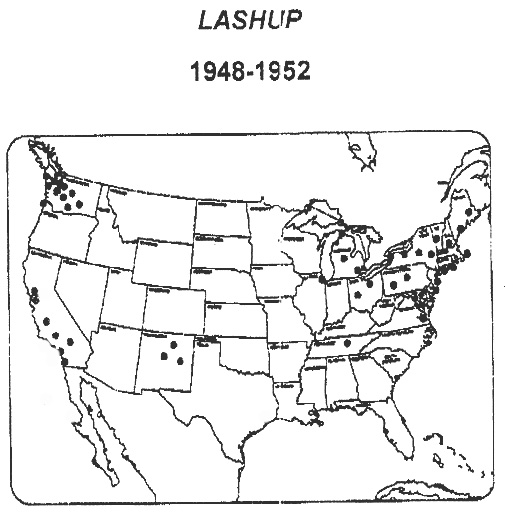 ---
Interview:
J. Andrew Kissner, State Representative for Las Cruces, Dona Ana County, New Mexico: "Basically two and a half to three years ago, an acquaintance mentioned to me that there was a facility up in Rio Riba County, New Mexico about 45 air miles north of Los Alamos. And about 45 miles southeast of Dulce. And because of the discussions that have been ongoing for a long time about that region of New Mexico, there was kind of a level of interest expressed to me – 'What in the world is this thing?'
You mean in the context that there has been so much discussion over the last 20 to 25 years about the possibility of an underground installation at Dulce and events that have taken place between Dulce, Aztec, Farmington and northern New Mexico in addition to Roswell?

Exactly. And just being in my position as a state representative, it allowed me to do research that other folks might find more difficult. Because this facility was closed in 1958 and then transferred to the State of New Mexico in the mid 1960s, I had access to information related to what the facility's purpose was. Up until two years ago, the existence of these three radar sites was generally not well known.
We're talking specifically about the El Vado site north of Los Alamos Labs?
Yes.
So, in addition to El Vado, there is the site at Moriarty which is southeast and the other site called Continental Divide which is southwest of El Vado.
Right. And those official designations of those are P8 ­ that's the designation for Tierra Amarilla or Los Alamos Radar Station at the El Vado Lake site; P7 was the Continental Divide location; and P51 was the Moriarty site. And we'll flip back and forth between military acronyms and actual physical locations.
Is it true that the Corona, New Mexico area had a mobile experimental microwave radar facility?
Scott Ramsey, on my research committee, stumbled across that information. And evidently it would be sometime in the early 1950s that there was a mobile facility at Corona.
Why would it be that from the end of the war into the end of the 1940s and early 1950s that the presence of these radar installations from at least 1947 on would be secret up to the 1998 period?

I think you have to put it back in the perspective of the air defense of the United States and of critical facilities. And the technical way that you do that ­ you don't need to highly publicize just in case yoTu are attacked. So these facilities' existence ­ even though they stopped being used back in the early, in the case of El Vado they abandoned that facility in 1958. The other two facilities kept operating until 1961. But because they were operating in air defense mode and whatever threat they were looking for, their exact physical locations would not have been widely known and their locations would have been held secret.
There is a triangulation pattern to those three sites and is it known now that their whole prime function was to protect the Los Alamos Laboratory?

Actually that was one of the potential targets. The other target would have been the complex in Albuquerque around Kirtland AFB.
Which complex?
That was where Sandia Base was located and that was where atomic bombs were finally assembled. The military history of New Mexico starting back in 1941 and 1942 with the Manhattan Project, these facilities were related to that activity. And so it was to protect those facilities from air attack.
The question about non-human intelligence and craft of unknown origin comes into play in all of this because of the parallel track from the 1940s of crash retrieval reports in the Roswell and Socorro areas, as well as rumors that something also came down at Aztec, New Mexico. Have you in your work as an official State Representative come across anything that would either imply, suggest or outright state that part of the reason for this experimental triangulation work with strong microwave radars had to do with trying to either bring down or fend off these craft of unknown origin?

As a matter of fact, in the documentation related to the operations of these sites, you will remember that Project Blue Book was going on at that particular point in time back in the 1948-1950 time frame. And one of the missions of these sites was being a participant in Project Blue Book.
Which site?
All three. As a matter of fact, every AC&W location in the continental United States ­ and by 1954 there were about 411 radar sites like these in the United States. What is important about this particular site (El Vado AFS-P8) is that our research shows it was authorized to be constructed sometime in late 1947, probably November 1947, time frame.
Which was just about the time that Harry S. Truman was designating the twelve insiders to be the Majestic-12 group to focus on the non-human interaction with earth.

Yes, I believe that was September 26, 1947. (Howe's note: See my books An Alien Harvest and Glimpses of Other Realities, Vol. II: High Strangeness for more detailed information about the Majestic-12 Special Studies Group appointed by Harry S. Truman in 1947). Some time in November, the Project Supremacy, as it became known, was an architecture for a United States-wide air defense capacity. And one of the first sites of Project Supremacy was AFS P-8 at Tierra Amarilla in New Mexico.
Which is what we're also referring to as the El Vado site north of Los Alamos?
Right.
Was it the most sensitive and critical of the three?
In the research we have done, we have found air men and folks who were stationed at the other two locations. This particular site – it's really interesting, when you start talking locally about the existence of these facilities – in the legislature itself in New Mexico legislature, I've run into two representatives that had family members that worked at that site. So, I think probably all three sites had about the same level of significance in terms of its role in air defense.
I think a couple of interesting things. One is that if you go to Air Force Regulation 200-2. Are you familiar with that?
I am. (See my book Glimpses of Other Realities, Vol. II: High Strangeness.)
200-2 specifies a specific squadron of the 4062nd AISS Group being responsible for the collection of data related to anomalous objects.
200-2 specifically refers to anomalous objects.
Exactly. And it turns out that group was present at all three sites.
Scott Ramsey found monthly and quarterly reports that provided for reporting about unidentified aerial objects.

Right.
So that meant that somebody wanted to have a regular tracking and recording of unusual aircraft over these facilities.
And that would be expected. In terms of their role was to identify what was present in the air above any of these facilities. So, in this entire discussion of anomalous objects, one of the things that was interesting to me was the lack of any discussion of the technical ability of the United States to actually acquire that information. That was one of the things – this turned out to be an historic radar facility. But in doing the research for this, the implications are that with so many of these facilities scattered around the continental United States with a single mission to identify what was going on in the sky, and that there aren't more reports from AC&W locations over the time periods we're talking about from the time periods we're talking about. Most AC&W locations were activated by 1952.
The aircraft control and warning system would have been replaced later on with the Dew Line and NORAD, correct (missile defense systems)?

That was all part of the expansion of this system. And what makes this facility historic is that it was one of the first ­ its designation is P8. So in the United States prior to the Dew Line, Pinetree Line and everything else, these facilities pre-date that by those creations by about four years.
It's possible that the number of reports about unidentifieds might have been large, but information was being sent to yet another "black" government agency that was not making records no one could explain public.

That's possible."
Continued in Part 2.
---
More Information:
I welcome further information concerning this report at [email protected] or FAX me at 215-491-9842 or write me at P. O. Box 300, Jamison, PA 18929-0300.

© 1998 - 2019 by Linda Moulton Howe.
All Rights Reserved.