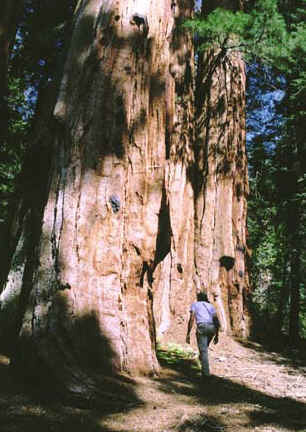 April 16, 2000  Washington, D. C. – This past week, President Bill Clinton declared a large section of the Sequoia National Forest in California to be a "national monument" in order to permanently preserve the giant redwood trees. The President used his executive authority under the 1906 Antiquities Act which allows U. S. Presidents to safeguard objects of historic or scientific interest without going to Congress.
President Clinton said, "These giant sequoias clearly are the work of the ages. They grow taller than the Statue of Liberty. This is not about locking lands up. It is about freeing them up for all Americans for all time."
Some sequoia are more than 3000 years old, rise up to 300 feet tall, measure 100 feet around the base and have been described as Nature's cathedrals. A couple of centuries ago, the sequoia grew all over western North America. But after humans began to settle into the land and cut so many down, only 70 groves are left on the western slopes of the Sierra Nevada mountains in Central California. Now President Clinton's declaration that the unique trees are a national monument should give the sequoia a long future.
This is a positive step for the earth, but at the same time, Africa is losing more than nine million acres of forests each year. Trees are being cut down at a rapid rate for farming, animal grazing and lumber production. The United Nations Food and Agriculture Organization (UNFAO) warns that deforestation is a serious threat to the African continent which contains the second-largest reserve of tropical forests after the South American Amazon regions.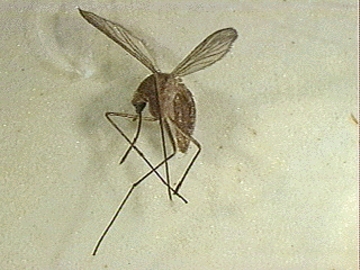 Culex pipiens mosquito.
For the first time in New York City's history, the health department on April 17th will officially attack mosquitoes. The reason is West Nile Fever Virus that showed up last year for the first time in North American history, infected birds and humans and caused the death of half a dozen people in New York. Last fall, the insecticide Malathion was heavily sprayed to control mosquitoes that carry the West Nile Virus between birds and humans.
All that poison in the air angered residents and provoked political retaliation from lobstermen who said 95% of the lobsters from Connecticut to Long Island Sound suddenly died off after the Malathion spraying. Now, the New York Health Department says it will spray insecticides only as a last resort and won't use Malathion at all. Instead, the city and state will use mosquito-eating fish and larvae-killing chemicals. Mosquito-control experts say it is much more effective anyway to attack the larvae than to spray pesticides at adult mosquitoes, and indirectly at people, animals and marine life.

© 1998 - 2019 by Linda Moulton Howe.
All Rights Reserved.