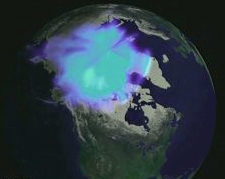 April 20, 2000 Greenbelt, Maryland – This winter, NASA and a European Commission sent two NASA research aircraft up to 70,000 feet above northern Sweden to measure gasses in the upper atmosphere. The specific concern was ozone levels. The stratosphere was much colder than normal this winter which makes ozone deterioration worse. And even though satellites and ground instruments monitor the atmosphere, there hadn't been direct measurement by instruments on a high flying plane since 1992. The result? More than 60 percent of the Arctic ozone at 11 miles above the North Polar region had been depleted.
The European Commission announced, "These are among the largest chemical losses at this altitude observed during the last ten years."
The lead U. S. atmospheric physicist on this mission is Dr. Paul Newman at the NASA Goddard Space Flight Center in Greenbelt, Maryland. Since the ozone layer was supposed to be improving after nations agreed in the Montreal Protocol at the beginning of the 1980s to cut back chlorofluorocarbon emissions known as CFCs, I asked Dr. Newman why ozone over the Arctic today is now fifteen percent below where it was in the early 1970s?
---
Interview:
Paul Newman, Ph.D., Atmospheric Physicist, NASA Goddard Space Flight Center, Greenbelt, Maryland: "The reason that we now have large ozone losses is, of course, because in the 1960s, 70s and 80s, we were producing a lot of CFCs. So, the CFC growth rate was fairly fast. And the time it takes to come out of the atmosphere is very, very long. So, what you're going to have is ozone losses as CFCs built up over the past two decades. We guaranteed that we were going to have ozone losses well into the middle of the next century.
Now, this year in particular was bad for a couple of reasons. First of all, as I mentioned, there's a lot of chlorine up there in the stratosphere. In fact, there is a lot of chlorine down here in the lower atmosphere. We're breathing those CFCs right now. But because you've got a lot of chlorine up there, that chlorine gets broken down into forms that are fairly ozone benign. What happens is that when those benign forms of chlorine come in contact with polar stratospheric clouds ­ these very beautiful clouds we see up there in the Arctic ­ they get converted into a chlorine form that is very reactive and can destroy ozone very fast.
The second ingredient here is ­ we have all the chlorine we need. But the second ingredient, it has to get very cold to form this polar stratosphere clouds. Once you form the polar stratosphere clouds, then you put the chlorine in a reactive form that can destroy the ozone rapidly. And that's the difference between what we saw in the past and what we now see. In the past ­ there were polar stratospheric clouds, but there was no chlorine. Now, we have both polar stratospheric clouds and a lot of chlorine so we get a lot of reactive chlorine that destroys ozone very rapidly.
NOW IS THAT TIED TO GISS'S COMPUTER MODEL THAT PROJECTED THAT WITH GLOBAL WARMING, A WARMING AT THE LOWER ALTITUDE IN THE ATMOSPHERE, THAT THERE COULD BE A CONSEQUENTIAL INCREASING COLD IN THE HIGHER STRATOSPHERE?
The GISS model has forecasted colder temperatures because of greenhouse gas changes. So, we're beginning to be a bit more worried that in fact the reason we're having these colder winters is because of increased greenhouse gasses. But we don't have a one-to-one connection between those two things.
What's happening is that yes, ironically, the greenhouse changes will warm the surface and they will cool the stratosphere. Because the stratosphere gets colder, you get more polar stratospheric clouds which means you convert the benign form of chlorine into a highly reactive form of chlorine which then destroys ozone very rapidly. So, the connection is that it's the greenhouse gasses that are creating more polar stratospheric clouds which then causes more ozone loss.
IN THE MOST ACCURATE COMPUTER MODELS THAT YOU ARE WORKING WITH NOW, WHAT ARE THE IMPLICATIONS FOR THE NEXT 20 YEARS IF OZONE LOSS OVER THE ARCTIC AND THE ANTARCTIC CONTINUE TO BE SEVERE?
The implications are in the end what happens to low ozone air is it gets mixed across the Northern Hemisphere. So, mid-latitudes ­ if we have a severe Arctic loss, that low ozone air gets mixed down into the mid-latitudes and it will reduce the amount of ozone in the mid-latitudes where we live. And that means you will get a slightly increased ultraviolet radiation at the surface. And of course, increased ultra violet radiation means things like more severe sunburns, or sunburns take a shorter time to occur. And all the health consequences of increased ultraviolet radiation on the surface. That's what we're principally worried about.
AND SKIN CANCERS.
Skin cancers are directly related to your total amount of solar exposure. So, a considerable increase in UV radiation means more skin cancer if people don't change their behavior. Don't get those sunburns. Wear your sunscreen and wear your hat. That's the best guidance I can give everybody.
WHAT KIND OF REDUCTION IN OZONE OVER THE UNITED STATES ARE WE EXPERIENCING NOW?
If you go back into the 1970s and look at the levels we had back then, there's been about something like an 8 to 10% reduction in ozone over the United States during the springtime. Which is quite a bit of reduction and something to worry about.
BUT DO WE HAVE ANY IDEA IN COMPUTER MODELS HOW MUCH LOSS OF OZONE WOULD IT TAKE BEFORE WE WOULD HAVE A SERIOUS AND IMMEDIATE CONSEQUENCE ON SURFACE LIFE?
I don't really see that happening. The worst thing I've heard of ­ I actually have heard of incidents where the ozone hole, the edge of the ozone hole has passed over the Falkland Islands. In fact, I heard of a young girl who decided to go out sun bathing on the same day that the rim of the ozone hole drifted over and within five minutes she had second degree burns.
But that was a case of the ozone hole drifting fairly far north away from Antarctica. It had very low ozone levels and a very high sun.
BUT YOUR POINT IS THAT IN THAT CONDITION A PERSON ON THE GROUND COULD GET SECOND DEGREE BURNS OVER THEIR ENTIRE BODY WITHIN FIVE MINUTES.
On the exposed parts of the body.
HOW FAR INTO THIS 21ST CENTURY WILL WE CONTINUE TO GO WITH A LOT OF OZONE LOSS BEFORE WE'RE NOT HAVING SUCH HUGE HOLES AGAIN?
Yeah. Well, the ozone holes will begin to go away sometimes in the middle of the next century, 2050 or 2070 or so.
ACTUALLY WE WON'T HAVE BIG LOSSES OVER THE ARCTIC AND ANTARCTIC BY THEN IF EVERYTHING CONTINUES TO HEAL AS IT IS NOW?
That's right. Now the worry about the Arctic is that the actual recovery of ozone in the Arctic will be delayed by greenhouse gasses.
GLOBAL WARMING.
That's right.
SO IN SUMMARY, WE ARE IN A TIME IN WHICH THE ARCTIC AND THE ANTARCTIC HOLES COULD ACTUALLY CONTINUE TO BE WORSE OVER THE NEXT FEW YEARS BEFORE THEY GET BETTER, DEPENDING UPON WHAT DOES HAPPEN WITH GLOBAL WARMING AND ITS RELATIONSHIP TO OZONE DETERIORATION. BUT THAT IN APPROXIMATELY 50 OR 60 YEARS, IF ALL ELSE CONTINUES TO HEAL IN THE OZONE, WE COULD BE BACK TO EARLY 1970 LEVELS?
That's right. If chlorine and bromine compounds continue to decrease as they appear to be doing right now, global warming will lead to a cooling of the stratosphere which should make the problem a little bit worse, but eventually chlorine and bromine are going to decrease in the stratosphere and that will lead to a recovery of ozone levels in the stratosphere."
Deep Ocean Temperature Increase
IN ADDITION TO GLOBAL WARMING MAKING THE STRATOSPHERE COLDER AND OZONE HOLES BIGGER, FOR THE FIRST TIME THERE IS NOW HARD SCIENTIFIC DATA THAT THE OCEANS ARE WARMING UP, TOO. IN THE MARCH 30TH, 2000 JOURNAL, SCIENCE, THERE IS A REPORT BY SYDNEY LEVITUS, CHIEF OF THE OCEAN CLIMATE LAB AT NOAA, THAT SUMMARIZES FIVE MILLION TEMPERATURE PROFILES MEASURED IN THE WORLD'S OCEANS OVER THE PAST HALF CENTURY. THE OCEANS HAVE WARMED UP .11 DEGREES FAHRENHEIT AS FAR DOWN AS TEN THOUSAND FEET. THE GREATEST WARMING WAS AT 900 FEET WHERE THE AVERAGE HEAT CONTENT INCREASED BY .56 DEGREES F., A LITTLE MORE THAN HALF A DEGREE.
JIM HANSEN, DIRECTOR OF NASA'S GODDARD INSTITUTE FOR SPACE STUDIES, SAID COMPUTER MODELS PREDICTED THAT EVENTUALLY "GLOBAL WARMING WOULD HEAT THE OCEANS TO THIS MAGNITUDE. SO, NOW THIS TEMPERATURE DATA CONFIRMS THAT THE EARTH IS HEATING UP."
I ASKED NOAA'S SYDNEY LEVITUS IF HE WAS SURPRISED BY THE DEEP OCEAN TEMPERATURE INCREASE.
Sydney Levitus, Director, Ocean Climate Laboratory, National Oceanic Data Center, National Oceanic and Atmospheric Administration, Silver Spring, Maryland: "Well, one of the major surprises was that of the total increase of heat content over the last 40 years ­ half of it is coming from depths below 300 meters, or approximately a thousand feet. This was really unexpected that these changes from this region of the ocean would be so large. And it really changes our thinking. We have to now consider the deep ocean to be much more active on periods of 40 years or so than we had ever previously thought.
Another surprise was just the extreme state in which the North Atlantic has gone into during the past several years, particularly in 1998. There was warming in the sub-tropical North Atlantic that really exceeded anything we expected based on all historical data we have. So, we know the atmosphere has become extremely warm and parts of the ocean have also become extremely warm. And the degree to which it became warm in the North Atlantic really surprised us.
THE IMPLICATIONS OF THIS WOULD BE IN RELATIONSHIP TO THE WHOLE QUESTION OF: ARE WE IN A SERIOUS GLOBAL WARMING THAT'S RELATED TO GREENHOUSE GASSES ­ WHAT DOES THIS NEW DATA SAY ABOUT THAT QUESTION? For many years, these models did not include the ocean and the models predicted much larger increases in atmospheric temperatures than have been observed. And so, critics said the models are too sensitive. And the climate modelers responded that, 'Well, we believe this heat is going into the oceans.' And our results confirm that a lot of the heating has occurred during the last 40 years and in fact, quantitatively, the increase we see is consistent with the predictions made by the climate modelers. And so, it lends strong support to the case that's been made that we're going to see an increase in atmospheric temperatures due to increasing greenhouse gasses.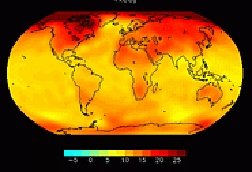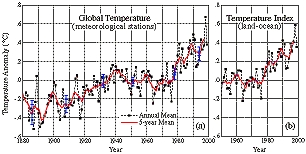 THAT THE MISSING HEAT IS TRAPPED IN THE OCEANS?
It's there in the oceans, but it's quite possible the oceans are starting to give some of that up. This has been happening in the northern North Atlantic since 1971. But it's very difficult for us to separate out natural variability from what we call human-induced or anthropogenic affects.
BUT ISN'T THIS NEW DATA THAT YOU HAVE GATHERED IN THE LAST SEVEN YEARS REALLY PILING UP ON THE SIDE THAT SOMETHING REALLY OUTSIDE OF STATISTICAL ABNORMALITIES IN THE EARTH'S CHANGES IS BEGINNING TO HAPPEN IF A THOUSAND FEET DOWN THE OCEANS HAVE WARMED UP ALMOST HALF A DEGREE.
Well, that's a very good point. And the evidence is pointing towards, in my view, towards human-induced affects. But we have acquired these data and published these results and we will be doing much more work with these data in order to sort out the affects of natural variability versus human-induced changes. And personally, I believe that we're seeing human-induced changes in the atmosphere and the ocean. But I'm being somewhat conservative because I think we need more time to examine the data. We need to keep building better data bases. But I don't believe the results are going to change. I think we're going to see there is a preponderance of evidence now that we're seeing a human-induced warming.
WOULD THE RECENT BREAK OFF ON THE ROSS ICE SHELF IN THE ANTARCTIC ­ IT WAS A HUGE BLOCK OF ICE TWICE THE SIZE OF THE STATE OF DELAWARE ­ WOULD THAT BE RELATED IN ANY WAY TO OCEAN WARMING?
It's related to warming of the atmosphere and ocean, probably. Parts of the Antarctic have been warming. And they have been warming for quite a long time, even before the build up of carbon dioxide in the atmosphere. So, that's what I mean when I say there's natural variability also. The earth is still coming out of the last Ice Age which reached its peak 18,000 years ago. And so, it's probably due to both. But certainly, if the atmosphere continues to warm, we may see increased break off of ice masses from the Antarctic, as well as melting on part of the Greenland Ice Sheet. I think some of the more recent findings are that the West Antarctic Ice Sheet is much more stable than previously thought, but that the Greenland Ice Sheet is less stable than previously thought.
So, there is really no question that sea level has risen even in the past century ­ I think it's on the order of about a foot, or about 6 inches to a foot. We know that sea level rise is occurring. We have very good evidence of it.
ISLANDS ARE GOING UNDER IN THE PACIFIC.
Yeah, and in some coastal areas, subsidence ­ there is not only sea level rise, but in some areas like the northeast part of North America ­ the land is sinking. It's still showing changes due to the melting away of the continental ice caps that were at a maximum 18,000 years ago. So, locally you can have not only changes due to global sea level rise, but sea level rise due to land subsidence.
YOU HAVE TWO THINGS GOING ON ­ LAND CAN BE SINKING WHILE THE OCEANS ARE RISING.
Yeah, exactly. And that really increases the affect. These are going to have tremendous implications for the future and what we need to do. But the fear again is not so much if they are long term small changes, one can mitigate. You have to move populations. You can build dikes in some areas. But, if there is an abrupt change because the climate system has changed quickly on a period of a decade, we're not going to be able to mitigate that."
Colder Stratosphere Temperatures
Drew T. Shindell, Ph.D., Associate Research Scientist, NASA Goddard Institute for Space Studies (GISS) and Center for Climate Systems Research, Columbia University, New York City, N. Y.:
"So as we see a trend towards colder and colder stratospheres, we expect ­ and we seem to be seeing over the past two decades or so ­ a trend towards increasing westerly winds near the surface in the winter time. And what affect this has is that it actually leads to during the winter warmer temperatures over the continents because the oceans are relatively warm compared to the land. And as we get increasing westerly winds, you get warm air from the Pacific blowing over North America and warm air from the Atlantic blowing over Eurasia. So, we expect an increasing trend towards warmer and warmer temperatures over the continents over the winter time. And that's actually been what we've been seeing. During the 1990s, we've seen ­ there is still a lot of variability. Occasionally we'll get a lot of snow. But typically winters here have been very warm. And for the lower 48 states in the U. S., we've had three of the warmest winters on record ­ including the warmest winter on record ­ during the 1990s.
So, it looks like we could expect as the stratosphere continues to cool from global warming, more and more of this. And we'll have more years with less snow and warmer temperatures during the winter.
IS THERE ANY HYPOTHESIS THAT EVENTUALLY WITH THIS DISPARITY IN TEMPERATURE BETWEEN THE STRATOSPHERE AND THE LOWER LATITUDES THAT ARE WARMER, THAT IT COULD ACTUALLY KICK INTO GEAR SOME KIND OF EFFORT TO BALANCE OUT THE STRATOSPHERE AND THE LOWER, CAUSING SOME HUGE ABRUPT CHANGE IN GLOBAL WEATHER?
I'm not sure the atmosphere would respond in that way, or that anybody thinks that's very likely. The lower atmosphere and the upper atmosphere tend to stay fairly separate in many ways because air moves around quite freely in the lower atmosphere. In the stratosphere, things are very segregated. That's what the name "stratosphere" refers to, how stratified the layers are. There is very little mixing in the vertical direction.
But one thing that is quite interesting is that with this increase in westerly winds at the surface, you tend to bring colder air coming off of North America into the North Atlantic and you tend to speed up the strength of the ocean air in the Arctic Ocean. So, this is a circular, circum-polar circulation that flows around the Arctic Ocean counter-clockwise. It's driven by the westerly winds. So, if you speed up the westerly winds, the circulation increases and what this does, it tends to increase the flow of Arctic ice out in between Greenland and Scandinavia which is the only big outlet out of the Arctic Ocean. And this tends to bring fresh water into the North Atlantic.
This is also something that has been very striking in observations over the past several decades. From submarine measurements from the 1950s and more recently in the 1990s, if we compare those two, it looks like we've lost about 40% of the Arctic ice. So, it's a huge change in the amount of ice that's still present in the Arctic Ocean. But as this comes out into the North Atlantic, it can change ocean circulation. And the ocean circulation has a really profound effect on climate. All you have to do is look at something like the difference between the climate in New York City and the climate in southern Italy, which is about the same latitude. And Europe is much, much warmer because ocean circulation brings up a lot of heat to the northern latitudes.
And the same thing if you look at the western coast of the United States. New York is about the same latitude as the Oregon and California border which certainly doesn't get nearly the cold weather that New York does. And this again is related to the ocean circulation.
So, if we can shut off the ocean circulation to some extent by bringing out a lot of fresh water ice from the Arctic, we could have a profound effect on the climate. And without the ocean circulation ­ again, if you just look at things at the same latitude ­ Moscow is about the same latitude as Scotland. And Moscow certainly has much more severe winters. So, if we shut off this ocean that's warming western Europe, we expect that could plunge into a really, really cold time. And the same type of thing could happen in the western part of North America with Seattle suddenly starting to look like other cities at the same latitude.
LIKE BUFFALO.
Right, and even quite a bit farther north than Buffalo. So, it could get really cold if something like that were to happen. Again, it's a little bit counter-intuitive when we think of global warming as making everything warmer. But the ocean circulation has just such an enormous power that if we change that to some extent, we can throw everything off. And while the whole planet might be getting warmer by half a degree, if suddenly the ocean circulation changes temperatures by twenty degrees, then global warming becomes actually a small worry. These type of things, these big circulation changes, could just have a huge impact.
BECAUSE IF EUROPE AND THE WESTERN UNITED STATES SUDDENLY GOT VERY COLD WITHIN A FEW YEARS, IT WOULD AFFECT GROWING SEASONS AND THE ECONOMY AND EVERYTHING VERY RAPIDLY.
Sure. And there's no way that a forest that drops a pine cone and it rolls down the side of a hill. That's how much it can migrate from generation to generation. Or perhaps a squirrel can pick it up and carry it a little ways. But while people can move to address the climate change, things like a forest ­ it takes centuries for a forest to move a matter of tens of miles. So, there is no way the ecosystem could cope with such a very dramatic response like that."
---
Websites:

© 1998 - 2019 by Linda Moulton Howe.
All Rights Reserved.