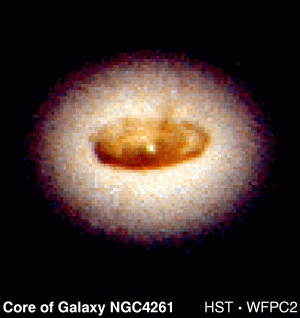 April 24, 2000 MIT, Cambridge, Massachusetts ­ Ten years ago on April 24, 1990 the Hubble Space Telescope was launched with its imperfect mirror. Later astronauts repaired it. Since then, Hubble has provided some of the most astounding photographs of the universe over the past decade. And recently, Hubble and the Chandra X-Ray telescopes were focused on a spot in the Big Dipper about 6,000 light years from earth to help solve a mystery.
At the end of March, a Los Alamos National Lab research project known as the Robotic Optical Transient Search Experiment, or ROTSE, confirmed what X-ray astronomers had first noticed in January – an unusual object in the Big Dipper that has a four hour wave in optical light. The object first flared up in January and then began to fade away disappearing entirely by mid-February. Then it flared up again right at the beginning of March and has been bright since then.
The first scientist to notice the strange brightening and dimming object in the Big Dipper was Ron Remillard, Ph.D., an X-ray Astronomer and principal research scientist at MIT's Center for Space Research who was Monitoring NASA's X-Ray Timing Explorer Mission known as the RXTE satellite. Dr. Remillard's specialty is black holes – those singularities in space that suck everything into them, including light. Dr. Remillard thinks that the mysterious object in the Big Dipper that has flared, dimmed and flared again is a black hole eating up matter from a nearby orbiting sun.
---
Interview:
Ron Remillard, Ph.D., X-Ray Astronomer and Principal Research Scientist, Center for Space Research, MIT and NASA's X-ray Timing Explorer Mission, Cambridge, Massachusetts: "The All Sky Monitor is an instrument on the RXTE satellite, it's a NASA mission and it's an x-ray camera that pans the sky and covers the sky about five times a day. It keeps track of the known X-ray sources and also tries to find new ones. In x-rays, the sky is highly variable. It's got a lot of personality and lots of change and lots of new sources that come up throughout the year. One of the things we do is add together all the images that we make for the sky on a one week sky just to try to superimpose images in a way that go deeper and find fainter new things. And in one of our maps, we saw something in the Big Dipper, or the constellation Ursa Majoris, that was new. None of the surveys that had been going on in x-rays since the 1970s had known about anything in this location.
So, we put out an alert for a new x-ray source and there is quite a community now of ground-based astronomers in various bands of radio and optical that respond to these kinds of alerts and try to help gain information. And within a half hour of sending the alert – it was night time in Japan and I got a call from a Japanese astronomer who saw a new optical star at the same location. So, it was sort of fun rapidly tracking down what this might be.
The radio astronomers also detect a new radio star there. And when you put all the pieces together – it being a radio, x-ray, optical new star, so to speak, and you look at the spectrum in each of the bands – it looks very much like one of these black hole systems – a binary with a black hole for a companion star which from time to time matter starts flowing from the star to the black hole and causes this big eruption. The gas falling into the black hole has to spiral around before it enters the black hole and joins with it to get rid of angular momentum. And the thrashing around causes the energy of gravity to be transferred into heat and that gas becomes billions of degrees and shines x-rays. So, these x-ray maps we make are the primary window to finding black holes in the galaxy.
In the past, all the black holes are in the Milky Way. It's just a matter of statistics. Just a small percentage of stars have black holes with them, a very small percentage. Just like any rare process where the stars live is where you will be more likely to find rare things, relatively speaking. So, we're used to these eruptions in the Milky Way. We're not used to these eruptions happening in the Big Dipper which is well separated from the Milky Way.
What's surprising is that it's sort of pointing upward away from the galactic disc. So that in the beginning made it quite a mystery because we just don't see things erupt like that away from the rest of the stars. There are a few mysterious things about the spectrum that are rather technical that astronomers are very interested in. But the big mystery, I would say now ­ now that the radio and optical astronomers have really provided a bunch of information – the really big mystery is what is this binary doing up in the Big Dipper?
When you get away from the Galactic Plane and the Milky Way, for instance, in the direction of the Big Dipper, there's much less dust. So that allows a whole lot of follow up opportunity to back when this thing quiets down ­ that little speck that will signify the optical star – we can study that in great detail when we are dust free. And the Hubble Space Telescope is looking at it and they can get an ultraviolet spectrum of this and try to do some important physics diagnostics for the matter flowing into the black hole. And it usually can't do this because the ultraviolet light is especially prone to being absorbed by the dust.
So, there is nice opportunities with the luck of finding one of these things at such a high inclination in the galaxy. And our best guess is that there are two ways of star formation in the galaxy – the very ancient stuff like these things called "globular clusters" were formed in sort of a spherical distribution. And they have funny orbits that go in all directions.
And then later, as the galaxies disc got better formed and stars in a second generation exploded in the disc, the Milky Way took the shape it now has. So, our best guess for its evolution is that this is some really ancient system and the reason it has the funny location is that is just happened in a random orbit that is similar to that first generation of stars. So, it's a curiosity that way and we would look for signs when we do study this thing down the road when we can see the optical star ­ we'll look for any signs that this may be one of those ancient, primordial stars in the early phase of the galaxy."
BEYOND THE ACCRETION DISC WHERE MATTER AND GAS ORBIT INTO A BLACK HOLE, DR. REMILLARD SAID THERE ARE OTHER BAFFLING SURPRISES THAT SCIENTISTS STILL DON'T UNDERSTAND. ONE IS THE RAPID OSCILLATION OF LIGHT GOING BRIGHTER AND DIMMER FIVE TIMES A SECOND BEYOND THE EVENT HORIZON AND PRESUMABLY INTO THE HEART OF THE BLACK HOLE.
"You can't dump matter with no limits into the black hole because the light may be so ferociously trying to escape that it starts to actually push back. I mean, light has momentum and if you have enough light coming back, it will start to stop the flow. And maybe the huge competition between stuff falling in and the light falling out can set up a tug of war that can resemble an oscillation of some kind.
A TUG OF WAR BETWEEN LIGHT GOING IN AND MATTER AND GOING IN AND LIGHT TRYING TO GET BACK OUT?
Yes, essentially between the matter falling in by gravity and the light trying to escape because of the heat coming from that same matter falling in. So, this was described- it's classically described as the Eddington Limit. It came out of straightforward physics quite a long time ago, the idea that if light has momentum, then you can't feed without limit…
INTO A BLACK HOLE.
..into a gravity well
WITHOUT THE LIGHT TRYING TO ESCAPE.
Without reaching a point, yes, that the light is going to be pushing back with so much, so much light will be trying to come out it will start to impede the flow. So, maybe there is a mathematical situation or mathematical solution that would try to describe the oscillation as the end of that tug of war.
THAT WOULD BE THE RINGING OR THE BEATING.
Yeah, there are constructs like that which people are trying to consider and match with the data.
IS IT FAIR TO SAY THAT AT THE SINGULARITY AT THE CENTER OF THE BLACK HOLE, THAT IT IS LIKELY OR PROBABLE THAT ANY KNOWN PHYSICS OUTSIDE THE SINGULARITY DON'T APPLY ­ THAT IT IS COMPLETELY UNIQUE?
I don't know. I don't think anyone knows what's going on right at the singularity."




© 1998 - 2019 by Linda Moulton Howe.
All Rights Reserved.