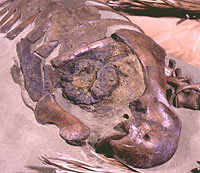 April 30, 2000 Raleigh, North Carolina – There was an astonishing discovery in the Hell's Creek sandstone of northwestern South Dakota back in 1993: a 13 foot long dinosaur with a heart in its rib cage. It's all fossilized, of course, but now modern CT scanning technology has confirmed it's four chambered with one aorta like warm-blooded animals today, not the cold-blooded reptilian metabolism assumed for dinosaurs over the past 150 years.
This is the first time in history that an internal dinosaur organ has been found – literally a "heart of stone" inside the whole body fossil of a creature that was alive on earth 66 million years ago right at the end of the Age of Dinosaurs. The new fossil is a Thescelosaurus. That dinosaur was about 13 feet long, weighed over 600 pounds, ate only plants and had to eat a lot of them to sustain its warm-blooded heart.

I talked this week with the man who did the CT scan on the fossil heart and I also talked to a dinosaur expert.First, Paul Fisher is Director of the Biomedical Imaging Facility at North Carolina State College of Veterinarian Medicine where he is also working on his Ph.D. in Paleontology. The past 24 years he has worked with CT Scanners. CT stands for "computerized tomography." Instead of normal X-rays which are imaged on a flat medium like a photograph, CT scans go through the body taking electronic image slices as you would slice a loaf of bread. The computer then puts all the slices together for a complete 3-dimensional electronic look at the internal body structure and organs.
But how do you do this with a dinosaur body that's turned to rock?
---
Interviews:
The CT Scan Discovery
Paul Fisher, Director, Biomedical Imaging Facility, North Carolina State College of Veterinarian Medicine, Raleigh, North Carolina: "The heart is also fossilized. So everything is rock. We're not really looking at soft tissue. Everything has been fossilized. But there was enough ­ CT works on the principal that different structures have different densities. Therefore, they turn out to be different shades of grey and you can see structures. There was enough difference in density that you could actually see structures within the thorax of this particular specimen. . One of the things I think is very unique about this specimen is that we really haven't used this technique before to look for soft tissue structures in dinosaurs. We've done a lot of work CTing and doing x-rays and different imaging modalities, but we've always been looking at bones. This is the first time we have looked specifically at something that used to be soft tissue.
The dinosaur fossil hunter, Mike Hammer, who found the body at Hell's Creek exhumed the entire rock. It was so big and heavy that he very carefully cut it into thirds. What we had was the middle third where the chest was.




THEN THAT WOULD FIT INTO A MODERN DAY CT SCANNER?

Right. That part of thisThescelosaurus. dinosaur isn't much bigger than a human being and Mike Hammer had pared away most of the rock from around it so it would fit through the scanner.
FROM YOUR TRAINED EYE, WHEN YOU FIRST GOT THAT IN YOUR MACHINE, WHAT EXACTLY DID YOU SEE AND HOW DID YOU KNOW FOR CERTAIN THAT IT WAS A FOUR CHAMBERED HEART?
It looks an awful lot like a heart on the 2-dimensional slices which is what you get out of a CT scanner. What we did from there is we put it in a software model, an image analysis system, and we made 3-D models, like taking slices of bread and putting them all back together. We made a 3-D model of this. When we had that model, it became very apparent that what we had was a 4-chambered heart with a single aorta. It stood right out. It's one of those things where a picture is worth a thousand words.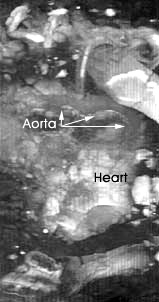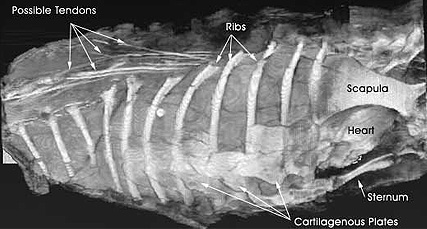 WHAT WAS THE REACTION BASICALLY FROM EVERYONE'S POINT OF VIEW EXACTLY AT THAT MOMENT THAT YOU WERE LOOKING AT A 4-CHAMBERED HEART?
Initially it was disbelief. This class of dinosaur was thought to be more like a crocodile, more of that sort of heart…
WHICH WOULD BE COLD BLOODED, RIGHT?
Right. Crocodiles have 4 chambers, but they have 2 systemic aortas. They have two arches coming out of their heart. This class of dinosaur was thought to be that way and we actually spent a significant amount of time trying to make sure that it was a 4 chambered heart with a single aorta as opposed to something else. We took months to look at the data to make sure we weren't missing something. We came up with the same solution when we first saw it: it's a 4 chambered heart with a single aorta. It's that of a creature that has a fairly high metabolism and was probably warm blooded.
WERE YOU ABLE TO SEE OTHER ORGANS BESIDES THE 4-CHAMBERED HEART?

In the thorax, we saw the 4-chambered heart and we saw a single aorta and there are some smaller vessels that we can't as of yet determine where they go from or to. What we would like to do is get the specimen back and do much more high detailed work on it and see if we can find some smaller structures. And we really haven't scanned the abdomen. We want to go back and do detailed work on the abdomen.
IS IT POSSIBLE THAT ALL THE DINOSAURS HAD 4 CHAMBERED, WARM BLOODED HEARTS?
I think all of the dinosaurs and certainly the recent dinosaurs may have been, I guess, what we could classify as warm blooded ­ at least with a higher metabolism than we originally thought.
BUT WHAT ABOUT TRICERATOPS AND TYRANNOSAURUS REX AND THE ONES THAT WE'RE MORE FAMILIAR WITH? IS IT POSSIBLE THEY HAD 4 CHAMBERED WARM BLOODED HEARTS AS WELL?
It is. When you start to get into those kinds of huge animals, one of the things that happens is you have to worry about how to get rid of heat rather than how to maintain it in your body. And you look at a Triceratops and they came up with very elaborate mechanisms to dissipate heat from their bodies.
MEANING THAT THOSE STRANGE SPINY THINGS ALONG THEIR BODY WAS TO GET RID OF HEAT?
Right. The big cowls around their head, the bony plates, were probably filled with blood vessels and used to get rid of heat. So, they may certainly have had a higher metabolism that we originally were thinking.
WAS THERE ANY EVIDENCE IN THE PAST THAT WOULD GIVE ACADEMICS A REASON TO PLACE DINOSAURS IN THE REPTILIAN COLD CHAMBERED HEART CATEGORY?

No, when paleontology started 150 years ago or so and these bones were found with the big teeth. They looked like big lizards. And I think that's where at least historically they looked like big lizards, they were classified as cold blooded reptiles. And as we have learned more and found more specimens and found that many of them were herd animals and those kinds of things ­ and then with this specimen, having some proof that they had higher metabolisms or were maybe warm blooded ­ this changes our way of looking at things.
IS THERE ANY FOSSIL EVIDENCE OF A CONNECTION BETWEEN DINOSAURS AND REPTILIANS?
No direct connection.
THEN IT IS ODD THAT WE HAVE BEEN ON AN ASSUMPTION FOR ALL THESE DECADES THAT DINOSAURS WERE REPTILIAN WHEN THERE REALLY WASN'T ANY BIOLOGICAL EVIDENCE OR LINK TO PUT THEM INTO THE REPTILIAN CATEGORY.
Man is an interesting creature. We believed the world was flat for a long, long time. So, it's amazing what man will choose to believe on such slim evidence.
OR DENY ON SLIM EVIDENCE.

Exactly!"
The Warm Heart Impact On Dinosaur Science
A PALEONTOLOGIST WORKING WITH PAUL FISHER IS REESE BARRICK, Ph. D., ALSO AT NORTH CAROLINA STATE UNIVERSITY IN THE DEPARTMENT OF MARINE, EARTH AND ATMOSPHERIC SCIENCE. I ASKED DR. BARRICK HOW THIS REVOLUTIONARY DISCOVERY OF A WARM BLOODED HEART WILL CHANGE OUR THINKING ABOUT DINOSAURS.
Reese Barrick, Ph.D., Paleontologist in the Department of Marine, Earth and Atmospheric Science, North Carolina State University, Raleigh, North Carolina: "Dinosaurs sort of dominated the earth for 180 million years and it was always thought there was just a really warm time and they were really big and slow and stupid and sat around with a very slow world. And now when we go back and look at it, we have to think of a world not so much in slow motion, but very similar in some senses as we have today with animals being active, migrating out searching for food, eating relatively frequently. A cold blooded world you would have Tyrannosaurus eating once every other month or a big meal once every four or five months. So if you saw a Tyrannosaurus, you might not be that scared because if he had eaten in the last two months, he might not be that hungry. And now we have to look at them as a very active world where these guys are moving all the time and eating all the time and you run into a carnivorous dinosaur and he's probably got the endurance to chase you round.
DO YOU THINK THE THEORY THAT AN ASTEROID SLAMMED INTO THE CARIBBEAN WHERE THE YUCATAN PENINSULA IS OFF THE COAST OF FLORIDA IS WHAT CAUSED THE MASS EXTINCTION OF THE DINOSAURS?
I do think it is the best hypothesis because we know we have a crater and we know we had an impact and any type of animal that is very large in body size and has a relatively high metabolic rate which means it has to eat all the time, certainly wouldn't survive very long if its food sources were gone. And that's just what the asteroid would have done – wipe out all the vegetation for anything to eat. So, if you were large and relatively warm blooded, you wouldn't have had a chance.
IRONICALLY, IF THEY HAD BEEN COLD BLOODED REPTILES, THEY MIGHT HAVE ACTUALLY SURVIVED?

There might have been a few of the smaller dinosaurs had they really been cold blooded that would have survived."
---
More Information:
Entire dinosaur fossil with heart of stone is now on public display at North Carolina's State Museum of Natural Sciences in Raleigh, North Carolina. For more information, phone: 919-733-7450.


---
Websites:

© 1998 - 2019 by Linda Moulton Howe.
All Rights Reserved.