"Foremost is the rapidness with which the water level has dropped three feet over the past two years. On Lakes Michigan and Huron, this is the largest two year drop that we've had in our 140 years of record."
– Frank H. Quinn, Ph.D., May 2000 Great Lakes Environmental Research Laboratory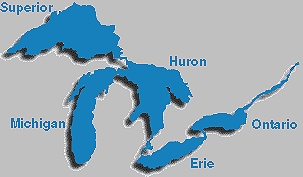 May 7, 2000 Ann Arbor, Michigan – Drought has taken hold in the Great Lakes in a severity not seen since the mid 1960s and the 1930s. With water levels in the lakes near record lows, big cargo ships can no longer carry the heavy loads they used to. So far in 2000, the Great Lakes Carriers Association estimates it's having to lighten each trip by about 8,000 tons and the costs are climbing. For example, iron ore and coal are valued at $35/ton per trip. So, every 8,000 pounds left behind to get a cargo ship across the shrinking lake waters is a loss of $300,000 in cargo.
Experts warn that water levels in the Great Lakes which contain 20% of the world's freshwater are likely to continue dropping and that conditions for shipping cargo, recreational boating, dredging, public health from more contaminated water, crops drying up and a lot more problems are likely to get worse before they get better.
A civil engineer who got his Ph.D. in mathematical modeling and water resource issues for the Great Lakes and is now Senior Research Hydrologist at NOAA's Great Lakes Environmental Research Laboratory in Ann Arbor, Michigan is Frank H. Quinn. Dr. Quinn also heads up the Water Resources Division for computer modeling data as part of the U. S. National Assessment of the Potential Impacts of Climate Change on the U. S. He was working on Great Lakes water problems in the mid-1960s when the last great drought hit the region. I asked Dr. Quinn to compare that period with this new drought of 2000.
---
Interview:
Frank H. Quinn, Ph.D., Senior Research Hydrologist, Great Lakes Environmental Research Laboratory, National Oceanic and Atmospheric Administration, Ann Arbor, Michigan: "In general, there are a couple of differences we see today compared to what we had in 1964. Foremost is the rapidness with which the water level has dropped over the past two years. On Lakes Michigan and Huron, this is the largest two year drop that we've had in our 140 years of record. So, this is really an unusual event in terms of the water levels.
ARE WE TALKING ABOUT A DROP OF A FOOT, TWO FEET?

We're talking about three feet.
THREE FEET DROP IN TWO YEARS.
Yes, actually I think it was 2.9, but it's close to 3 feet.
IS IT TRUE THAT PART OF THE RAPIDITY OF THIS DROP IS RELATED TO THE FACT THAT CANADA HAS NOT HAD THE LARGE SNOW PACK THAT IT'S USUALLY HAD IN THE PAST?

Yes. A large part of the drop is due to the fact that not only Canada, but the Lake Superior Basin has had a lower snow pack than usual. Because of our much warmer weather, it's also melted sooner than usual. And instead of going off into the lakes in a rush which gives us our spring rise in lake levels, it kind of limply trickled in what was left of the snow pack and it went into the lakes early. But also the northern part of Michigan and Wisconsin also had very low snow packs this year that went into the lakes, so the snow pack ­ what's left on the ground in March is usually the main driver for our water level rise in the spring to when we peak in the summer. The past couple of years has been pretty deficient.
IS IT TRUE THAT IN THE AREAS OF MANITOBA AND ONTARIO THERE WAS A QUOTE FROM THE NATIONAL WEATHER SERVICE THAT SAID: "The lack of snow in both the Great Lakes Basin and Manitoba and Ontario is 'astounding.'"
Yes, it's a very rare event. Really, the drought to me started in the late fall of 1997 and we had an El Nino event in 1997 to 1998 that had a very low snow pack as well. And that's kind of when the drought actually started. But with the Great Lakes being different than say the Mississippi or inland stream, it takes a long time for the impact to be felt. So, right now we are feeling the impact that started back in 1998 and continues to the present time.
DO YOU THINK IT'S GOING TO BE A TREND THAT CONTINUES BECAUSE IT ALSO APPEARS WE ARE IN A GLOBAL WARMING CYCLE THAT IS INCREASING? WE'VE HAD THE TWO WARMEST WINTERS ON RECORD IN 1999 AND 1998.

We know we are going to have continued low lake levels through the remainder of the year. There is a possibility, maybe 5 to 10% probability, that we may hit record low levels late this year on Lake Michigan and Huron. If we come to a year from now in March 2001 and there still is no snow pack, there's a high probability then that we will set low lake record levels on a number of the lakes.
But I think it's important to note that when we came out of a record low in 1964 and set a record high in 1972 and 1973, we all thought the Lakes would go back down again. And we maintained very high lake levels for a thirty year period. So, it's really hard to project what will happen. But if we continue to get dry winters and it's not only the fact that the winters are dry. But they are much warmer. So, in addition to not just the snow pack, we have all the plants throughout the Great Lakes region using more water for transpiration. So, we've also got less run off for the same amount of rain because of the very warm temperatures.
THE PLANTS ARE ALL TAKING UP SO MUCH WATER.

The plants are taking up more water and because of the warm temperatures, we also have more evaporation from the Lakes.
ISN'T THIS LIKE A DOMINO EFFECT WE ARE BEGINNING TO GET INTO ­ THE WATER IS DROPPING TO PERHAPS UNPRECEDENTED LEVELS. IF WE GET TO THE END OF THE YEAR AND WINTER AND THERE ISN'T MORE MOISTURE, THAT YOU'VE GOT SHIPPING BY TRAIN AND BOAT ARE NOW AFFECTED, THERE COULD BE AN INCREASE IN THE BACTERIA IN THE WATERS THAT ARE GETTING HOTTER AND LOWER ­ A PUBLIC HEALTH PROBLEM; YOU HAVE THE ISSUE THROUGHOUT THE STATE OF ILLINOIS THAT ALL PUBLIC WATER SYSTEMS AND AQUIFERS ARE ALSO LOWERING AS A CONSEQUENCE OF THIS DROUGHT; THAT THIS IS GOING TO AFFECT AGRICULTURAL CROPS AND YOU MIGHT HAVE TO RESTRICT THAT WATER SIPHONING OFF LAKE SUPERIOR THAT IS CURRENTLY BEING SOLD TO JAPAN?

A couple of things ­ right now we are seeing that a good portion of the streams in Michigan, for example, are at record or near record low levels, the tributary streams. So we are seeing a major impact of the drought.
The shipping industry is affected right off the bat because they cannot load their vessels so deep, so they have to make more transits which means from a social aspect, the crews are going to have to stay on longer and be away from their family and that's more expensive.
The affect we are seeing right now, the most vocal effect, is from the recreational boaters. A lot of the marinas in the Great Lakes were designed and put in in the 1970s, 80s and 90s. A lot of these marinas do not have adequate water in their slips to float the boats. So there is a lot of dredging going around. And when you have the dredging, you tend to stir up the sediments which can have some water quality issues.
Right now, the movement to sell water from Lake Superior to Japan, bottle it up and send Lake Superior bottled water, has been stopped. So that's really not an issue right now.
YOU'VE ALREADY ACTED ON THAT?

The Great Lake Governors and Premieres, particularly in the Province of Ontario that had to give the permit. And the International Joint Commission has just had a report come out ­ they regulate the water. They are the joint Canada and U. S. treaty organization and is responsible for water levels and flows in the Great Lakes and they sent a report to the U. S. and Canada stating that we have to be very careful in conserving our water in the Great Lakes ­ who can use it, how can it be used, where can you take it out. Right now, we are bringing in water from the Hudson Bay watershed into Lake Superior, Canadian water. And at the same time, we're taking water out of Lake Michigan at Chicago to send down the Mississippi and for drinking water for the people at Chicago. And these two diversions basically balance each other.
But I think that you will find a continued interest in water conservation throughout the region if we continue, if we do have a warm and dry summer.
WHAT HAPPENS IF THE HUDSON BAY WATER BECOMES AFFECTED BY THIS CONTINUING GLOBAL WARMING, LACK OF SNOW PACK IN CANADA?
If they were to have problems with that, they would cut down on the diversion to the Great Lakes which would cause a small drop in the water levels throughout the Great Lakes system.
HAVE YOU DONE A WORST CASE COMPUTER SCENARIO PROJECTION THAT IF GLOBAL WARMING IS EXACERBATING THIS TREND OF WARMING IN CANADA AND THE GREAT LAKES AND IF YOU'VE GONE DOWN THREE FEET IN TWO YEARS OR SO AND YOU WENT DOWN ANOTHER THREE FEET IN THE NEXT TWO YEARS, LET'S SAY, WHAT ARE THE CONSEQUENCES OF INCREASED REDUCTION IN WATER LEVELS THROUGHOUT THE ENTIRE GREAT LAKES BASIN?

Some of the model runs we've done based on global warming have indicated that we could indeed be down another two to three feet, but by the year 2030 from what we are right now. I think what you would see happening under those conditions is there would be increased demand for water management in the Great Lakes. Two of the Great Lakes ­ Lake Superior and Lake Ontario are completely regulated at the present time. The flows coming out of those lakes ­ Lake Superior by a series of gates across the St. Mary's River and the Sioux locks. And on Lake Ontario, the amount of water going down the St. Lawrence River is controlled by a shared U. S. and Canada power dam across the St. Lawrence between Messina, New York and Cornwall, Ontario.
I think if we continue to go down another 2 or 3 feet, we will see a move afoot to seriously regulating both Lake Erie, Michigan and Huron to keep their water levels up as much as possible. But of course, that doesn't take care of the fact that as the water flows out of the Great Lakes down the St. Lawrence River ­ no matter what you do upstream, you're still going to have greatly reduced flows in the St. Lawrence.
WHAT IS YOUR OWN PROJECTION THAT IF THIS DROUGHT EXTENDS FOR ANOTHER YEAR OR TWO ­ WHAT COULD HAPPEN?

I think what we will see if the drought were to extend for another two years ­ we would probably see a lot of dredging going on in the Great Lakes, primarily for recreational boating. Right now, there is mercury in some of these sediments. And if this mercury is de-watered and then watered again, it tends to become available to the fish and the plants.
MEANING THAT MERCURY CONTAMINATION COULD BECOME A REAL PROBLEM IN DREDGING OPERATIONS?

It could become a problem in a number of areas. We did have back many years ago some very serious mercury problems on the Great Lakes. A lot of this mercury has been buried in the sediments. And so, if the sediments become de-watered; i.e., the lake levels drop and then the lake levels come up a little bit and they are wet again and then dry out, that can make it available. And again, a lot of the uses of the Lakes are for recreational and social needs.
But in addition, you would have a lot of problems with water intakes for the various municipalities that draw water from the Great Lakes. Those in shallow areas may have additional sedimentation due to the fact that the water level is lower and therefore, waves that come in would stir up more sediments. In addition, a lot of people along the Lakes that have shallow wells that draw water from the Lakes through the ground water could see their wells start to dry up. And that's already happened in some areas along the St. Lawrence River.
WELLS ARE DRYING UP ALREADY?
Yes, some along the St. Lawrence River are drying up, the shallow wells that a number of the people have for their water supplies.
RIGHT, AND THE LA NINA CONDITIONS ARE STILL IN HOLD OF NORTH AMERICA AND THAT MEANS USUALLY DRIER IN THE EAST AND SOME OF THESE AREAS LIKE THE GREAT LAKES AND THAT WOULD TEND TO SAY THAT A FORECAST OF INCREASING DRYNESS AND WARMING TEMPERATURES OVER THE NEXT YEAR.
What we've seen in the outlook, particularly over the next 3 months, put out by the NOAA Climate Prediction Center does call for warmer temperatures and for drier conditions. And of course, this will just tend to exacerbate our problem throughout the Great Lakes system.
One of the things we did run with our models was to see what would happen if we had the climatological conditions that gave us our record highs in 1986, if they were to start right now with out present soil, moisture and Lake level conditions ­ what would that do by next October? And it was surprising to see that even if we had those really wet conditions, that we would only bring the Lakes up to about where they were last October ­ the importance of the snowfall and how low we are right now, it's really critical. We're really not going to have- even if we have very wet conditions this summer ­ we're not going to have the Lakes anywhere up towards normal."
---
Websites:
http://www.lre.usace.army.mil/

© 1998 - 2019 by Linda Moulton Howe.
All Rights Reserved.