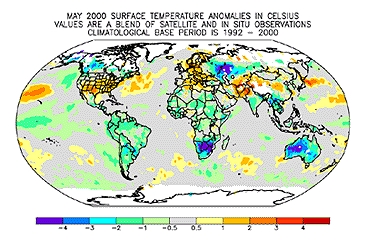 June 18, 2000  Asheville, North Carolina – This weekend, the National Oceanic and Atmospheric Administration's National Climatic Data Center announced that this spring of 2000 has been the warmest on record for the United States. NOAA reports that during this spring season, "every state in the continental U. S. was warmer than its long-term average. … The extremely warm temperatures contributed to worsening drought conditions in many areas of the country. Parts of the Southeast, Midwest and Southwest continue to experience severe to extreme drought, causing crop damage and creating the need for water rationing in many areas. Twelve states averaged drier than normal for the spring season. Florida reported its fourth driest spring on record while Missouri had its eighth driest spring since 1895." This is not helping the Great Lakes region, either, where concern continues to deepen there about falling water levels, as I reported on Dreamland recently.
NOAA also reported that January through May 2000 was the hottest five month period since record keeping began 106 years ago. Global warming IS upon us, but the exact reasons why – manmade or a natural variation in the earth's own cycles – is still hotly debated by scientists.
Global temperatures were also very high. In fact, NOAA reports that spring 2000 was the "24th consecutive March to May period in which global temperatures were warmer than the 1880-1999 long-term mean average." Paradoxically, in the tropics during this spring, it was the second COLDEST on record.
Global warming could mean the spread of infectious diseases such as malaria and the West Nile Fever virus beyond their traditional borders. Recently, West Nile was suspected in a chicken from Queens, New York. Fortunately, blood tests were not positive as of Monday, June 19, 2000. If West Nile does show up again, New York health officials face the challenge of mosquito control, probably spraying with pesticides which can damage marine and other life.
---
More Information:
Climate Services Division
NOAA/National Climatic Data Center
151 Patton Avenue, Room 120
Asheville, NC 28801-5001
FAX: 828-271-4876
PH: 828-271-4800
---
Websites:

© 1998 - 2019 by Linda Moulton Howe.
All Rights Reserved.