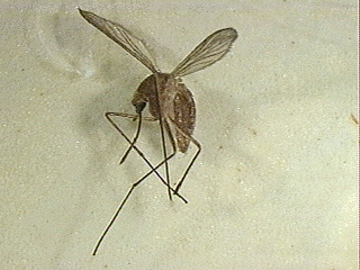 September 3, 2000 –
West Nile Virus in New Jersey Crows
This past week, 165 more birds – mostly crows – in central and northern New Jersey have been confirmed to be infected with the West Nile Fever virus. One was found on the campus of Princeton University. This brings the total in New Jersey this year to 322 infected birds.
Humans can only contract the virus from the bite of a mosquito that has fed on an infected bird. Last year, sixty-two people got sick and seven died in New York state. Recently in New York City, a woman was hospitalized in critical condition from complications stemming from West Nile Fever virus. Five more New York residents have been diagnosed with the virus this year and more ground spraying to kill mosquitoes is planned. Residents should call their county health department if they find dead birds.
Last year when New York used helicopters and planes to spray heavily against mosquitoes, 95% of the lobsters in the western part of Long Island Sound died. Now, Long Island lobster fishermen have announced that they are suing the pesticide makers and seeking $125 million in damages. Many fishermen have already gone out of business or declared bankruptcy because there are no lobsters left to catch.
Uranium Contamination in American Gulf War Soldiers
In other contamination news, today in Paris at a meeting of nuclear scientists, former head of nuclear medicine at the U. S. Army's Veterans' Affairs Medical Facility in Delaware and Professor at Georgetown University, Dr. Asaf Durakovic, presented medical evidence that some British and American soldiers who served in the Gulf War have high levels of depleted uranium in their bodies linked to the depleted uranium shells fired during the war. It's estimated that 700,000 shells were fired. Dr. Durakovic concluded that troops inhaled the uranium particles which once inside the body cause a slow death from cancers, kidney damage and immune deficiency disorders.
Cattle Mutilations in Meyronne, Saskatchewan, Canada
Something has killed 79 cows and calves in Meyronne, Saskatchewan, Canada. Until August 18th, the government pasture known as the Meyronne Provincial Community Pasture six miles south of Meyronne, had been rented to four family-related farmers. Since the Depression Era, Canada has had such rental agreements in which provincial government employees have had the responsibility to water, feed and care for cattle pastured on government land. The same government employees have cared for cattle in the Meyronne, Saskatchewan pastures for the past several years. So everyone is shocked and puzzled about why so many nursing mothers and their calves would suddenly all die on the same day in the middle of August 2000.
Today I talked with one of the farmers, Calvin Gavelin, about what he and his father saw on August 18th, the day they were notified their cows were dead.
---
Interview:
Calvin Gavelin, Rancher, Meyronne and McCord, Saskatchewan, Canada: "When we arrived, they were doing an autopsy on one animal outside the gate. And when you looked – like it was just outside where our cows were. I think it was a five or six strand fence, I think, an old sheep pasture. So, they were doing this autopsy and at that point, they thought it was anthrax. It was at least a possibility because when you looked on the hills and all around, it was just dead animals everywhere. Every position. Like they weren't just with their feet in the air. It was like some were dead sleeping. It was so unusual.
So, that night authorities phoned us and said you had better go get your vaccines, better get penicillin in case it was anything we were exposed to. Be cautious.
LIKE ANTHRAX.

Yeah. So we went and got the penicillin and when we got home that night we had a phone call that they figured we should go and treat the cows with penicillin and do the same with the rest of the cows that were alive in case it was anything that could be stopped.
So, the next day it was pretty tough on us. It was really hot and smoky (from forest fires) and we were there and as you worked the cattle, you could see which ones weren't coming back. Whereas the night before, there were certain ones there that had more meaning to you and when we worked them the next day, they weren't there, so.
MEANING THAT MORE WERE DYING.

No, just the best cows, the prime cows of that bunch we had up there, were the dead ones.
THE PRIME ONES?

Yeah. Like the heavy milkers, all your best cows up there. We had like six different age groups up there and there was no age discrepancy – like every age, like for our three year olds, we lost about over half of them. Of the 4 year olds the same. The 5 year olds. It wasn't just one group of age of cows.
IS IT TRUE FROM THE REPORTS THAT THE COWS SEEMED TO BE DEAD AROUND THE PERIMETER OF THE FENCE?

From what I seen, that's what I seen. At the gates and that.
DOES THAT SUGGEST THAT THE ANIMALS WERE TRYING TO GET AWAY FROM SOMETHING?

I think they were looking for something myself.
MEANING?

Water. Because the one gate area of the pasture was broken down and there were no dead animals around that gate. And those cows broke through another gate and went and got water like a mile and a half away where they had watered that spring.
WHY WOULD THEY HAVE BEEN DESPERATE FOR WATER?

Like I know they were there August 2nd when we moved them into the pen. The water was in the trough. Because there was only one water trough. It's off a pipeline. The water was there then. And what we seen by the pictures when they were taken that night of the 18th and 19th, there was water. But there was no record of if there was water ever between those two dates.
I DON'T FOLLOW.

The first day, the trough had been filled in the spring. And if the tap was shut off, those cows would not have had water for all those days. They would have been out of water.
FROM THE VETERINARIAN EXAMINATION, DID THEY FIND THAT THERE WAS ANY EVIDENCE THAT THE ANIMALS HAD DIED OF LACK OF WATER?

What we have heard on Friday night here on TV here, they said all the animals that died and the ones left alive show signs of dehydration. What we only get is from the media, from the interviews of the specialists looking into it.
MEANING THEY ARE NOT TALKING TO YOU DIRECTLY ABOUT THE DEATHS OF YOUR COWS?

No, not yet.
WHY?

I don't know.
BUT YOU KNOW THAT THE TROUGHS DID HAVE WATER IN THEM AT ONE POINT.

Yes.
FROM YOUR POINT OF VIEW AS A RANCHER, WHY WOULD THE HYPOTHESIS OF NO WATER IN THE TROUGHS BE ACCEPTABLE TO YOU?

Just by what we see. The trough areas, that's where the cows usually water. That wasn't grazed down, not too much traffic there.
WAS THERE WATER IN THESE TROUGHS WHEN YOU WENT THERE?

There was then. But it was stagnant water. It wasn't filled that day. That was the first time that pasture was used all year.
HOW IS THE WATER DISTRIBUTED? HOW ARE THE TANKS FILLED WITH WATER? WHAT HAPPENS? IS IT A MECHANICAL SYSTEM? DID YOU KNOW IF IT WORKED?

When we put them into the government pasture, we pay the government for riders and for a manager of the pasture to view our cattle twice a week and t o look at the water troughs and everything. So, like right now what we've heard in the press is that water is there, was there at all times. But, what we see in the pictures of the zone where the cattle drink, there was no traffic in there.
IF THERE HAD BEEN WATER SUPPLIED AS IT SHOULD HAVE BEEN BY THESE PEOPLE, HOW WOULD YOU EXPLAIN THIS MASSIVE DEATH?

I don't know. Because they have ruled out toxic plants in the pasture, poisoning, any disease, the grass condition was good so there is not too much to go on. Lightning was ruled out. Natural things, everything else was ruled out.
HAVE YOU EVER HAD ANYTHING LIKE THIS HAPPEN BEFORE IN YOUR RANCHING EXPERIENCE?

Never. I've never heard of it either.
WHEN SOMETHING LIKE THIS HAPPENS TO THIS EXTENT, CAN YOU RECOVER? WHAT HAPPENS?

That's what we're hoping that we'll get compensated for it. I know right now it is such a loss that the value of the farm has just dropped in one night. I know like for ourselves, that was a quarter to a third of our herd that was lost. And Uncle Danny, it was almost over a third.
IF THE GOVERNMENT IS RESPONSIBLE FOR LACK OF WATERING IN THIS ONE PASTURE WHILE ALL THE OTHER PASTURES SURROUNDING THIS PASTURE WERE FINE, HOW WOULD YOU EXPLAIN THAT?

Probably just an error done on their sake because that's. It looks that way.
DID YOU SEE THAT THE SAME PEOPLE FROM THE GOVERNMENT WHO WERE THERE TO WATCH OVER THE PASTURE WERE PEOPLE YOU RECOGNIZED FROM THE PREVIOUS YEAR OR SO?

Yeah, they were there last year.
NO PROBLEMS BEFORE?

No problems before.
THE MEN WHO HAD WORKED THERE BEFORE IN THE PREVIOUS YEARS WERE TELLING YOU WHEN YOU WENT BACK TRYING TO COPE WITH ALL THESE DEAD ANIMALS THAT THEY KNEW FOR A FACT THAT THERE WAS WATER IN THE TROUGHS?

That's what they were saying.
ANY REASON FOR THEM TO NOT TELL THE TRUTH?

I don't know why. I know we were discussing this the other day when we were talking with Uncle Danny and Norman. We were always raised that if you did an error, admit up to it right now and don't create a bigger one. Because the truth will always come out.
LET'S SAY FOR A MOMENT, GIVING THEM THE BENEFIT OF THE DOUBT, THAT THEY ARE TELLING THE TRUTH AND THAT THERE WAS WATER. THEN YOU ARE LEFT WITH A REAL MYSTERY BECAUSE EVERY SINGLE THING HAS BEEN RULED OUT EXCEPT DEHYDRATION.

Right, except dehydration and we were at a meeting on the 23rd of August called by some of the people like to inform us what the media has said. And one guy that worked with the department said there will be an answer and he guaranteed it. And just by these investigators, the impression I got is that the answer is there.
BUT RIGHT NOW ON LABOR DAY WEEKEND OF SEPTEMBER 2000, YOU REALLY DON'T KNOW FOR SURE WHAT HAPPENED TO 79 ANIMALS?

No, it's still out there.
IT'S STILL A MYSTERY.

It's still a mystery."


© 1998 - 2019 by Linda Moulton Howe.
All Rights Reserved.