"I have used the Hubble quite extensively to look at many dying stars and we've seen many mysterious and beautiful shapes and structures, but we've never seen such a jet-like structure."
– Raghvendra Sahai, Ph.D., Astrophysicist, Jet Propulsion Lab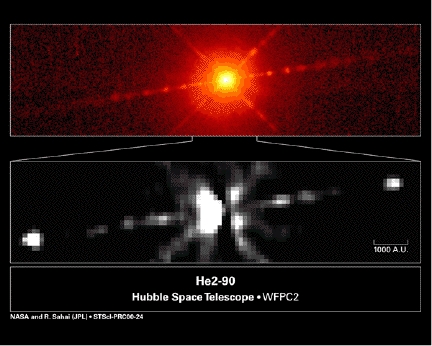 September 6, 2000  Pasadena, California – At the Jet Propulsion Laboratory in Pasadena, astrophysicists are puzzled by a bright object about 8,000 light years from earth in the constellation Centaurus. It is giving off large jet pulses that are more typical of star births. But there is also an accretion disk of gas and dust often associated with a dying star. The paradox of birth and death characteristics is forcing a re-evaluation of what has been considered a planetary nebula since the 1990s.
---
Interview:
IF IT IS NOT A STAR BEING BORN, WHAT IS IT?

The most likely scenario we can think of right now is that this is a pair of stars. And the reason why we think it might be a pair of stars is because we want to explain how the jets are formed. Usually jets like these which are seen in the universe including young stars and centers of galaxies- they are the result of a rotating disc of matter around a compact object. And this is called an 'accretion disc.' And to produce an accretion disc, you normally require matter from somewhere to collect around a compact object. And so, you need something that gives out matter and something that collects matter. So, that's why we require a pair of stars, a pair which is called a 'binary star system.' Two stars going around, orbiting each other. For one star to be able to suck matter from another star, the following has to happen:
First, the two stars have to be very close to each other, roughly about 10 astronomical units from each other (one A.U. is the distance between earth and the sun).
Second, one star has to have an atmosphere which is very loosely bound, gravitationally loosely bound. And such stars are red giant stars which are dying stars. A star like the sun would be a red giant star 5 billion years from now. Third, the star that is sucking the matter towards it has to be fairly compact object, but roughly as the same mass as the other star so they have a very strong gravitational field. The most common compact objects are white dwarfs.
So that's how we hypothesize that the central part is a binary star with a white dwarf collecting matter from the outer layers of the red giant, gathering it into a rotating disc around it. As matter falls inwards into the disc, some of it is slung outwards along magnetic field lines and then produces the jet-like streams of matter.
HAVE YOU EVER SEEN JETS LIKE THIS IN A DYING STAR SYSTEM BEFORE?

Nothing like this, no. That was what was the big amazement which we had. I have used the Hubble quite extensively to look at many dying stars and we've seen many mysterious and beautiful shapes and structures, but we've never seen such a jet-like structure.
IS IT POSSIBLE THAT THIS IS NOT A DYING BINARY STAR SYSTEM?

It has to have at least one dying star in it, we think, in order to produce the jet-like streams of matter and it requires an accretion disc, the rotating disc of material. In order to produce a rotating disc of material, you have to get material from somewhere. That somewhere, the most likely possibility is a red giant star. We don't have other possibilities.
Now, the companion that is orbiting around it could be something else, could be something else even more compact like a neutron star or black hole. However, to the best of our knowledge, we think we need a binary star system.
In the case of young stars, you don't need the binary star system because the accretion disc is there to begin with and has to do with how the star formed from its parent cloud. So that automatically generates a disc of material. That's why in young stars, we don't need binary stars to produce the jets.
YOU'VE ELIMINATED THE YOUNG STAR POSSIBILITY?
We've eliminated the young star for two reasons: the strongest one is that we see very hot gas around this object. In fact, the gas is so hot that the hydrogen atoms in the gas have been stripped of their electrons. So they are just basically protons and other atoms such as oxygen, nitrogen have also been stripped of their outer electrons, so it's ionized gas.
SIMILAR TO THE PLASMA OF LIGHTNING?

Exactly! That's a plasma. Exactly.
A HOT PLASMA.

To produce plasma, it requires very energetic radiation which you can get from stars that are very hot. So, based on the characteristics of the gasses you can see around them and we can see emissions from different things like ionized hydrogen and ionized oxygen and ionized nitrogen, we can tell that the central object that is illuminating this has to be about 50,000 degrees. And young stars like the sun during the early formation stages are only at best a few thousand degrees.
WHAT ABOUT THE POSSIBILITY THAT THIS IS A BLACK HOLE?

That possibility is always there. Black holes are very exciting and notoriously hard to correctly say, 'Yes, this is a black hole.' As you know, black holes don't allow any light to escape from them. So you can never directly see the presence of a black hole. You can only see them indirectly. If there was a black hole, there would still be an accretion disc around the black hole and as the matter fell from the outer areas of the accretion disc inward into the black hole, some of it would be flung out before it got ingested into the black hole.
In an accretion disc, that's what happens. Not all the matter which is flowing inwards gets ejected out. Only some small fraction, a few percent of it, gets thrown out along magnetic field lines. So you will see jets even if at the center of the accretion disc there was a black hole. Some part of the matter would be ejected before it got into the black hole.
There are reasons why we think it is unlikely to be a black hole because of the speed of the jets. Right now, we only have indirect measurements that indicate the speed of the jets are moving at about 150 to 200 kilometers per second which, by other physical standards, is kind of slow for a jet. And the speed of a jet is directly related to how fast the matter is falling inwards in the accretion disc. So, if you have a black hole, the matter will fall much faster as it gets closer to the black hole, close to the speed of light basically. So the jets you would expect to come out from a disc around a black hole would be closer to the speed of light. So, it seems unlikely that the companion in He2-90 is a black hole.
However, the Compton Gamma Ray Observatory, which is one of NASA's gamma ray observatories in space, was surveying the whole sky a few years ago and found a gamma ray source in the direction of this object. The reason I say the direction is because gamma ray observatory could only tell the position to a limited accuracy. It's in the general direction of He2-90, but we don't know whether it's actually physically associated with it or not. We need much more precise measurements of the position of the gamma ray source and we want to do that using NASA's X-ray Observatory (Chandra), the argument being that if there is a gamma ray source, it's probably also emitting x-rays and we can measure the position of x-rays with the Chandra Observatory much more accurately. Then we will definitely be able to say if there is an x-ray source there and if it's associated with He2-90.
IF IT IS A BLACK HOLE.

If it is x-rays, the companion would be more compact than a white dwarf. The next most compact star after a white dwarf is a neutron star. And so, it could still be a neutron star. And then down from a neutron star, the next most compact object is a black hole.
HUBBLE IS PHOTOGRAPHING AN EVENT THAT TOOK PLACE 8,000 YEARS AGO?

Yes, the light which we are seeing right now started out about 8,000 years ago from this objec which we estimate is about 8,000 light years away. Which means the distance from us to this object is so great that light will take 8,000 years to come from there to us. So, whatever light we are seeing right now started 8,000 years ago. Therefore, it's quite possible – certainly in the case of the jets which may be a phenomenon that lasted only a few hundred years – that the jets no longer are there.
HOW DO WE EVER KNOW WHAT THE UNIVERSE ACTUALLY LOOKS LIKE?

In this instant?
YES.

No, we can never know that. If the sun went off this instant, we would still see it shining for 8.5 minutes because that's how long it takes for light to get here. The nearest star which is Alpha Centauri – if it were turned off, we would see it shining for four and a half years.
ARE QUASARS EVEN IN PHYSICAL EXISTENCE TODAY?

Quasars are very bright light sources and today we know that most of those bright light sources are at the centers of galaxies. It's quite possible quasars at their great distance are no longer shining.
IT'S REALLY ODD BECAUSE IT'S ALMOST ALICE IN WONDERLAND THAT SO MUCH OF THE UNIVERSE MAY NOT BE THERE PHYSICALLY, BUT THE LIGHT IS ITS LEGACY AND THAT'S THE ONLY THING WE SEE.

Yes. Absolutely. The universe is far more mysterious than anything we ever conceived of even in our wildest fantasies! That is part of the great excitement I find in studying the universe. It's so much more amazing and wonderful and mysterious than anything you've even conceived of, and even science fiction writers have conceived of! It's so much more amazing.
WHAT ELSE PROVOKES YOU AS A MYSTERY BESIDES THIS CURRENT HUBBLE PHOTOGRAPH.
I have mostly studied dying stars. And dying stars or planetary nebulae come in a very vast array of beautiful symmetries, shapes and sizes. It's a tremendous mystery about why stars that are round ultimately end up throwing out matter that looks so strange instead of making round bubbles.
When I started my imaging survey with Hubble, I was hoping to find answers to the mystery and I got ten times more puzzles and questions than answers. In fact, the best theory we had for explaining these kind of things would no longer work any more. So, in my field that's what I've found the most exciting.
It's also important to remember that most of the carbon in the universe is produced in dying stars. They produce carbon inside them and then eject it, throw it out, into the interstellar medium which collects and makes little particles which make systems and people like us. It's from death springs life, so to speak. Really without these kinds of stars, life as we know it – which is carbon based – would not exist without dying stars to manufacture carbon.
WE REALLY ARE STAR DUST?

Oh, absolutely! In a very strong sense of the word. Each little carbon atom in our body was manufactured in one of these dying stars.
And if you get to a more philosophical level, ultimately the greatest mystery is where did our universe come from? And that is the beginning of a series of unanswerable questions. For example, suppose we learned this universe came from something called X. The next question is, 'Where did X come from?' There is no end.
COMING BACK TO THE HUBBLE OBJECT, WHAT IS THE NEXT STEP IN YOUR RESEARCH IN TERMS OF TRYING TO UNDERSTAND WHAT THIS MYSTERIOUS OBJECT MIGHT BE?

We are contemplating at this moment three sets of observations:
1) More extensive observations with Hubble, especially the first thing we'd like to do is take more images and see if the knots in the jets have moved. And that will give us some idea how fast the jet is actually moving. If it is moving at only a few hundred kilometers per second and it's at the distance we think it is, then we won't see the knots move at all. But if it's moving at something like a thousand kilometers a second, which is what it should be if the companion is a white dwarf, then we should see movement of the knots.
We'll also take spectra which allow us to separate the light out and use the Doppler affect and measure the speed of moving gas. Together we should be able to tell better what speed the jet is. That's what we want to do with Hubble.
2) We also want to use the Chandra X-ray Observatory to look in that direction and see if there is an x-ray source. If there is, then is it associated with He2-90 or not? If we see x-rays and depending on how hot the x-ray spectrum is we should be able to tell something about the companion, the compact object.
WHETHER OR NOT IT COULD BE A BLACK HOLE?

Yeah, what it could be.
3) And the third thing we want to do is there is a European Gamma Ray Observatory called Integra which is supposed to go up in a couple of years, so we would like to use that again to look at the gamma ray source. It will be able to look at gamma ray sources much more precisely than the NASA Chandra observatory.
HOW LONG WILL IT TAKE TO DO ALL THREE OF THESE?

We have to go through the process to get our proposals accepted.
YOU GET FUNDING FROM?

Through NASA."

---
Websites:
http://www.jpl.nasa.gov/pictures/wfpc



© 1998 - 2019 by Linda Moulton Howe.
All Rights Reserved.