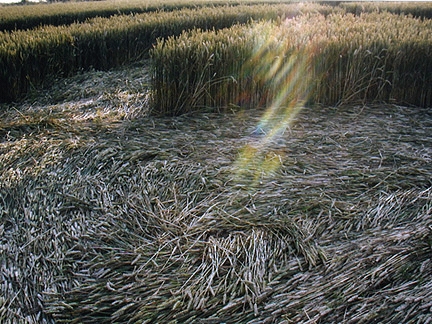 September 30, 2000 Lockeridge, Wiltshire, England – Recently I received the above photograph from Amica Kusaka, a resident of Kusaka, Okyamaa, Japan. Before sending the color print, she e-mailed me the following information:
"It is the Lockeridge formation. The date was 21st July. It was around 8:00-9:00 pm. This was the day I just arrived to England and the first complex formation I walked in. There wasn't anything unusual. The sun was going down and I think the sun was on my front left hand side. I was with my friends (3 Japanese) and there were two men and a woman in there with me. But when I took this photograph, I was alone. This was (my) first time to see and be in crop formations.
My camera is: Olympus digital camera (CAMEDIA 2.1 Megapixel)
Model No. C-990 ZOOM DC6V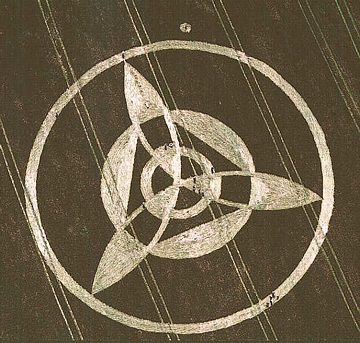 Amica reported about her photograph for the German Association for Crop Circle Research and wrote:
"It was beautiful formation. I was so impressed by my first visiting crop circles. The formation looks as if it has three blades and there are spiral crops on each blade. I sat down on one of the spiral crops. At once, I felt something spiral energy through all my body. It was so comfortable. After a while, I tried to take a photo. When I looked at the monitor of my digital camera, I saw an amazing image. There was spiral light turning above the centre. In a hurry, I took the photo."
Amica said the light swirled, moving and turning, for two or three seconds before she took the photograph. Her friends did not see the light. "After taken this spiral light, I doubted my eyes and tried to take it again. On purpose, I tried to get sunlight somehow in the monitor. But I couldn't because the sun was far left hand side and from my standing position, it was impossible to get it (in frame.)
"My purpose of visiting England this time was to see crop circles. I saw many circles and took a very interesting photo, but I wonder… What does this mean? What I got? Has the crop circle or my photo meaning or purpose? I think the answer is yes. It has a meaning for each one. You can take it as you like. It is not for particular person, but for everyone. At once, it has no meaning and a lot of meaning.
Crop circles are transient and last for a little while until disappear at harvest. Nobody knows the truth. However, why people is so fascinated? And me, too. It is so beautiful, amazing and mysterious. The photo? I think it is one of a guide for my spirituality."
---
Websites:
http://www.fgk.org/00/Berichte/amica/
http://www.cropcircleconnector.com/




© 1998 - 2019 by Linda Moulton Howe.
All Rights Reserved.