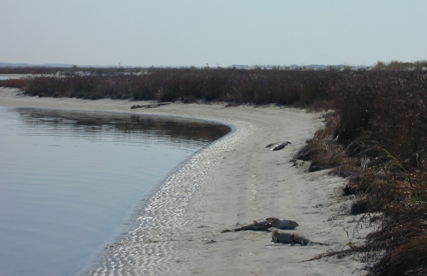 October 22, 2000  Panama City, Florida – More than a hundred blacktip and Atlantic sharpnose sharks were found October 16, 2000 dead and decaying along a half mile of beach on the eastern side of Shell Island near Panama City, Florida. Marine biologists so far cannot explain the mass deaths of a rugged species sometimes called "living fossils" because modern sharks arose during the Jurassic Period between 135 and 190 million years ago. No one can remember so many shark deaths at one time before.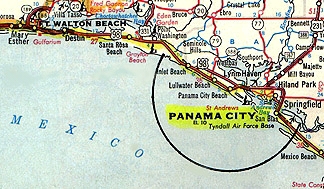 Panama City is the home of Tyndall AFB. In recent years, American underwater military exercises have been targeted by environmental groups as the cause of many different marine species deaths. But currently, the only hypothesis under consideration in tissue analyses at the Florida Marine Research Institute in St. Petersburg is the pernicious algae, red tide, even though no other marine animals were affected.
Marine biologist Enric Cortes, Ph.D., visited the beach on October 17 and determined that 85% of the dead sharks were blacktip and 15% Atlantic sharpnose.
---
Interview:
Enric Cortes, Ph.D., Research Fishery Biologist, NOAA/National Marine Fisheries Service, Panama City, Florida: "I examined the animals and actually necropsied a number of them and did take some tissue samples which were sent to the Florida Marine Research Institute, a state agency, in St. Petersburg, Florida where they will be tested for red tide. The reason for that is that there has been red tide detected in a number of places within the last few weeks and there have been some fish, dead fish, a normal occurrence when there is red tide, in a number of nearby areas. But where I saw the sharks, there were only dead sharks. There wasn't anything else dead.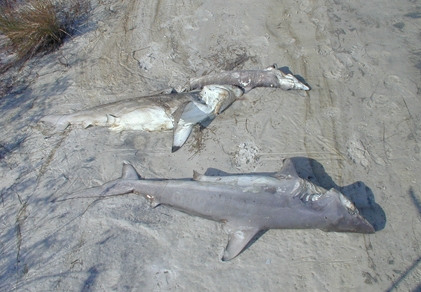 In addition, the water where the sharks were found was teaming with other fish life. So, because of that, the explanation of red tide doesn't seem to make a whole lot of sense. Or other things such as low oxygen concentrations because you would expect to see at least some other fish dead along with the sharks. We cannot completely rule out red tide and hopefully those tests will tell us if it was indeed due to red tide. But, the whole scenario was a little strange.
In addition, if I might add, the animals had no signs of having interacted with any fishing gear, so the initial theory that perhaps they were discarded by fishermen doesn't seem to be possible.
HOW UNUSUAL IS IT FOR UP TO 300 SHARKS TO HAVE A MASS DEATH?

It's unusual. There may have been some event in the past. But it's not something that is common at all with sharks.

DOES THAT SUGGEST THEY POSSIBLY INGESTED SOMETHING IN THE WATER?

I really don't know. The animals that I saw and examined had empty stomachs which is common for sharks to have empty stomachs. So it doesn't seem to be the case that they ingested any prey and the result of that they died. But perhaps they went through a very high concentration of red tide and they died as a result of that later. I don't know. It's speculation at this point. It could also be a viral infection. But the shark's immune system is a very generalized one that seems to handle disease fairly well.

THAT'S WHY A MASS KILLING OF UP TO 300 IS SO UNUSUAL?

Yes, it is.

IF THE RED TIDE COMES BACK NEGATIVE?

Then we may never know.
UNLESS SHARKS KEEP DYING, IT'S NOT COST EFFECTIVE TO KEEP DOING LAB TESTS TO FIND OUT WHAT EXACTLY HAPPENED?

You need to have fresh samples to do that and the only samples we had were those used for red tide.
UNLESS THIS HAPPENS AGAIN, THIS COULD REMAIN A MYSTERY?

It could, yes. It could very well remain a mystery."




© 1998 - 2019 by Linda Moulton Howe.
All Rights Reserved.