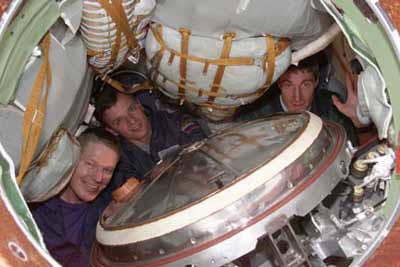 October 30, 2000 –
International Space Station Historic Mission
­ NASA is counting down the hours until American astronaut Bill Shepherd will lead the first expedition to the International Space Station. The historic mission is scheduled to lift off on Tuesday, October 31st at 2:53 AM east coast time. Shepherd will be joined by two Russian cosmonauts, Yuri Gizenko and Sergei Krikalev. This expedition crew plans to spend nearly four months on the space station.
NEAR Shoemaker Spacecraft Near Eros Asteroid
­ Further out in the asteroid belt on October 26th, the NEAR Shoemaker spacecraft orbiting Eros got down to four miles above the asteroid's rocky surface. Scientist Scott Murchie said, "What strikes me most about the pictures is the diversity in the sizes and shapes of the rocks." The smallest rocks so far are about 5 feet long.

West Nile Fever Virus Transmitted in Lab Without Mosquitoes
­ Scientists at the U. S. Geological Survey labs in Madison, Wisconsin reported that birds infected with the West Nile Fever virus passed the disease to healthy birds in the lab – without mosquitoes. Until now, researchers thought the virus – which so far has killed eight Americans – could be transmitted only through mosquito bites. So far, no one understands how the virus was transmitted from the sick to the healthy birds. Or, what this could mean for the future spread of West Nile Fever in North America.
25% of World's Coral Reefs Have Been Destroyed
– In the oceans, more than a quarter of the world's coral reefs have been destroyed by pollution and global warming. That sobering statement came from scientists gathered at a conference in Bali, Indonesia. Marine scientists warned that all remaining coral reefs could be dead in 20 years. Since coral reefs play a crucial role in marine ecosystems, their destruction could mean big and unpredictable trouble for ocean life.
55 Cattle Dead in Roswell, New Mexico from Nitrate Poisoning
– On October 18 at midnight, rancher Marcello Macias in Roswell, New Mexico checked his heard of 55 cattle. All were alive and well inside a locked corral. A few hours later at sunup, Mr. Macias discovered 23 of the pregnant cows, three bulls and four young calves all dead while the remaining cattle in the corral seemed fine. There were no signs of predators and all the cows drank the same water and ate the same food.
On Friday, October 27, the New Mexico Livestock Board issued this press release:
"Dr. Steven England, New Mexico State Veterinarian, announced today that …the New Mexico Veterinary Diagnostic Services in conjunction with the Texas Veterinary Medical Diagnostic Laboratory in Amarillo have confirmed the cause of the deaths was nitrate poisoning. The source of the nitrate was probably "Amaranthus," more commonly named 'red rooted pigweed' or 'careless weed' which was present in the hay which was fed to the cattle. Nitrate poisoning can be rapidly fatal with death occurring within three to four hours after ingestion of a fatal dose."
I talked with the local Roswell Veterinarian, Dr. Leonard Blach, who said pigweed had been found knotted up in at least one of the hay bales which were three or four years old. Mr. Macias explained that he got one hundred bales of four year old hay free of charge not long ago. New Mexico growers say that if hay is stored correctly and covered well, it can last that long. But if it has pigweed or other nitrate-concentrating plants mixed in, nitrate concentration increases as the plants age. Nitrate poisoning alters an animal's blood, blocking oxygen absorption. So basically, cows suffocate. According to the New Mexico veterinarians, that's what happened to half the herd in Marcello Macias's Roswell corral.
---
Websites:

© 1998 - 2019 by Linda Moulton Howe.
All Rights Reserved.