"The presence of prismatic magnetites in Martian meteorite ALH84001 is strong evidence for life on early Mars."
– Kathie Thomas-Keprta, Biochemist,
Johnson Space Center, Houston, Texas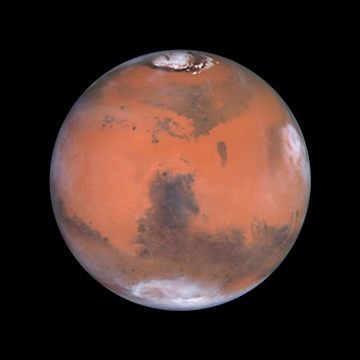 December 24, 2000  Houston, Texas – Three Christmases from now on December 26, 2003, a spacecraft built by the British called "Beagle 2" is scheduled to land on Mars to look for life. The lander will use a robotic arm to burrow into soil and under rocks. Samples will be analyzed chemically and results transmitted back to earth. What are the odds that Beagle 2 finds traces of organic life?
At least one Earth scientist thinks she already has found hard evidence of bacterial life on Mars. Kathie Thomas- Keprta, Senior Scientist at Lockheed Martin's Johnson Space Center in Houston, has been studying the crystal structure and purity of magnetite beads manufactured in a species of earth-based bacteria called magnetotactic, or MV-1. The crystals work like tiny compasses sensitive to the earth's magnetic field. (When terrestrial inorganic magnetites are studied, none have all the properties displayed in bacteria magnetites.) She has compared the magnetotactic bacteria's magnetite with nearly identical crystals found in the Allan Hills meteorite that was discovered in the Antarctic.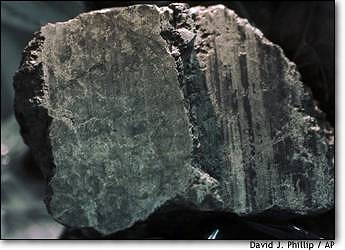 Scientists have confirmed from chemical analysis that the Allan Hills meteorite definitely was ejected from Mars before it crashed down into the Antarctic about 13,000 years ago. Kathy Keprta said the meteorite's carbonate layers match the unique chemistry of rock carbonates studied by the Viking lander on Mars in the 1970s. Further, the magnetite crystals are embedded in the Allan Hills carbonate and cannot be earth contamination.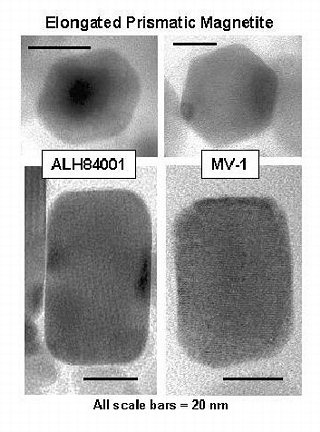 Left column ALH84001: Transmission Electron microscope (TEM) images on left of the elongated prismatic magnetite crystals extracted from the carbonate globules in Martian meteorite ALH84001. These crystals display a unique morphology: In one orientation they have a rectangular projection and, upon tilting the crystal, they display a hexagonal projection. These crystals also have facets on top and lower edges of the crystal. This type of morphology is displayed only by certain types of biogenic magnetite crystals on Earth. In addition, these Martian crystals are composed only of Fe (iron) and O (oxygen) and have few defects.
Right column MV-1: TEM images on right of magnetite crystals extracted from cells of magnetotactic bacteria strain MV-1. In one orientation, the crystal has a rectangular view and when the crystal is tilted, the crystal appears to have a hexagonal view. These crystals are chemically pure and have few defects. Natural selection in terrestrial magnetotactic bacteria has optimized the stability and magnetic moment of these crystals making them uniquely identifiable as biological precipitates. The elongated prismatic magnetites from ALH84001 share these distinctive features. Thus, the presence of these prismatic magnetites in Martian meteorite ALH84001 is strong evidence for life on early Mars.
Photographs courtesy NSA/JSC.
---
Interview:
Kathie Thomas-Keprta, Biochemist and Senior Scientist at Lockheed Martin's Johnson Space Center, Houston, Texas: "We looked at the magnetites. We dissolved away the carbonates in Allan Hale's meteorite and in these carbonate, we found these tiny magnetite grains as we reported in the 1996 Science paper. We know these carbonates formed on Mars. So, we know that the magnetites that are embedded in the carbonates also formed on Mars. We know these are not terrestrial contaminants. That's very important.
And what we were able to do is divide these magnetites into three different populations. One, about 25% of the particles in the Allan Hale carbonate, are identical to the magnetites produced by MV-1 bacteria here on earth. They share all of the same criteria.
SO THERE IS NO OPTION ­ YOU'RE DEALING WITH EVIDENCE FROM MARS OF EXACTLY THE SAME TYPE OF MAGNETITE PRODUCED BY THE MV-1 BACTERIA HERE ON EARTH?
Let me put it to you this way. These populations are identical to each other. And if this rock were a terrestrial rock, there would be no doubt about biogenic activity associated with it.
NO DOUBT AT ALL?
No doubt at all. But because it comes from Mars, I'm going to have a lot of doubters!! (laughs)
WHY IS THERE SO MUCH RESISTANCE TO ALL OF THIS DATA SIMPLY BECAUSE IT'S ANOTHER PLANET, EVEN IF IT'S IN THE SAME SOLAR SYSTEM THAT THE EARTH IS IN?
It's rather unfortunate. When we originally came out with the science paper, these papers are very restricted in length when you put something in Science. And we could only touch on the very highlights of this research when we put the 1996 paper in Science. At that point, you're not able to discuss everything you've seen and you still know you've got a lot more work to do. And it's taken four more years to take a close and fairly complete look at just one aspect of the 1996 paper which is the magnetite crystals.
BUT IF SCIENCE IS NOW SEEMING TO ACCEPT THAT THERE WAS A WATERY PAST ON MARS AND MARS IS A NEARBY PLANET IN THE SAME SOLAR SYSTEM NOT FAR FROM THE EARTH IN TERMS OF ASTRONOMICAL DISTANCES – AND BOTH PLANETS HAVE HAD WATER – WHY WOULDN'T IT BE NATURAL THAT MARS WOULD HAVE SOME TYPE OF BACTERIA, VIRUS OR OTHER MICROBIAL LIFE?
I completely agree, and not only because of water. But we also know that there were sources of organic compounds on Mars. We know that.
MEANING?
We know that even though Viking found no evidence of organic compounds on Mars, we know there are organics in the rock and those organics are indigenous.
BECAUSE?
For example, hydrocarbons.
THAT WOULD BE COMING FROM WHAT?
There are many extraterrestrial sources of organic materials.
COMETS AND METEORS?
Sure, they impact the earth and would impact Mars. So, if they are not truly Martian in origin, they are truly extraterrestrial in origin. And so, much of the organic content of the earth has come from extraterrestrial materials.
AGAIN, COMETS AND METEORS
Exactly. So, we know there are sources of water. It is highly likely that Mars at one time had lakes and possibly vast oceans on it. Magnetotactic bacteria live in aqueous environments here on earth with the exception of the very bottom of the deepest oceans.
WHERE THERE WAS WATER, YOU ARE BOUND TO FIND THESE PARTICULAR KINDS OF BACTERIA THAT PRODUCE THESE MAGNETITE CHAINS?
Exactly. And they can survive with, and without, oxygen. They can survive by eating organic compounds. You would think that based on natural selection in Darwinian evolution, they would require a magnetic field to grow and by taking a look at the results published by others on the magnetic lineations on present day Mars, that at one time Mars had a very strong global magnetic field. Exactly what would be needed for magnetotactic bacteria to set up shop and thrive.
WHAT WE DON'T KNOW IS PRECISELY WHAT HAPPENED IN THE DISTANT PAST OF MARS THAT KNOCKED AWAY THAT MAGNETIC FIELD? OR WHAT HAPPENED TO ALL THE WATER ?
Exactly. And if it's underground today, we could still have these organisms underground on Mars today.
IF YOU WERE SPECULATING ABOUT WHEN THE HEADLINES WILL ACTUALLY SAY 'CONFIRMATION OF BACTERIA ON MARS' – WHEN DO YOU THINK THAT MIGHT HAPPEN?
Boy, that is a tough question. Personally, I like to think that we have very strong evidence now with these magnetites. Confirmation? Gosh. I hate to say it may take a sample return to get something like that.
WE WON'T HAVE A SAMPLE RETURN FROM MARS FOR HOW LONG?
At least 10 years. At least. Minimum. I've got a 3.5 year old son and I just hope it won't take my son replacing me – that I'll be retired before we get the samples back! That would be really anti-climatic. I'm hoping that's not going to be the case.
I GUESS PHILOSOPHICALLY IF YOU CAN CONFIRM THAT THERE HAVE BEEN BACTERIA THAT RESEMBLE OR ARE IDENTICAL TO BACTERIA ON EARTH – WHAT IS THE MAJOR IMPLICATION OF THAT FROM PLANETARY SCIENTISTS TRYING TO STUDY THIS SOLAR SYSTEM AND THE ISSUE OF HOW LIFE AROSE?
In the Allan Hills meteorite, we are talking about 3.92 billion year old life in this meteorite, if that's what it is. So, it would be so interesting now to collect younger samples from Mars, know exactly where they were collected from, see what we find in those samples. If we did find evidence for organisms in those samples, what types of organisms? Are we looking at Darwinian natural selection occurring through time on Mars? What would that tell us about the evolution of life on Mars in comparison to the evolution of life here on earth? Are there analogies that can be made? Or is it completely different on Mars, so close to the Earth, but because of the way Mars developed?
I can't imagine the answers being so different because you would expect the same chemical and physical principals to be applicable on Mars, the same principals that we find here on Earth.
ESPECIALLY IF IT HAD A WATERY PAST
Exactly. But biology is a funny thing. And as soon as you think you can predict one thing with an organism, or with a virus, something else happens. So, I don't know the answer to that.
IS IT POSSIBLE SINCE THE ALLEN HILLS METEORITE YOU HAVE GOTTEN THE BACTERIA MAGNETITE SIGNATURE FROM IS 3.9 BILLION – WHICH IS ALMOST BACK TO THE BEGINNING OF THE SOLAR SYSTEM – IS IT POSSIBLE THAT LIFE ON THIS PLANET WAS SEEDED FROM ROCKS COMING FROM MARS TO THE EARTH?
Joe Kirschvink and Ben Weiss in a recent paper they had out in Science about a month ago suggested that the Allan Hills meteorite in its last shock event did not see greater than 40 degrees Centigrade as it left the planet (Mars). And if that's true, then any organism that was trapped in that meteorite would not have been heated and could have made the trip to Earth. The meteorite itself was ejected from Mars 16 million years ago and it laid in Antarctica for about 13,000 years (before discovery).
WHAT YOU ARE SAYING IS THAT WHEN IT WAS EJECTED FROM MARS, FOR WHATEVER REASON, 16 MILLION YEARS AGO, IT WAS AT A COOL ENOUGH TEMPERATURE THAT ANY BACTERIA OR OTHER MICROBES ON IT COULD HAVE SURVIVED?
Yes. That is the work done at Cal Tech by those geo-biologists.
IF THAT IS TRUE, THEN ANY MICROBIAL ORGANISM THAT WAS ALIVE COULD HAVE ENDED UP ON EARTH AND CONTINUED TO FLOURISH AND EVOLVE HERE?
That is their contention.
IF WE HAVE THIS BACTERIA THAT PRODUCE THE MAGNETITE ON EARTH, THEY MAY HAVE ORIGINATED ON MARS?
I remember at our 1996 press conference the statement that we could all be Martians."
---
Websites:
http://www.jpl.nasa.gov/pictures/mars/

© 1998 - 2019 by Linda Moulton Howe.
All Rights Reserved.