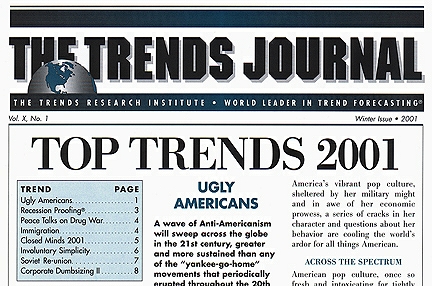 December 31, 2000  Rhinebeck, New York – As 2000 comes to an end and the true first year of the 21st Century begins, The Trends Research Institute in Rhinebeck, New York has released its list of Top Trends for 2001 and beyond. They include: Ugly Americans, Recession Proofing, Peace Talks on the Drug War, Immigration issues, Closed Minds, Involuntary Simplicity, Re-Unionizing of the Soviet Union and Corporate Dumbsizing, Round 2.
---
Interview:
Gerald Celente, Director, The Trends Research Institute; Publisher, The Trends Journal Newsletter and author, Trends 2000, Rhinebeck, New York:

Ugly Americans
"We think we are going to be Ugly Americans for the foreseeable future because No. One, most Americans are myopic in their view of the outside world. And they are oblivious to the criticisms. They aren't going to find these criticisms on the nightly news where most people tune into.
Secondly, there is this America right or wrong attitude. And the reasons countries tolerated the Ugly American before was that they needed our military might to protect them. This isn't the beginning or end of W.W.II where countries needed our economic strength and military might. Like in any relationship, when you don't need that person, you become more critical of their faults. So, those are some of the reasons why it's not being overlooked and why Americans don't see what's happening to them overseas. They are blinded by an ideology that America, right or wrong, is supreme around the world.
BUT INSTEAD WE ARE RESENTED.
Instead, we are becoming more and more resented. And by the way, not only for our political fake beliefs that we export, but also our cultural exports. They are also coming under question and attack. You know, the moronic Hollywood formulas of crime, violence, sex and stupidity. So, what you are seeing on the entertainment front is a blooming more and more of a cultural identity of different countries rather than to automatically buy into the American way.
IS THERE ANY HARD EVIDENCE ON BUSINESS AND CORPORATE LEVELS THAT YOU ARE AWARE OF THAT OTHER COUNTRIES IN THE WORLD ARE RESISTING OR WANTING TO RESIST AMERICAN PRODUCTS?
Take the example of what is happening in China, for instance. You know, Starbucks just opened up in the Ancient City of Beijing. And any time there is an attack against American interests, they attack the American symbols whether it is McDonalds in France or Starbucks in China. So, you're going to see more of anti-Americanism being taken out on the symbols that sell those American products now. Having said that, they're is still going to be a strong demand for a lot of things American, but the demand is going to wane unless Americans understand what is going on abroad.
Recession Proofing
IF THERE IS RESISTANCE TO AMERICAN PRODUCTS OUT OF THEIR RESENTMENT TOWARDS THIS COUNTRY, THAT COULD EXACERBATE WHAT APPEARS TO BE A TREND TOWARD RECESSION IN 2001?
Yes, it will exacerbate it because one of the great untold stories is the size of our trade deficit with other countries. Other countries are supporting our spending habits by through deficit spending. What happens when we go into a recession which appears we may be heading into at some level, the countries abroad are less willing to finance our excessive behavior in terms of paying down our trade deficit. So, as the trade deficit grows because even the meager amounts of products we are selling overseas begins to decline, it worsens the economic situation at home.
So, for instance, look at what's happening on the farm front. There's great resistance to American agricultural products. As we know, our corn has been tainted with genetically modified hormones and have not been FDA approved for human consumption. So, they are concerned overseas about getting those products. The Economic Union has vehemently fought the importation of hormone laden and drug fed livestock and poultry products. So, there is going to be even more resistance as all things American begin to be tainted with the Ugly American brand.
WHAT WILL SMART MONEY IN THE UNITED STATES DO IN THIS COMING YEAR DO YOU THINK?
The real smart money will start branding overseas as more friendly and sensitive to the needs and desires of the people they are attempting to sell their products to. But they are going to have a real tough row to hoe.
WE'RE HEARING THAT THE FED MAY REDUCE INTEREST RATES A BIT TO TRY TO OFFSET A RAPIDLY COOLING ECONOMY AND THERE ARE THESE CONCERNS ABOUT THINGS HAPPENING IN SOUTH AMERICA AND PERHAPS IN ASIA. ESPECIALLY SOUTH AMERICA AND POTENTIAL ECONOMIC CRISES THERE. DO YOU SEE ANYTHING COMING APART FURTHER IN SOUTH AMERICA OR ASIAN MARKETS IN 2001 THAT WOULD MAKE THE FEDS ABILITY TO CONTROL THE ECONOMIC SITUATION IN THE U. S. MORE DIFFICULT?
Oh, definitely. The Feds will probably lower interest rates somewhere down the line. Will that be enough to reinflate the casino fever? They call it liquidity by putting more money into the system. We call it cheap money. So, will that be enough to reinvigorate the stock market to the highs we have seen over the past several years and boost economic growth? It's questionable at this time precisely because of what is going on in the rest of the world.
Asia, for instance. Japan hasn't come out of the decade long recession. There are real problems going on in Taiwan. Remember that term they used to use: the "Asian Tigers" in the old days of the 1990s. You don't hear that anymore. They are barely recuperating from the currency crisis of 1997. And then you have what is going on in So. America. Argentina just had to be bailed out again by the IMF and they are talking about 35 to 70 billion dollars worth of long-term bailouts to save that country. And then you have the problems in Brazil that have just been quieted down a little bit. There are really serious financial problems going on around the world that may cause a soft landing to become a hard landing.
ARE AMERICANS NAIVE TO ASSUME THAT CHINA IS GOING TO BE THE NEXT BIG ECONOMIC FRONTIER?
Oh, Linda, what a great question! Yeah, they are very naive. Here is the example I use. Remember Indonesia, that wonderful place when Suharto – the dictator who killed about 300,000 people during his reign – and how American corporations and government tolerated his abuses because he was building a strong middle class in Indonesia. We heard that great lie for decades. There was no middle class in Indonesia, a country of 150 plus million people. There were the rich that were small in numbers and the very large proportion of the country poor.
And when we saw the Asian currency crisis hit in 1997, we saw that the Emperor Suharto had no clothes and there was no middle class in Indonesia. The same thing is true for China. All China is is a country with about 1.5 billion people whose labor many countries are exploiting. There is not going to be a huge middle class in China for those great consumer products that so many countries want to sell.
Peace Talks on the Drug War
LET'S MOVE ONTO THE 3RD ON YOUR TRENDS FOR 2001: PEACE TALKS ON DRUG WAR.
The drug war by anyone's calculation you can see that the cost of this war both in financial terms and socially have been enormous and there is no end in sight to show victory on the horizon.
We are noticing it is becoming more apparent in the press and among politicians of all stripes that fighting the drug war is a losing battle. So we are estimating and forecasting that we're going to see peace talks start to take place. And a recognition that it was a noble cause to fight this drug war, but there is no winning it.
So, the resources of the war are going to be shifted towards not treating the drug war as a crime, but really helping the victims. And you are seeing an unlikely conglomeration of strange bedfellows saying this war isn't working, whether it's the financier George Soros, former Secretary of State George Schultz, the Republican Governor Gary Johnson of New Mexico and we even heard Ann Landers, the columnist say, 'Those who keep pot for their personal use should not be treated as criminals.'
And then we're seeing the facts come out again, according to Human Rights Watch. 64% of those people in prison for drug offenses are black, even though there are 5 times as many drug users who are white. And listen to this number, Linda. With 1.5 million drug arrests each year, half of those are for marijuana. So, we are seeing observers from every political stripe recognizing that it's a failed war, just as Vietnam was a failed war and it's time to cut your losses and get out.
Immigration Issues
HOW MORE DIFFICULT WILL THIS WAR ON DRUGS BE IF IMMIGRATION, WHICH IS 4TH ON YOUR LIST, BEGINS TO INCREASE AS WORLD ECONOMIES HAVE PROBLEMS AND MORE PEOPLE WANT TO GET INTO THE UNITED STATES?
There were about 2 billion people on the planet in 1920. From 1920 to 2000, world population grew to 6 billion people. And by 2050, that's supposed to increase to ten billion people!
No one has ever worked with these numbers before. In these best of times according to the World Bank, hardly a socialist or west wing organization, according to them, half of the world's working population in these best of times are earning only $2/day. So, you're going to see billions of people searching around the world to find a decent wage. That means going into the developed countries.So, immigration is going to be a huge issue. And again, people are going to take sides rather than look at the complexities of it all.
IT'S IRONIC THAT YOUR TOP TREND IS THE INCREASING UGLY AMERICAN CHARACTERIZATION BY THE REST OF THE WORLD TOWARDS US, WHILE AT THE SAME TIME YOU SEEM TO BE SAYING THAT A LOT OF PEOPLE WANT TO GET INTO THE U. S. AND THUS THE IMMIGRATION INCREASE.
Oh, yeah, but that doesn't mean they like what America stands for. In Europe, people are living just fine. It's not like the days of immigration at the turn of the century when so many people were fleeing their countries for higher economic grounds. But for other countries, particularly in the African and South American countries, America is still the Promised Land. So nothing is black and white as you look at these trends.
AND SOME CAN BE CONTRADICTORY.
Oh, sure.
Closed Minds
CLOSED MINDS ON YOUR LIST. WHAT DOES THAT MEAN?
It means that people are not really discussing issues to find the truth, whatever the truth might be. Instead, people are looking towards building agendas and platforms and twisting the language to meet their needs. And we've never seen it more apparent than it is right now. As a matter of fact, there is this whole dumbing down of thought where you have the presidential candidates where important issues are being discussed on entertainment platforms, from Rosie O'Donnell to David Letterman. Which candidates did you think was the funniest?! So, the closed minds for a country and a world that is transitioning out of a period of remarkable stability into uncharted waters, the future is going to have to be looked at more discerningly than it is now.
Involuntary Simplicity
WHAT ABOUT INVOLUNTARY SIMPLICITY ON YOUR LIST?
Remember the voluntary simplicity movement that found life after the Stock Market Crash of 1987 and it was going pretty strong until the late 1990s when the stock market started booming and the GNP began to skyrocket. We saw people buying their SUVs and trophy homes and conspicuous consumption became the thing to do.
Now we can see that the best of economic times are over. People are going to be forced to cut back and tone down. So, they are going to find new converts for the simplicity movement, but these are going to go into it kicking and screaming because conspicuous consumption and consumerism is what drives America. Two-thirds of our gross national product is built on consumption. But like a victim suffering a health crisis, after the crisis they say I like my new style of life. I've cut way back on the stress levels as well as the food intake and now I'm exercising more. I really hated the way I was living before. That's why we call it involuntary simplicity. While people will be involuntarily forced to change their life styles, they are going to like their new lifestyles better than the old because what we're going to be seeing is new philosophical thoughts developing as people begin to understand that they have a purpose and meaning in life and it's not just to consume, but to find a divine purpose within. You start finding that when you start looking at life a bit more simpler than just consumption.
WHAT ABOUT THE FACT WE LIVE IN A NATION IN WHICH THE POLITICAL SYSTEM AND ECONOMIC SYSTEM IS REALLY BASED ON PEOPLE IN A CONSUMER MODE. IF PEOPLE BEGIN TO CUT BACK, WHAT HAPPENS?
W.W.II, what will happen is that we're only going to see involuntary simplicity hit only about a maximum of 20 to 25% with people taking on some of the aspects of simplicity probably by around 2010. But, the overall society will still be lionizing those doc.com bourgeoisie that found riches so quickly. So, we're still going to be a consuming society, but the philosophy is beginning to change. And that's what we do: by the way we look at the top trends of the New Year. We look at them over the long term.
THEN THIS IS A TREND OVER THE NEXT TEN YEARS THAT WILL KEEP INCREASING YEAR BY YEAR UNTIL AT LEAST A QUARTER OF THE POPULATION FROM YOUR POINT OF VIEW ARE AND HAVE CUT BACK CONSIDERABLY TO A MUCH SIMPLER KIND OF LIFE.
Sure. And many of us who are old enough to remember, speaking for myself, my parents were married in 1933 during the Depression. And all I heard were Depression stories. Frugality and thriftiness was something that was just apart of our lives and it wasn't looked as a negative, it was looked at as a virtue. We are going to go into economic times in the future that are at much lower level than anything that we've seen in the past, in the post W.W.II past.
MEANING THAT YOU SEE WE'RE GOING TO HAVE GLOBAL ECONOMIC CRISES?
Oh, yes. Yeah. Again, the economic prosperity that we lived through in the post W.W.II era, we're never going to see that again. Not in our life times. And you're never going to see a stock market like you saw in the 1990s. That came about through a confluence of 2 very unique circumstances: one was the breaking down of the Berlin Wall and the end of Communism and the opening up of globalization which at the same time happened with the whole digital revolution. So those kinds of circumstances are once in a couple of life times. Now, you can see that globalization is going to take longer than anticipated and the internet revolution while it was an evolution of technology, it wasn't a revolution. And it was way oversold.
Re-Unionizing of the Soviet Union
WHY DO YOU THINK THAT THESE BOOMING TIMES OF THE 1990S DID NOT HELP THE SOVIET UNION TO COME OUT OF ITS COMMUNISM ERA AND ACTUALLY BE ABLE TO JOIN THE FREE MARKET CAPITALISM AS YOU HAVE ON YOUR LIST OF TOP TRENDS IN 2001 – THE SOVIET UNION ACTUALLY GOING BACKWARDS AGAIN?
The reason it didn't work is the same reason it is unrealistic to think there could be one world religion as it is to believe there could be one world economic system. The U. S. system of open free markets can't fit all structures around the world. And the Soviet Union was not ready. I love how belief systems become so entrenched and then they fade from everybody's memories.
Remember this one: 'Shock Therapy.' Well, just as shock therapy doesn't work in real life, it doesn't work in economic life. They're going to go back to a new form of Communism. Now, here's the danger. The free marketeers in favor of privatization are going to condemn anything that doesn't fit their theo-economic belief system that the rest of the world should be buying into. So, they are going to radicalize a movement in the former Soviet Union rather than accept it. So, you're going to see the beginning of a new Cold War.
IN WHAT WAY DO YOU THINK WE WILL SEE THE COLD WAR IS BACK IN PLAY?
You're going to see the first evidence in the re-unionization of the Soviet Union. And as a matter of fact, after we wrote these trends, it was announced that Vladimir Putin, the President of Russia, is bringing back the old Soviet national anthem. They are changing the words, but the sound remains the same. They are also bringing back the red flag, minus the hammer and cycle. So, you can see the movement is already going in that direction.
Dumbsizing II
WHAT IS THE LAST ONE ON YOUR LIST FOR 2001, DUMBSIZING II?
Go back to after the 1987 stock market crash. That's when dumbsizing began to cut fat out of the corporations and make them lean and mean. They have these little slogans. Well, they didn't downsize. They dumbsized. We coined that word, by the way. We coined it in 1993.
THAT WAS DUMBSIZING I.
Right. And when it happened, any of us who have a brain or do any business know what a drag it is to try to get any kind of service from anywhere. It doesn't exist! I mean, isn't it amazing there is such a thing as air rage. Look at the service you get! And look at the pay people are getting.
YOU MEAN THE LACK OF SERVICE IN THIS COUNTRY TODAY?
Exactly. And look at something else. Everyone working today knows they are taking on more work than they ever handled in the old days. That's why we have this moronic 24/7 mentality. People are taking on the jobs and those that were downsized in the last round of downsizing and even as the economy turned up, very frequently the corporations wouldn't restaff to the size that previously existed before the first round of downsizing.
Now, we're going into an economic slowdown. Indisputable. What are corporations doing? Pick up the newspaper. They are cutting the fat out of the corporate budget and we are going to become lean and mean. Well, there's no fat left! Service stinks already. People are working harder and longer than they ever could possibly thought they were working and now they are making the corporations even smaller. So, Linda, if you thought service was bad before, you haven't seen anything yet. It's going to get worse.
And if you think people are over-stressed by working too long and too hard, those stress levels are going to increase as corporate America again champions a new round of dumbsizing.
IS THERE ANYTHING THAT CAN TURN THIS AROUND AND IMPROVE IT?
Yes, there is. Ideas have to change. And the idea that has to change is that our purpose for being humans on the earth is to do more than just make money and buy things. But right now, the corporations are the God of Society. As a matter of fact, I do a lot of the media. And when I talk anything bad about corporate welfare or signs to trim back corporate power, the phones start ringing like, 'Get this guy off the air.' So, until we have more purpose in life that is not built around the almighty dollars, then things are going to decline emotionally, morally and spiritually. Having said that, I think we are at the end of this Dark Age of thinking and that we are going to be looking at a Renaissance in Philosophy and thought and we're just in the early days of it."
---
Website:
http://www.trendsresearch.com/



© 1998 - 2019 by Linda Moulton Howe.
All Rights Reserved.