"We weren't expecting to find a sample at 4.4 billion because our prejudice said that the earliest part of the earth was so violent that no samples would be preserved.Now, we realize that is not correct."
– Prof. John Valley, Geologist, University of Wisconsin, Madison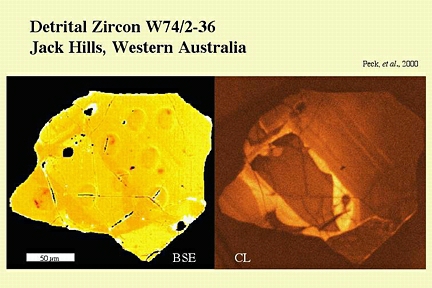 January 14, 2001  Madison, Wisconsin – Another surprising find on earth is revolutionizing thinking about what the earth was like at its beginning. For the past fifteen years, geologists have been studying very ancient rock outcroppings in the Australian outback at a place called Jack Hills several hundred kilometers northeast of Perth.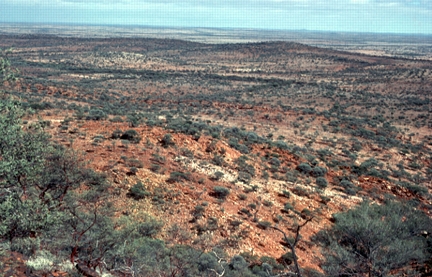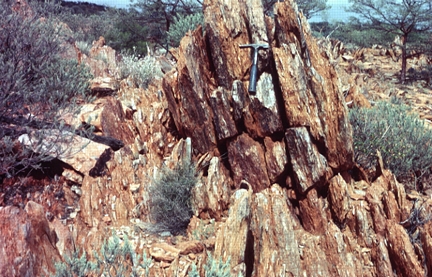 This week in the journal, Nature, a team of scientists announced that a small zircon crystal collected from Jack Hills dates back to 4.4 billion years. The scientists used uranium and lead isotopes to determine that age. The earth is 4.5 billion years old. That means the zircon was created only about 100 to 150 million years after the earth started congealing into a planet from a ball of gas and dust. But that's also when scientists have long assumed the earth was covered with hot lava, not crustal rocks forming zircon crystals.
The zircon crystal also implies the earth was cool and had water where the zircon crystal formed. The lead investigator is Dr. John Valley, Professor of Geology at the University of Wisconsin in Madison. Until now, the oldest rocks ever found were 4.3 billion. I asked him what his reaction is to the 4.4 billion years age.
---
Interview:
John Valley, Ph.D., Professor of Geology, Dept. of Geology and Geophysics, University of Wisconsin, Madison, Wisconsin: "I was blown away twice by this sample. I was first very surprised by the age because we were hoping to recreate the age of 4.3 billion which has been found several times – first by Compston and Pigeon in 1986 from these samples. We weren't expecting to find an earlier sample because our prejudice said that the earliest part of the earth was so violent that no samples would be preserved.
Now, we realize that is not correct. I suspect there are many of these 4.4 billion year old crystals still to be found in the Jack Hills rocks of Australia. The second most surprising thing which was perhaps the biggest surprise from this sample was when we measured the oxygen isotope ratio in Edinborough. We were doing this in 24 hour shifts around the clock and it slowly dawned on us that we were seeing an abnormally high ratio of oxygen 18 to 16. And measuring oxygen isotope ratios in zircons is something that my group at the Univ. of Wisconsin have been doing for 6 or 8 years and we have a lot of experience with what to expect. When we turned up these high ratios, it forced us to reevaluate what we thought were the conditions. These high ratios are very common in the more modern earth. We find them in the last 2 billion years quite frequently. But we have never seen them in rocks older than 2 billion years. So, to find them in something 4.4 billion years old was just a tremendous surprise and very exciting.
THIS PARTICULAR OXYGEN RATIO MEANS WHAT TO YOU?
The high ratio is indicative of processes that operate on the surface of the earth. So we're seeing surface processes. The rocks that experienced that were then buried, they were melted. The melts then crystallized the zircons we have, so we have this chemical signature that tells us about an early earth that was comparatively cool, a relatively benign climate much like the climate we see today in several respects, and not at all like the fiery place that many of us had thought. And so it's the oxygen isotopes that tell us about the presence of water. We are seeing the recycling of these surface materials, possibly even like soils or things that have interacted with hot water and this tells us that the early earth was very different from what we had originally thought. However those processes occurred, the earth had cooled off by 4.4 billion years, which is only about 150 million years after it formed. That's pretty quick.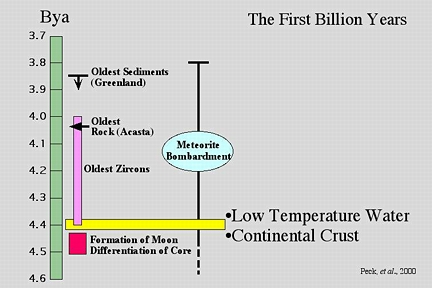 WHY DO YOU THINK IT WOULD BE SO DIFFERENT AFTER THESE MANY YEARS OF ASSUMING THAT THE EARTH HAD A MOLTEN LIFE FOR A VERY LONG TIME. WHAT PROCESS WOULD HAVE GONE ON IN THE CREATION OF THE SOLAR SYSTEM THAT WOULD HAVE HAD THE EARTH WITH A SURFACE THAT MIGHT EVEN HAVE HAD WATER AND WAS COOL AND LIKE TODAY'S, ONLY 50 TO 150 MILLION YEARS AFTER ITS BIRTH?
Well, one of the things we're learning more about now are the timing of these major impacts. In just the last year, it's been learned there was a major impact event at 3.9 billion years and that a lot of the craters we can see on the moon with a pair of field glasses, a lot of those big craters formed all at the same time in one event. And what this brings to fore is that even though the early earth was a period of extreme and intense bombardment by meteorites and asteroids, there were periods of relative quiescence between the big events. Just as life was almost wiped out 65 million years ago, what many people think was the event that killed the dinosaurs, and yet it seems very quiet now.
So, it's quite likely that what we're looking at is a sample that represents the conditions between major impacts. Of course, one of the questions that always comes up when we talk about liquid water is might there have been biological processes? And the essential conditions for the evolution of life is that you have energy, that you have organic molecules and you have liquid water. We've always known there was energy and organic molecules throughout earth's history, but it was always believed there was no liquid water for the first half a billion years, first 500 million years. Now, we know that happened and life could have evolved.
THAT THERE WAS WATER BACK THAT FAR.
Now, that we know there was water at 4.4 billion, it's possible that life could have evolved. We're not saying that it did. We have no direct evidence of that, but all the ingredients that we know about existed. If life evolved at 4.4, it almost certainly would have been extinguished by some of these major events. It's possible that life evolved more than once and was extinguished more than once and that the beings on the surface of the earth today are descendants of only the last and finally successful evolution of life.
IT IS POSSIBLE THAT THIS 3RD PLANET FROM THE SUN COOLED DOWN MUCH MORE QUICKLY THAN SCIENTISTS USED TO THINK WAS POSSIBLE?
I think the evidence is that it did cool. There are many scientists who thought it was possible to cool the earth off quickly, but the issue was: did it or not? And what we have now is the first little glimpse of data that suggests that yeah, it did.
MARS SUPPOSEDLY HAD A VERY WATERY SURFACE GOING BACK AT LEAST THAT FAR AS WELL?
We could spend a whole other period talking about Mars. Yes, there is very strong evidence that Mars had a wet, warmer atmosphere at exactly the same time we're talking about. The evidence from Martian meteorites suggest there were oceans at 4.4 billion years on Mars as well.
IT USED TO BE YOU HEARD A LOT OF TALK ABOUT THE NECESSITY OF HAVING COMETS COMING THROUGH THE SOLAR SYSTEM – THOSE BIG, ICY SNOWBALLS – AND SLAMMING INTO THE EARTH IN ORDER TO PRODUCE ALL OF THE WATER ON THIS WATERY BLUE BALL.
Well, that certainly is a possibility. One of the things we don't have very perfect information on is how much water has been lost from the surface of the earth by different processes. There is definitely a comet contribution.
BUT COULD THE EARTH FROM THE BEGINNING FROM DUST AND GAS ALONE EVER HAVE PRODUCED THIS MUCH WATER JUST FROM THE CREATION OF ITS PLANETARY BODY?
This is a question of what the temperature of the earth was when it formed. But yes, there is a large amount of ice that forms all of the planets as water ice. And then there is water that is chemically part of the minerals that formed in lower temperatures to make the planet. So, yes, there could have been a very large inventory of water right from the start.
THEN WHY ARE WE SO FAR THE ONLY PLANET IN THIS SOLAR SYSTEM THAT HAS ALL OF THESE VAST OCEANS?
One thing you have to remember is the distance from the earth to the sun. And if the earth were moved about 20% towards the sun, we would then have an atmosphere and conditions more like Venus. And our surface would be heated by the sun and our oceans would boil and so all of the oceans would be steam. We would have 100 atmospheres of atmospheric pressure and it would all be steam. Conversely, if we move the earth out and away from the sun into an orbit like Mars's, then the surface would freeze. So, what the earth has going for it that makes it unique in the solar system is its distance to the sun."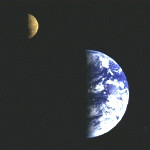 Moon's Creation: When and How?
"The most commonly held view has been that a series of very violent events took place during the first 500 million years of the earth's history and that the result of these violet events was that the surface of the earth was melted most of the time, forming oceans of molten rock – magma oceans. And the nature of those events are:
1) a major asteroid impact that would have formed the moon.
2) The differentiation of metallic iron formed the core of the earth.
Both of these would have caused widespread melting. What our results show is that however those processes occurred, the earth had cooled off by 4.4 billion years, which is only about 150 million years after it formed. That's pretty quick.
IF IT HAD A COOLER, WATERY SURFACE WHICH THE ZIRCON CRYSTAL SEEMS TO BE IMPLYING, THEN WHAT I THINK I'M HEARING YOU SAY IS THAT IF THERE WERE VIOLENT IMPACTS LIKE A COMET OR ASTEROID HITTING THE EARTH AND POSSIBLY EVEN KNOCKING SOME OF THE EARLY EARTH OFF TO BECOME THE MOON, THAT IT MIGHT HAVE HAPPENED WITHIN THE FIRST 500 MILLION YEARS OF THIS PLANET'S EXISTENCE?
Even shorter than that. There were only 150 million years before our sample was formed and so those events probably happened about 50 million years after the formation of the earth.
Or, it is alternatively possible that our understanding of those processes is incomplete and that they actually happened differently. There is a hypothesis that the moon was captured rather than being formed by impact. If the moon formed by capture, then the melting resulting from that impact never occurred because the impact never occurred. So that removes a great problem of the present data set: how do you cool the earth off so quickly?
YOU'VE BEEN WORKING WITH THIS MATERIAL FOR A LONG TIME AND ONE OF THE BIG MYSTERIES HAS BEEN – WHAT IS THE ORIGIN OF THE MOON? RIGHT NOW, FROM THE WORK YOU HAVE DONE AND PUSHING BACK THE DATE AT WHICH THE SURFACE OF THE EARTH MIGHT HAVE BEEN COOL AND WATERY ALL THE WAY BACK AS YOU SAID TO WITHIN 150 MILLION YEARS OF THE BEGINNING OF THE SOLAR SYSTEM – WHAT DO YOU THINK IS THE ORIGIN OF THE MOON?
I don't think the returns are in right now. I think this is going to be a matter of considerable reevaluation and debate. There have been consistent proponents of the capture process.
THAT WOULD BE SOMETHING COMING THROUGH THE SOLAR SYSTEM AS LARGE AS OUR MOON OR THE SAME AS THE MOON, GETTING PAST JUPITER AND SOMEHOW BEING ATTRACTED TO OUR PLANET?
I don't know where it came from. It could have been an asteroid in an orbit not that different from the earth's. But it would be a distinct object within the solar system and then somehow became captured by the earth's gravitational field. This is certainly not an implausible process. The arguments against that model have been largely chemical in the past and our results are proposing a chemical objection, or something that needs to be explained by that model.
YOUR CRYSTAL EVIDENCE SORT OF OPENS THE DOOR FOR NOT HAVING TO EXPLAIN THE MOON AS COMING FROM THE EARTH IN SOME KIND OF VIOLENT IMPACT BACK THAT FAR?
I think that's right. If the moon was captured, then our sample doesn't provide any further restriction on how it formed. So, it might have been a little bit younger or older and that wouldn't effect what we see because there was no cataclysmic collision with the earth.
BUT IF IT TURNED OUT THAT THE TRUTH WAS THAT THE MOON CAME FROM THE EARTH, THEN YOU'VE GOT THE PROBLEM OF TRYING TO FIGURE OUT HOW THIS OCCURRED IN THE FIRST 50 TO 150 MILLION YEARS AT THE VERY BEGINNING OF THE SOLAR SYSTEM AND OUR PLANET?
Yes. We don't really know how big a problem that is. There are several variables depending on how you think about it. But, for instance, if the earth had a thick atmosphere like Venus, it would be insulated and it would be very difficult to dissipate that energy. If alternatively, the earth's atmosphere had been blown away by meteorite impacts, then the heat might be dissipated quite quickly."




© 1998 - 2019 by Linda Moulton Howe.
All Rights Reserved.