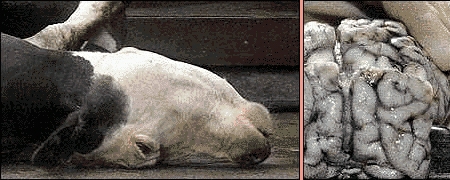 January 21, 2001  Europe – Mad cow disease once thought to be confined to England continues to be found in western Europe. This past week scientists announced the discovery of a diseased cow in Italy. The term "mad cow" comes from the shaking and stumbling of sick animals before they die. The scientific name is bovine spongiform encephalopathy, or BSE, now thought to have spread by recycling meat and bone meal from infected animals back into cattle feed. But even after strict measures were taken in England and other European countries to eliminate infected cattle feed, mad cow disease cases have been reported in several western European countries.
Further, the human form of the disease known as Creutzfeldt-Jakob, or CJD, continues to be reported. Since medical experts are now convinced that CJD can be transmitted from cows to people who eat meat products contaminated with the mad cow disease infectant, the American Red Cross announced this week that it will ban blood donations from people who lived and traveled in Britain, France, Portugal or Ireland for six months or more between 1980 and 1996. In Britain, hundreds of cows and at least 80 people have died from the brain-wasting disease. Two people have also died in France and medical experts wonder if this is the tip of an iceberg of potential cases. Three Americans have also died of CJD. All three victims hunted and ate deer and elk. In North America, deer and elk are now associated with "wasting disease" that leads to dementia and death similar to mad cow and CJ disease. Will cases keep increasing because of a time lag between ingesting contaminated meat and when disease emerges in people?
The culprit in both the animal and human disease is called a prion. Prion stands for proteinaceous infectious particles. More simply, prions start out as normal proteins that mysteriously change shape and then destroy brain tissue.
This week I talked about prions with a medical researcher who is trying to find out how prions spread from cows to people. Dr. Jonathan Weissman, Assistant Investigator at the Howard Hughes Medical Institute and Associate Professor in the Department of Cellular and Molecular Pharmacology at the University of California, San Francisco, said experts always thought there was a species barrier that would protect people from animal diseases like the brain destroying disease in sheep called "scrapie." As far as scientists know, scrapie has not spread from sheep to people, but mad cow disease went from cows to humans.
---

Interview:
Jonathan Weissman, M. D., Assistant Investigator, Howard Hughes Medical Institute and Associate Professor, Department of Cellular and Molecular Pharmacology, University of California, San Francisco (UCSF): "The prion protein PrP-C, the non-infectious, the benign form, is in every mammal. It's in us. It's in cows. It's in sheep and other mammals. And in its normal form or shape, it causes no disease. But occasionally by a process that we only understand poorly, a prion protein will adopt a different shape. That in itself wouldn't be such a problem. The problem is that this alternate shape, the prion form of the protein, is both toxic – that's why you get these diseases such as mad cow disease – but even more remarkably, it can subvert the normal protein in the body and change its shape so it makes more of the toxic form. That's why it is infectious. It kills the animal, but it also creates more of the infectious form so it can then pass on to the next animal.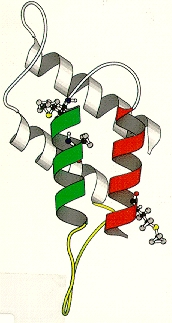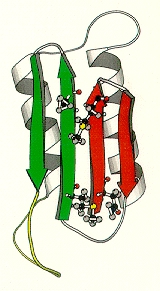 HOW COULD PROTEIN WITHOUT DNA OR RNA MAKE ANOTHER PROTEIN CHANGE ITS SHAPE?
Well, that's a very good question. Trying to understand the biophysical or structural basis of this is a major topic of research. We really don't know the details.
WHY DO THE PRIONS MAKE HOLES IN BRAIN TISSUE?
That's another very good question. Why are these protein aggregates or altered confirmations toxic? And again, there was some work in laboratories here that suggested that it's a mechanism that interferes with the normal cell. But again, it's an area where we need to know more. It's not really clear why prions are toxic.
IN TERMS OF EXPOSURE IN ALL OF THESE PRESS STORIES FOR THE PAST HALF YEAR ABOUT THE SPREADING OF MAD COW DISEASE AND INCREASING NUMBERS OF THE CREUTZFELDT-JAKOB DISEASE IN HUMANS IN EUROPE, WHEN DID PEOPLE OR ANIMALS INGEST THIS PRION-CONTAMINATED FEED OR MEAT? COULD IT HAVE BEEN 10 YEARS AGO OR WHENEVER AND THAT THERE IS SOME KIND OF LAG TIME BETWEEN THE INGESTION OF THE PRIONS AND MANIFESTATION OF THE DISEASE?
Right. We know that there is a lag time between ingestion of the infected material and the disease taking place in people. And we know that when you go across species, like from a cow to a person, that lag time can be quite long. In fact, before we knew these were prions, we called them 'slow viruses.'
SLOW VIRUSES.
Right. It was an old term. When people first saw them and knew they were infectious, they figured they must be some form of virus because they weren't bacteria. We didn't know about prions. They called them slow viruses because they took so long to take place.
Now, the real question is: What is the lag time? And the reason why this is so important is we have seen a few score cases, a hundred cases maybe in Europe of this prion variant called Creutzfeldt-Jakob disease that we are pretty confident came from mad cow disease. The question is: Is this the tip of the iceberg? Or just a small number of very rare events?
IN OTHER WORDS, IT MIGHT BE 100 CASES BY THE YEAR 2000. BUT IT MIGHT BE 10,000 CASES IN ANOTHER FIVE YEARS?
Right, even if we stopped all exposure to people it's conceivable that many more people would get sick. Although that's not to say that's going to happen or that it's likely. It's just that no one can say for certain whether that's the case.
WHY IS IT THAT WE DON'T HEAR ABOUT PRIONS POSSIBLY BEING THE CAUSE OF SOMETHING LIKE ALZHEIMER'S DISEASE AS WELL SINCE THERE SEEMS TO BE SOME KIND OF DAMAGE AND DESTRUCTION OF BRAIN TISSUE IN ALZHEIMER'S AS THERE IS IN THE SPONGIFORM?
Right.
COULD A PRION BE BENEATH THE MYSTERY OF ALZHEIMER'S AS WELL?
Right. There is certainly a relationship at some level between prion disease and Alzheimer's or even Parkinson's disease. They all have these so-called protein aggregates or misfolded proteins that seem to be intimately involved with the formation of disease. But there is fairly good evidence that Alzheimer's is not infectious, that you can't pass it on from one person to another. So, if we understood better how mammalian prions are passed on, we might understand why Alzheimer's disease is not.
But there is really no evidence that Alzheimer's, or the more common neuro-degenerative diseases such as Parkinson's, are infectious.
THERE MAY BE A COMMON DENOMINATOR THAT IF WE KNEW THE FACTS THAT PRIONS MIGHT BE AT THE BASE OF ALL THOSE DISEASES, BUT THERE IS SOMETHING THAT MAKES MAD COW DISEASE AND CREUTZFELDT-JAKOB INFECTIOUS, BUT PARKINSON'S AND ALZHEIMER'S SEEM TO BE MORE GENETIC?
Right. You seem to only get Parkinson's or Alzheimer's disease by some sort of process sporadically in your cells and not due to any kind of exposure to the environment, which is fortunate.
WHAT DO YOU KNOW ABOUT THE MAD COW DISEASE SPREADING AND THE RELATED CASES OF THE CREUTZFELDT-JAKOB DISEASE TO IT?
My specific research is on a similar phenomenon where you have inheritance or infection based on changes in protein confirmation. We work in a very simple model organism: yeast. Actually baker's yeast, the same yeast used in beer and bread.
It's made it possible to make very rapid process within our system. And one of the things we have looked at is to see if we have a species barrier like there is on the mammalian side. And we found that is the case: different species of yeast don't cross-infect each other. So, we're trying to use this system now to understand why you get a species barrier and how species barriers are overcome.
CAN YOU EXPLAIN THAT A LITTLE MORE CONCERNING THE COWS, SHEEP AND PEOPLE? WHERE ARE THERE SPECIES BARRIERS?
OK, this again is talking in terms of my specific research. But typically it is harder to infect from one animal to a different type of animal. So, for example, Syrian hamsters aren't very good infecting mice and mice aren't very good at infecting Syrian hamsters. And also, scrapie can go from one sheep to another, but because of the species barrier, as far as we can tell, has not passed on to people.
BUT ISN'T SCRAPIE A PRION DISEASE LIKE MAD COW DISEASE?
Oh, it certainly is. It's a related disease. But scrapie is a disease in sheep and it doesn't pass on to people. Or at least so far it doesn't seem to have caused Creutzfeldt-Jakob disease in people. And in fact, it was because of this species barrier that was protecting people from getting scrapie, or getting CJD from scrapie, that made the British government initially assured that people wouldn't get mad cow disease. They felt, 'Well, people don't get prions from sheep. So there is a species barrier that protects us. And sheep are about as different from us as cows are. So, we should be protected from getting mad cow disease.'
WHAT HAPPENED THEN, BECAUSE THERE ARE DEFINITELY PEOPLE WHO HAVE BEEN SICK AND DIED?
Right and that's because these species barriers we have talked about are not absolute. They can be overcome under some circumstances and understanding why and how you can overcome a species barrier is a critical question. I would have guessed the consensus ten years ago would have been that the species barrier should have protected man from being infected by cows. And now, it's really an important area of research to understand why this species barrier broke down.
DO YOU HAVE ANY EDUCATED SPECULATION ABOUT WHY THE COWS HAVE BEEN ABLE TO INFECT PEOPLE THROUGH MEAT AND BRAIN TISSUE?
What we do know is that mad cow disease seems to be a different type of disease than the scrapie (in sheep). And so I don't think it's just that cows are more similar to people than sheep are. I think it's more that mad cow disease is a different type of prion, or maybe a different confirmation or shape of prion that seems to be more readily passaged across the species barrier. There is something about the shape of the prion in mad cow disease that allows it to pass across the species barrier.
TO HUMANS.
Yes, to humans.
AMONG YOU AND YOUR COLLEAGUES AS YOU LOOK AT THE CURRENT SCENE IN EUROPE IN WHICH THERE HAVE BEEN CASES REPORTED COUNTRY BY COUNTRY ­ SEEMINGLY INCREASING IN GEOGRAPHIC SPREAD OVER THE LAST SIX OR SEVEN MONTHS ­ WHAT DO YOU THINK IS GOING ON?
My guess is that a lot of this has to do with better reporting and people now more carefully looking for the disease. Whether there is a true increase, I don't know. But I do know that people are being much more vigilant about looking to see if their cows are infected with mad cow disease. So, there was a sort of complacency on the continent that it was England's problem and not theirs.
IF THERE REALLY IS AN INCREASE, THAT THERE IS SOMETHING THAT IS SPREADING, WHAT WOULD YOU SPECULATE WAS AT WORK TO CAUSE THE SPREAD?
That's really beyond by area of expertise and I'm not sure people know. But I think that is one of the frightening things about this continued existence of mad cow disease in England and its presence in Europe is that it's now not entirely clear how it's being passaged. Because they have taken very good measures in England and they are starting to take measures in Europe as well. And one might have guessed or hoped that would have been enough to prevent any new Mad Cow from occurring. So, we don't really understand enough even about how it's passaged in cows to stop it completely.
DO YOU THINK THEN THAT THE ONLY CERTAIN PROTECTION WOULD BE TO GO TO A NON-MEAT DIET?
Well, I think a non-meat diet is likely to be, to protect you. I think it's a pretty safe assumption that meat or some type of animal product has to be ingested to get infected. This is not something that is going to passage through the air. So, that's certainly one way of protecting yourself. Whether that's warranted is not clear to me.
IT'S BEGINNING TO HAPPEN IN EUROPE VOLUNTARILY AS MORE AND MORE PEOPLE ARE CUTTING MEAT OUT OF THEIR DIETS AND THE BUTCHER SHOPS ARE FACING BANKRUPTCY.
Yes, and it's understandable because there is uncertainty. It's not so much that there is real evidence that it's going to be a major health problem. It's very hard to be certain about anything in mad cow disease. In fact, it was sort of the undue certainty in the early 1990s that lead to the problems starting in 1996.
IN ENGLAND?
In England. And I think there was some complacency. The science at the time, the best guess was that it should not have infected people. And that guess was wrong.
MAD COW DISEASE DID INFECT PEOPLE.
Yes. Well, there's very good evidence. There is pretty much consensus among scientists and doctors that people have been infected with mad cow disease. Or have a disease that is very similar to mad cow disease.
But the more pertinent question is how long does it take for it to go from cows to humans. And I think it's a safe bet that it's going to take longer than it took to go from one cow to another.
ONCE IT IS IN THE HUMAN SYSTEM, EXACTLY HOW LONG DOES IT TAKE TO MANIFEST INTO THE PALSY AND BRAIN AND NERVE DISEASE AND DEATH?
Again, that's a big question that we don't have a definitive answer to.
ARE YOU PERSONALLY CONCERNED ABOUT PRIONS AND MAD COW DISEASE?
Yes, I am concerned. I am concerned mostly because of the lack of certainty or the lack of information because we don't know, we don't really know how they are spread well enough. There is very good reason to believe that people can get Mad Cow Disease. My guess and my hope is that it is a very rare event, but I don't think we can be certain that that is the case.
IF OVER THE NEXT FIVE YEARS, CASES KEPT INCREASING, IS THERE ANY LIGHT AT THE END OF THE TUNNEL IN TERMS OF MEDICAL RESEARCH AND HOW TO COPE WITH SOMETHING THAT IS NORMAL PROTEIN THAT CAN CHANGE SHAPE AND THEN BE DEADLY?
There is certainly a lot of effort along this line. In fact, Stan Prusiner and Fred Cohen have started to get small molecules that at least in tissue culture in cells grown in isolation seem to be pretty good at preventing and even reversing this spread of this altered confirmation. But I think we are a long way from having a therapy.
What they have also made a lot of progress on is detecting the infectious form of the prion and I think the key, the immediate key, to containing prions is going to be better detection. And that's where I think there is real progress.
HOW DO YOU DETECT A PROTEIN THAT IS DIFFERENT FROM THE OTHER PROTEINS?
You have to deduce the fact that there are different physical properties. For example, it's much less susceptible to being destroyed by enzymes called proteases. So, you can get rid of the non-infected form by breaking it up under conditions where the altered form won't be broken up. That way, you can detect only the altered confirmation. The other thing is to hope to get antibodies that recognize only the pathogenic confirmation and not the non-pathogenic (proteins).
But the problem that I alluded to is that of course everyone has PR proteins and it's chemically identical to the infectious form. You can't just look for the PR protein. You have to make sure it's in the infected shape.
THE MYSTERY REMAINS: WHAT IN THE WORLD IS IT THAT CHANGES THE PROTEIN SHAPE IN THE FIRST PLACE?
Right. How does it get started and how does it spread?
IT'S EERIE, ISN'T IT, WHEN YOU GET INTO THE WORLD OF THINGS LIKE VIRUSES AND BACTERIA AND NOW PRIONS THAT ARE PROTEIN OF WHICH WE ARE MADE. YET, A SIMPLE SHAPE CHANGE CAN TURN IT INTO SOMETHING THAT IS SO LETHAL.
Right. It's eerie and it was certainly unexpected."
---
Websites:
http://www.thedoctorsdoctor.com/diseases/prions.htm

© 1998 - 2019 by Linda Moulton Howe.
All Rights Reserved.