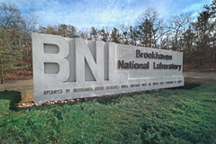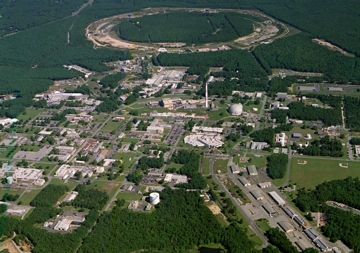 February 11, 2001  Upton, New York – There was an announcement this week from the Brookhaven National Laboratory on Long Island, New York that has shaken up particle physicists. Something unknown is causing muons to wobble in a strong magnetic field differently than predicted. That could mean that the fundamental structure of the universe is not quite what physicists thought.
What is a muon? It's a subatomic particle that's similar to an electron, but 207 times heavier. For decades, scientists have used powerful particle accelerators to crash atomic particles together to see if they can find the smallest, most basic building blocks of matter. The answers so far to the basic building block question are quarks and leptons, plus about 200 other subatomic particles – including muons – that are involved in binding atoms together. For the past thirty years, physicists have had what they call a Standard Model about how all the particles work together to create matter, and thus, the universe.
But suddenly, the muons in Brookhaven's magnetic field aren't matching what's expected in that Standard Model. To try to understand what has happened, imagine that each muon particle has a little bar magnet inside which reacts when the muon is put near a big and powerful magnet. The big magnetic force causes the little bar magnet to wobble. Scientists predicted how fast the wobble should be, but the Brookhaven experiment got a different number.
Friday I talked about the implications of the muon research with Professor Gerald Gabrielse, Chairman of Harvard University's Physics Department in Cambridge, Massachusetts.
---
Interview:
Gerald Gabrielse, Professor and Chairman of the Physics Department, Harvard University, Cambridge, Massachusetts: "If the bar magnet in the muon that's just been measured and the calculated size of the bar magnet in the muon to which it's compared – if it really turns out that these disagree at this fundamental level – then it means that we have to adjust our basic fundamental model of elementary particles and how they interact. Elementary particles and how they interact are the heart of our existence. We're all made out of particles.
We have a fairly established picture of how these elementary particles spin, how they behave when they are around magnets and so on. That picture may have some inadequacies as we have long expected. So, the evidence that is presented at Brookhaven might be the first evidence of these inadequacies. There could be other explanations and time will tell. But it's exciting to think that maybe we have been given a glimpse of reality behaving differently than we expect.
THIS POSSIBILITY OF SOME OTHER KIND OF PARTICLE LURKING WAY DOWN THERE AT THE SUBATOMIC LEVEL?
That's right. Exactly right.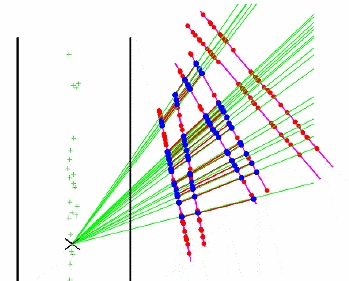 MAKES ME THINK OF THE RUSSIAN DOLLS AS A METAPHOR – THAT THERE IS A SMALLER ONE INSIDE EACH DOLL AS YOU KEEP GETTING SMALLER AND SMALLER.
Yes, the history of physics has been very much like the Russian dolls. Just when we get smug because we think we have understood the layer that we're at, another layer that's completely unexpected shows up. Now, it's a little too early to say that's definitely true here, but there's a glimpse that it might be true. Only time and more testing will tell.
WILL YOU AT HARVARD FOLLOW UP ON THIS BROOKHAVEN WORK IN ANY WAY?
I think there will be a scrutiny of this work that is far broader than Brookhaven. There are relevant measurements that will be done at other particle facilities, I think, in Russia, China, at Cern, Switzerland and at Cornell University. But for myself, my group is right now working very hard on measuring the magnetic moment, this little magnet, that's inside the electron. So, we're making almost the same measurement as at Brookhaven, but on a different particle. It turns out that the electron measurement is much less dependent upon possible new particles than is the muon measurement, but one of the reasons that the muon measurement discrepancy seems significant is because the electron measurement agrees so well with the original calculations.
If it weren't for the fact that the electron measurement agrees so perfectly, we would not tend to take the muon measurement quite as seriously because we would fear that we just didn't know how to do the calculations. But we know how to do the calculations. The fact that there is a difference in the muon then may actually indicate new physics that wasn't included in the calculations."




© 1998 - 2019 by Linda Moulton Howe.
All Rights Reserved.