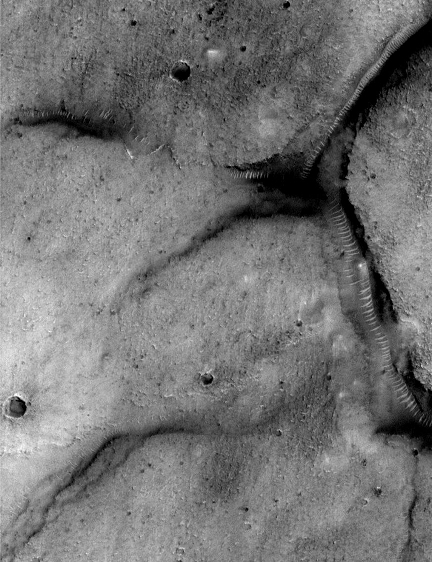 March 11, 2001 – Planetary scientists, geophysicists and astrogeologists will be gathering in Houston this week to discuss our solar system. It's the 32nd Lunar and Planetary Institute meeting at the Johnson Space Center. One of the most puzzling planets is Mars and recently I talked with two scientists who will be presenting papers about their work on the red planet. Dr. Maria Zuber is Professor of Geophysics and Planetary Science at MIT in Cambridge, Massachusetts. She is also Deputy Investigator of the Global Topography Map Mission now underway on Mars. Dr. Bob Craddock is a geologist at the Smithsonian Institution Center for Earth and Planetary Studies in Washington, D. C.
I asked both to look at the above high resolution photograph of unusual surface features in the Martian northern hemisphere that some have described as "tube-like." In fact, Arthur C. Clarke who wrote 2001 commented that the tube-like feature is "one of the most incredible images that's ever come from space and there have been no official comments on it whatsoever." Planetary geologists, however, say there is nothing special to explain because the photographs simply show sand dunes collected along fissures.
First, I showed Dr. Craddock from the Smithsonian a wide shot and close-up of the Martian area called Acidalia Planitia covered with cracks and fault lines. The strange tubelike features are along some of the cracks.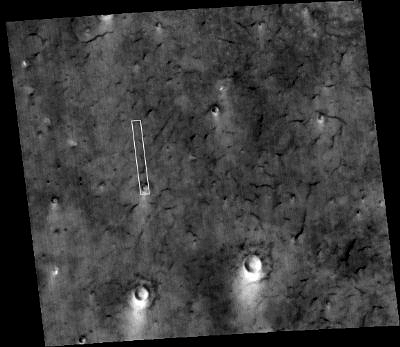 ---
Interview:
Bob Craddock, Ph.D., Geologist, Smithsonian Institution Center for Earth and Planetary Studies, Washington, D. C.:  "What they look like to me are features called wrinkle ridges. They are actually a pretty common planetary feature. For example, we see them in the mare deposits on the moon in the dark outflows that have occurred on the moon. And the further south from this particular south from this particular area is a basin called Chryse Planitia and there are a number of wrinkled ridges that cross that valley as well. And most people think they are probably due to some sort of compression associated with the volcanic rise on Mars that is hundreds of kilometers to the west. And this is just the result of the build up of the build up of stresses on the surface because that is such a large topographic structure.
THE VOLCANO OLYMPUS MONS?
Right, Olympus Mons and the other volcanoes nearby in the Tharsis Montes, there are three that line up. There is a huge extent of volcanic lava flows associated with that thing that represents a huge bulge on the planet's surface. And those stresses caused the surrounding crust even for hundreds of kilometers away to buckle and bend. And those wrinkle ridges, I'm pretty sure continue up into Acidalia Planitia, too, as a result of the volcanoes. And we're looking at one of those in detail.
Some people think that because they are so common on volcanic material that they are indicators of there being some sort of lava flows. But in the case of the Northern plains, it might actually be sedimentary deposits – as a result of the global ocean that a lot of people are proposing. You can get compressional features like wrinkle ridges in sedimentary material as well.
IN LOOKING AT THIS PHOTOGRAPH (M0400291 top of this report) IN THAT BRANCH THAT COMES DOWN TOWARDS THE FAR LOWER RIGHT CORNER, THERE IS WHAT LOOKS LIKE A WHITE DOT OR A REFLECTION ON THERE. WOULD THAT BE A REFLECTION AND WOULD THAT MEAN THERE WAS SOME KIND OF GLASSY SUBSTANCE THERE?
It's probably a camera artifact because this looks like a fairly unprocessed or uncalibrated image. Or it could be the result of some sort of albido. You have a lot of different variations in light and dark material on Mars and that could be a very small and fresh impact crater that's just thrown up a bunch of bright material on the surface.
COULD YOU EXPLAIN FOR A LAY AUDIENCE HOW THESE STRIATIONS ARE CREATED IF THESE ARE PRESSURE MARKS IN A VOLCANIC SYSTEM?
They are pressure marks and some sort of deposit. It could be volcanic. It could be sedimentary. But it's essentially a result of the surface buckling from stresses that are induced – on earth, it could be because two plates come together. On Mars, it could be the result of loading the crust with the formation of volcanoes. So, it's just sort of a response of the surface to those stresses."
Martian Sand Dunes?
DR. MARIA ZUBER, PROFESSOR OF GEOPHYSICS AND PLANETARY SCIENCE AT MIT, SAID SHE THOUGHT THE TUBE-LIKE FEATURES WERE LONG SERIES OF SAND DUNES FORMED BY THE MARTIAN WINDS. I ASKED HER WHY THE DUNES WOULD PILE UP WITH SUCH REGULAR STRIATIONS.
Maria Zuber, Ph.D., Prof. of Geophysics and Planetary Science, Massachusetts Institute of Technology, Cambridge, Massachusetts, and Deputy Investigator of the Global Topography Map Mission now underway on Mars: "Think about the Sahara, you get the dunes all in a row. It's a characteristic about how the wind blows and material gets transported because it's related to the density of the atmosphere and the velocity that the wind is blowing. And the ability of the atmosphere to entrain material of different sizes, it can carry so far and then dumps it. So it's not evidence of extraterrestrial intelligence or anything. It's just the way the physics of the atmosphere works.
WHEN YOU LOOKS AT THAT PICTURE, IT APPEARS THAT THE STRIATIONS GO DOWN INTO DEEP CREVICES AND THEN COMES BACK UP….
But you don't know that because you are assuming that you know what the topography looks like when you look at that map. But Mars has all sorts of shading and albido variations that aren't associated with topography. You are assuming that you are seeing shadows in certain places, but you could be looking at areas that are just dark. You don't want to over-interpret what you see there unless you know the topographic context is. And that's what my altimeter experiment provides.

CAN YOU EXPLAIN A LITTLE BIT ABOUT YOUR ALTIMETER WORK AND WHAT YOU ARE DOING?
We shoot laser pulses 10 times a second at the surface of Mars and we produce the map of the elevation of Mars that I guess right now we are closing in at 600 million points on the topography of Mars on 100 meter size spots and we have a global map of Mars that has a horizontal resolution of about 1 x 2 kilometers right now and its accuracy is about 90 centimeters. So, globally we know the topography on Mars right now better than we know the topography on earth on a global basis. There are places on earth that we know better than Mars, but in terms of global mapping, Mars is better known.
WHAT ABOUT EARTHQUAKES ON MARS CURRENTLY?
We don't have seismometers there. Well, the two Viking landers had seismometers that didn't work very well because they were mounted on the base of the Lander and so they tended to pick up shaking whenever the wind blew. So they were good wind devices, but they weren't coupled to the ground very well and didn't tell us very much about Mars quakes. The thought is that there is probably about one 6.0 Richter quake a year on Mars at least. There are plans of putting a joint French-U.S. seismometer on a future Mars Lander. It has to last a year to make sure you get a big quake. If you have a small quake near by, you would measure that.
WHAT HAS BEEN THE BIGGEST SURPRISE YOU HAVE FOUND IN YOUR ALTIMETER RESEARCH?
Oh, well I think the biggest surprise for most people has been how flat the northern hemisphere is. It's the flattest large scale surface in the solar system of anything we have measured the topography for. You can go for hundreds of kilometers on Mars and the elevation doesn't change by more than two meters (about 6 feet).
I mean it's as flat as the Bonneville Salt Flats in a lot of areas of Mars in the northern plains. So that was not something anybody expected. Having the large parts of the northern hemisphere be flatter than the Midwest, so there was some process early on Mars that flattened everything out. So it's why people have speculated about oceans or massive lava flows. There was certainly a lot of water flowing early in Martian history.
THE NORTHERN HEMISPHERE MIGHT HAVE BEEN THE HEMISPHERE THAT HAD THE MOST WATER POSSIBLY?
The Northern Hemisphere is a lot lower. It's 6 kilometers lower in elevation than the South Pole is, so pretty much everything in the Southern Hemisphere flowed to the north. So yeah, the Northern Hemisphere is where all the water collected.
THAT COULD EXPLAIN WHY IT IS SO FLAT THAT FOR 150 KILOMETERS YOU WOULD FIND NOTHING RISING MORE THAN ABOUT 6 FEET?
Yeah. That's one of the things people talk about. So, it's possible. Certainly that was not what anyone expected.
IN THE SOUTHERN HEMISPHERE, HAVE YOU FOUND ANY ALTIMETER RESEARCH SURPRISES?
Well, one of the interesting things in the Southern Hemisphere is we have a huge impact basin called Hellas which is about 2200 kilometers across and it looks like there was enough material thrown out of that basin to put a layer on the U. S. a couple of kilometers thick. So one of the questions people have asked about Mars is why is the Southern Hemisphere higher than the Northern Hemisphere. So it looks like a lot of the material was excavated out of that basin is one of the reasons the Southern Hemisphere is high.
MEANING THAT SOMETHING IMPACTED THE HELLAS BASIN AND ALL OF THAT DEBRIS WAS THROWN UP IN THE SOUTHERN HEMISPHERE?
Yes, because most of the material is around the basin.
THERE IS OLYMPUS MONS, THE BIGGEST VOLCANO IN THE SOLAR SYSTEM, IN THE NORTHERN HEMISPHERE, BUT WHAT YOU ARE SAYING IS NOT ONLY IS THAT VOLCANO THERE, BUT THE REST OF IT IS SO FLAT THAT THERE IS THE SPECULATION THAT IT MAY HAVE BEEN THE AREA THAT WAS UNDER WATER?
It's possible that was the case. People argue about this. Did it get flat by an ocean being there and sedimentation. Or whether it got flat by massive lava flows. People will continue to argue until we find out what was really going on. One of the things that argues against an ocean in the Northern Hemisphere is our oceans, you find whenever carbon dioxide – Mars has a carbon dioxide atmosphere. And when ever CO2 mixes with water, you get calcium carbonate which is limestone. It precipitates out of the water and people have not found calcium carbonate on Mars in the Northern Hemisphere. That would be the proof positive that people need to demonstrate there was a hemispheric scale ocean early in Martian history.
BUT THERE ARE ALL THOSE RIVULETS AND CHANNELS.
Well, there was certainly a lot of water flowing. Now whether it was an ocean or lots of lakes, goodness knows. But unquestionably there was a lot of water early in Martian history.
WHY WOULDN'T THERE BE LIMESTONE?
Well, the optimistic people say it's there and it's just covered up by dust because Mars is so dusty. There are experiments planned to go and dig through the dust layer and look for it. It should be there. If you take carbon dioxide and mix it with water, you get calcium carbonate. So it should be there. If there was an ocean, it should be there.
BUT IT MAY BE BURIED UNDER ALL THIS DEBRIS THAT MAY HAVE BEEN BLASTED OUT BY THE HELLAS BASIN CRATER. HAVE PEOPLE SPECULATED ABOUT THE SIZE OF THE OBJECT THAT IMPACTED?
This happened early in Martian history when there was still a lot of junk floating around the solar system that didn't get swept up into planets. So, it was something a couple of hundred kilometers across that hit probably.
THAT IS HUGE.
That is huge, yeah. I think it is the biggest basin we know of in the solar system.
MARS HAS THE BIGGEST CRATER BASIN, THE BIGGEST VOLCANO, THE FLATTEST NORTHERN HEMISPHERE.
Right! It's either a very special planet or we just haven't looked at other places closely enough. Certainly Mars gets a lot of scrutiny."
---
More Information:
Of all the planets in the solar system, Mars has the biggest volcano (Olympus Mons), the biggest crater basin (Hellas), the flattest hemisphere (Northern), and the largest canyon (Valles Marineris). Among its many mysteries, could black lava basalts and white limestone be hidden beneath its oxidized red sands?
---
Websites:
http://www.msss.com/moc_gallery/ab1_m04/nonmaps/M0400291.gif



© 1998 - 2019 by Linda Moulton Howe.
All Rights Reserved.